Decoding the Power of Email Personalisation: Importance, Benefits & Applicability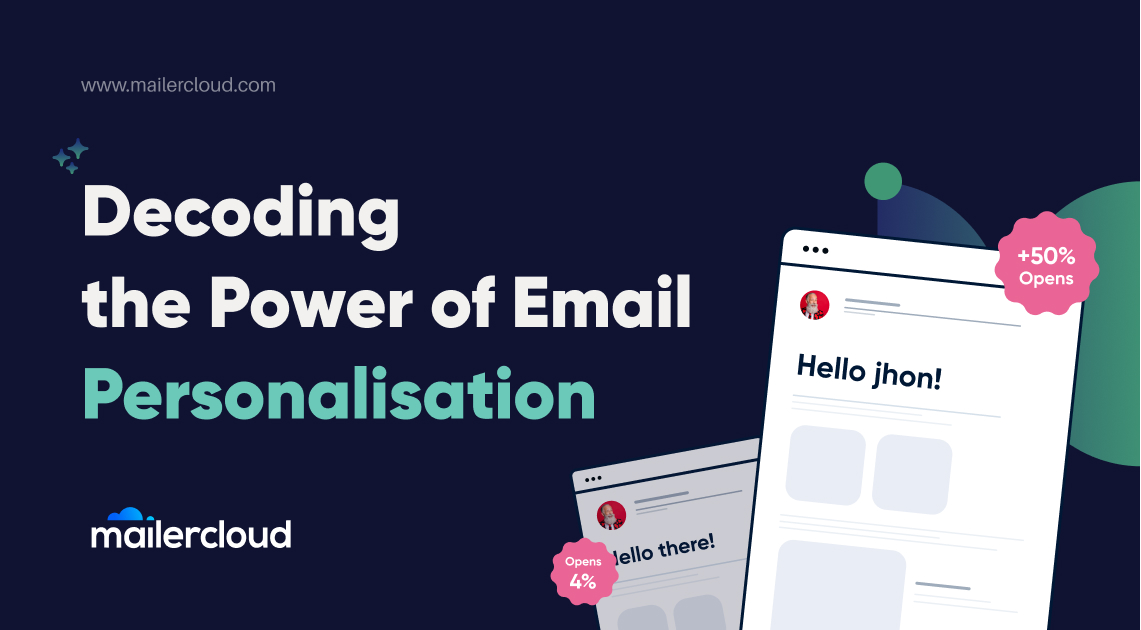 Email marketing has become synonymous to a staple in day-to-day lives, be it personal or professional.
All industry niches and segments, whether offline or online, B2B or B2C, count on email marketing to engage with their audience and deliver valuable information. Email marketing is the prime driver of customer acquisition and retention. Indeed, depending simply on the email content for marketing is a passive form of marketing. Alternatively, email personalisation is a more active approach.
Email Personalisation: The New Breakthrough in Email Marketing
Email personalisation, for those unaware of the term, is the process of tailoring an email marketing communication, newsletter, or campaign to specific client segments or individual subscribers. It is a practically low-cost strategy that provides significant value to the subscribers. It opens up the door to increased email open rates and improvement of other key metrics pertaining to email marketing.
Personalised emails, unlike the generic ones, resonate with the reader instantly and effectively. It translates to more engaged readers who are motivated to take action, and it's a key component of a successful lead nurturing strategy.
Key Components of Email Personalisation
Relevancy: Relevance is the most important aspect of a personalized email. People's inboxes are overflowing with emails, many of which address the recipient by their name. Personalization is taken a step further with emails that include relevant information, shopping catalogs, and product recommendations.
Well-timed: Another distinguishing feature of a personalized email is that it is perfectly timed and reaches the right person at the 'right time'.
Humane: Email personalization humanizes communication.
Why is Email Personalisation Important in Email Marketing?
Email personalization:
Accolades the reader with a bespoke experience. The major goal for brands is to understand the personality traits of their subscribers in terms of their online behavior. With this mindset, reading emails becomes a pleasurable affair. Personalization takes away any annoyance from the user's experience and replaces it with pleasant emotions.

Increases the shared value

, as each recipient feels and believes as if brands are paying attention to and responding to their expectations and needs.

Squeezes email's potential to the maximum, thus, requiring fewer email campaigns to obtain the desired results. A decrease in the informational cacophony in the inbox is a type of respect.
Email Personalization Benefits
To start with, the stats and data pertaining to email personalization prove its gravitas in delivering positive results:
Improved email open rates:

82%

Better click-through rates: 75%

Increased customer satisfaction: 58%

Increased transaction rates:

6x
90% of email recipients experience personalization and find it enticing. According to research, 80% of customers prefer to engage and interact with a brand (and, eventually get converted) that provides individualised experiences.
Personalization is the key to increase conversions, which is why you are running email marketing campaigns in the first place. When your prospects believe you know them, their needs and listen to them, you gain their trust over time, increasing their likelihood of making a move. Personalization gives them a sense of security and ensures that they have all of the information they require to make an informed and smart decision (regarding your service).
Along with a more efficacious outreach, email personalisation reinforces the brand-consumer bond. Thereby resulting in the formation of a more sustainable engagement. The higher the level of personalization, the more and better the connection.
Email personalisation can boost client loyalty. Most importantly, optimally targeted and personalised email campaigns will distinguish your email from others in the recipient's inbox.
Strategies to Nail Email Personalisation
Plot the Email Design to Captivate the Audience's Attention
The email personalisation creative strategy should cater to the different phases of the customer journey. The content of the personalised emails should be consistent without becoming repetitive or redundant.
Include dynamic content in the emails, for instance, which will update depending on the recipient's location or time zone. As the prospect progresses through the marketing funnel, the communications will remain relevant. However, Apple's recent Mail Privacy Policy update may cause your dynamic content to become less accurate, so have a backup ready.
Create a Customer Journey Map
Brands may use journey mapping to better understand each stage of the client journey and speed up the process by sending well crafted personalised emails. Journey mapping steers the way to tailored and intuitive customer experiences that upraise the brand. It gives a clear picture about who the target audience is, how they interact, when they interact with the emails the most (or fall out of the funnel) – all of which are crucial considerations when designing personalised emails.
Enrich the Client Experience with Artificial Intelligence
Artificial intelligence (AI) lays the groundwork to learn from each interaction and change the reaction in real time. AI may assist in determining what types of email content clients want to view and engage with, as well as what resonates with them. The technology allows for better personalization at scale. It, indeed, delivers real-time personalization as a consumer progresses through the marketing funnel.
Email List Segmentation
The spectrum of the interests, behaviours and persona of subscribers is vast and varied. Thus, a one-size-fits-all email marketing stant is unlikely to cope up. This is why it's crucial to divide the email list into groups depending on their demographics and interests. Mailercloud's feature-rich email list segmentation makes this procedure simple, and it also aids in the distribution of more relevant and targeted email messages to each category.
Email Automation
Behavioral triggering email responses, via the use of email automation, are a great option to upsell products and re-engage customers. An automated personalized email following a new opt-in subscription, abandoned cart, or important instructional content will assist the subscriber in getting started with a new product or service purchase.
It's simple to set up a hyper-personalised email campaign for a small list of contacts. The main challenge is scalability of personalised resources of the email marketing platforms. The key is to indulge in email marketing tools with adaptable, custom functionalities so that dynamic and data-driven content is easy to implement on the basis of the campaign strategy. This provides the freedom to be creative without losing time to market.
However, approaching things incorrectly will not get results. To witness an escalation in the conversion rates, go beyond including the recipient's first name in the email subject lines and preview text. Adapting to multiple time zones, meeting clients' expectations and requirements, and leveraging imagery are all email personalization examples. To put it in brief, email personalization can make the readers and subscribers feel valued, and valued customers are more inclined to make a purchase and become true brand advocates.
Email Personalisation Templates that are Winning the Game
Personalised Welcome Emails are the perfect example of targeted personalisation in action. They reach out to new subscribers right after the point they've expressed an interest in a brand offerings.
Engagement Boosting Personalised Emails having subject lines with the contact's name and asking for feedback on the most recent experience is a great way to further empower the brand-user bond.
Personalised Emails on Special Occasions is a master stroke to point out to subscribers that they are special and valuable to a business brand. Extending an exclusive offer in the email that they can redeem within a specific time limit will make a drastic difference.
Value-Packed Personalised Emails are a true table-turner in a manner that makes the recipient feel like they're being rewarded for using the service.
Personalised Restocking Reminder Emails work wonders well not just as timely reminders, but also as a way for customers to quickly repurchase their favourite things without any hassles of visiting and hunting the site again.
Wrapping it up!
Personalising emails is a must if you want to provide customers with the relevant content they're looking for. While email personalization may appear to be a difficult notion to implement, the key is to start with solid email marketing software that allows for flexibility.
Then, at each point of the customer journey, create a scalable creative approach integrated with the email personalization best practices that delivers a captivating message and information that drives the subscriber to the next step of the marketing funnel.
Compliance to the contemporary privacy regulations while creating and implementing email personalisation strategies is also important for holistic success rates.