The Ultimate Guide to Choosing the Best Email Deliverability Service: Top 5 Picks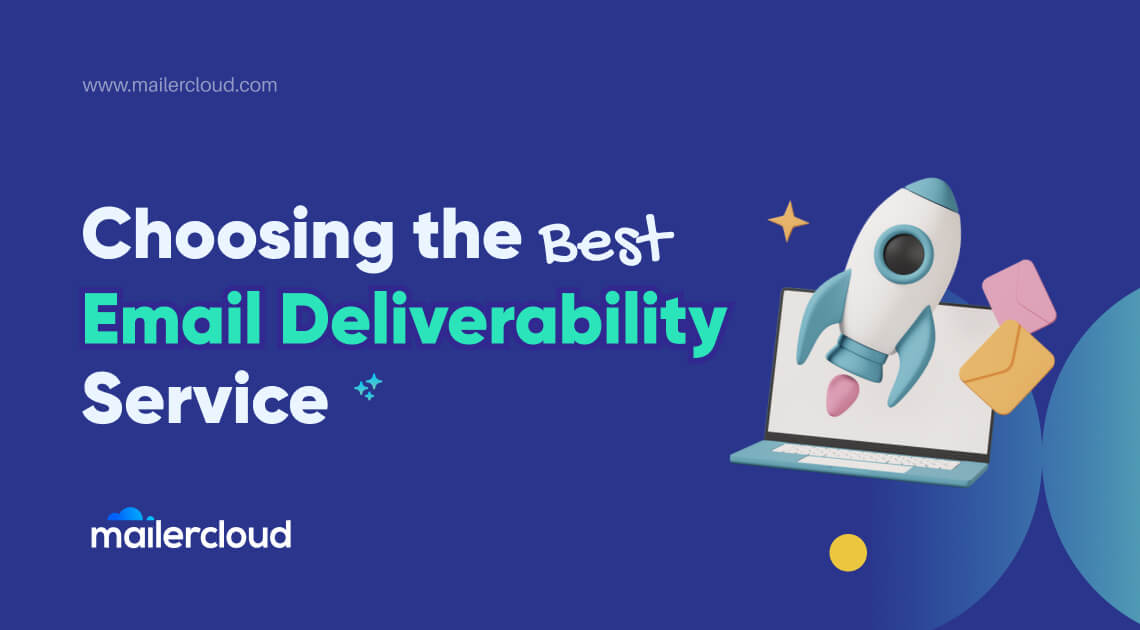 Are you looking for the best email deliverability softwares that ensure your emails land in the inbox every time? In this blog, we will explore the top 5 services that guarantee optimal inbox placement. Whether you're a marketer, business owner, or an individual who relies on email communication, these services will help you maximize your email delivery and reach your audience effectively. So, let's dive in and discover the best solutions to enhance your email deliverability!
What is email deliverability?
Email deliverability refers to the ability of an email to reach the recipient's inbox successfully without being flagged as spam or blocked by filters. It involves various factors such as sender reputation, email content, authentication protocols, and recipient engagement. Achieving good email deliverability is crucial for effective communication and marketing campaigns.
How to Improve your Email Deliverability
Use a reputable email service provider.
Build and maintain a clean email list.
Segment your email list.
Personalize your email content.
Optimize your subject lines.
Test and optimize your email design.
Monitor and manage your sender reputation.
Use double opt-in for subscriber confirmation.
Include an unsubscribe link in every email.
Monitor and analyze your email deliverability metrics.
Common Email Deliverability Tools
Here's a list of some best email deliverability tools:
Constant Contact
HubSpot
Mailchimp
AWeber
SendGrid
Campaign Monitor
Mailgun
The Best Email Deliverability Service Providers
1. Mailercloud
Since 2013, Mailercloud has expanded to become one of the largest and most extensive cloud-based email services, that resolves the task of reliably delivering emails on behalf of companies and customers ensuring high deliverability rates.  Their dedicated team guarantees personalized support tailored to your business's specific needs and monitor email deliverability. They assure to deliver your messages to the right inbox by providing strategic insights, tailored recommendations and tools, to improve and ensure your emails reach the intended audience without being marked as spam.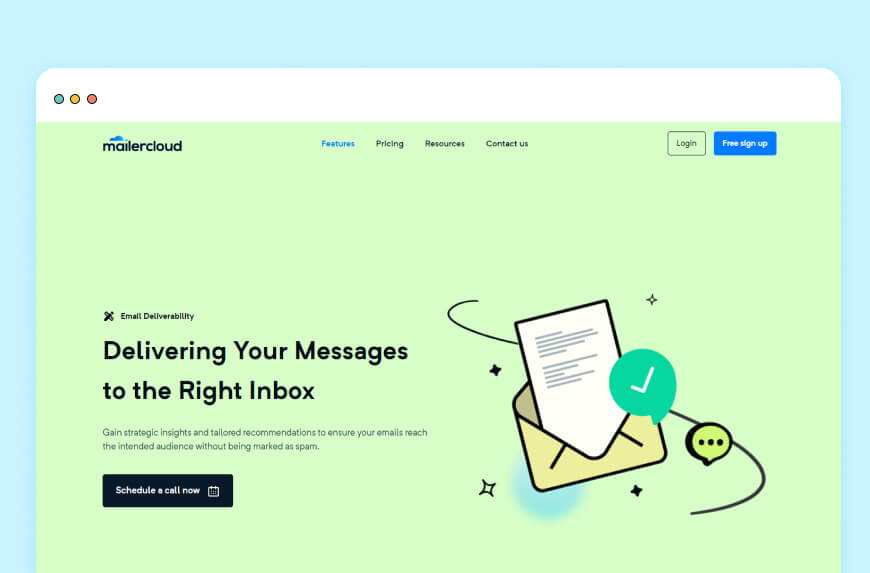 Exceptional Delivery Rate: Mailercloud offers successful email programs that achieve an average email deliverability rate of 99.4%, surpassing the industry average of 85%.
Pricing: Mailercloud offer free, premium and enterprise plans that can fit their customers from all settings.
Expert Guidance: Dedicated email deliverability experts provide personalized support tailored to your business's specific needs with live chat support, email support and integration support.
Comprehensive Services: In addition to strategy and reputation consulting, Mailercloud offers a wide range of services including recipient engagement management, detailed email reputation and deliverability reports.
Continuous Monitoring: Mailercloud tracks IPR, open and bounce rates, spam complaints and stays ahead of ISP algorithms. By identifying all poor email issues promptly, they ensure high deliverability, promising proper inbox placement.
Data-driven Insights: Mailercloud's  dashboard provides valuable insights into email performance helping to identify trends, track metrics, optimize campaigns and manage programs.   
2. Constant Contact
Constant Contact is another fastest growing email marketing service in this niche. It provides access to unlimited emails, easy tracking and reporting, built-in social media sharing tools, list segmentation and a powerful eCommerce integration for Shopify stores.
Their Email Plus accounts also come with powerful features like email automation, drip campaigns and subject line A/B testing which helps you send targeted emails to maximize your open rate.
Constant Contact offers customer support with live chat, phone calls, email, community support. Constant Contact has a 60-day free trial after which their pricing starts as low as $9.99/month.
3. HubSpot
HubSpot is one of the most well-known software in the customer relationship management. Their service is free to start, and it comes with a lot of advanced automation features designed to grow your business.
You can use their easy drag-and-drop email builder and a selection of templates to create a completely custom newsletter that matches your brand's personality and colors. HubSpot comes with all the powerful feature you'd expect from an enterprise level marketing software such as send time optimization, high email deliverability, A/B testing, detailed performance analytics, marketing automation, drip campaigns, and more.
The free version allows you to send 2,000 emails and store an unlimited number of subscribers. You can create custom signup and popup forms, manage and track your online ads, and more.
4. Mailchimp
Mailchimp is one of the most popular email marketing service providers, mainly because they offer a forever free email marketing service plan.
Mailchimp comes with an easy drag-and-drop email builder, autoresponders, segmenting contacts into groups, and simple tracking for analytics. It also allows you to setup delivery times based on user's time zones, and setup segmenting based on geolocation.
When it comes to marketing automation features, Mailchimp platform is quite limited when compared to other providers in our list such as Mailercloud .
5. AWeber
AWeber is one of the oldest service providers. They offer a wide range of tools for small and medium sized businesses. You get access to ready to use html email templates, list management, autoresponders, a/b testing, and email tracking with detailed insights.
AWeber also has other powerful features such as AMP emails, automatic RSS-to-email for bloggers, and tag-based subscriber segmentation. Support options include live chat, phone support, email support and live webinars.
AWeber offers a limited free plan for up to 500 subscribers. After that, their pricing starts from $19/month.
Benefits of using Email Deliverability Solutions
Incorporating Email Deliverability Solutions into your business operations can greatly enhance the effectiveness of your email marketing campaigns, improve deliverability rates, provide valuable insights, enhance security, automate tasks and offer excellent customer support.
Helps you optimize your email campaigns to ensure that they reach the intended recipients' inbox.
By following best practices and using deliverability tools, you can improve your email account's reputation, leading to email account reputation.
It can help you test your email deliverability and identify any issues that may impact the effectiveness of your email campaigns.
Email deliverability consulting services provide access to experts who can help you navigate the complexities of email deliverability and improve your results.
Deliverability monitoring tools allow you to track how well your email reaches recipients and identify any areas that need improvement.
It often includes an email verification tool to ensure the validity of your email addresses, reducing bounce rates.
By boosting your email deliverability, you can enhance the overall effectiveness of your email marketing strategy and achieve better results.
It also helps you maintain a good sender reputation by following email authentication protocols and avoiding practices that may harm your reputation.
Access advanced email tracking features: Some email deliverability platforms offer advanced tracking features that allow you to monitor the performance of your campaigns in real-time.
They often come bundled with other features, providing you with a complete email marketing solution.
Deliverability issues
One of the key concerns in email deliverability are cold emails. Deliverability issues can greatly impact the success of your email campaigns. To improve your deliverability, it is important to focus on your email infrastructure and take steps to optimize it. This includes ensuring that your email delivery rate is high and that your emails are reaching the intended recipients' inboxes.
To address email deliverability issues, you should pay attention to various factors such as the quality of your email copy, the reputation of your domain and IP address, as well as the guidelines set by mailbox providers. It is crucial to understand the specific deliverability features offered by different mailbox providers and make use of them effectively. Additionally, performing regular deliverability testing can help you identify any potential issues and take corrective measures to ensure optimal deliverability for your new email campaigns.
Key Takeaways
Email deliverability is crucial for successful email marketing campaigns.
Email best practices should be followed to optimize deliverability rates.
Multiple email deliverability audits should be conducted to identify and resolve any issues.
The email delivery platform, Mailercloud along with the others in our top 5, provides comprehensive tools to monitor and optimize email deliverability.
Deliverability experts are available to help improve email deliverability and sender reputation.
Various aspects, such as email content and sender reputation, can impact email deliverability.
Monitoring email deliverability using a dedicated tool is recommended.
Optimizing email deliverability is important for email marketers to achieve successful campaigns.
Maintaining a good email sender reputation is crucial for successful email delivery.