How Automation will Shape the Future of Email Marketing in 2022?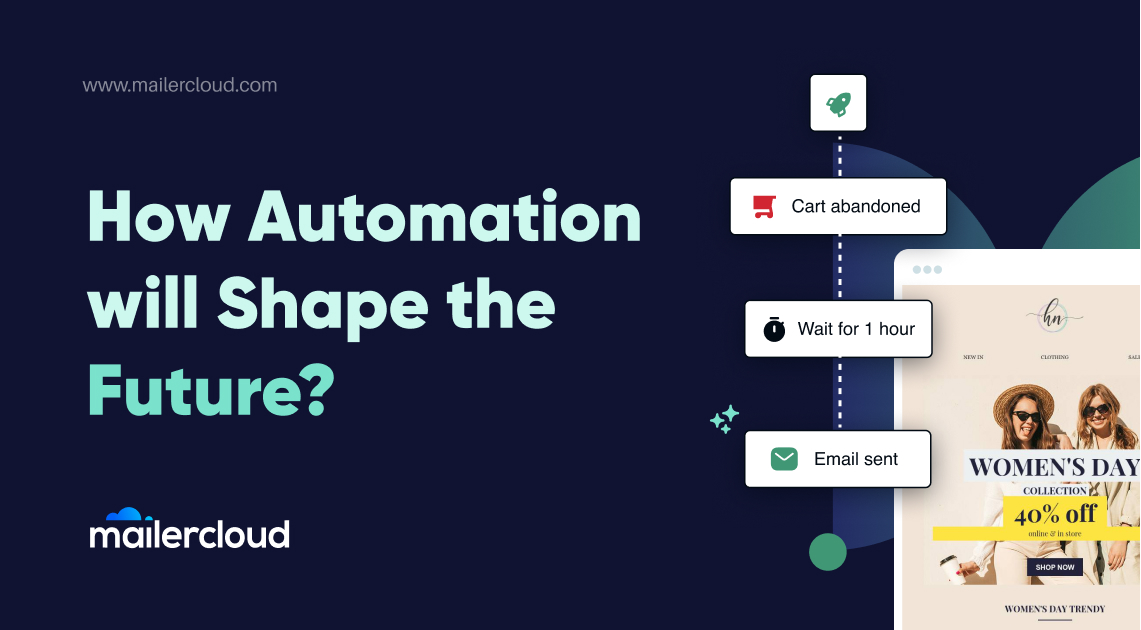 The way businesses operate their marketing initiatives and connect with their clients is always changing. The good news is that tried-and-true marketing methods of reaching clients are still effective. And this includes email marketing too.
 Email marketing will be pretty alive and fully functional in 2022. And, who is not aware of the benefits of email marketing, including the massive ROI that it offers.
According to Litmus, 2021 was the year of email for everyone, and 2022 will be no different. The importance and scope of email marketing are expanding. It is one of the most reliable means of communication and marketing.
Email Marketing will Reign in 2022: How and Why?
The email marketing domain is always evolving, and many new trends are supplanting old ones. There are many factors that come into play to define and reform these trends. These factors, however, will be important for marketers in the next few years. Marketers, on the other hand, have distinct issues such as ineffective email marketing tactics, insufficient tools, and a lack of data for email creation. Despite these difficulties, email marketing remains the most reliable method of reaching out to customers.
Let's say you want to understand the tactics and technology that will keep the email marketing channel alive, customer-centric, and relevant in the years ahead. Then there's artificial intelligence, minimalist design, customisation, mobile-optimised emails, user-generated content, dynamic content, and interactive emails to experiment with.
The Renaissance of Email Marketing
Over the last two years, email has undergone a revival, as marketers have resorted to this time-tested channel when their entire marketing strategy has been rocked by the pandemic.
While digital marketing has taken on a larger role for many businesses as physical marketing channels have been severely hit, not every channel can simply absorb a larger budget allocation while still delivering a decent return on investment. It's not always as straightforward as increasing the budget for a search engine marketing campaign, social media campaign, display ad, or digital video ad. Expanding keyword lists and social target groups, or placing display/video advertisements that didn't make the cut in your original strategy, are common ways to increase budgets in these channels.
Email marketing, on the other hand, can grow campaign volume while maintaining results by increasing email frequency or expanding your email programme to include third parties.
There is no reason to believe that this tendency will reverse as 2022 progresses. An email has proven its worth once again, and despite a larger focus on it in recent years, it has not failed to deliver. While we all hope that the world returns to a new normal that resembles pre-pandemic periods, marketers are increasingly focusing on digital solutions, speeding up a trend that has existed since the internet's creation.
While conventional marketing resources will undoubtedly be given to traditional media as they regain viability, we can expect digital channels like email to continue to expand at the current rate. Email continues to prove its place as an ROI champion as successful marketers focus their efforts and expenditures on what works.
Future of Email Marketing 2022: Trends to Keep an Eye on
"In 2020, the global email marketing industry was worth $7.5 billion, and by 2027, it is expected to be worth $17.9 billion." – Statista.
Few people know that email predates the internet. In 1971, the first email was sent. It took the internet 12 years to do this. Keeping tabs around for the current email marketing trends has become a discipline in and of itself after nearly half a century. However, in the future years, the way we think about email marketing will alter.
In recent years, emails have gotten more subscriber-centric. More automation and personalization can get past a more severe "trash" filter. This means that future email marketing will be more focused on a two-pronged strategy. The first is to communicate their message via higher-quality emails. Second, a mechanism to automate the emails and make them more interactive, and personalised.
Trend# 1: Privacy
It's less of a trend and more of a legal need. In 2022, email marketing will place a strong emphasis on data privacy and security.
The introduction of the General Data Protection Regulation (GDPR) in 2018 completely changed the email marketing landscape, laying out new guidelines for cold emailing and mailing list creation.
Conversely, just 8% of consumers trust that brands will safeguard their personal and other confidential details.
Trend# 2: Interactive Emails
A compelling story, not technology, is required for interactive emails. Marketers are turning to click-worthy and interactive emails to engage clients now that open rates have become obsolete. Instead of concentrating on developing dynamic content, marketers must strengthen their storytelling and use cases in order to achieve exceptional outcomes.
Trend# 3: Long Term Customer Loyalty will be a Priority over Small Term Profits
The global pandemic affected the whole marketing paradigm in terms of customer loyalty and retention. Customer lifetime value is the new north star in the sky for digital marketers, especially when it comes to email marketers. Big data and machine learning can forecast your customer's value in five years.
To keep your advantage, improve your brand experience, customer service, and personalised emails. A loyalty programme bolstered by emails targeted at high-value customers? That's a revenue home run.
Trend# 4: For zero-party data collection, "try something new".
The future of data collection is zero-party data acquisition. Marketers will devise new strategies to obtain preference data. Yes, data, but why? To offer authentic, personal, and memorable email experiences. Create a better connection with your target audience and deliver highly-focused relevant content. No cookies, either.
Trend# 5: Leverage Social Validation to Spark Interest
Product discovery and awareness on the internet are changing. Customers today are very smart. In fact, they seek inspiration and advice from social media platforms before making any decision about a brand or product or service. In the coming year, email and social media teams will need to collaborate more.
Businesses will need to encourage customers to upload reviews or photos of their favourite products or services across all channels. This is known as user-generated content. Such type of content or rather 'proof of the product or service' increases brand awareness and promotes a brand amongst a wider audience.
Trend# 6: Deliverability will no longer be Reliable
The email open rates are no longer sufficient to communicate the deliverability story when it comes to measuring the success rates of the email marketing campaigns in 2022. Customer interaction, on the other hand, will remain critical for greater deliverability from the standpoint of the email service provider.
Trend# 7: Hyper segmentation
It's time to go from segmentation to hypersegmentation in 2022. This entails delving into customer behaviour data, preferences, location, personality, and other factors before categorising them into specific email list groups.
The needs of your target audience are never constant and same; it keeps shifting and evolving. It will change as time goes on. Therefore, the strategies pertaining to email marketing also need to change with time.
This means that your customer lists should be updated and possibly reissued on a frequent basis, depending on their current behaviour patterns. One approach to do this is to include a survey in your email to keep yourself updated on your readers' shifting requirements and preferences.
Trend# 8: Optimising the Emails for all Platforms
Any email marketing strategy should prioritise mobile optimization. This is because the number of mobile email users is rising rapidly. The graph below proves this fact:
However, when it comes to email marketing trends and best practices in 2022, you must ensure that all of your customers receive the same email experience, regardless of their devices, operating systems, or email clients.
Mobile and desktop emails should ideally be equivalent. What matters the most are email accessibility, fluency, readability, design consistency, and the absence of technological errors.
Artificial intelligence could play a pivotal role in this. It can help to tailor email content based on a variety of parameters, changing it for specific recipients.
Trend# 9: User Generated Content will be in Boom
The usage of user-generated content in email marketing campaigns is another huge trend that started earlier last year and is predicted to peak in 2022. User-generated content is any type of content made by end-users of goods or services (text, videos, photos, and audio).
User-generated content has been proven to increase conversion rates. User-generated reviews are extremely helpful to the majority of consumers (82%). Approximately 70% of all consumers rely on their purchasing decisions on other users' evaluations and ratings.
Consumers aren't the only ones that care about authentic reviews from the actual and real product or service users. Authenticity and integrity are equally crucial characteristics of successful marketing, according to 60% of marketers. And, user-generated content is the most authentic type of content available. The statistics prove that user-generated content will surely be a turning point in the success of the email marketing campaigns in 2022 and years ahead.
Trend# 10: Interactive Emails
The pinnacle of email marketing is interactive emails. This trend has been there for some time, but it will only intensify in 2022. They dramatically improve customer engagement and interaction with email.
Today, email services are usually limited to a single application or web address, but email marketing experts anticipate that this year, more interactive emails will take the industry to new heights.
Emails that appear and work like small web experiences will become increasingly popular in 2022. Email marketing content could transform into portals to products or services with features like video content, interactive calls to action and in-email instant messaging.
The more engaging something can be, the more people would want to use it. Customer engagement and click-through rates may increase as a result of these changes to the way email marketing campaigns are designed. Interactive components, when combined with AI technology, might dynamically draw user-generated information into emails, providing more captivating storytelling and raising read and engagement rates.
According to a study, such interactive emails allow the email recipients to connect with your business without leaving their inbox or opening up another landing page.
Interactive games, surveys, and polls can be used in emails.

Other interactive elements include image carousels, menus, and clickable things.

You can also utilise augmented reality to boost email – for example, Apple has an SDK called ARKit that allows the creation of interactive elements for emails.
Interactive email content began to evolve in 2019 and exploded after that. And the numbers back this up. Interactive emails raise click-to-open rates by 73 percent, according to studies by Martech Advisor. When you include videos in your email, you may increase this by 300 percent.
According to Upland, interactive emails increase conversions by twice as much as static emails.
Email Design Trends to Look Out For in 2022
Full-colour optimism and quirkiness in the Email Design
Following a period of limitations and lockdowns, it's time to inject some new life into your email designs. The email design's colours and gradients, as well as the stories you're conveying, might need an emotional boost.
Design as per the Dark Mode
More than 90% of the users employ dark mode to read emails. Therefore, there's no longer a choice between light and dark. Every email design must operate in both modes effectively.
Mobile-First Approach
If an email isn't mobile-friendly, more than 40% of people will discard it. This trend will be a major factor in deciding the email designs in 2022. But it's not only about emails that look bad on mobile devices and are promptly deleted. What about those users who don't convert or click from their mobile devices?
Email design tools provide features and functionalities to design the emails as per mobile devices, test the designs on mobile, and create a sophisticated responsive design with features like column stacking, picture hiding, and more.
Animations
Businesses will need to have in hand a list of bold email designs. And the possibilities and options for bold email designs will only grow in 2022. Because email inboxes can handle larger picture files, such as larger GIFs, create eye-catching emails with intriguing scroll animations. In 2022, the email will become more interactive and animated.
Previously, few email services allowed animations in the emails, but that is no longer the case. Despite the fact that email services are progressing slowly as compared to web browsers, many of them will welcome animations in email designs this year.
Crisp and Clean Email Designs
A shift toward sleek and clean email newsletter designs could be one of the most crucial email marketing trends in 2022. The days of stuffing your email with unwanted features and information are long gone.
Your email is only one of several that your readers get on a regular basis.
To ensure that your email is visually appealing, every element of the email design should seamlessly connect with each other. Relevancy and coherency in the email design will be paramount.
Immersive Email Experiences
In 2022, creating an immersive experience for email readers right in their inboxes through email design is expected to be the start of a new trend. It adds interactivity to the emails and helps users to fully immerse themselves in the brand's intended experience.
A brand can create an in-store-like experience easily with a few clicks by using scrollable experiences or developing interfaces in emails that are more intuitive.
Email marketers should make ensuring customers interact with emails a primary focus. Emails become more exciting when you create responsive, engaging content that receivers want to engage with, and when you use responsive designs, you give designers greater control over the emails, ensuring that they look beautiful to everyone, no matter where they open them.
Visual Content Trends
Large-scale candid photos aren't as simple or effective as they once were, even when it comes to the top visual email design trends of 2022. Whereas, mixed media in email marketing designs and layouts gives standard photos additional flair and individuality, making emails more intriguing and captivating.
The downside of employing stock photos is that your competitors will do so as well, making the mixed media element a standout! You may make that stock photographs your own by adding graphics, effects, and even animations, assuring that no one else has them.
Automation is a Rising Trend in the Email Marketing World
The past decade has witnessed email marketing gradually evolve from a primary pillar of digital marketing to one of many. The key to successful email marketing is automation and the use of well-targeted, personalised content.
We can see that marketers are increasingly turning to automation as a way to save time, increase efficiency and improve results.
Content automation for email marketing is one of the biggest trends in 2022, with more and more marketers looking for ways to automate their email marketing strategies.
It is also important to keep up with the ever-changing nature of email which means that marketers need to be prepared to do everything from experimenting with new design ideas to rethinking their email marketing approach entirely. Furthermore, there are numerous email automation strategies or types that marketers can harness to cater to the diverse needs of their target audience as per their position in the marketing funnel.
Statistics that Prove the Effectiveness of Email Automation
Before jumping into the trends of email automation for 2022, here is a rundown on the statistics on marketing automation that will reinforce the achievable rates of success with the use of email automation:
By the end of 2023, the worldwide marketing automation industry is estimated to be worth $25.1 billion.
In 2022, 63% of marketing departments intend to raise their marketing automation expenditure.
9 out of 10 marketers utilise marketing automation tools on a regular basis.
Marketing automation attributes to success, as per 80% of the marketers. (Lenskold Group)
Through automated lead nurturing, an average of 15-20% of potential customers who weren't ready to interact and buy were converted to generating revenue via sales. (Protocol80)
Marketing automation, according to Nucleus, increases productivity by roughly 20% on average.
According to Invespcro, marketing automation increased lead generation for 80% of businesses.
Upselling is one of the most significant applications of marketing automation, according to 58% of marketers.
According to the Email Marketing and Marketing Automation Excellence report, email automation is the most widely used marketing automation strategy, with about 64%.
Make Way for More and Better Personalisation
True automation is coming, which will fully utilise automation to customise each user's email experience.
Marketers can tailor emails using the data they collect, such as the user's surfing history or activity, in conjunction with AI. After all, 33% of consumers will unsubscribe from emails, no matter how good they are, if the company recommends them products or services they don't like or with which they have no prior experience.
In order to provide personalised experiences that boost consumer happiness, 2022 ought to be the year of email automation advancement and optimization.
In 2022, behaviour-based emails, such as incentive or milestone emails, will be massive. They aren't the same as the generic welcome emails you send to everyone who joins your opt-in list. You only send these emails to active customers who have done specified tasks, such as completing the setup or upgrading to a paid plan.
Concentrate on funnel-optimised email content in 2022, and leverage automation to personalise the overall experience. Collaborate closely with sales and customer service teams to identify customer pain spots for marketing funnels. This will help to tailor content and make the funnel more customer-centric.
Marketing automation entails automated content management across the customer journey and lifecycle. Across your digital platforms, there are hundreds of digital meetings with content touchpoints. Each touchpoint is a chance to interact with your audience and demonstrate the value you offer
Artificial intelligence will play a major role in developing email content ideas, identifying better headlines, and choosing more effective approaches.
Automation tools will be important for brands in 2022 since they will help to develop and optimise automated content on a massive scale.
Not just content, automation can help to create SEO optimised email content, that will provide a boost to your overall marketing efforts.

AI combined with automation will refine business forecasts and other important projections. This will aid in the prediction of customer behaviour down to the individual level, allowing for accurate email content that ensures high engagement rates.
You will observe improved sales and marketing alignment in 2022. The full customer journey is fulfilled by "tag teams" of sales and marketing. Only with the proper Customer Relationship Management system integration can this function. To link marketing activities with the sales process including lead scoring is imperative.
Integrating marketing and sales data for analysis is an underappreciated marketing automation trend in 2022. This would also make it easier to budget for marketing initiatives. Moreover, this will help to forecast campaign ROI, and better discuss the outcomes with the marketing campaign managers and other team members
You can move past one-way communication; having a discussion with customers is possible, and chatbots will help in this endeavor. Chatbots are designed to initiate conversations, answer basic queries, and quickly address simple difficulties. Millions of customer data points are available to chatbots. They use data to identify recurring issues and predict their causes.
Value-driven Retention and Engagement
There will be no more cookies. As a result, marketers must devise novel ways to engage with interested individuals. Marketers are likely to deploy first-party cookies and data-driven attribution models starting in 2022. Make connections that will encourage customers to return. In 2022, high-growth brands will have nailed down their first-party data strategy and will outperform any less data-prepared competition.
Email Marketing Tactics for 2022
Which email format or marketing campaign is the most effective? For various types of email marketing campaigns, here is a keen view of average opens, unsubscribes, clicks, and spam complaint rates.
Which email format or marketing campaign is the most effective? For various types of email marketing campaigns, here is a keen view of average opens, unsubscribes, clicks, and spam complaint rates.
Email automation is and will be at the forefront!
The above study suggests that automated emails are at the top of the charts. Automated emails are the most popular.
Welcome emails, email blasts and newsletters are still effective. However, using email automation to send messages yields the best outcomes.
Why? – Relevance, promptness, and timing – When someone receives an email immediately after performing a task, they are more likely to read, engage, interact, and reply to it.
You may collect critical data along the consumer journey with marketing automation and utilise it to segment your list and tailor your content.
There is no denial that in 2022, email marketing automation cycles will produce the best returns.
AI will Revolutionise Email Marketing
Artificial intelligence and even machine learning are becoming increasingly important in email marketing, as they are in other businesses. Marketing automation, which tailors communications to an intended audience based on consumer data, is now possible because of advancements in both these forms of technology. Personalised email automation is among the top automation trends to watch in 2022.
AI will bring new and upgraded capabilities to email marketing, allowing to build massive email campaigns without having to spend a lot of money.
Many areas of email planning and management will be automated and improved by AI. For example, AI can do A/B and multivariate testing that was previously complex and time-consuming.
Furthermore, based on demographics and, more critically, future behaviour, it can optimise send timings and customisation to a 'hyper' level. GDPR compliance and other increasing regulatory limitations have added a layer of complexity to the equation, which AI may help manage and simplify.
According to Salesforce, the number of data sources increased by 50% between 2017 and 2019, making it nearly impossible to examine important consumer data without assistance. Worse, more than half of marketers admit to not having a clear picture of all the data at their disposal. With 293 billion emails sent daily in 2019 (up 4.7% from the previous year), data management has never been more important.
However, AI algorithms can accomplish far more than humans. It can filter across large sets of data to foresee subscriber behaviours, detect patterns, and even recommend what you should do to keep or engage customers. Some companies even use AI to automate routine chores or create engaging content.
For these reasons, more business niches are expected to use AI in email marketing in 2022. Although the transformation will not happen suddenly, adoption will gradually expand. Artificial intelligence can help push more automated email content and smart information in the emails to consumers in this regard.
Marketers will seek to develop personalised, humanised automated emails. They'll use AI-powered tools to send out more relevant triggered emails to users, resulting in increased open and click-through rates:
Machine Learning
Although machine learning has been around for a while and has been utilised widely within large tech companies such as Amazon, it is only just starting to gain traction in email marketing when it comes to data mining.
In essence, machine learning enables email marketers to not only send 1:1 emails to individuals – emails that are personalised to that individual – but also to learn and improve the results over time. The more data there is, the more precise, tailored, and valuable the outcomes become.
Machine Learning can help to adapt and improve over time, without being too time-consuming. Prepare to see more machine learning technology in email marketing during 2022, and begin making plans to make use of it.
Time to make the Shift
Without a doubt, the current generation is more tech-savvy and more demanding in terms of their wants and demands. Furthermore, social media acts as their voice for anything they feel the need to express. Customers have shifted their attention to digital channels, such as social media and email, for the same reason, making it increasingly necessary for marketers to focus on reaching out to customers exactly at the point where they spend most of their time.
Customers use social media to engage and connect with brands, according to studies, yet more than 60% of them prefer to be reached by brands via email. As a result, email is the most important window of opportunity for businesses.
Furthermore, given the widespread use of mobile phones, it is unsurprising that customers are spending more time on them, with the majority of them utilising their phones to access and read emails. This involves marketers creating mobile-optimised content.
To top it off, given the difficult situation that businesses faced last year, it has become critical to examine metrics and make accurate data-driven adjustments in order to continue in business. Even in a bustling corporate world where competition is increasing by the day, it is unavoidable for marketers to identify precise measurements and continue to push boundaries in order to stay ahead.
Fortunately, email automation solutions are the answer or solution to all of these issues.
Companies employing comprehensive marketing automation technologies with first-class email marketing integrations for better performance is one of the major trends in marketing these days. Everything needed to create an enhanced customer experience is included in the solutions. Email automation tools, social CRM, analytics, customer care help desk, and web optimization are some of the most effective elements they use.
Businesses with larger and more active customer bases can benefit from such a comprehensive and all-encompassing automation tool, as it combines the efficiency of a number of critical solutions into a single platform.
What Industry Experts have to Say About Email Marketing Trends that will be Prevalent in 2022?
Rui Nunes – Founder, sendXmail
For a medium-large business with a few hundred thousand email subscribers, Artificial Intelligence (AI) will provide a major competitive edge in 2022. The reason is straightforward. Personalization is already a must-have, and you can only accomplish it at scale if you have the technology to help you adapt each message to the wants and desires of each individual.
Because Gmail and other major companies like Yahoo! and AOL enable BIMI (Brand Indicators for Message Identification) authentication, it will have a significant impact on how marketers differentiate themselves from their competition. Because of the marketing effect, brands will relocate, but the end outcome is fascinating: absolute compliance with all previous authentications.
With the demise of cookies and third-party providers due to privacy concerns, email as the primary 1st-party data source will increase the value of every permission-based mailing list.
Darrell Alfonso – Global Marketing Operations, Amazon Web Services
Marketers are beginning to recognise the importance of customer-centric marketing and its impact on business outcomes. Too many marketers believe that "How am I going to achieve my objectives? How many emails do I need to send to meet my objectives?" Today's top marketers consider "How can I add value to my customer's experience? How can I help them address their difficulties by educating them?" Marketers like them will be successful in 2022 and beyond.
Businesses will continue to place greater emphasis on the email itself rather than on external links provided in the emails. Old things become new again. The best practice of sending very short emails with a teaser of content is quickly becoming obsolete. Even if it's more difficult to track, marketers are increasingly including a lot of useful content in the emails themselves, rather than saving it for the endpoint.
Lauren Meyer – Chief Marketing Officer, SocketLabs
Brands seeking to enhance consumer engagement through unique email marketing methods like gamification and interactivity will rule in 2022.
AMP for Email and Interactive HTML, for example, can deliver a richer, more app-like interaction by allowing users to respond to invitations to events, book appointments, and even shop and make transactions without ever leaving their inbox.
Increasing positive email engagement is beneficial to deliverability. It also helps email senders to move their focus away from open rates as a proxy for email performance and toward more precisely measured events like clicks, responses, and conversions.
Jordie van Rijn – Email marketing consultant, eMailMonday
Marketers will find AI-powered content generation in 2022. This year, expect it to gradually arrive in more email marketing services. So, right in the ESP, you can generate text and get AI-based content suggestions.
Consider turning pain points and advantages into a persuasive email and A/B testing versions. It's like having a full-time writing assistant at your disposal.
Jeanne Jennings – CEO, Email Optimization Shop
Businesses will continue to automate as much of their email campaigns as feasible to free up their workforce to focus on ideas and tactics that will improve the bottom-line effectiveness of email marketing in 2022.
Even once Apple's Mail Privacy Protection Policy is fully pushed out, intelligent email marketers have always recognized that open rates are subjective and directional, not absolute, and will persist to utilise them at the average (not granular) level to evaluate email engagement.
Bottomline
Since its inception in the 1970s, email has undergone significant changes. What began as a simple means for office coworkers to communicate has evolved into one of the most effective ways for marketers to reach their target audience.
However, we've noticed that email marketing has evolved and moved away from just a straightforward marketing approach in recent years. Your customers now demand more than promotional content from you.
They anticipate you reducing promotional stuff and increasing informational content. You risk losing key members of your email list if you don't. For a long time, marketing thought leaders have been discussing email marketing, and we must lean in and pay attention to what they have to say.
The year 2022 is gearing up to be one that rewards businesses that do their marketing research. This year, keeping up with email marketing news, trends, advances, best practices, and customer behaviour will be worthwhile investments in your company's success.
New features and technical functionalities will be added to email marketing as technology advances. Despite what many critics argue, email marketing and automation will continue to be an important aspect of any digital marketing strategy in 2022. It's critical to stay on top of advancements in email marketing and automation technology. More critically, that knowledge must be applied to the email marketing campaign workflow.
Automation is a vital aspect of modern marketing, as the trends and numbers illustrate, especially when it comes to lead generation and nurturing, even via email automation. As technology and available email marketing automation solutions advance, automation will become easier to adopt and more widely used.