Triggered Email Campaigns and Factors that Can Impact The Open Rate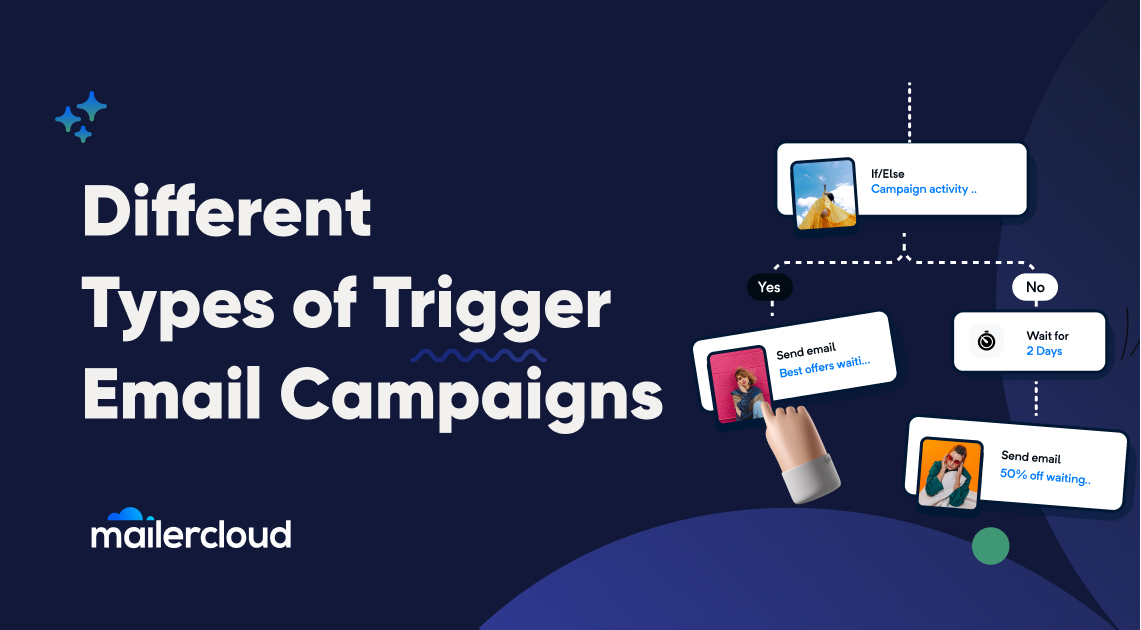 In this blog, we will walk you through the different types of trigger emails after establishing the definition and nature of triggered email campaigns.
Triggered emails are one of the most impactful ways of using email marketing automation. Its value in engaging and retaining customers has been proven time and time again. Yet many have failed to see its potential. Only a fraction of the business world uses it, and many do not.
It is a surprise because, on the other hand, those who use it have reported open rates and click-through rates of more than 50%, with a purchase completion rate of almost 45%. Experts have encouraged marketers to use triggered emails in onboarding and lead nurturing.
They have opined that it helps optimise the conversion process for email marketers and helps map the micro-level knowledge of each customer or customer group. It, in turn, leads to increased impact with fewer emails sent.
What do triggered emails mean?
Triggered emails are sent based on a subscriber's specific action or response to a particular event. Emails will be sent automatically, so they always reach customers at the most reasonable times when they need them most. Furthermore, they do not require any supervision or monitoring.
What are "triggered email marketing" campaigns?
Trigger-based email campaigns are initiated based on the person's profile, preferences, and behaviour. The time and date of these emails are usually fixed in advance by the brand and sent out automatically. These emails can potentially raise your chances of retention, acquisition, engagement, and up-sell.
How is it different from marketing emails?
The primary aim of trigger emails is to provide information to their recipients. Selling goals are only secondary. It ensures that a recipient walks through a process to begin or finish a task. In contrast, in marketing emails, the primary goal is to promote products or services. Some of the best marketing email examples are as follows-
Welcome emails/email series

Newsletters

Sales campaigns and Promotionals
These emails are sent to the recipient with the intent to make a sale. These emails contain a lot of information about the brand.
As for trigger emails, the following will trigger a user's interaction with the app or website.
Order Confirmations.

Email Receipts.

Password Reset.
Generally, businesses use a combination of both types of emails with specific intents and aims.
How do trigger email campaigns work?
Trigger emails are personalized emails that are sent to a variety of customers on your email list. These customers are identified based on some automation triggers. These triggers can be found in demography (age, gender, etc.), dates, internal or external factors, preferences, and behaviour or non-behaviour. The automation triggers aim to keep the customer engaged with the brand and to invoke regular responses from them.
What Distinguishes Triggered Emails from Marketing Emails?
The main goal of marketing emails is to make a brand's target market aware of its products to create a more favourable and informed experience.
Marketing emails are designed to move the receivers to the next step of the marketing funnel by including content that does just that. Customers receive essential information from them that gives them a better understanding of and sense of control over their customer journey.
Unlike marketing emails, which can be delivered at any time, trigger email marketing campaigns are automatically sent out in response to certain client activities. Marketing emails are typically unsolicited and don't contain personalized subject lines, but trigger-based email campaigns do.
Companies who wish to save time and communicate with customers more effectively rather than manually contacting them each time utilize trigger emails. On the other hand, marketing emails are typically employed by businesses to sell things. Hence they lack "triggers."
Factors can impact the open rate of your email campaigns.
The open rate of your email campaigns can be influenced by several factors. Here are some key factors that can impact the open rate:
Subject Line: A compelling subject line can greatly affect whether recipients open your emails. It should be concise, attention-grabbing, and relevant to the content inside.
Sender Name: The sender's name and email address should be recognizable and trustworthy. People are more likely to open emails from senders they recognize and have a positive relationship with.
Email List Quality: The quality of your email list matters. If you have a list of engaged and interested subscribers, the chances of them opening your emails are higher. Regularly clean your list to remove inactive or unengaged subscribers.
Email Timing: The time and day you send your emails can impact open rates. Analyze your target audience and consider their habits and preferences to determine the optimal timing for sending your emails.
Personalization: Personalized emails tend to perform better. Tailor your emails to include the recipient's name, previous interactions, or other relevant details. This shows that the email is specifically intended for them, increasing the likelihood of it being opened.
Email Design: A visually appealing and well-structured email design can attract recipients' attention and encourage them to open the email. Ensure your emails are mobile-friendly, as many people read emails on their smartphones.
Email Reputation: The reputation of your sending domain and IP address can affect email deliverability and, consequently, open rates. Maintain good email practices, avoid spam triggers, and regularly monitor your reputation to ensure your emails reach the recipients' inboxes.
What Makes the Trigger Email Campaign Important?
Here are the main reasons why trigger email marketing campaigns are catching the attention of marketers:
Creates Tailored Customer Experience: Triggered email campaigns are behaviourally targeted, thus, are highly relevant. The triggered messages and emails automatically match a customer's demographic and behavioural data to details in your product catalogue, leading to instantaneous personalized outreach.
Builds Better Customer Loyalty: Modern nurture email marketing campaigns must include trigger emails since they may be used to identify at-risk customers and contact them before they exit the sales pipeline. Use replenishment emails as trigger emails to nudge active customers to add items to their carts and make frequent purchases.
Time-efficient: A campaign for email marketing automation to cut down on operational waste should include trigger emails as a critical component. To send a trigger email, you have to choose the trigger you want to use for a particular audience, create a pertinent email, and send it to qualified subscribers. Triggered email eliminates many laborious and time-consuming procedures in conventional marketing emails.
What are the different types of triggered email campaigns?
There are quite a few types of trigger emails that businesses- small and big alike, use in a strategic combination for customer retention. Out of them, the most popular ones are as follows-
Welcome Emails

Onboarding Emails

Early Activation Emails

Reactivation Emails

Re-marketing Emails

Transactional Emails
Welcome Email
As you have heard before, "the first impression is always the best" this type of Email is significant if you are handling customers. You must create a perfect first impression to retain and maintain a robust customer base. The best way to put this forward is through a welcome mail.
The quality of your welcome mail is purely dependent on how you design these emails. You can also give them a hint of what to expect in the future.
A welcome mail directly addressed by the company's CEO is a great way to cultivate trust among the subscribers. Make sure you add who you are and the target of your brand.
Onboarding Emails
In the beginning, when a user has signed up for your product or service, they will be longing to hear from you and may post some queries about utilizing your services. It is where onboarding emails come into action.
It is the best way to tempt your user to engage. These emails can help you engage your prospects, find value in your product, and get them into action. This type of campaign could become your launchpad, giving your subscribers that tiny itch to engage more.
Early Activation Emails
Early activation emails motivate those subscribers who are activated but have yet to be immediately engaged. The core ability of these emails is to entice marketers into being proactive.
The early activation campaigns can also identify lost customers and tempt them to re-engage. Capable marketing experts can skillfully use it to generate customer engagement and recurring revenue.
Reactivation Emails
As the name suggests, reactivation emails re-engage inactive customers. They enable the highest ROI opportunities in marketing at a reasonably low cost.
Unlike non-buyers, early buyers usually click, open, and transact at much higher rates. Also, the transaction rate is twice that of the non-buyers. Hence it is always recommended to retain existing customers than go after new ones.
Marketers use various reactivating tactics today to grab attention amidst all the noise.
Re-marketing Emails
You must engage in Email remarketing to get back visitors who initiated an order—these emails can attract customers or users to a website. Thus, you gather the information you already have about your customers and utilize the same to send relevant emails. You can understand how a customer has made an initial purchase or browsed your site, and this will help you deliver relevant emails by understanding what gets your customer going.
Transactional Emails
Emails sent after transactions, such as order confirmation, password reset, delivery notification, etc., are known as transactional emails. Customers eagerly await these emails, getting the highest open and click-through rate.
Today transactional Email has become critical for application-based businesses. It is the interpreter by which they interact with their subscribers to develop their customer base and generate revenue.
Besides the types mentioned above, there are also some trigger emails which we will glance through below.
Account Email-

These emails constitute password updates, profile changes, email changes and so on.

Milestone Email:

These emails mark milestones subscribers have reached with your brand.

Personal Email:

These emails consist of congratulatory messages for birthdays, anniversaries and engagements. Sometimes they also consist of special offers for these special days.

Real-time Triggers:

Based on real-time, these emails cover specific events like location, weather, social development, etc., to better engage with the customer.
What are the Different Types of Email Trigger Factors?
A predefined condition or set of criteria is the trigger factor that may trigger an email. An email is delivered whenever any of the trigger factors are satisfied. Some of the common email trigger factors include the following:
Action-based Email Trigger
A trigger factor for sending emails could be signing up, altering account details, buying something, etc. these action-based triggers assist a company in comprehending each customer's journey, sending relevant messages, and boosting sales. Creating trigger-based emails for specific actions can be transactional, welcome, or abandoned cart emails, among others.
Behaviour-based Email Trigger
The behaviours of the customers could also serve as email trigger factors. These include behaviours like inactivity or a continuous history of purchases demonstrating a loyal client. Such triggers should be recognized and acknowledged because it illustrates how much you value and care about your clients. Loyalty emails and reactivation emails are triggered email examples depending on behaviour.
Time-based Email Trigger
Additionally, the subscriber data about the important days you gather may serve as a trigger. For instance, their anniversary, the day they signed up to receive your emails or newsletters, their date of birth, etc. Monitoring these trigger factors enables your brand to strengthen relationships with clients. Anniversary emails, birthday emails, and other time-based emails are examples.
What are the benefits of triggered campaigns, and why is trigger email important?
The following paragraphs list the main benefits of triggered email marketing campaigns.
Time-Saving
This is one of automated trigger emails' significant and most important benefits. You can pre-set trigger emails and reduce human intervention. Also, you can save more than 80% of the direct email budget.
Impressing Customers
Customers feel unique and valued when they receive personalized, triggered campaigns at the right moments. Welcome emails have been the most successful in doing so among all forms of triggered emails. It is an expectation on the part of the customer to receive an order confirmation and validation to process messages. It helps in customer relationship building and turns into customer retention.
Customers expect a welcome message like validation to a process, order confirmation, etc. It is the first step towards relationship building with the customer and eventually leads to customer retention.
In industries like finance and banking, emails from financial institutions have very high open rates as customers want to be updated with the latest information.
Increasing chances of buying
It has been observed that two-thirds of all consumers have made purchases online based on email messages. Tracking and assessing various behavioral traits through triggered emails have helped motivate and direct customers to purchase.
Trigger email campaign checklist
You must make a checklist of the things you must tick off before sending your triggered email campaigns.
Customer Personas-

You must have an excellent idea about your target audience. You must segment your customers to design effective email campaigns for the individual emailing lists easily.

Customer Journey Tracking

– Track the behaviour and understand the traits while analyzing the customer data to send more targeted emails.

Reuse the Most Effective Emails

– Go through previous emails and their content and figure out what worked earlier with different customers at different stages. You can then reuse them for your prospects and achieve better results.

Best Practices-

Learn from others or competitors and try to understand and reflect on what works best for them. Take a cue from them and experiment with your strategies.
Trigger email examples: Best Practice to Adopt
We have listed some examples of triggered email campaigns below to give you a better idea of what options you can choose from while preparing your campaigns.
Social Sharing
Nine out of ten customers will trust people that they know more than an advertisement they come across. Therefore, referrals are a fantastic way to connect to prospective leads and gradually turn them into customers.
Date Triggers
You can engage with customers before their special days and anniversaries and keep them connected and interested in your product. You can inform them about what they can expect on their special day. It is a great way to retain the loyalty of your customers.
Inactivity Reminders
As the name suggests, these emails are sent to those customers who have been inactive for some time. They include coupons or discounts to ask the customer to come back. These emails reflect how much your brand values its customers.
Besides these, thousands of brands regularly use some other types of trigger emails for their promotion, sales, customer conversion, and retention. Some of them are listed below.
Abandonment Cart Email
The abandonment cart email strategy is based on customer behaviour with relevant recommendations. It usually consists of a personalized subject line and images which take the customer directly to the website, increasing sales conversion. This strategy helps in the higher purchase and excellent customer experience.
Thank You Email
'Thank You emails based on the last purchase of customers are another genuine way of increasing the customer's feel-good factor and driving sales by urging subscribers to purchase with a discount and encouraging a subscriber to make the next purchase with a discount deal.
Event Reminder Email
These reminder emails update the customer with various information regarding upcoming events. Sometimes these emails also highlight essential facts or developments to be taken note of, encouraging customers to download the app. It creates a sense of increased brand value in the customer's mind.
Review Email
This automated email to customers within 2 to 3 days of purchase urges them to write reviews on the product sold. The designs on these emails are beautiful, and the interface to submit reviews is easy. Sometimes these emails are sent after a few weeks in case the first one was missed or overlooked.
Annual Summary Email
Annual summary emails of the customer are summaries of their past activities, typically through an exciting infographic. These emails help plan future activities besides thanking them for their business.
Choosing the Right Tool for Trigger Emails
Choosing the ideal email marketing tool can significantly impact your company's growth and consumer reach. It will also provide you access to the most advanced trigger email functionalities, which is more crucial. Mailercloud is one such email marketing platform that will ease the stress and assist you in developing an email marketing campaign that will unquestionably appeal to your subscribers.
Several trigger email templates, including welcome, abandoned cart, confirmation, etc., are available from Mailercloud. You may generate effective emails with the aid of these email templates. The trigger emails can be readily customized and include interactive components depending on your campaign type.
Keep your customers engaged with trigger emails.
You may keep your consumers engaged with your business even if they leave your website using triggered emails. All it may take for a customer to make a new purchase is to check their email inbox. There are several types of triggered email options available. Thus, your target audience will receive the aptest, most customized, and most relevant emails that will drive them to make another purchase.
Conclusion
Triggered email campaigns have helped marketers bring in more conversions and customer engagement. The best part of this type of email marketing is that they can be put on auto-pilot and generate revenue. This method may require some initial investment. However, in the long run, it is very cost-effective. It holds the potential to be highly profitable if you can strategize your campaigns smartly with the proper combinations of the various types of trigger campaigns based on your product. In the beginning, it is recommended to start the program on a single part of your business so that you can analyze changes in opens, clicks, and conversions. Once you have done your analysis, you can expand the scope of your campaigns and grow your business.