5 Tips On How Email Marketing Can Boost Your Conversion Rates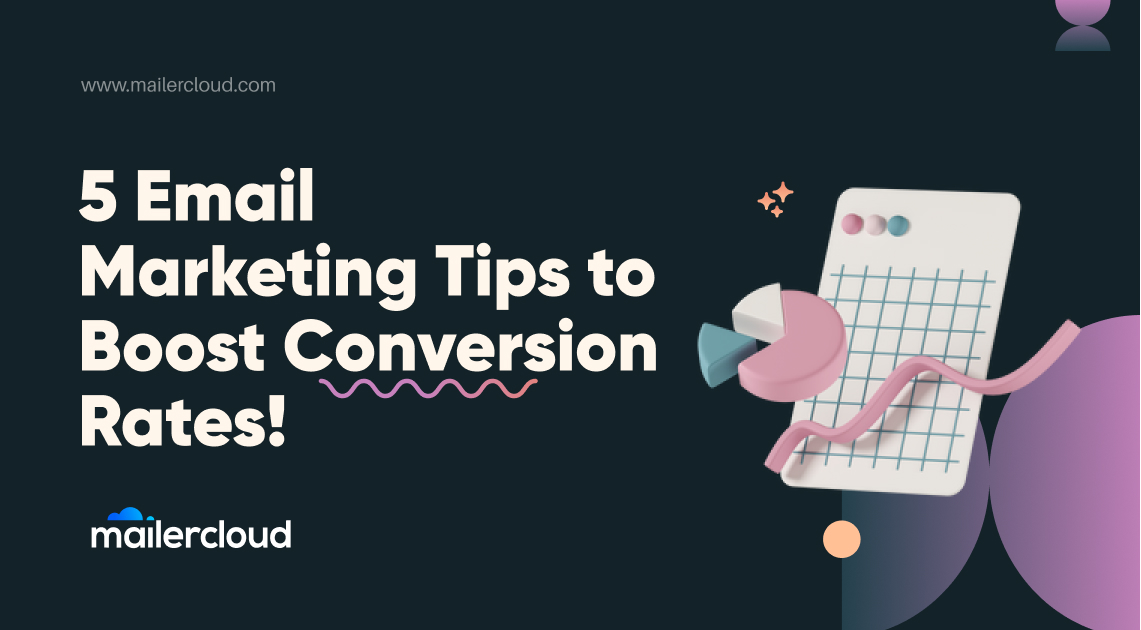 Campaigns are a type of marketing message that you distribute via advertising, email, or any other method. Regular emails are mass emails that are sent out to a large number of people at one time.
When you design a routine email, you'll use an automated campaign builder that follows a checklist for adding recipients, selecting the settings, and the layout of your message.
Why Is Email Marketing So Important?
Marketing via email allows you to constantly stay in contact with website visitors as well as customers. Experienced buyers also like being informed of the latest offers and new products.
Research shows that it costs an additional five percent to gain a new customer instead of maintaining an existing client. The most crucial aspect of marketing emails is to gain the consent of the target audience before contacting them.
Users who aren't signed up for your marketing emails will not be contacted via email, regardless of the reason.
How Can Email Marketing Help to Increase Conversion Rates?
Particularly well-liked among marketers who use digital tools, email marketing is a tried and true method that has proven effective in helping companies increase their prospects' conversion rate and connect with their clients.
If done correctly, it could yield an enormous return on investment. If it is not used correctly, it can become an unnecessary waste of time and cash.
Because email marketing strategies can be a bit one-time event, based on the method of execution, quality of leads and email lists, and a host of other aspects, It is essential to carefully ensure that your email campaigns are optimized for the highest conversion rate for email marketing.
The following tips can aid in increasing your click-through rate on emails and achieving your goal of conversion:
1. Always Make Sure to Use a Landing Page
Don't simply send them to your site and hope for the magic to occur. An effective marketing email should be tightly linked to an appropriate landing page as Shopify Email Marketing connect with its customers.
The exact requirements will differ in various kinds and types of messages. For example, abandoned emails should be directed back to where they put their cart.
If email recipients land on this site, it should clarify exactly what they want for them. This can significantly lower the rate of bounces on the landing page.
Landing pages can also be the perfect opportunity to provide rewards like deals or untagged content for increasing conversion rates.
They also allow personalizing of the experience and convert users to a specific offer. If your email sends users to a site that doesn't provide a customized experience or offers nothing special, your readers will likely be attracted.
It's not long before you can make them a deal before they eventually decide to click away.
2. Concentrate on the Frequency of Emails
People are often frustrated and more likely to unsubscribe when they always receive emails from promotional companies. So, getting the frequency just right is vital to connect with your target audience and boost conversions while keeping the number of unsubscribes in check.
There isn't a 'one size is all' answer; it is essential to decide on the frequency of your emails on variables like the purpose of the campaign, your customer purchase cycle, your audience segmentation, and industry best practices.
You must ensure that your emails provide a worthwhile meeting of the campaign goal. The timeframe of your emails is something that you can Test A/B to determine which one is most effective for your conversions.
3. Inspire a Sense of Urgency and Scarcity
This is among the oldest methods that are covered in this article. Instilling a sense of urgency will increase your conversion rate by inducing people to act quickly.
Suppose you're offering a special offer of Holiday Email Marketing. In that case, you may have it only for a short period and include a countdown timer inside your message to highlight the urgency.
The trick of scarcity is another one. If you're offering a deal, why not offer discounts only available to the 100 first people who utilize it? This will give customers the illusion of receiving a special offer and entice them to take action quickly.
4. Make Effective Calls to Take Action
Although it may sound obvious to you, the need to clearly state what you would like your readers to do cannot be overemphasized enough.
People react when given calls to action as it clarifies your message and encourages them to follow to the next step and purchase something or, at the very least, to advance further in the sales funnel. Be sure that your CTA is clear, powerful short, and valuable. In addition, customized CTAs have been proven to boost conversion rates by 200 percent.
It is therefore advisable to dig more into the details and then customize your CTAs by the parameters of the location of your visitors and the demographics of their interests. to draw the attention of readers and encourage them to take action.
5. Split Test All Elements Important
The split testing method is the ideal partner for a marketer. It allows you to evaluate and discover the most effective strategy for your readers and your business. It is possible to divide the elements of your test as small as the images of your website's landing pages, an email, or even the way you've written your CTA.
If one option is giving incredibly more conversions than the other, you're not sure you'll be able to implement the new strategy. So, make a data-backed hypothesis, run efficient tests, and then use the information you gather to improve your marketing emails and increase conversions.
Split testing helps you know what works best for your particular mailing list and help you increase your marketing strategies.
Conclusion
If you've tried marketing via email in the past but have yet to be successful, It's worth re-evaluating the approach. Please take a look at some of the suggestions below and tell us how they perform for you. In terms of boosting the number of conversions and revenues, email marketing has a lot to provide. If you follow the tips above, you're well on the way to success through email marketing and have successful campaigns and great conversion rates if you start selling on Etsy.
The most important thing to do is to know the target market and tailor your content to the needs of your audience. What could other strategies of email marketing improve your conversion rate? Let us know your suggestions in the comment section.