Drive Customer Engagement & Holiday Sales with Email Marketing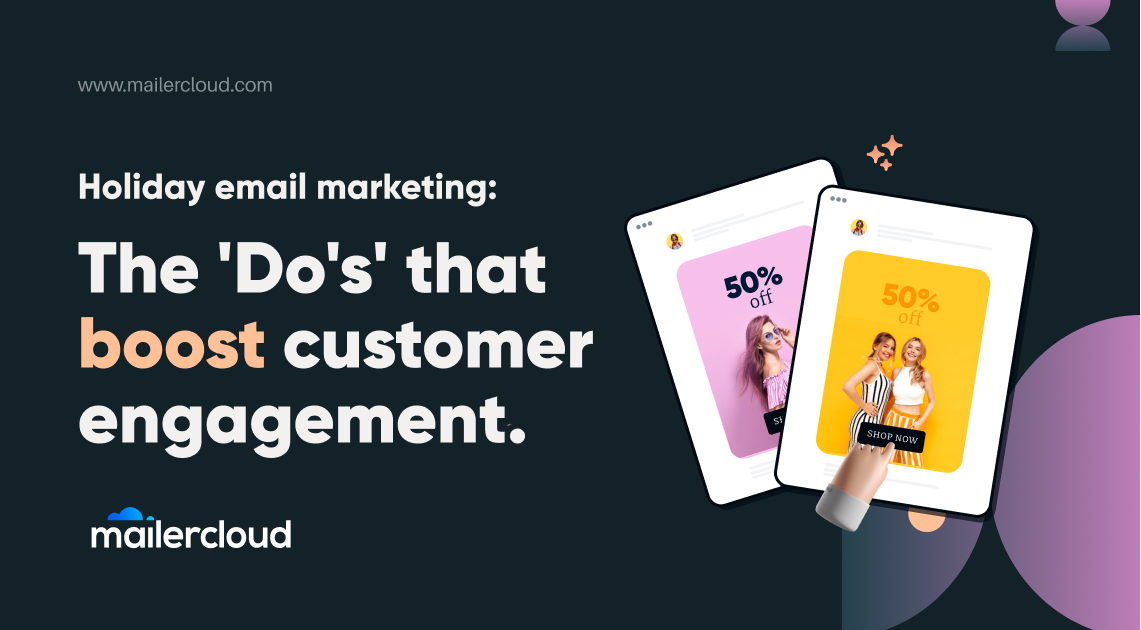 The pandemic and the post-pandemic scenario led to intensifying the digital transformation dramatically. Customer expectations for what companies might do for them with a more digital experience skyrocketed.
The customer now has higher standards than ever before. This has made the race of digital marketers even tougher. With holidays just around the corner, it's a favourable time for email marketers. Holiday email marketing is an opportunity for them to add traction to their sales and customer engagement efforts – maintaining the revenue momentum and building and capitalizing on customer engagement.
Emails: Why & What Makes them the Best Holiday Marketing Tool?
Emails provide access to a well-balanced mix of technological resources to cater to different needs of holiday marketing. They make you capable of competing with your customer's most recent best experience.
The escalation of consumer behaviour trends has only cemented email's status as the greatest holiday marketing tool. The holidays instil a positive attitude in people's minds and have shown to be the most effective time of year for reaching out to your audience.
The email engagement game has gained ground and you need to buck up too! – Despite all of the uncertainty, the last year brought marketers in almost every industry some positive news in email marketing: consistent increase in email click and open rates.
Emails offer a one-to-one marketing route by delivering relevant messages to people based on their preferences. In fact, the emails truly help in value addition.
Emails lay out the perfect base for offering your prospective as well as current customers instant buying options. What's more noteworthy is that buying stuff based on discounts has become a key holiday habit. Why not encash it then via email marketing?
Unlike other marketing channels, email allows for extensive segmentation, targeting, and personalisation. It's no surprise that email customization leads to a 6x increase in transaction and revenue margins.
Emails can be a bolstering hand to your other marketing initiatives, such as social media campaigns and reward programmes. They allow you to constantly stay in touch with your audience throughout the season.
Hacks for Getting the Most Out of Holiday Email Marketing
Strategize & Plan Well in Advance
Ideating and planning about holiday email campaigns ahead of time helps in staying a cut above as the holiday season will land on you swiftly and will pass you by. There's already so much to do during the holidays' business time and if the task of planning email campaigns is left for the last minute, the benefits of email marketing you reap are also not that worthy.
More sales are expected in the holiday period. Hence, increasing prospects for success through meticulous prior planning will result in a higher ROI and fewer hassles. Customers that receive your emails, in a timely manner are more likely to purchase and avoid waiting to avail of a special holiday offer until the last minute. It's also critical to scan, analyse, and use valuable insights from prior year's campaigns. The current year is absolutely vital, but the previous one is just as pertinent.
Deliver Relevant Emails with Email List Segmentation
A clean, updated, and segmented email list ensures your subscribers receive the right holiday email experience. You don't want to lose a potentially ripe lead because of an email that doesn't strike a chord with them. Another goal you want to achieve with holiday email marketing is to ensure that only genuinely interested subscribers read and respond to your emails.
Intricate segmenting based on prior purchases, demographics, and interests allows you to target relevant people who are more likely to be interested in your holiday offerings. The more effectively you can segment and cluster your email lists, the higher the success rates.
Play Strong with Personalisation
Targeted and personalised email campaigns have a huge impact on client engagement. Using previous statistics to create customised email content and a strong Call to Action (CTA) can put you miles ahead of the curve throughout the holiday season. A proper blend and balance of segmentation, personalisation, email automation and responsive email formats are effective ways to leverage email campaigns in the holiday season.
Give your Audience Something Different with One-of-a-kind Deals
Taking an altogether uncommon step to highlight your emails in the recipient's inbox is the name of the game. Featuring exclusive and limited edition deals in the emails will catch the recipient's eyeballs and arouse curiosity. Offer your subscribers fresh unique deals before they are accessible to the general public. You can also incorporate features like countdowns, product alerts when visitors land on specific product pages, and other methods to encourage users to take advantage of a limited-time offer.
Shoot-up the Email Open Rates with Emojis in the Subject Lines
The importance of email subject lines in regard to email open and click-through rates cannot be overstated. Before the email can even begin to convey the message, it must immediately grab the reader's attention and urge them to open the emails.
Emojis have become ingrained in everyday digital communication. Adding them to your subject lines can boost your campaign's success significantly. However, make sure that the emojis you select are universally compatible and responsive.
Email Holiday Gift Guides to Take Care of the Holiday Gifting Concerns
As holidays approach, many people have holiday gift anxiety. Businesses may improve their brand marketing efforts while also addressing subscribers' gifting concerns by giving gift guides to their email lists. This will alleviate the subscribers of the confusion that comes with selecting holiday gifts. Brands can also send catalogues each tailored to a specific sort of shopper based on factors such as relationship, price point, hobbies, age bracket, product category, and so on.
Build & Maintain the Buzz with Smart "Abandoned Cart" Alerts
People frequently add items to their shopping carts to avoid the last-minute rush that can occur during a sale. Some folks, alternatively, shop as soon as the sale begins. Sending cleverly positioned reminders to avoid missing out on a deal or to complete a purchase on a product they left in their cart can often result in sales you would have missed otherwise.
This is also an opportunity to provide personalised offers and product recommendations based on the individual's browsing history and the types of products they were considering purchasing. This could provide the extra value that your potential consumer was seeking.
Dedicated Landing Page
Create a separate landing page for your email campaign rather than routing the click-through traffic to your website homepage, where visitors will have to search around to find the product or sale referenced in the email. Customers are satisfied that they clicked the right button when your email complements your landing page. This additionally reduces the complexity of the conversion process.
Tune in your Marketing Strategies to be in Sync
Multi-channel marketing is critical to email optimisation and enhancing the holiday season's potential. That entails ensuring that your website, social media, sponsored content, and other marketing strategies are consistent across all channels, as well as articulating and reinforcing your brand's goal. A cohesive email campaign blueprint with streamlined resources is the key.
Assess the Performance & Utilize the Findings
A/B testing is an important aspect of holiday email marketing, just like it is for any other campaign. The proper application of A/B testing findings and email campaign metrics can aid in the refinement of your campaign approach and targeting.
Utilize analytics and automation to acquire a better and in-depth understanding of the campaigns. This can help to tweak elements like email delivery timing or the optimum product/service combinations for particular target audience, among other things for better results.
Use a Calendar to Proceed Gradually & Tactically
Sending a swarm of holiday emails to your subscribers' inboxes may irritate them and raise the likelihood of you being included in their spam list. Therefore, oversee all holidays throughout the year with a content calendar to avoid getting overwhelmed. This facilitates easy modification and email optimisation when sending bulk emails.
Today's consumer is smart and well-aware of the market scenarios. Move slowly with sending marketing emails as per the recipient's position in your marketing funnel. You can use email automation – drip campaigns, auto-triggered emails – for this purpose.   
Takeaway
With the right email marketing tool, creativity and wise use of the above-mentioned ideas avail the golden chances that the holiday period brings in. Furthermore, create promotional incentives that will entice people to stay and return long after the holiday season is over.