Webforms: Powerhouse for Lead Generation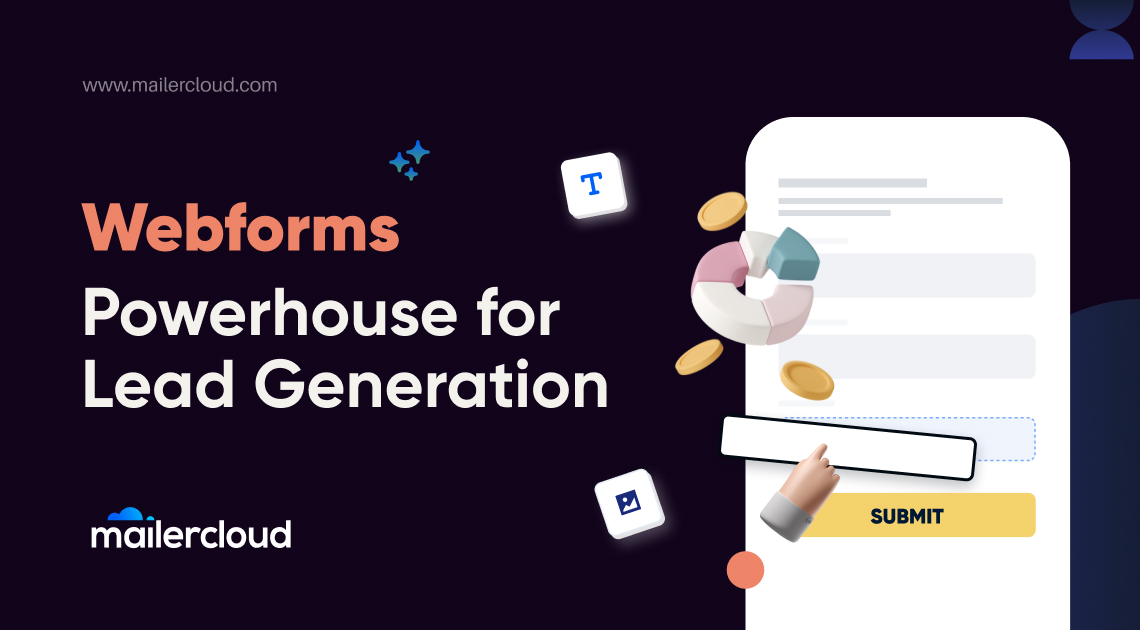 61% of B2B businesses quote that the biggest challenge for them is to generate high-quality leads.

So what is the most effective way to tackle this challenge – Webforms!
Everything is turning digital and people are gathering information about a business from different online channels and sources. Hence, creating inbound quality leads via online sources is just as vital as having a rock-hard online presence. It's always a good idea to have open lines of communication for users to contact a company, and webforms are a way to do it. Webforms are extremely useful since they allow for the sharing of data for a variety of purposes. Webforms are critical to inbound marketing approaches. They can transform an ordinary site visitor into a lead that businesses can nurture and eventually convert to a customer if used strategically.
What are Webforms?
A webform is a form that appears on a website or webpage where users can enter their data or personal information in return for a service or product. The obtained data is then sent to the server for analysis and processing.
A webform is one of the most effective ways to gather feedback and contact information from potential clients while also establishing a cordial connection with them. Time spent attracting a visitor to a website should be balanced with time spent refining the user experience, which includes webforms.
Types of Webform for Lead Generation
The type of webform that will fulfil the job is determined by the purpose of the webform. They can be utilised in a million various ways, and there are a quadrillion data fields to record.
There is no such thing as a "one-size-fits-all" webform in terms of length, format, content type, or design. They should be tailored to the demands of the business and aid in the collection of data from leads. Primarily, there are three types of webforms for lead generation; however, they work in distinct ways:
Embedded Webforms: Static forms having permanent spot on a website.
Pop-up Webforms: These forms "pop-up" at a predefined time and place on a webpage, aiming to attract a user's attention just at an opportune time.
Value Propositions Webforms: Offer unique and specified value in exchange for a lead's information.
Different types of webforms are efficacious at different stages of the marketing funnel and can provide further benefits. While an embedded form can attract attention during the awareness, deliberation, and decision stages, pop-up forms have the most impact during the decision stage, when consumers have previously interacted with a business website and have made a decision that they like what the business has to offer.
How to Create Better and Effective Webforms?
Before diving into the process of building webforms, consider what information is really needed from the leads. Potential leads may lose the plot and leave the website if the webform does not make sense to them, is complicated, or seeks for too much information. Calculate the value of the offer at the end of the form and modify the webform correspondingly.
Decide a Clear Purpose
The leads should understand why they are filling out the webform and what it is for. Include easy-to-understand headers that indicate how to fill out the form. Headers help to eliminate ambiguity and guarantee that the leads spend as little time as possible on the webform. Make it clear to the leads what information they need to provide. Use the fewest words possible to do this. To give the leads a seamless end-to-end experience, keep the form organised, crisp, and to-the-point.
A webform with clear purpose results in:
Building trust factor between a business and leads.

The site visitors know exactly which webform they have to fill and why specific questions are requested from them.

Improves the webform usability and drives site visitors to complete the webform and convert.
Select the Webform Type
What type of webform to employ – signup form, contact form, registration form, as well as which questions to ask and how to structure the responses, are all determined by the webform's end objective. A typical lead generation form includes fields like name, business/company name, email address, phone number, and in certain cases, a username and password for future visits to the website.
Mailercloud provides access to a library of different prebuilt webform templates as well as the option of creating a custom webform from scratch. The form can be designed with an easy drag-and-drop feature. Choose from a variety of form fields and arrange them according to the webform's end goal. Mailercloud webform builder tool also sends real-time notification as soon as a user fills and submits the webform. Importantly, Mailercloud enables the inclusion of a 'Terms & Condition' segment at the end of the webform to clearly set out the legal terms.
Decide the Form Fields
What information does a business want from a lead? Answer this question to get the answers of the following questions:
What will be the header/title of the webform?

What fields/questions to ask in the webform?

Which types of form fields to include?
Irrespective of type of form, basic details such as name and email address is mandatory to identify individual submissions.
Integrate the Webform
Copy and paste the webform's code into the desired location on the webpage to add the webform on a business website or on any other platform. Mailercloud offers two ways to integrate the webform, either by sharing the webform link with all the contacts or by embedding the webform code into the HTML code of the website.
Securing the Webform
In today's world, data protection is more vital than ever. A secure webform ensures that the leads' information is safeguarded, resulting in more submissions. The addition of reCAPTCHA validation at the end of Mailercloud webforms adds an extra degree of security. It prevents spam submissions from coming through. Plus, the Mailercloud webforms are GDPR compliant, which provides an additional benefit by automatically creating a segment of European users.
Testing & Analysing the Webforms
It's critical to test the webform holistically in order to see things from the perspective of a real site user. Examine the space in webform fields, headers, design components, and other web form elements.
Scanning the webforms is an important part of creating result-driving webforms. It helps in identifying and rectifying the pain points in the webforms in order to improve the overall user experience. The design of the webform should be appealing and shout clarity – be straightforward, use relevant form fields, utilise input constraints, add a form submit button, and use smart fields, defaults and error messages in the webforms.
Right Placement of Webforms is Important
Right Webforms → Right Place → High Intent Lead Generation
According to consumer behaviour research, people read and interact with webpages in different ways. To leverage the true potential of webforms, make sure their placement is able to easily capture the eyeballs and where the user's current degree of involvement with the website makes sense.
Although it may appear that putting the webform "above the fold" is the greatest approach to get attention, people who have just arrived on the page may not be willing to furnish their contact information. Embedding forms in the footer or sidebar is a good idea, as both these places imply that there has previously been some interaction of the user with the website.
Types of Webform according to the Webpages:
Homepage

:

Newsletter signup webforms, free trial webforms.

Blog pages:

Subscription webforms, free trial webforms, content download webforms.

Product pages:

Request a demo webform, free product trial webform.

About Us/Contact pages

:

Contact webform.
How to Use Webforms to Generate Leads?
The idea behind lead generation is that people who visit a business website are highly probable to be interested in the product or service offered there, so those businesses would like to capture their contact information in order to connect with them and inform them more about their products, follow up with them until they become customers. Giving them a webform to fill out is a sure-shot way to get their contact information.
Webforms aid in the automation of lead generation processes and the creation of customer personas. A well-designed webform gives users a pleasant experience while also providing sales and marketing teams with valuable understanding and insights about the lead. Mailercloud's webform builder tool provides access to real-time reports of the webforms. This helps in measuring the performance of different webforms, tracing and removing the friction areas that may trigger departure of the prospects.
The Bottomline
Webforms make it easier to generate leads and they help prospects to indicate their interest in engaging in further communication with a business. Most marketing platforms, including email marketing platforms, have form builders and free webforms, so choose your email marketing tool and webform builder intelligently – they will aid in adding more fuel to the lead generation efforts.