Why Email Marketing Campaigns Fail? - Reasons and Way Out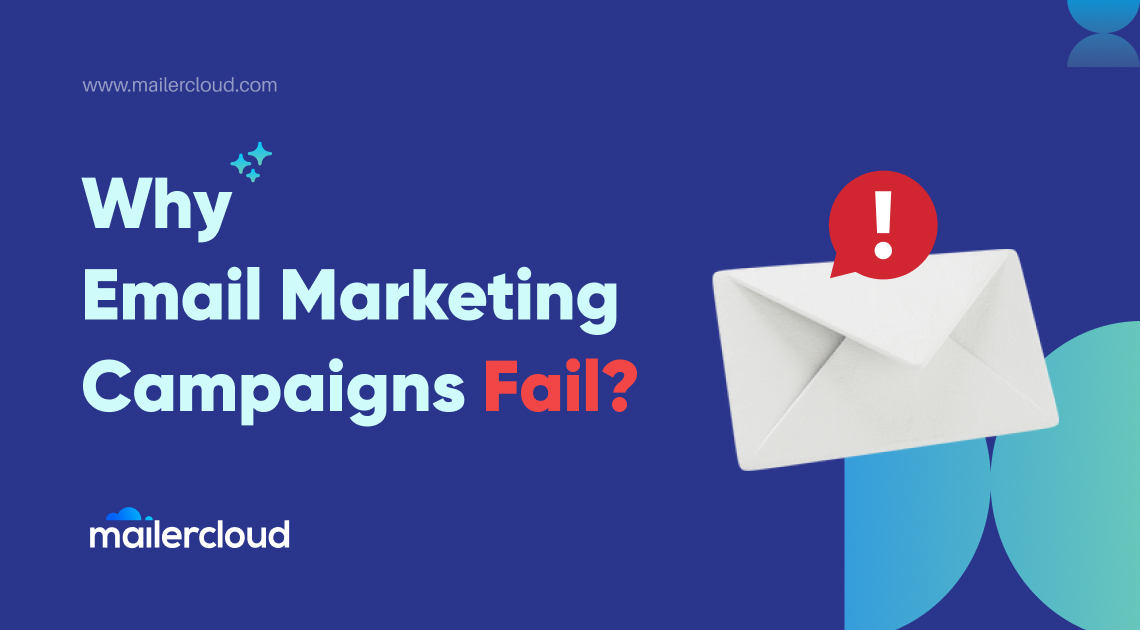 As the use of email marketing grows at an astonishing rate, it's important to understand how and why it sometimes fails.
By knowing what can go wrong, you can mitigate the risks right from the first stage of email marketing campaign creation and increase the chances of success.
Use this article as a reference point to know the various theories and reasons for which marketing emails fail. Also, gain in-depth insights into what goes into rectifying and avoiding the errors causing marketing emails to flop.
Email marketing offers a mammoth ROI of $36 for every dollar spent.
There are 3.9 billion active email users.
Every day, roughly 333.2 billion emails are sent, equating to more than 3.5 million emails per second. These statistics are self-sufficient to prove that email is the most effective – both in terms of cost and performance – communication and marketing channel for interactions for all sorts and scales of businesses – from small enterprises to industry giants.
Despite the huge success rates of email marketing, it can easily turn into a blunder, if you are heading in the wrong direction. Important to mention here that only 60% of marketers claim a positive return on investment from email marketing. What is going wrong with the remaining 40%?
There are many reasons why email marketing fails and it's important to understand these reasons in order to fix them, take complete control of the email campaigns and prevent them from failure.
But first, here's a rundown of some of the challenges that come along the way of creating profitable email marketing campaigns.
Common Challenges that Come in the Way of Successful Email Marketing Campaigns
1. Constraints & limitations of current email service provider
Marketers can choose from potentially hundreds of email service providers (ESP). Some focus on certain industry sectors, while others focus on triggered email functionality and sales-assisted marketing. It's possible that you've outpaced your existing provider's capabilities if you're feeling restricted.
Consider switching ESPs as a way to get around this problem. Second, consider adding an extra ESP that provides features or a specialty that your current provider lacks.
2. Not having sufficient email creation tools
Different businesses have different email marketing goals and objectives. While some can get by with free email providers or basic email marketing platforms, others believe their tools are inadequate and require a more advanced and feature-rich email marketing service provider.
With limited email creation tools and staffing for email marketing teams, it's time for organisations to look into high-quality email marketing tools that give their present personnel all they need.
3. Loosely outlined email channel goals, KPIs and other metrics
What's worse than failing to meet your objectives?
Meeting your objectives yet failing to succeed because you set the wrong targets and KPIs.
First, take a look at the KPIs you're currently using.
What are the different types of metrics?
Are they largely analytics such as openings and clicks at the campaign level?
Are metrics like inactivity and deliverability rates, which are important indicators of email channel health, being monitored?
Are you able to look into how much a client or subscription is worth during their lifetime?
Comprehend the impact of email on marketing or customer metrics like customer retention or repurchase rate, time to next purchase, customer lifetime value, and marketing attribution. Subsequently, move into brand related metrics like database quality and return on investment.
Each level of metrics is significant and serves a distinct purpose. If, on the other hand, all of your metrics are campaign indicators, it's time to elevate your objectives to line with email channel health and company success.
4. Low and inadequate accessibility into the email and campaign performance
If you don't have access to the necessary and suitable metrics, it's impossible to determine if you're meeting even well-intentioned objectives. Therefore, it is very important to choose an email service provider after thorough research. Also, make sure you're getting the most out of the performance statistics provided by your current email service provider.
Challenges that Every Email Marketer Faces to Create and Run Winning Email Marketing Campaigns
1. Obtaining and maintaining relevance
Receiving an excessive number of emails on a regular basis? It's a common occurrence in today's technology-infused life.
So, as an email marketer, you face the main challenge: how to stand out with relevant and intriguing email content? Your subscribers will quickly cease opening, reading and interacting, if the emails are not contextual and relevant.
2. Not able to keep up with subscriber engagement through the course of time
People are the most receptive when they first subscribe to an email list. Following the initial rush, interest appears to be waning. How can email marketers estimate their present levels of engagement and devise methods to keep them high over time?
The importance of proper email list segmentation, continuous analysis, and improvement, as well as customised email content, cannot be overstated in order to retain the same level of engagement with the marketing emails.
3. Right emailing frequency
How often a marketer should be sending emails? There is no steady email sending frequency rate that assures success.
Frequency is crucial, and the proper frequency varies depending on the target audience. Some deal enthusiasts like daily emails, while others prefer a monthly check. This is a method that works hand in hand with providing relevant content.
Email frequency has a range of effects on your campaign. Consider it the cornerstone of your email campaign. First of all, it influences the email open rate. Then next comes the click-through and unsubscribe rates (69% of people unsubscribe because they are tired of receiving too many emails frequently). In the end, it affects conversion rates as well. Be cognizant of your industry benchmarks while evaluating the emailing frequency efficacy.
What does the industry data say about email frequency?
According to research, 33.3% of professionals send email campaigns weekly. Whereas, 26.67% send email campaigns multiple times per month. And, 13.33% send email campaigns several times each week, daily, and monthly.
Email Sending Frequency of B2B Marketers Vs. B2C Marketers
Marketers in both B2B and B2C said they send emails 2-3 times a month (37%) and 4-5 times a month (25% for B2B and 30% for B2C), respectively.
Sending emails frequently triggers around 45.8% of the subscribers to flag the emails as spam.
Subscribers would want less frequent emails (43.9%), but better information (24.2 %) and more personalised offers (23.9%), which comes as no surprise. That isn't to say that your subscribers aren't interested in receiving your emails at all. Only 15% of clients like to receive daily emails. At least monthly was found to be the most preferred email frequency preference.
Guiding fundamentals, metrics, and statistics are helpful in finding the optimal email sending frequency, but the only way to find a solution that's perfect for your business is to ask yourself the right questions.
What are my marketing objectives?
What is the usual standard for my business niche?
Are my leads of high quality?
Is my way to target correct?
In this instance, it's also ideal to give your subscribers the option of choosing their own frequency.
4. Data integration and quality of data
Incorporating the ESP's data with the information obtained from your customer relationship management database is routine. But it's important to have sound data rules in place, such as defining and standardising field names and having robust methods for synchronising data and resolving discrepancies.
5. Email deliverability
One of the most common problems that email marketers have is getting their emails into their contacts' inboxes. How can you ensure that your emails are delivered consistently across several ISPs, spam filters, and corporate firewalls?
Spam filters are one thing, but newer tactics from major webmail applications will consider previous interaction and engagement when deciding where to place the emails in the inbox. Email marketers should track their inbox delivery rate and look for ways to improve it.
6. Proper rendering of the emails
Creating fantastic email campaigns is pointless if they don't appear properly in particular email clients or on mobile devices. More so, if the emails do not render properly on certain screens or devices, they are most likely to quickly find their way to the trash.
Key here is that different email clients render the emails differently.
The rendering equation for typical email clients is virtually as complicated as it has always been. Email marketers will be concerned with how their emails appear on desktop clients, webmail clients, and mobile clients. Email recipients make decisions that affect email rendering even more, the most important of which is whether to use dark mode, deactivate graphics, or use a screen reader.
As part of their efforts to take full advantage of a particular inbox provider's capabilities, email senders generate additional rendering variations. To be precise, this is a beneficial move because it results in richer, more immersive, and user-friendly email experiences. However, rendering is still complicated because some of your subscribers will benefit from the functionality while others will not.
Consider creating and optimising a baseline experience for each large cluster of clients on your email list. To fulfil the unique requirements of different email clients, it becomes necessary to change the HTML code of the emails.
Many email marketers face a significant difficulty with email rendering errors, but they are, by and large, controllable. It will necessitate an examination of the features supported by all email clients, as well as the ones supported by the majority of them.
Reasons that Contribute to the Failure of Email Marketing Campaigns – How to Dodge them?
There are many challenges, like those mentioned above, that pose in front of email marketers. Even though you are able to overcome these challenges, marketing emails can still fall flat. Here is an overview of the reasons causing marketing emails to fail
1. Offering Little or No Value in the Emails
Many businesses approach email marketing with the expectation that customers who will sign up for their email list will without fail open their emails, read it and then click a link to make a transaction.
Although this is a reasonable goal for email marketing, you should focus your efforts on building trust by providing value to your subscribers.
Subject lines, copy, calls to action, offers, schedule, and target markets are just a few of the many parts that make up an email campaign. It's no surprise that email marketing is overwhelming for many businesses. As a result, many businesses end up sending the very same kind and style of email at the same time every day.
How to fix this?
The email must be simple to scan. It must be logical, coherent, and consistent. Subscribers will undoubtedly trust these emails because they offer genuine value.
2. Providing Too Much Information
A cluttered email stuffed with way too much content and details can easily overwhelm the recipients. If continued for a long time, the impact of this could be easily seen on the email open rates and in some cases, the spam complaint rates as well.
How to fix this?
While you should include as much information as possible in your emails to add value, make sure you don't go overboard. Subscribers do not want their inboxes to be flooded with information. Ask a question and provide a response as soon as possible. Also, develop the email copy that is simple, valuable, relevant, and has a human touch.
3. Emails Do Not Reach the Inbox
Did an email ever exist if it ended up in the spam folder?
Maintaining strong email deliverability entails sending and landing all the emails in the recipient's inbox. In the case of bad email deliverability, something triggered a spam filter, which directed the email to the spam folders.
Email deliverability can be harmed by a variety of issues, including missing email authentication, low engagement, and poor list quality. Identifying what's wrong with your email deliverability is often the first step in improving it.
Email clients will also check at how people interact with your emails' content. Open rates and click rates are both good engagement signals that inbox providers use when deciding where to deliver your emails.
Other indicators, such as sender score, which considers both your domain and IP reputation, can also have an impact on overall email deliverability rates. Your activity as a sender has an influence on these stats.
How to fix this?
It's important to look into authentication methods like SPF and DKIM if you want to increase your email deliverability rate. Another common check is to see and ensure if your domain has a DMARC record, that protects your domain from unauthorised senders faking their emails to appear as though they came from you.
Maintain an up-to-date and accurate email contact list database.
Before adding new subscribers to your email list, ask them to verify their email address.
Set and manage the expectations of your subscribers.
Keep track of engagement statistics and spam complaints.
Avoid sending emails with PDF attachments.
4. Not Sending Welcome Emails
You may believe that your work is done for the day once a user signs up to your email list. Change your stance!
Your audience anticipates receiving a welcome email from your side shortly after clicking the subscribe button. It's likely that you can connect to this experience as well. When you've invested enough in a company to give them your email address, you'll want to continue the conversation.
Many marketing people neglect to send welcome or general greeting emails to new subscribers, as seen by their statistics. The longer a business waits to contact a potential customer, the less likely they are to engage.
Although welcome emails may not offer anything unique to subscribers, they have the greatest open rate.
If you don't send a welcome email, you'll be missing out on a major opportunity to establish a great first impression on your subscribers. Subscribers to your brand express an interest in it. Your failure to send a welcome email demonstrates a lack of interest and enthusiasm on your behalf.
How to fix this?
The best way to deal with this scenario is to write a welcome email for new subscribers, set it up for an automated email campaign and that's it. Auto-triggered welcome emails are the best in doing their jobs.
The following should be included in your weclome email copy:
A heartfelt thank you.
Describe your company's mission in a conversational manner.
Clear-cut future expectations and promises.
Helpful newsletters and other informational resources.
5. Diverting the Emails to Suboptimal Landing Pages
The landing pages you send your subscribers to when they click on your email marketing campaigns are one of the reasons the marketing emails underperform.
Of course, the worst case is if the page does not exist or is not found. The next issue is if the landing page's content isn't useful, the design isn't compelling or delivers a poor user experience.
How to fix this?
Understand that the goal of the landing page is to drive your subscribers further through your sales funnel by guiding them to take the next step.
Make certain the landing page is well-designed.
It should be simple to use, scroll, or browse around.
Any information that your users could require should be easily accessible on the landing page.
The design of the landing page needs to be intuitive.
The offer or content the subscribers came looking for via the emails should be accurate and easily accessible on the landing page.
6. Focused Too Much on Email Creation and not on Email List Growth
In other words, you're sending emails on a regular basis, yet your database isn't increasing. Hopefully, you're learning how to improve your emails based on feedback – metrics, unsubscribe rates, and circumstantial information.
Emails, on the other hand, do not disseminate in the same way that content does. A fantastic piece of content can attract new visitors to your website, but a wonderful email is unlikely to add people to your mailing list. As a result, you must devote time to both writing excellent emails and adding people to your mailing list.
How to fix this?
It all boils down to strategically placing call to action buttons in the appropriate locations. For some, this may include using a pop-up, while for others, it may imply incorporating them naturally into your content. There are no right or incorrect answers; it's simply a question of providing value to your site's users.
People may just want to be notified when new articles are published if the information is valuable enough. E-books and reports are frequently used to expand an email list. Experiment with forms, polls, advertisements, landing pages, social media, and video to see what motivates visitors to take action, but don't cannibalise your content.
7. Providing the Wrong Offers
Sometimes even if the emails are eye-catching, they fail to perform to the intended levels of success if the offer that the emails provide is not up to the mark.
How to fix this?
Offers can be difficult to work on. Carefully test the email offers to see which ones work best for your target demographic. Performance can vary dramatically based on the product and service.
A surprise or a pre-populated cart can aid with product sales. The latter adds a free item to the recipient's shopping cart automatically.
Free delivery has lost some of its allure now that almost every retailer offers it in some form.
Dollar-off deals perform slightly better than percentage-off discounts.
Make sure the offers you send out in emails are aligned to the recipient's interests and buying habits. A tiny discount, for example, is unlikely to impress a high-end jewellery customer.
8. No Apparent Call-to-action Buttons
What an email recipient does after reading your email is determined by your call-to-action (CTA). Many subscribers may dismiss your email and continue on with their day if the email does not have a strong and visible CTA.
Business niche, marketing goals, and buyer persona are the factors that influence the nature, placement, copy and number of CTAs in your emails.
Adding numerous CTAs to the same email is another error that many businesses make in this field. As a consequence, subscribers experience decision confusion and abandon their interaction with the emails before committing to a single action.
How to fix this?
Having just one CTA per marketing email is considerably more successful than having several. Consider the purpose of your email before deciding on a call-to-action.
When readers reach the end of your message, what do you want them to do?
You'll have a much easier experience adhering to one CTA if you tackle every email with this intention. When compared to any other CTA, using a video thumbnail as the CTA is estimated to get 3 times the number of click-throughs.
9. Not Sending Emails Regularly
If you aren't sending emails to your subscribers on a routine basis, you may soon be able to say goodbye to the relationship you've built.
Sending emails at inopportune intervals or not at a rate that you promised to your subscribers acts as a catalyst for them to slowly and steadily disengage with your emails. Ultimately, they may unsubscribe or mark the emails as spam, if with time they tend to forget about your business.
How to fix this?
Recipients become habituated to seeing your presence in their inboxes when you email on a continuous basis. This familiarity fosters rapport, which could lead to better results for your email marketing campaigns. That isn't to say that you have to send many emails every day to be noticeable.
10. Issues in the Email List
One of the top reasons for email marketing campaigns failing is the email list that lacks right data.
Unhygienic email list: Incorrect email addresses. Missing names in the contact details. No proper segments of the contacts. All of these factors make up a dirty email list. Furthermore, running email marketing campaigns with such a stale email list, high bounce rates are inevitable. Not only does this lower your email response rate, but it also puts you at danger of being flagged as a spammer by your ESP.
Buying email lists: The problem isn't with purchasing an email list. The real issue occurs if it's cold. If you buy email lists in a segment where you're not well-known, you'll need to raise awareness about your business and its offerings before seeing engagement. This necessitates perseverance and consistency. Unfortunately, far too many business entrepreneurs give up before putting in the necessary effort.
Outdated email lists: A high-risk email list is the one that is more than a year old and has not been updated or cleaned. Studies say that just 56% of email subscribers stay on a list for more than a year. Only about 47% of those left are active, who have opened and actually read one email. Everything is changing within a fraction of seconds and people tend to move on. They change their email address. They are deleting their old email accounts and replacing them with new ones. Hence, it becomes very important to validate the entire email list before sending the email campaigns.
The email list is either too small or too large: Your set marketing goals govern the size of the email list. Some businesses believe that having a larger email list is beneficial. However, having a huge email list isn't always a good thing. Don't set your goals just on the basis of the volume of contacts you have. Concentrate on building an email list that is tailored to your industry. Furthermore, the primary goal should be to develop a list of contacts who are truly interested in your business offerings.
11. Some Marketing Emails Fail to Live Up to the Audience's Expectations
Emails that fail to satisfy the expectations, demands, needs or problems of the subscribers easily find their way to the trash bin.
Poor email frequency, heading off topic, delivering completely out of context deals, or failing to keep your brand voice in account, for example, can cause your subscribers to unsubscribe from your email list.
How to fix this?
Keep an eye on how you're doing and come up with new techniques to thrill your subscribers.
Avoid making false or deceptive claims that you can't back up.
Deliver on the promises you made to your subscribers when they signed up to receive your marketing emails.
Concentrate on addressing the subscribers' major challenges and pain points.
Make sure the right email, with the right message, gets to the right person at the right time – this will boost email engagement and conversion rates.
12. Not Optimising the Emails for Mobile Devices
Mobile-friendly emails are no longer an option; it's now a mandate for any email marketing campaign.
The majority of individuals check emails on their phones throughout the day. You will experience a lower engagement rate and more of your subscribers will choose to unsubscribe if your emails are disconnected, lacking graphics, and overall messy when accessed on mobile phones.
Email open rates on mobile devices have climbed by 68% in recent years. Hence, if the emails are not optimised for mobile phones, you're missing out on a huge opportunity for your marketing emails.
That goes without saying that the emails must be designed to be responsive on different screen sizes, browsers and email clients.
How to fix this?
It's now easier than ever to make your emails mobile-friendly. However, when optimising, be sure to provide a fantastic reading experience.
The majority of ESPs include mobile responsive email templates in their services. Use a single-column email design to keep things uncomplicated. Make it as simple as possible for subscribers to understand your content in its entirety.
It's also critical to keep the email subject line brief and to-the-point. Email subject lines get chopped off quicker on mobile devices, so put the message front and centre.
Also, test the emails in a real-world setting. Test emails frequently to avoid sending messages that aren't optimised.
13. Sending Emails without Permission
If you've ever received uninvited email spam, you understand how aggravating it can be to have the privacy of your email inbox violated by an unknown marketer.
How to fix this?
Moving to a double opt-in system, which requires subscribers to seek access to your email list and then confirm and verify that they have done so, is the way to solve this issue.
Although it is undoubtedly an extra step, statistics reveal that double-opted-in subscribers have a 75.6% boost in total email opens and a 114% increase in clicks when compared to single-opted-in users.
14. Inefficient Email List Segmentation
Since the contacts in your email list aren't all the same, what is the point in sending all of them the same message and hope for the best?
Email list segmentation is the very first step towards expansive email personalisation. With proper segmentation, you will have a clear picture of each segment's traits. Accordingly, you will be in a better position to send them customised emails based on their individual requirements and interests.
How to fix this?
You can segment your subscriber list based on a variety of criteria. In fact, the same list can be segmented in a multitude of ways and used according to the occasion and demands.
Email segmentation boosts open rates and other critical email marketing KPIs while also nurturing and retaining leads.
15. Lack of Personalisation
If you don't personalise your emails for your subscribers, it will have a negative influence on your conversion rate. According to studies, over 70% of buyers want brands to provide personalised content and offers. It's logical.
Most individuals will ignore your email if the content isn't relevant. This can occur once or twice in a lifespan. However, if a significant section of your audience repeatedly ignores your emails, they may end up in spam folders.
How to fix this?
The solution to this problem is to segment your email list. Send out feedback forms, engage with your audience on social media, and analyse your website analytics to get begun.
Create email campaigns tailored to your subscribers' interests once you've separated your subscribers into groups. You could have ten or more segments. This, however, is largely dependent on your business niche. If you carefully segment your subscribers based on their needs, you'll avoid the classic email marketing blunder of failing to personalise your messages.
16. Sending Emails from Free Email Domain
Are you sending email marketing campaigns through a free email account? This may appear unusual, yet it is more common than you might think. There are myriad reasons why this is not a good idea.
Bulk emails received through a free email service provider, for example, are more likely to end up in the spam folder. Customers also place a higher value on emails from professional-looking business domains than those from free domains.
How to fix this?
Obtain a business domain and set up an email account for it. Unless you have a small number of subscribers, ensure you use an email service provider.
Send your emails through a reliable ESP. An ESP does a lot more than merely send bulk marketing emails. They allow you to A/B test, assist you in following best practices, and provide in-depth data, among other things.
Another option is to create your own email system that will do the same functions. Some companies do it, but most choose to use the services of an ESP because they are experts in this field.
17. Ignoring Transactional and Behavioural emails: the two most potent channels in email marketing
Coupons and newsletters are just the tip of the iceberg when it comes to email marketing. Indeed, many businesses have misused the power of inbox access, giving email marketing a bad name. Consumers are aware of such practices and are cautious of businesses that spam them with emails.
Email marketing is being taken to new heights by smart email marketers. This begins with automated drip campaigns that gradually introduce new users or prospects to new information, goods, and services. But it is only the start.
All sorts of transactional emails like invoices, reminders, receipts, confirmation emails, and password changes witness higher email open rates than other types of emails. More significantly, they have a clear purpose and contain information that readers care about. It's past time for more marketers to seize this opportunity and harness the capability of transactional emails to their fullest.
Also, smart marketers track user behaviour and provide hyper-targeted emails depending on it.
Learn From These 7 Marketing Emails Disasters
Email marketing is a vital tool yet an always evolving one. While email design trends differ by brand and industry, and change over time, some fundamental email best practices remain constant.
Here's a rundown of email marketing blunders that should serve as cautionary tales: those marketers have learnt their lessons the hard way so you shouldn't have to. The marketing emails below reveal flaws in almost every facet of email marketing, from subject lines to design and personalisation.
1. Overly broad subject lines
The subject line of your email is crucial to its open rate. After all, it's what influences a subscriber's first impression in determining whether or not they're interested. It can be tempting to use a snappy subject line since marketers want open rates and, as a result, click through rates to be as high as possible.
However, there is a boundary that can be passed when it comes to clickbait subject lines. It should not cause any panic because of a sensitive subject line. The email subject line in the below example undoubtedly captures immediate attention. In fact, this email garnered the highest open rates. However, it is certainly not the best practice.
Lesson: Subject lines should be considerate, appealing, accurate, and thoughtful.
2. Non-responsive emails
Mobile today is the preferred and primary platform for opening and reading emails. Therefore, if your emails aren't responsive, you risk providing a substandard experience to the majority of your clients.
Email must not only be adaptable to different screen sizes, but it must also be built to be user-friendly on mobile devices. Scrolling and clicking in the email shown below is a nightmare. A user experience with many little CTA buttons close together is a source for the user's frustration.
Lesson: Emails must be easy to access, read, click and navigate.
3. Unsuccessful personalization
Subscribers expect email marketers to "recognise, recall, and offer" to personalise their overall email experience.
Using a first name merge field, the below shown example attempted to personalise the email. The main issue was that not all of their subscriber contacts had a first name linked with the business, and there was no default set up as an alternative.
Several email recipients were greeted as "unknown" instead of receiving a personalised email with their names. Nevertheless, if names were simply excluded, a client would not have observed a difference, but this little error can be difficult to overlook.
Lesson: If you don't have the ability to customise each email right now, simply leave fields like first names blank and focus on segmenting the list into larger groups for customisation.
4. Images in the emails that are unable to load
There is no doubt that a responsive email means that the email content adjusts and conforms to the bandwidth of the email recipients. Large images in the email, for example, may not be able to load over a subscriber's poor internet connection. If your email has a lot of graphics, your subscribers may be surprised to see a giant blank email when they open it.
The graphics in the left hand side email below have no alt text, so when the user opens it without a strong internet connectivity in their mobiles, they have no idea what they're looking at. The right-hand email gives readers a description of the image so they can figure out what the email is about.
Lesson: If the marketing emails contain images or any graphics, make sure to add Alt text to all of them. Doing so, will ensure that the email recipients understands what the email and the image is all about in situations where the images do not load.
5. Call-to-action button is far too subtle
A minimal and clean email design can win the game in many instances of email marketing campaigns. But, it must supersede over the goal of the email. The call-to-action in the email shown below can easily be overlooked by the email reader because it blends with the rest of the email copy.
Lesson: Each marketing email must strike a balance between structure and function. It's acceptable to keep your emails simple and minimal, but the CTA button should always be the star of the show. It must, after all, be immediately recognised and interactable.
6. Putting an emphasis on features rather than benefits
It's difficult not to brag about a product, service, or project that your business is proud of. Nonetheless, you must ensure that you convey everything in the email properly and appropriately.
That is, instead of just hyping up the products or services, emails should support the customer on their journey. The email below outlines all of the ways new newsletter subscribers can get engaged with the business and its brand.
The overflow of features and activities that aren't spelled out in a way that is valuable to the customer is where this email misses the mark.
Lesson: Always keep the consumer in mind when creating marketing emails. Instead of emphasizing the product's features and strong points themselves, emphasize the advantages of each feature from the user's point of view.
7. Incorrect email list segmentation
Email segmentation has shown to be really useful. Marketers who employ segmentation in their email campaigns report a boost in revenue of 760%. Audience segmentation, on the other hand, might lead to client churning if done incorrectly.
Consider how perplexing it would be to get an email congratulating you on being a new parent when you have no kids on the way. This is exactly what occurred to the subscribers when the following email was sent to the inappropriate audience segment in the company's baby registry email campaign.
In most circumstances, this error has no major implications other than customer confusion. However, email segmentation can go badly wrong in other circumstances, causing considerable offence to some people.
Lesson: Check your email segmentation numerous times before sending out marketing emails to refrain from making this error. Even if it entails double- or triple-checking your campaign before it gets up and running. Also, fact-check the marketing emails.
Wrapping it up!
Underachieving marketing emails are frequently a sign of an email marketing campaign's overall decline. Clicks, conversions, and revenue dips are usually signs of a broader problem that must be addressed quickly.
Use the information provided in this guide to start learning why marketing emails fail, how to avoid making the mistakes, and how to improve if you've already made them.
Recognize and understand your target customer base:
Spend considerable time getting to know your intended audience.
Who are you aiming to reach and connect with?
What is it that they are concerned about?
What exactly do they require?
You'll be able to develop an email marketing campaign that strikes a chord with and meets the demands of your target audience if you take the time to learn about them. More importantly, moving ahead with this approach will minimise the chances of failure of the marketing emails.
Do not create unrealistic goals:
Setting unreasonable benchmarks is one of the most common mistakes businesses make when it comes to email marketing initiatives. You're unlikely to achieve substantial outcomes if your aim is too tiny. However, if your objective is too big, you'll almost certainly fail. That's why it's critical to set practical, attainable campaign goals – goals that will push you but are still feasible.
Follow the current trends:
The marketing landscape is constantly evolving – what performed last month or last year might not work at this particular time. That's why staying abreast of the latest marketing trends and tactics is critical.
Staying updated and keeping your creativity game on point can greatly increase your chances of creating and executing a successful email campaign. It also provides your email marketing campaigns with a competitive edge.