5 Tips for Standout B2C Email Marketing In 2023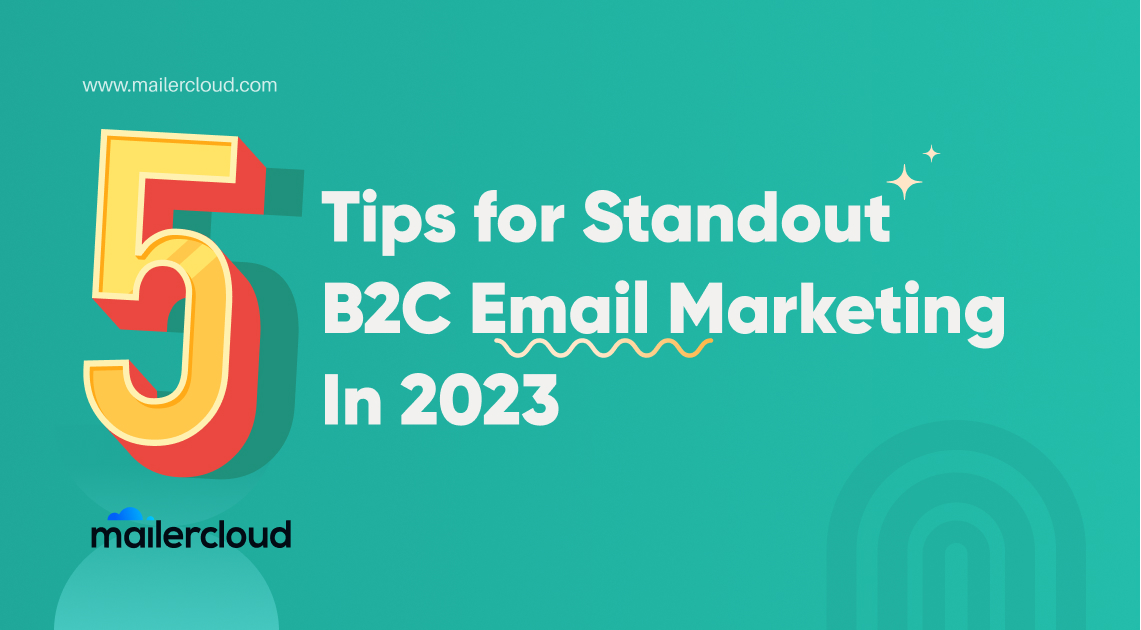 The core of businesses' growth largely depends on building strong customer relationships. And email remains one of the most powerful channels to accomplish that goal. This is true for B2C email communication, as businesses can use this medium to nurture email leads and turn them into paying customers.
Statistics prove 59% of customers mentioned that marketing emails influence their buying decisions. This makes it even more important for B2C companies to build successful email marketing campaigns.
What is B2C email marketing, and how to differentiate it from B2B email marketing
But before discussing what factors can make a successful B2C email campaign, let's start defining what it is anyway? As B2C businesses connect with customers directly, in the case of email marketing, these companies share their messages with customers.
But in the case of B2B businesses, there are multiple people decision-makers. The B2B process sales cycle is longer, as several people from different departments, like sales representatives and managers, should make decisions.
In addition to the buying cycle, the tone of voice varies, whether it is B2C or B2B. Companies send emails. The messages that B2B businesses send use more professional language and are strict to the point. Instated communication with B2C leads can be more casual and tries to prove emotion.
With B2B businesses, the tone will be more informative and objective; B2C email recipients prefer visual content. B2B businesses promote products or services for other companies and clearly showcase their benefits and features.
In the case of B2C, emails provoke customers' emotions and try to convert leads into paying customers. Alongside growing sales, companies can use B2C email campaigns to increase brand awareness and improve customer loyalty.
How to Build Succesful B2C Email Marketing Campaign in 5 ways
After defining the differences between B2C and B2B companies, in the next step, let's discuss what steps businesses should take to build outstanding B2C email marketing campaigns.
1. Segment your email list
Understanding your customers and defining which customer cycle they are in is a crucial component of understanding how to create an email that stands out and building meaningful relationships with them.
And as there is an excellent chance businesses managed to build an email list, in the next step, they should start lead segmentation to send email recipients relevant and targeted messages.
There are several criteria that B2C businesses should segment their leads:
✔ Demography
The age and profession of B2C leads are vital components when businesses try to offer them relevant content and targeted recommendations.
✔ Geography
Depending on the potential customer's location, businesses should shift their email marketing strategies.
✔ Psychographics
B2C email leads may decide to choose several brands or not based on the fact that they share their values. Therefore it is beneficial for businesses to segment leads based on psychographic components. And in addition to this, not only do businesses divide leads based on values but their interests and motivation.
✔ Behavioral
These tactics provide marketers with crucial data about tracking users' activity. Behavioral data can help you identify how your customers interact with your business. You have also information on what kind of email gets more open and the conversion rate.
In addition to this, B2C companies can also segment leads based on which stage they are in the customer journey to offer a personalized experience. Another vital component that your B2C businesses should consider is doing DMARC lookup to avoid email security threats and guarantee effective communication with email leads.
2. Prioritize personalization
This is one of the crucial trends that is going to stay. The reason is that customers, especially Gen Z and millennials, expect a customized approach from businesses. This way, businesses show that they value their customers and build trustful relationships with them.
And as there are many opportunities to collect data, businesses mustn't lose the chance to enhance their email marketing campaigns using that valuable data. For B2C email leads, the company gathers information about their potential customers' location and their birthdays.
Moreover, it's important to have data about email recipients' interests and preferences. And if the companies did lead segmentation, they could offer their customers content and suggest that addresses their needs and pain points.
Personalization can start from common and small steps, which include the user's name in the subject line. B2C business needs to take additional steps as well to make this process even more effective. Basically, it's possible to personalize almost all elements of an email that businesses send to their B2C leads. By customizing subject lines, visuals, and even CTA-s, businesses can get better results from their campaigns. It is helpful to collect feedback by sending SMS reminders and email surveys to make an improved decision.
In addition to personalizing different elements of email, it wil be beneficial to send messages that are triggered by user behavior. This will help B2C businesses to offer relevant recommendations based on purchasing history. Depending on where your user is in the sales funnel, they'll need unique message based on their preferences. This way, B2C businesses will encourage to continue to move to the next stage.
They should nurture B2C lead who has shown interest but didn't buy yet and highlight your offer's benefits. For inactive customers who didn't purchase anything recently, you can offer discounts and other incentives to encourage them to buy.
Another effective tactic to personalize email marketing is collecting and sending birthday emails and celebrating customers' special days. This way, companies can show how much their value their customers.
Lastly, another great idea is to collaborate with expert PPC services for Ecommerce, which will guarantee the effectiveness of ad campaigns and help grow their sales.
3․ Highlight value and evoke emotion
When building B2C communication via email, it's important to consider customers typically are emotionally driven. Therefore it's beneficial to immediately tell email recipients that their pain points are familiar to your company and that your product and services aim to solve those problems.
Start writing punchy and compelling subject lines. Next, take time to create high-quality email content that would communicate the value. Don't underestimate the power of visuals, so include videos and pictures. Don't forget to smartly use gifs and emojis. And also share social proof like testimonials from satisfied customers.
This way, your B2B businesses have higher chances of increasing conversion rates. Combing value-based content with your SEO practices, you can accomplish various business goals.
4․ Optimize for mobile
The study has proved that 81% of users prefer to check their inboxes on their smartphones. This makes it even more vital for B2C businesses to take the right steps to optimize their email marketing efforts for small devices. This way, businesses can provide a positive user experience and increase customer satisfaction. Booking.com is one example of companies that is doing a great job sending mobile-friendly emails.
There are several steps that B2C businesses can follow to optimize their emails for mobile on:
Please pay attention to the subject line length, providing more context to encourage your reader to open your email.
Choose a readable text size and font. Also, ensure sure you choose a clear and readable font. Your text should be readable on any device.
Include clearly visible CTA buttons for every screen size.
The copy should be short and concise as well. Check whether your content is easily scannable and if you leave enough white space.
Pay attention to the images. When includes to images in your emails, make sure that it loads on mobile devices fast.
Last but not least, when doing all steps, don't forget to test your emails across multiple devices before sending them to your B2C leads.
5․ Send a variety of emails
As we mentioned, B2C email leads might be in different stages of the customer journey. Therefore businesses should send various types of emails to accomplish their B2C email marketing goals.
Welcome emails
Leaving the first good first impression is vital; therefore as a B2B business should send an effective welcome email when they subscribe email list or sign up for an app. Opportunity to introduce and increase brand awareness and encourage users to continue to connect with your company.
Promotional emails
There is no dough that your B2C businesses dedicate a huge effort to creating new products or solutions. And email is a great choice to promote these offerings. Businesses can use this channel to grow their audience and gain new customers.
To encourage them to start, these companies also include a special discount or another to increase conversions. Also, they can make loyal customers into brand advocates offering designing special campaigns for them.
Transactional emails
These types of emails have a high open-rate because customers expect to receive them. The message of the transactional email includes information about actions customers take and shares important details about delivery or order.
Transaction emails also help customers complete transactions. Making transactional an integral part of B2C marketing strategy can help businesses to reach several goals.
Newsletters
Sending weekly or monthly newsletters is an excellent tactic for building strong customer relationships. The newsletter will help create credibility and create an authoritative image. This way, companies can successfully nurture leads who will be prepared to make a purchase.
To sum up
Email remains a great medium for B2C businesses to communicate with their potential and existing customers. Moreover, these businesses can convert them into leads via email.
Here we discussed the main characteristics of B2C email marketing and also offered steps to build outstanding email campaigns. And the B2C companies that manage to build successful B2C campaigns will manage to skyrocket their business.