8 Tips For Writing Email Marketing Copy That Converts To Business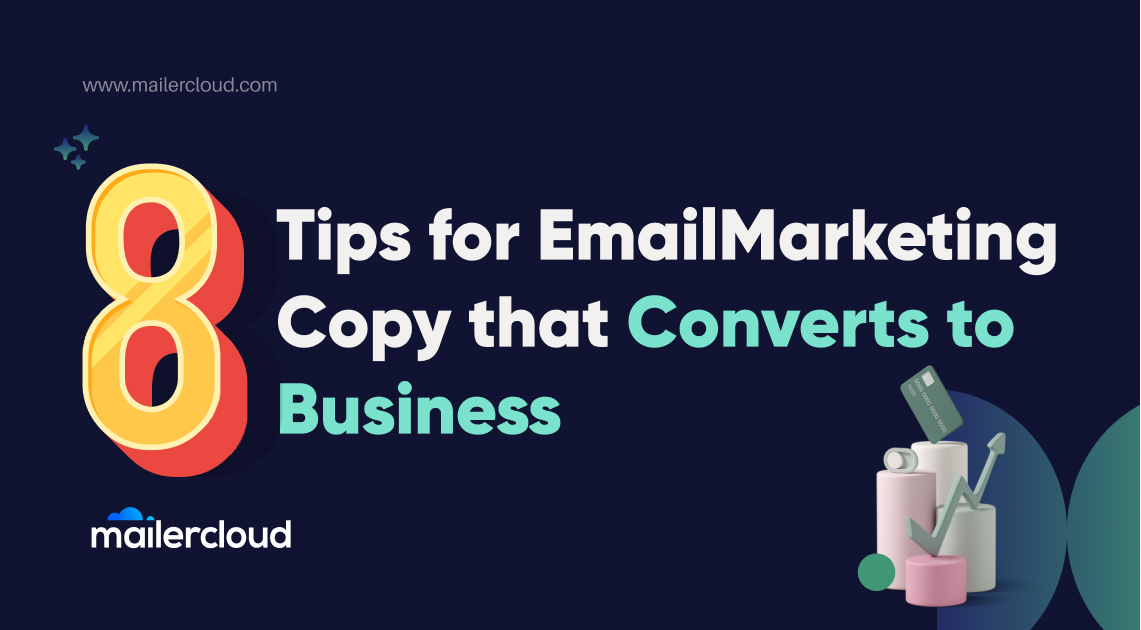 Writing email marketing copy is an art. You need to understand your target audience, their pain point, and how you can help them solve it. Effective email marketing copy has a higher return on investment (ROI). This is because every word matters when writing your email content.
Like how you would aim to structure an essay or book effectively, the same attention to detail and design should be captivating in your emails.
If written effectively, keeping the following tips in consideration, email marketing can help you increase engagement, boost sales and revenue, and create more leads.
Tips for Writing Email Marketing Copy that Converts to Business
Identify and Understand Your Audience:
Make sure you know what type of audience is added to your list so that you can cater to their needs. You can conduct surveys and problem interviews. Or you can also analyze social media, website analytics, and other traffic sources to see which ones convert best.
Here's what you should aim at discovering:
Psychographics and Demographics
Purchasing potential
Consequence or solution they're seeking
The phase of the funnel
Primary trigger points or problems
Interests and hobbies
Consequences or solutions they're looking for
Use Audience Segmentation and Create a customer profile—a descriptive representation of your ideal client. It will lead to more intricate and defined audience members. The more you'll be able to tailor your insights around them to optimize messaging for conversions.
Focus on Subject Line and Email Preview:
Email subject line tips
Keep up to 30 characters.
Don't use filler terms, and use CTA words like You, Free, exclusive, limited, profitable, etc.
Use emojis in the subject line to reflect emotions in the inbox and, thus, request an open.
Email Preview Tips
Preview text summarises your email marketing copy that appears below the subject line in the inbox. It's also known as 'preheader' or 'teaser copy.' It has been proven to be one of the main factors determining whether an email recipient will open your email.
If you don't want your email to be cut off in the inbox, keep it between 35-40 words.
Include a call-to-action or sense of urgency to compel the subscriber to click.
Rather than narrating what you're going to say in the email, highlight the benefits they could get from reading it.
Make Your Emails More Interesting – Use Storytelling
While writing email marketing copy, tell stories. You build trust, establish commitment, and create advocacy when telling stories. Almost everyone loves a good story with an interesting plot and relatable characters.
Narrate the story of your offer so that customers can relate to it.
Make it conversational and like a typical story. Begin with a hook, introduce your hero and the problem they face.
Build up the tension and share their intense emotional response, and finally have the climax of their struggle and how they overcome it.
Convert with better storytelling and emotional connection.
Create Videos Using a Video Maker
Including short movies/videos in emails increases open and click-through rates. Share a new collection line, give a how-to demonstration, or send out a community challenge to keep your audience engaged with your business.
Creating a Video with Online Video Maker for Email Marketing
Pick a Template – Online video maker tools have templates ready for any occasion. Pick a template that speaks to your requirement.
Edit and Customize your Video – You may choose from various typefaces, colours, and other effects available in the online video maker to make your movie stand out when you share it with your audience.
Include in Your Email List – In minutes, share your video with your email list. It can be used in a new campaign or saved for a later one.
Use Psychological Ploys in Body Composition
We all have had that friend telling you to use psychology in your marketing, but we never understood how it works. So, here's a small explanation of why psychology is used in advertisements and its effect on the consumers.
Creating "Fear of Missing Out" (FOMO)
The scarcity principle comes in when people know that not everyone will have access to this product. They don't want to be left out or miss an opportunity.
Recognizing the Right Colour
Turns out, the choice of colours can affect conversion rates. A study by MIT shows that the red colour increases physical activity and appetite, whereas the blue colour decreases them. The choice of colours depends on your business goals and audience demographics.
Leverage the Ability of Personalization
Personalized emails are the way to go. Incorporating the recipient's Initial name in the subject line is one part of personalization. There are a lot of things you can do apart from them.
Showcase products that they're most interested in according to their purchase history.
Adds an element of surprise and delight in their shopping experience, no matter where they are or what culture they come from.
Show customers what they could be missing out on, based on what they've already bought or shown interest in.
Allow them to browse products as per their tastes and preferences.
Structuring Email Properly
The first thing to remember is to make your email stand out. Don't let it get lost in the clutter of spam and promotions that fill our inboxes every day. Use colours, bold text, images, and other creative elements to help your email hit home with readers.
Use lists to break up long paragraphs or important details
Highlight keywords using bold, italics, and underline
Embed your text in an infographic for a great balance between media and text
Make sentences short, engaging, and crisp.
Positioning CTA in a Strategic Manner
"Call." "Click." "Share." Your call-to-action (CTA) can greatly impact your marketing campaigns, so where you place it is crucial. How do you know where to put it?
If you want to make sure that your visitors click on your link, avoid putting it right at the bottom of your email. Placing a link at the end of an email makes people feel like there's nothing else for them in the email. So they don't bother looking for a link.
A Call-to-Action button is bright, eye-catching, and bold.
The CTA button should entice the customer to take an action by stating what they can get from doing it.
Use direct marketing, like- Add to the cart now. Instead, try having today.
It's much more urgent and persuasive in this way.
The Final Verdict
The purpose of conversion-focused email copy is not to make the subscriber feel you are pressuring them to buy your product. Instead, it should be written to make them more inclined to purchase. Why?
Writing email marketing can be accomplished through telling stories personalizing your message. Make them feel like they are being addressed directly, and incorporate rich media into the format (such as Images and Video).
To improve the performance of your email marketing campaign, you can ask your subscribers what types of films they want to view and accordingly customize them with an online video maker. Take note of all best practices for writing email marketing copy that converts to business. Still, if you have any queries about using an online movie maker, please do not hesitate to contact us. Video specialists will assist you in resolving any questions you may have and ensure you receive the finest service promptly as possible.