Top 10 subject line types to boost your email open rates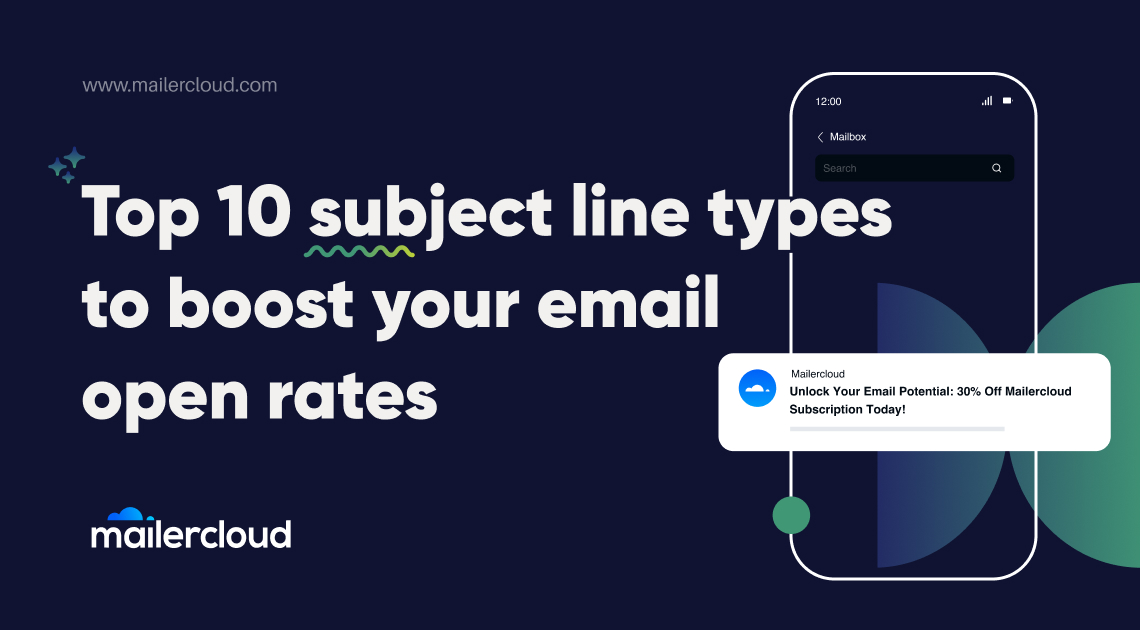 Subject lines are the first impression you make. And it is so much more important than the content of the email. There are a lot of people who spend hours in designing email templates and contents but quickly prepare some subject lines just for the sake of it.
What is the use of your carefully created email newsletter, if someone is not opening it?
Keep in mind
First impressions do matter.

Your email subject lines must be compelling!

In fact, your subject line should convince the reader that opening your email would help them in their lives and businesses.

Make sure your email subject doesn't look uninteresting or like spam, or your email would never reach your customer's inbox.

Your subject line should give a brief idea about the email content, within a small sentence.
How to create the best subject lines?
Understand the types of subject line which you need to use for a particular occasion, decide the type and you are half done. And now what we are going to do is arrange a puzzle, with our creative minds and words.
Segment your audience
Make your list based on different customer interests to create the best email subject lines for an open rate of unique groups.
Get bio persona
Use unique information you've collected about locations or interests.
Be specific
Make your intentions clear.
Use Actions
What actions interest your customer? Eating, shopping, makeover, relax, dance? Use verbs that help the reader visualize doing things.
What kind of subject line should I use?
Choose the subject line depending on your audience and what you want to provide them with and you are done!
1. Personalised subject line:
Seek their attention calling them by their name, this helps in engaging your customers. Include their matters of interest, their favourite things or colour, their latest searches and purchases in the subject line. This lets them feel as if their needs are taken care of by someone else too!
Examples:
Annie, try on these beautiful floral prints!
Hey Susan, want more chocolates?
James, how much do you love Titanic?
2. Humorous and Catchy
Of course, who doesn't like to read a subject line that is clever and funny?. It is hard to make a joke, but it's always worth the efforts! Make a recipient have a wide grin, while going through their inbox, reading your subject line. If you know your audience well, a joke makes your email to get open and clicks.
Examples:
Warning! Unattended items in your cart will be eaten by worms.
We like being used!
Trendy styles, even your grandma is gonna say its lit!
3. Short, Simple and Formal
Make sure you express the subject line, the best way possible with 5-6 words. Understand more than half of your readers would be using a mobile interface to read their inboxes. It is your duty to make short, sweet, simple and catchy altogether.
Usually, people who are having a busy life won't ever care about the lures and cheesy lines, most of your recipients want you to be straight to the point'
Examples:
Your order is packed.
Couples Spa Package.
Sale ends today.
4. Urgent Subject lines
Creating up a tension in the reader's mind will help you increase their curiosity in opening your email. People hate losing something even if they don't gain anything. Try creating the fear of losing something precious through your subject lines.
Examples :
Never miss this great deal!
Save 30% on everything. Only 3 hours left!
Collect your FREE Gift card today!
5. Questioning subject lines
Questions allow the reader to think about the importance of the subject's matter in their life.
The best subject lines will rhyme with the reader and their past experiences, while creating a sense of curiosity to learn more about the subject and whether their experiences are similar to others.
Examples:
Are you suffering from insomnia?
What is the best morning routine?
Why is belly fat dangerous?
6. How to- subject lines
Make your "How to-" valuable for the audience. You should make sure that your recipient would have interest in opening the email. When you target your How to- lines, your open and click rates will increase rapidly.
Examples:
How to get 10,000 subscribers in 2 days?
How to learn Guitar in 10 days?
How to be a well-paid artist?
7. Controversial subject line
Controversy can help you grab attention. Creating a balance between controversy and information is a task to be taken with care. Pick an interesting topic, rather than something that's too negative or hurtful. Make your readers curious and wonder where you are taking them!
Example:
Why does your life suck?
Where will your ignorance lead you?
Why do you always fail in your business?
8. Command subject lines
Make people agree to what you say. Talk to them as if you know what's better for them. And surprisingly many would obey your commands!. Just tell them what you want them to do!
Example:
Stop unnecessarily wasting your money!
Subscribe to our Newsletters!
Start saving your time!
9. Offers
Give some incentives, to gain attention and engagement. Present some well-targeted offers in front of your recipients and they won't forget to open you! Make an offer they can't refuse!
Examples :
Win a trip to Disneyland!
Free Gift card worth $100.
Buy 1 get 1 free. Limited offer!
10. Trendy subject lines
Be up to date with the latest trends in the market, be it clothes, accessories, electronic devices, marketing tools, furniture or anything that interests your customers. After all, who doesn't like to move in style with the growing world!
Examples:
Look hot in winter!
Ride in style with the new Hyundai.
Brand new courses on Technology!
Now that you clearly have understood types of your audience and their interests, it's very easy to create attractive subject lines. Try different subject lines for different campaigns and see how they work! You can also use A/B testing methods for comparing different subject lines with the same email. Now it's time you relax and jot down some classy subject lines.