Free online web form builder to increase your lead conversion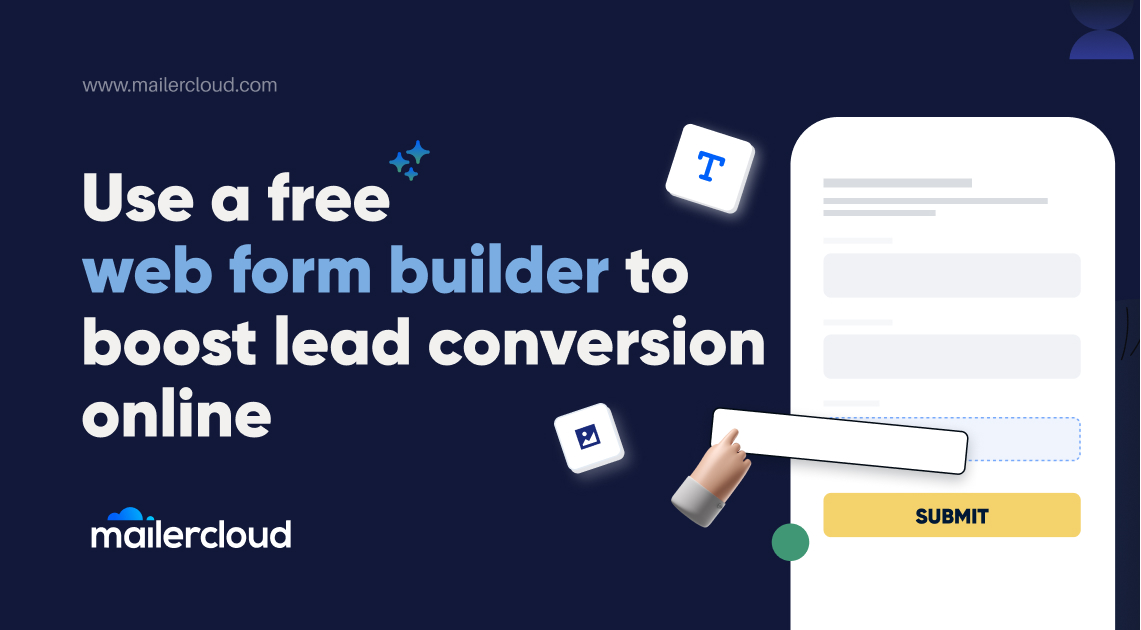 You must have filled up forms when shopping online or for registering for a service online; not once but countless times.
Billions of people who shop for their favorite music system online or order takeaway food services online have filled up webforms at least once. These are not only required to receive information, services, or goods you are looking for and buying, but are also very important for the businesses that are building them and embedding them on their websites.
Webforms help in obtaining valuable information and tracking data of potential customers and purchases, respectively. It also helps in acquiring new leads, survey responses, and customer feedback. In today's highly digitalizing world, a successful business or enterprise must have at least two or three web forms on its website.
Digital marketers use them to help increase conversions by guiding the potential customer into the lead flow process. It is done by a variety of forms which include contact forms, shipping forms, surveys, quizzes, and registration forms. Once it has been submitted by a lead in return for a product, service or free trial, it is sent to the servers for processing.
Let us take a look in greater detail.
What are Webforms?
In short, webforms are HTML forms where a user inserts their personal information and other relevant data which is then sent to a server for processing. This personal information can just be your name and email address which you provide while registering for an online service.
They come in all shapes and sizes. There is neither any particular type nor any single way of creating one. They should fit your business needs and be coherent with your industry niche.
Why create Webforms?
Webforms will help you collect and manage information efficiently. Since it will be embedded directly into your website, it will make it easy for you to collect information from your leads. On the other hand, your leads would also find it convenient to share their information with you. They are crucial in gaining information on the needs of potential clients.
As I mentioned earlier, they come in all shapes and sizes. Thus, they can be used for multiple purposes. You can use it to collect contact information, survey your customers and get shipping information. It can be really useful if you wish to perform an analysis of your leads with respect to certain information or parameters.
How to make a Webform?
Before you start you must keep in mind the exact information you need from your leads. Your form has to be easy and should make complete sense to your leads. It should not be complicated and it should not be too nosy otherwise your potential lead might just lose interest and leave your website. Your webform, in short, should be worthy.
It must have a very clear purpose. Your leads should know what it is all about and why they are taking out time from their busy schedules to complete it. You can do that by putting straightforward and direct headers like "Contact Us", "First Name" and "Email Address" to reduce confusion and time spent on reading the form. Secondly, you can provide very clear instructions by using as few words as possible. You should include a brief description of what you would be expecting from your potential leads and why you need them. This transparency would enhance your credibility. Also, keep your forms neat and clean to provide your leads with an easy and professional experience from start to finish.
Through these simple measures, you will be able to create a simple transactional experience, build trust, be professional and most importantly increase your conversions. It has been estimated in multiple surveys that a clear, easy and visually attractive webform leads to an increase in conversion rates by 75%.
Just a small effort in improving the design of your webform and prioritising the context of your form will work wonders for the user experience of your potential leads and get them hinged to actually fill up and complete your form and eventually convert. Now let us look at what Mailercloud's free online webform builder has to offer in this regard.
How to create a webform with Mailercloud?
After logging in to the Mailercloud account, you can select Forms by hovering the cursor over the left side of your Dashboard. In the page that appears, enter the Name of the form. Select a form type that will suit your business needs, industry and audience.
What are the form types we offer?
Embedded forms

– To create forms that you can embed in your websites.

Standalone form page

– For making standalone form pages directed by links you can share.

Pop up forms

– For creating forms that pop up in the centre of your page.

Dropdown banner

– To make a form that looks like banners hanging from the top of your page.

Slide-in right box

– To build forms that slide into your page from the right.

Slide-in left box

– For designing forms that slide into your page from left.
Soon after choosing your form type, you can move on to select from one of our form templates. This makes your form building job easier.
What is the form of templates we offer?
Mailercloud lets you choose from a variety of form templates if you are opting for an embedded form or a stand-alone form page.
Blank template

– Start from scratch with a blank form and add your own fields.

Registration form

– Make a form that lets your visitors register to your site, service, product, or program.

Contact us

– Add a contact form to your website to help your customers get in touch with you.

Newsletter sign-up

– Add a sign-up form for your newsletter and keep them up-to-date on the latest from your company.

Support

– Add a support form to your website and automatically generate tickets.

eBook download

– Adding a form to your website to let visitors download eBooks and other resources.

Event registration

– If you are conducting workshops, conferences, webinars, and events, you can add an event registration form to your website.
Hit Continue just after selecting a form template. Now, you are being directed to our real-time drag and drop web form editor. Mailercloud lets you edit your form blocks, form content, form style and we have a lot of other options.
What are the important elements that make up our drag and drop webform editor?
The 3 important elements that make up our drag and drop webform editor are Form, Style and Options. Let us take a closer look into them.
Form
If you are searching for a particular form field, enter the name of the required form field into Add a form field box. Mailercloud automatically searches for the required field in our frequently used fields and Contact information fields.
Terms and conditions field – Mailercloud lets you add terms and conditions filed to the end of your form.
reCAPTCHA confirmation – We help you ensure that genuine people fill your form. This can be done by adding reCAPTCHA confirmation to the end of your form.
How to create a new form field?
You can create your own unique form field by clicking on Create new fields. Select the type of field you want to add from the list-
Single-line-text

Number

Single checkbox

Multiple-line-text

Date picker

Paragraph(Rich Text)

Drop Down

Radio button

Header-text
After you select any one option from the list you can enter the Label name and description. And then click Create.
What happens when you click on a form field?
While you are clicking on a field the form, you can see
The contact property name

The field type

The label

Placeholder text
You can edit both the label and the placeholder text.
You can edit the basic settings-
This is a required field– It informs the form user that it is mandatory to fill this field before submitting the form. Email Id will be a required field in every form by default. You can make any form field as required by updating the basic settings.
Make this field hidden– This is to track the website from which the form was filled, in case if we are embedding the link to multiple websites.
Style
It determines how your form fields and to submit fields should look like. Depending on the box type, there are four styles.
Form style–
Adjust the Form width

Choose the font family

Pick a label colour

Select the size
Terms and conditions style–
Select the Colour and Size of your terms and condition field.
Button Style–
Choose a Button colour

Pick a font size

Select a Font colour

Decide the Alignment
Options
You can decide what should happen after a user submits your form.
Confirmation thank you page
Mailercloud lets you express your gratitude towards all your customers for patiently filling up details. You can edit our preview text.
Redirect to another page
If you are sorting to redirect the users into another page, enter the URL into the box.
List Chosen
Select the Mailercloud contact list to which you want the contact information of the form users should be stored. By default, our webform builder creates a contact list with the name of the form and date of creation.
Follow up option
Mailercloud ensures to give you real-time email notifications as soon as one of your audience responds to your form. Add your email address and the email addresses of people you need to share the form notifications with.
How to integrate a form into your website?
Copying the link
Mailercloud generates a link to your webform that you can share with all your contacts.
Embedding code-
Mailercloud will generate a code for your form, which you can copy and paste on the HTML code on your website.
To get a deeper insight into Mailercloud's free online webforms and what additional options it offers, you can read the detailed help document here.
Why should you be transparent with your potential leads?
It must have often happened to you while filling up a form on another business's website, that you have been asked to share personal information that felt weird at that stage. For instance, you might have been asked for your bank details even before you selected or window-shopped your way through the products or services on offer. It will be natural of you to think that there is something sketchy about the way this business operates and you would question its credibility and leave that website.
Similarly, your potential leads might question your credibility as a business if your forms end up asking for information that is irrelevant and inappropriate. So to keep away from any such scenario, always include information on your webform that makes it crystal clear why you have asked for specific data. You must anticipate questions that your potential leads may have. This will give you and your business a reputation of being customer-oriented and professional.
How to analyse your results?
The best way to analyse your results on the webform you have created is to think from the perspective of your website visitor. Think about what they would like to see on a webform and how they would feel comfortable filling it up. Do not overlook little things like space to write text and the design of the Submit Form button. You never know when small dissatisfactions can snowball into the loss of a customer. In addition, you must definitely try A/B testing on your forms and see how your visitors respond.
Based on the response, you can add or subtract webform fields or even completely change the look of the form. Your customers and leads must always be your top priority in all your digital marketing tactics and that includes webforms as well.
Another smart method to check the results would be to set up email notifications on your webform creator. You can check it yourself by filling up and submitting the form as if you were a lead and checking for email notification about the form being completed and submitted. With Mailerlcoud, you can easily follow these steps and analyse the results of the webforms you create.
Conclusion
Let us wrap up by summarising what I introduced you to in the paragraphs above about webforms. Webforms are HTML forms that assist in tracking leads, follow up with potential clients, enhance user experience and help you learn more about your buyer personas. It presents your leads with information on the products and services they have been interested in.
For gaining leads and then converting them into clients, you should make your webform absolutely professional, easy to use, clean and straightforward. The new Mailercloud webform with an advanced Drag and drop builder, auto contact conversion, reCAPTCHA configuration and GDPR compliance does exactly that. So do not waste time on confusing forms and rapidly expand your business and earn high revenues with the Mailercloud webform.