Email Marketing for Higher Education 101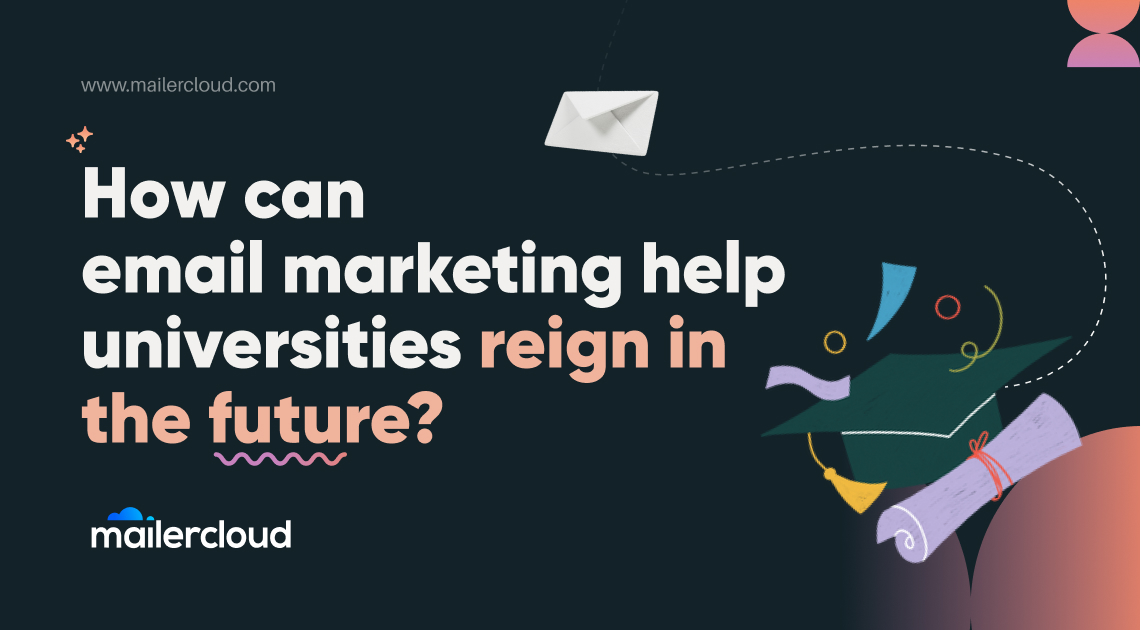 The higher education industry contrasts with others; in that, it offers intangible academic services. That does not, however, imply that their marketing needs are unalike.
Indeed, they have to connect with diverse groups at the same time and with the same effectiveness.
As digital media continues to infiltrate our lives, millions of individuals are sending and receiving emails in greater numbers than ever before. This trend provides universities with a great opportunity for promoting their institute and expanding their community.
To reach the mobile-native population, email marketing for higher education is the most demonstrated method. Employing up-to-date email marketing tactics can give universities an unparalleled boost in achieving their intended goals without going overboard.
Reasons that make Higher Education Email Marketing an Ideal Tool
Email marketing for schools and universities can transform an institute from good to great. More than anything else, email marketing is a cost-effective channel that offers a colossal return on investment.
Flexibility
Email is a scalable marketing solution with a wide range of applications: attracting leads into the marketing channel, nurturing them to move them closer to the goal, and keeping them connected with the institute even after they leave the institute.
Effective Engagement
As per a research, in 2021, emails for schools received an average open rate of 28%.
Higher education marketing via emails attracts, engage and persuade prospective students/alumni/sponsors while retaining loyalty and reducing alienation among existing ones.
Customization
A marketing email for schools can be exclusively tailored for an educational entity to acquire and sustain the maximum value possible.
Hits the Bull's Eye (Right Message to the Right People at the Right Time)
Personalization is one of the most powerful features of email marketing, as it allows sending customized messages per the recipients' needs and interests. Indeed, email automation features can easily personalize emails without any intervention.
Ways to Employ Email Marketing University Campaigns
While a university's target audience dedicatedly accesses their email inbox, they're also sifting through a slew of other emails – from other universities, their favourite shops, and so on. Hence, the main challenge of running a successful email marketing campaign is to make the emails stand out in the recipient's inbox so that they are compelled to open and read the emails.
Not to forget, that the higher education sector has a mixed audience base:
Enrolled students
Prospective students
Parents
College staff
Alumni
Sponsors
Universities need to create specific email campaigns aligned with the preferences of each group of audience. More than anything else, the emails should add/provide direct value.
Smooth On-boarding
Making it to the admission list of their dream institute is a once-in-a-lifetime experience for any student. Institutes, also, would want to take advantage of every opportunity to streamline the onboarding process. Sending a cordial welcome email to students is a great starting point.
The onboarding emails can include information concerning move-in dates, confirmation deadlines, curriculum resources, contact info, scholarship details, campus facilities, and other specific advice.
Institutes also cannot risk having such important emails end up in spam folders. Hence, it's critical to employ email marketing software that guarantees excellent email deliverability.
Email Newsletters for Announcements
Institutes can use email newsletters to convey regular updates and news to individuals who are directly or indirectly associated with the institute. Announce upcoming events, latest developments, holiday emails, and new course launches in well-curated email newsletters with compelling Call to Action (CTA) buttons directing the subscribers to take the next step.
Institutes can also schedule the email newsletters to dispatch automatically at a later date and time – weekly, monthly or yearly. This ensures that each one on the channel receives the required updates promptly.
Connect Alumni
Emails are the best way to reconnect alumni with their alma mater. Create long-term email marketing campaigns to preserve alumni ties by keeping them engaged in the university's traditions and fond reminiscences.
Encourage Participation in Social Activities
Inspire students and others at the institute to engage in social and philanthropic initiatives through emails. Create awareness by sharing the social message and noble cause in the emails along with a CTA directing towards the donations avenue. Setting up a dedicated email campaign for alumni is a great way to bolster the fundraising efforts.
Communication with Students & Parents
Students and parents at an institute require regular updates from the university concerning course advancement, whether it's class cancellations, course notifications, extracurricular. Email conveys this information keeping the parents in loop.
However, it's vital to not bombard them with mass emails, as this often leads to students simply ignoring the institute's emails, even the important ones.
Boost Enrolments for Online Courses
After prospective students sign up for an institute's email newsletters, it is the institute's turn to notify them about their online courses and encourage them to enrol. Plan a recruitment email marketing campaign to send an email a few days after the initial contact summarising the benefits of the online courses they're interested in to stay on top of the prospect's agenda.
Email marketing software can automate this activity by sending strategically timed emails. Institutes can also incorporate case studies and feedback of enrolled students in the emails.
Design the email and its content based on the student's situation:
Are they still trying to figure out which course they want to pursue? Or,
Is the application deadline approaching, and they're looking for that extra nudge to make a decision? Or,
They are in the middle of completing the application or enrolment process.
Adding a valid reply-to address is important so that students can contact for any doubt or queries.
Build up the Interest
After a student enrols in a university, keep that spark alive by sending them automated emails – whether action-based or drip campaigns – containing useful information about the campus and course. Add links to the specific courses' website in the email content.
Create segmented lists of students for a particular course. Send them course-specific details. Sharing such information will pique the curiosity of new enrolments.
Boost Attendance at College Events
Emails provide access to varied features to create winsome invites for a college function. Add images, videos of previous year events in the emails to raise the excitement level of the students such that they do not want to miss it.
Tips to Create a Genuinely Interested Email List for Higher Education Institutions
Downloadable Resources
Downloadable Resources
On a university's website, prospective students are looking for many pieces of information that can answer their quest. In such situations, downloadable brochures come in handy.
Indeed, such brochures serve two objectives. First, the students receive all of the information they require. Second, they give the institute their email addresses in exchange, which helps to develop the email list.
Pop-up Forms
Pop-ups in the form of an opt-in form embedded on a university's website displays as per the user's activity.
When students visit a certain course webpage, for example, display a call request form that connects them with the course adviser.
Timed Survey Forms
Institutes may engage visitors on select web pages with surveys relating to that content to increase the email list. If someone is already immersed in the webpage for more than 10 seconds, they may be willing to respond to a survey question and thus, add their contacts into the email list.
Best Practices for Higher Education Email Marketing
Each contact on the email list has a unique course interest and maybe at a different stage of enrolment than the others. So, sending one-size-fits-all emails to everyone is ineffective and harms the institute's reputation.
Segment the contacts considering how they are associated with the institute. Effective segmentation also helps in determining the best time to send marketing emails.
Deliver Personalized Email Experiences
While advertising isn't a commitment in and of itself, it is a choice to open an email. Why not offer a tailored, personalized experience for those who make that choice? Email marketing software makes list segmentation and personalization work hand-in-hand. Email personalization transforms the information obtained from list segmentation into emails relevant to the recipients.
Make the Emails Mobile-optimized
Mobile-friendly email campaigns are vital, as the majority of Gen Z checks their emails on their phones and they want easily readable and identifiable content.
Takeaway
Predicting what the following years will bring for the higher education sector is impossible. However, with the correct higher education email marketing strategy in situ, institutes can gauge the changing needs of their target demographic and use emails accordingly to expand their brand.