Why is Email Churn A Big Deal? 5 Ways to Reduce Email Churn Rate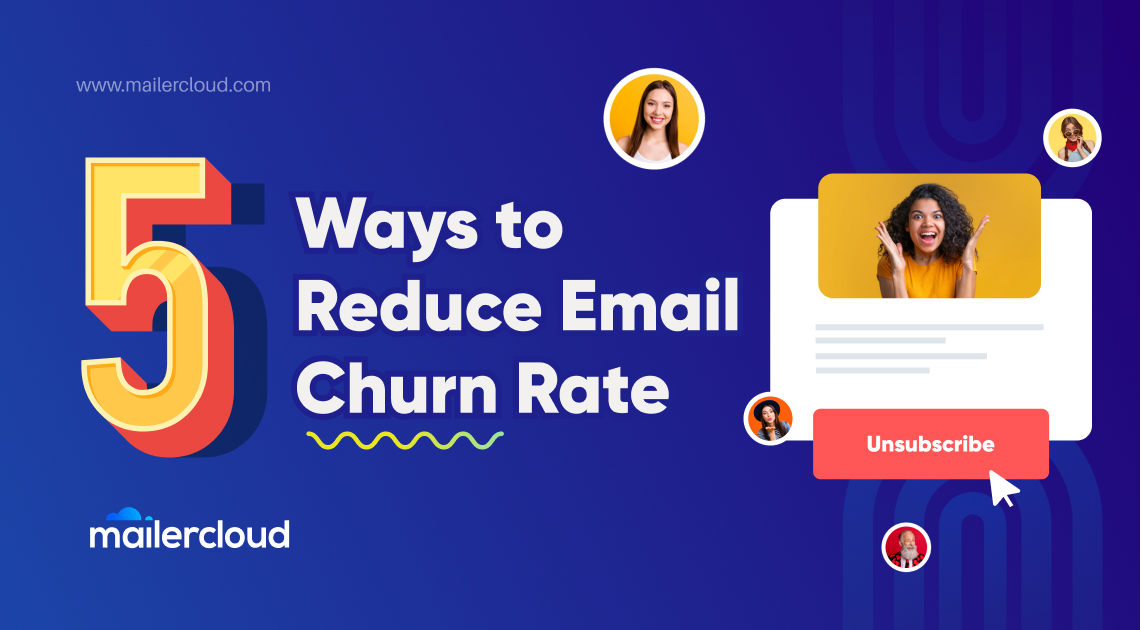 Are you tired of the continuous increase in email unsubscriptions with time? Or are your value-enriched emails often left unread? Both the scenarios will affect and reduce the possibilities of an increase in the conversion rate.
People unsubscribe or forget about your brand primarily due to the following reasons:
Their needs no longer align with your offerings

You send many emails in a week consisting of irrelevant or promotional content

You are sending the same emails to every subscriber with zero segmentation or personalization

A confusing email design

Too many offerings in a single email
This article will walk you through the meaning, types, and proper ways to reduce the email churn rate of your business.
What is an email churn rate?
Email churn rate refers to the percentage of people who decide to leave your mailing list over a given period. Let's first look at the formula you can use for calculating the email churn rate:
Churn rate = (unsubscribes + soft bounces + hard bounces + spam complaints + inactive subscribers) / number of subscribers x 100
Types of email churns
There are two different types of email churns based on the actions taken by your subscribers.
1. Voluntary churn
These people voluntarily decide not to be a part of your mailing list anymore. They either unsubscribe or mark your emails as spam.
2. Opaque churn
These subscribers stop opening your emails due to varied reasons. This type of email churn can be dealt with, unlike voluntary churn.
The formula used to calculate the email churn rate includes voluntary and opaque churn.
What happens when your email churn rate is continuously increasing?
According to the Gartner group, 20% of your existing customers contribute to 80% of your company's future revenue.
This statistic shows that keeping your existing customers engaged with your brand is crucial. The content of your emails must change accordingly to keep them interested. The COVID-19 crisis drastically changed people's expectations.
You waste all your time, effort, and money spent on email marketing if your email churn rate is continuously rising. By sending irrelevant bulk emails, you lose subscribers who were likely to convert with relevant content and accurate timings.
Using the right email tactics is crucial to ensure you don't lose your current customers and keep engaging new subscribers to your brand. It's extremely important to improve your conversion rates.
Let's move further to how you can reduce your email churn rate.
5 Ways to reduce email churn rate
People are more likely to respond to people than other businesses. Hubspot conducted a test and noticed that the click-through rate was 0.73% when sent by business email. On the flip side, the CTR was 0.96% when sent by a person from their marketing team. This shows that people pay attention when they feel a real person is trying to convey some information. Give your emails a human touch and monitor the change in results.
Here are 5 tactics to reduce the email churn rate to grow your revenue & minimize costs for your marketing campaign.
The perfect blend of Email segmentation and personalization
Remember that your subscribers have different tastes, interests, and, most importantly, budgets. Sending generic emails will only add to your ever-rising email churn rate. The idea is to create email content based on what the people in your segmented lists will love. 
You can segment your email list based on the following:
Demographics

Past purchases

Based on surveys

Email engagement (active vs. inactive users)

Geographic area (beneficial for businesses whose sales are highly influenced by specific regions or areas)

The last purchase (frequent buyers or one-time customers)

Amount spent by specific customers (people who spent enormous money, the ones who were discount-motivated, price-conscious customers)

Position in the sales funnel

Personal interests
Next comes email personalization to send the most relevant content based on the gathered information. You already have basic information to send out specific content by segmenting your lists. If your subscribers feel that you approach them personally, they are likely to click on those CTAs. The key to a reduced churn rate is by putting more effort into sending personalized emails rather than just addressing the subscriber by his/her name.
For example, if you have information about your subscriber's gender (female) and their browsing history (shoes by PUMA), you already have enough information to send out a relevant email. Remember that personalization based on browsing history is likely to work.
Creating an email list with highly interested individuals
What's the point of having a big email list consisting of people with little interest in your recommendations? Instead, work on creating a list of individuals who love to stay updated with relevant information.
Single vs double opt-in method
A single opt-in method will help you add people to your email list.
On the other hand, a double opt-in method will help you double-check a person's interest in your brand. It helps you create an email list with individuals that are most likely to respond to your emails. After a person subscribes and receives the opening email, he needs to click on the link in the email to confirm he is ready to receive more information.
Remember that no one would go the extra mile for brands that don't interest them much.
Ask your subscribers about their preference
An increase in churn rate is directly related to brands sending emails that they think subscribers are interested in. To avoid all the guesswork, ask your subscribers about the type of emails they would love to receive. Focus on drafting emails based on their responses. Make sure you consider their suggestions with immediate effect.
Create a personal preferences page with varied categories of emails and their frequency. With this data, you can ensure you are sending eye-catching emails to stand out in the inbox and not annoy your subscribers.
For added personalization, you can also add additional questions. Remember that there are people least interested in every detail about your brand. They don't require every little update from you. But they are curious about the season of big discounts or mega-sales.
Have a column for people in this category on your preference page. Sometimes emails sent out once in a while can boost conversions better than emails sent weekly or daily.
Make these pages highly interactive and show your willingness to learn about your subscribers.
Instead of just asking about the frequency and type of emails, here is how Le Creuset, a premium French cookware manufacturer turned it into a fun quiz to take.
Stop sending highly predictable emails
Focus on educating your subscribers with your email content. Take into consideration their queries and put forward your brand as a solution.
Does educational content have to be detailed?
Absolutely not.
You don't have to send your entire blog posts in your emails.
What if you send in an Instagram or Snapchat story with relevance to your point? What if you kick in a short video giving just enough information to sort out a little problem? Trust me, people's heads are filled with these little problems they need a solution to.
If your emails mostly consist of opinionated posts, replace them with a real-life event. Send in case studies with actual figures they can take into reference.
Let's say you have a relevant long-form article or a 30-minute long youtube video. You can give your subscribers a glance at the actual content. Include a short snippet that convinces your subscribers the CTA will take them to value-enriched content. This snippet decides whether or not they click on the "read more" or "watch here" button below.
Take an example of how LinkedIn motivates its readers to read their blogs.
Know when to launch re-engagement email campaigns
The frequency of re-engagement email campaigns depends on the activity of your subscribers. These campaigns are for people who stay subscribed but hardly engage or respond. Just because they aren't engaging doesn't mean they aren't interested. Maybe their inbox is crowded with messages.
Re-engagement drip campaigns are launched to win back lost customers. You send out a sequence of emails to inactive subscribers to win back their attention to your brand. The key to re-engaging people is to understand why they weren't engaging in the first place.
Here are some questions you need to ask yourself:
Am I sending too many emails?
Is the email design messy and confusing?
Are my emails optimized for mobile?
Am I sending emails that are filled with highly irrelevant content?
The subscribers are removed from the list if they don't respond to this email sequence as well.
But why should your business sound desperate by sending multiple emails to inactive subscribers?
Remember that these are the people who were interested in your brand but now they need strong reasons to come back.
With multiple emails, you are giving them the reasons that could re-engage them. Don't confuse them by sending all the free benefits they could have in one email. You can't give them free valuable content, hefty discounts, flash sale, etc. in a single email.
Let's take two examples to understand this concept better.
The first example focuses on how you can mention the improvements in your product, put some figures to show credibility, and social sharing buttons for better engagement on other channels.
The second example asks subscribers if they still want to hear from the brand, with a CTA directing them to the email preference page.
Another strategy that works is when you offer people free stuff or hefty discounts. Remember that these subscribers can always ditch you again in the future. But it's always worth trying.
Summing up
To sum up, let's focus on the key points you can take from this article:
A reduced email churn rate is vital for an increase in sales and growth of your business

It's essential to segment your email list based on demographics, purchase history, etc.

Personalize your emails by using the collected data and letting a person converse instead of the business

Go for a double opt-in to ensure your email list is filled with highly-interested individuals

Make a preference page to adjust the frequency and type of emails based on your subscribers' preferences

Educate your customers through emails based on challenges they encounter

Launch re-engagement email campaigns for your inactive subscribers