Bulk Email Marketing: How to Ensure that the Emails Reach the Inbox?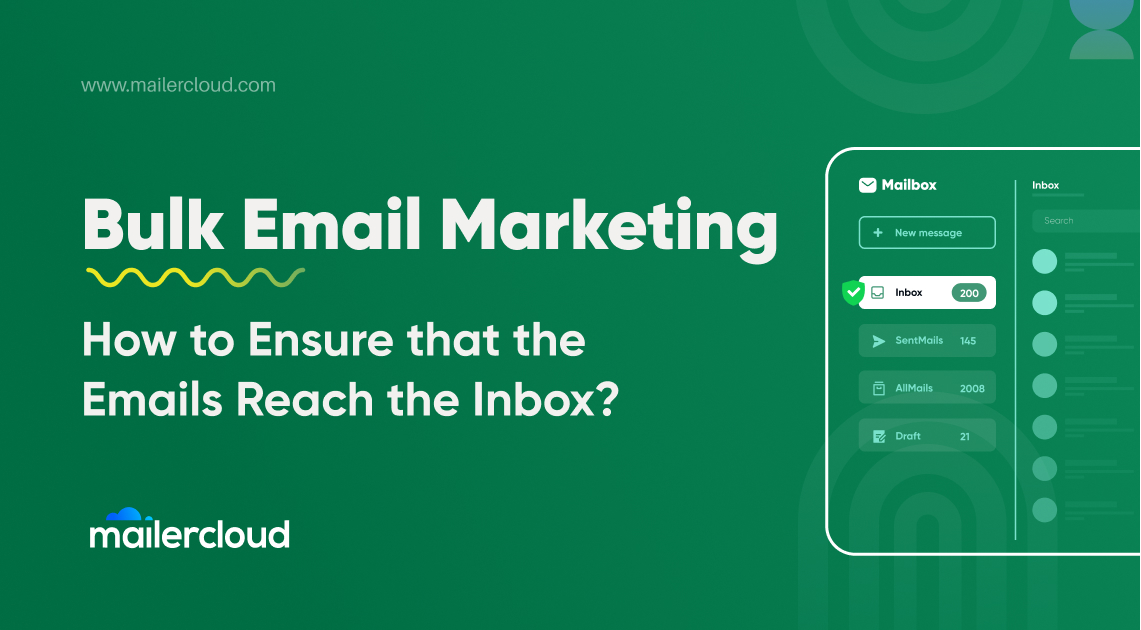 Bulk email is an important component of any digital marketing campaign. It can considerably aid in broadening your market reach. Indeed, it provides traction to your efforts for the acquisition of potential leads or customers from new target markets.
Despite this, many marketers are wary about getting tagged as spammers if they send bulk emails inappropriately. That is, of course, factual and true, as:
Email spam costs businesses roughly $20.5 billion per year.
Just 85% of all marketing emails sent around the world get past spam filters. This means, that 15% of them never make it to the inbox.
There are several variables that come into play if you are on the track to deriving the successful formula of sending bulk email marketing campaigns without spamming (or being flagged as a spammer anyway).
What Causes Emails to Land in the Spam Box?
There are a myriad of reasons why emails sent under bulk emailing may end up in spam folders, ranging from words, phrases or typos that trigger spam filters to improper authentication and permissions.
Non-adherence to HTML best practices.
Non-compliance to anti-spam laws and guidelines.
Deceptive subject lines or ones that contain spammy words.
Sending emails to contacts who haven't subscribed or opted-in.
Email content that can trigger spam filters.
Unsubscribe links are absent from the emails.
Incorrect 'From' or sender address.
Absence of email authentication set-up.
Large size file attachments.
The recipients mark the emails as spam.
Why Can't you Afford to Overlook Email List Hygiene while sending Bulk Email Marketing Campaigns?
Configure your own rule for determining the threshold limit (number of days) for you to consider 'inactivity' on the recipient's part. So, remove those contacts from the email list who haven't engaged with at least one of your emails within this threshold
It will improve your sender reputation by removing users who would otherwise classify you as spam. Further, there are less complaints and a higher delivery rate.
Another element that mailbox service providers consider when deciding what to do with bulk email marketing is data quality. Your email is more likely to reach the inbox if the contact database is free of any erroneous data and engagement is high.
Inbox service providers label abandoned email addresses as spam traps, which is another motivation to remove outdated emails. The abandoned addresses could have been transfigured as spam traps even if you build the email list via an opt-in process.
Technical Aspects to be Aware
There are three vital technical categories that you may pay heed to while ensuring that your emails while running a bulk email campaigns have a high inbox delivery:
Email Design and Content: legitimate links, attachments, words and graphics.
Technical Optimisations: SPF, DKIM records and IP, domain reputation.
Performance Metrics: email open rates, click-through rates and spam complaint reports.
Email Authentication
Setting up email authentication methods is a crucial step in establishing trust between you and your email service provider. Authenticated messages have significantly better inbox delivery rates. There are several ways to verify an email, and it's a good idea to fulfill all of them.
Sender Policy Framework (SPF): It's a domain name system (DNS) record that specifies the IP addresses from which your domain can send emails. Spammers cannot send messages on your domain's behalf if you use this email authentication mechanism.
Domain Keys Identified Mail (DKIM): A DKIM signature allows the recipient's server to verify whether or not the sender is you. DKIM protects the email from being tampered, while in transit. A valid DKIM record indicates that the sender is responsible for the material they deliver as well as the receiver to whom it is sent.
Domain-based Message Authentication, Reporting & Conformance (DMARC): This authentication technique informs mailbox providers what to do with emails that fail the SPF and DKIM verifications: accept, spam-filter, or reject. ISPs, this way, can easily identify spammers and prevent malicious emails from infiltrating users' inboxes.
Sender or IP Reputation
Using an email marketing tool with a stringent anti-spam policy that preserves the sender's reputation and shared IP addresses is one way to ensure a strong IP reputation.
Employing a dedicated IP address is another option – this is best to send bulk emails. However, it only makes sense if you have a well-developed marketing strategy and send emails on a regular basis. Plus, this option requires you to warm up the IP before launching bulk email marketing campaigns.
Only Trust a Reliable Email Marketing Service
Choosing a proven email marketing solution gives you the option of using a relevant sender address. This increases your email's recognizability and trustworthiness. They also give you access to advanced email automation, segmentation, and personalisation functionalities to help you avoid the stumbling blocks related to bulk emailing.
Holistic Performance Monitoring
Having onboard a sturdy email marketing tool ensures efficient tracking of the bulk emails along with reviewing the analytic reports for open rate, bounce rate and other deliverability metrics.
Evaluate the email engagement on a regular basis to identify areas where there is a lack of engagement, and explore the reason behind it. Maintaining these metrics and key performance indicators in a safe range is the most effective strategy to avoid a bad sender reputation.
Create 'Genuine' Emails
Any slightest element in the email that looks like spam is enough to route the email straight into the spam folder.
Unjustifiable images, graphics or text.
The email body isn't coherent with the subject line and preheader text.
Strange, shortened, and suspicious links in the emails
Unprofessional email design
Best practices to build a 'legitimate' email:
Use a good email design with a balanced image-text ratio.
If you know the recipient is expecting the email and you are a trusted sender, skip email attachments as often as possible.
The flow and placement of the email content, CTAs, and images must reflect your brand and portray you as a real sender.
Another sure-fire technique to confirm your email's genuineness is to make sure it's devoid of any grammatical or typographical errors.
Ensure that the email and its content resonate with the recipients.
Create email content that provides value (either some solution or information related to their needs or problems) to the recipient. This will lead to higher engagement with a lesser risk of being marked as spam.
Test the Emails for Better Success Rates
The subject line is the first point of contact with the recipients and a deciding factor for the recipient to open the email or not. Therefore, make sure to test different subject lines – they should not include click-bait words or false promises.
Testing different versions of the emails will help to find the optimal one that not just connects with the audience, but also motivates them to take the intended action through the email.
Double-check Whether or Not your Contacts Want to Hear from you?
The best way to avoid getting marked as spam by the contacts or worse, getting on a blacklist is to ensure that your contacts are 'willing to receive emails from you – do not appear like a stranger to them. A double opt-in strategy is an ideal way to do this. Another approach to developing an email list of genuinely interested contacts is to build your list organically and not buy it.
Provide an easy way to opt-out.
Emails lacking unsubscribe links are frequently marked as spam and violate anti-spam standards. Since if an email recipient can't find an unsubscribe link, the next obvious step for them is to label your email as spam.
Over to you!
Bulk email marketing has been a common practice for marketers, but it also has its downsides. The most notable one is that it can be considered spam, and can lead to your account being blocked entirely.
Knowing the technicalities behind this and delivering what you promised, you can send bulk emails without spamming and turn these emails to be a true extension of your business and brand.
The current email marketing landscape has become a restricted space with so many limitations like that of the latest Apple Mail Privacy Protection Policy. More such changes in the anti-spam policies will likely keep coming to protect people against data and privacy. Thus, while creating bulk email campaigns, it is wise to monitor all global norms.