Email marketing is undoubtedly the ruler of B2B marketing.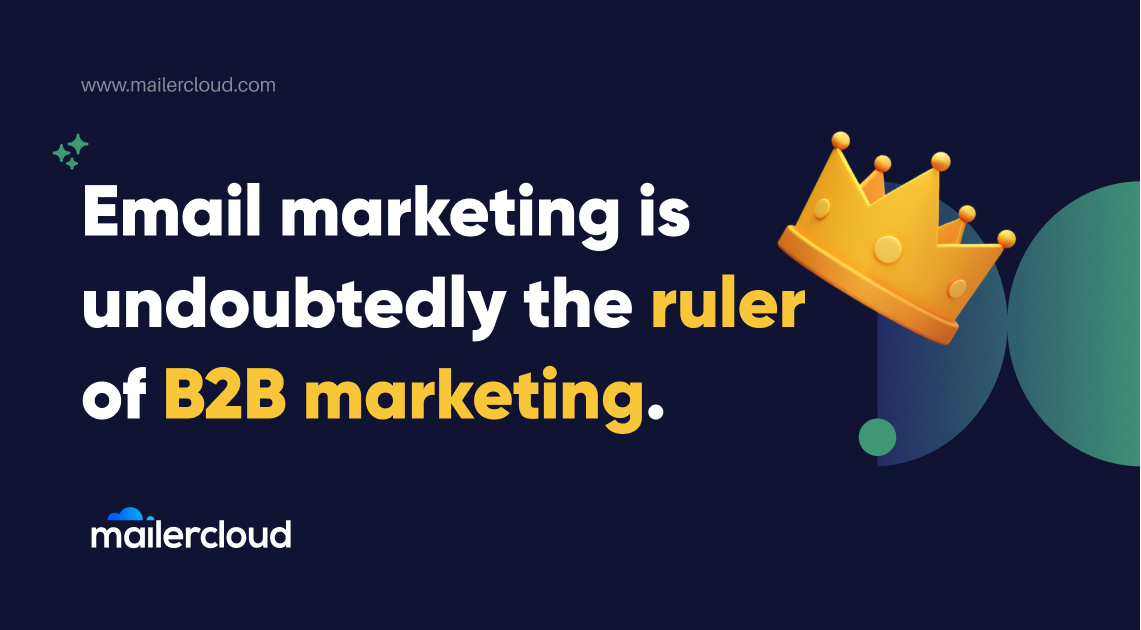 As per studies, 59% of B2B marketers claim email is the most effective channel for generating revenue. Whereas 42% of B2B businesses believe it is one of their most powerful medium for generating new leads.
Regarding the statistics on return on investment, Direct Marketing Association quotes that email marketing yields $51 for every $1 spent.
These kinds of figures are what make email marketing so profitable. However, there is a catch – B2B email marketing campaigns require a different approach than traditional B2C email marketing.
Here is a roundup of the best B2B email marketing examples for 2022 so you can see what the industry leaders and the rival companies are up to. Gain useful insights and push your B2B email marketing to a whole new level.
Why are B2B strategies necessary for B2B email marketing campaigns?
For the same fact that two almost identical doors nonetheless require separate keys, general email marketing strategies don't work for B2B campaigns: you're attempting to get different people into the door.
Here are some particular instances of how conventional email marketing strategies fall short when used in B2B campaigns.
Sending Targeted Emails
B2B campaigns target businesses, or more precisely, numerous people at a company, as opposed to the majority of email marketing efforts that target individuals. A company's purchase process involves individuals in a variety of positions, unlike a consumer's buying journey, which is entirely up to them when they receive a B2C email.
When you pinpoint a B2B target, you're actually tracking down a collection of targets; therefore, your strategy must take into consideration the variations across various contacts inside a company.
What this actually means is that you should send many emails to various recipients inside the same target company in order to effectively reach people.
Cycle Span
The buying process for a B2B business can resemble herding cats. It takes a herculean effort – and a herculean amount of endurance – to convince numerous departments to cooperate on a conclusion, particularly one that needs budget approval.
Since email marketing campaigns continue the entire customer journey, anticipate your B2B company marketing cycles being a lot longer.
Email Content and Tonality
Consumers are aware of their status as customers. Thus, while composing B2C emails, you can be more upfront about the fact that you're seeking to close a deal. Promotional material, discounts, and sale announcements work well in a B2C campaign but feel work in the same way in a B2B campaign.
When B2B emails concentrate on offering resources and information, they typically perform better. A B2B subscriber might be convinced of the worth of your brand by reading trend studies, industry benchmarks, how-to guides, and webinar recordings.
Repackaging B2C material for your B2B email marketing campaigns is therefore out of the question. Instead, you'll need to find whole new email content types and forms.
Best B2B Email Marketing Examples of 2023
Just because a business or its brand is terrific doesn't ensure that its emails will be. Many companies are succeeding on the stock exchange but languishing in their target audience's inboxes.
Remember that your B2B email marketing goal goes beyond simply getting recipients to click through, read, or sign-up right away. Also, you would like to prove to your recipients that the content of your emails is noteworthy, valuable, and has information worth reading and interacting with.
Here are a few B2B email marketing campaigns that got not only splendid email open rates but also had impressive engagement rates.
1. Re-engagement Email Campaign
Grammarly delivers a fun way to indicate that time has gone by adding a "wrinkle in time" badge. To quickly re-engage the recipients with their products and services, they additionally include a bold red call to action.
2. New Feature Announcement
Atlassian announced its multiple services' updates through a crisp and clean email. The email begins with a free testing offer that is available to the email recipients. While the white background makes the blue call-to-action buttons pop up.
Such a B2B email marketing strategy is excellent for keeping the B2B brand-customer relationship cordial. You remind people of who you are and let them know what's new.
3. Personalised B2B Email Marketing
Microsoft prefers creating emails specifically tailored to the interests of its prospective and current clients. Microsoft sent the aforementioned email with recommendations based on their browsing and spending patterns.
Your sales and conversions will increase if you send personalized emails like this sample email for marketing your B2B business amidst your prospects, recommending goods and services they'll find valuable.
4. Company Merger/Acquirement Announcement
One of the first things SumAll did was let their subscribers know that they had acquired Flutter. By doing this, they successfully generated fresh interest in their product line. Announcing this kind of news is, therefore, likely to positively affect prospects who were uncertain whether SumAll was the perfect fit for their company.
Inform your subscriber list whenever you have news to share, such as receiving an award, modifying your product lineup, or introducing new price options, for instance. Include all corporate news in the email itself, connect the email to a landing page, or do both.
Content that is newsworthy about your business is indeed valuable to your readers. According to Chadwick Martin Bailey's research, 26% of all B2B users sign-up for an email because they want to stay updated on significant news about a business or brand they have expressed interest in.
5. Automated B2B Email Marketing Campaigns
Using an email automation workflow, Adobe sends a sample email for marketing their B2B brand following a user's purchase of Adobe Acrobat Pro DC. To help the user get the most out of the software, Adobe includes information in this email on extra Adobe Acrobat Pro DC features.
By routinely communicating with their clients through automated emails like this one, Adobe can create enduring bonds with them that result in customer loyalty.
Users are also aware of new features they may not have known existed. Henceforth, the customer will utilize the product more favorably and is more inclined to do so in the future.
6. B2B Email Marketing Campaigns with Video
Likely, a video will always be there in an email that Backlinko sends. They can give value by using video to provide actionable content. Additionally, the Backlinko creator, Brian, created a connection with his subscribers by using a video in this particular sample email for marketing their B2B brand because they regularly see and hear Brian.
When he engages in this kind of dialogue with his audience, he establishes a stronger bond with them than if he read email content.
Make a video version of one of your most profitable pieces of content. Narrate the content of the email through this video. This email need not be pitch-perfect. Also, these kinds of emails perform better in terms of engagement.
7. Product Promotion
When VWO introduced SmartStats, they let their audience know about the new development, how it affects users, and how it might aid them in their testing.
This kind of email may attract new clients from prospective customers who are indecisive about which provider to select.
8. Motivate your Lead to Proceed Further in the Marketing Funnel
CampaignMonitor sent their clients a B2B email to remind them about their email template builder.
Utilize your marketing emails to remind your target audience of products and services they haven't utilized recently. These are just a few instances of B2B email marketing. Still, it's more important to pay attention to your customers' persona and behaviour and provide them with solutions before they even ask for them.
9. Year-End Email to Celebrate the Milestones
B2B emails that summarise the past year are a great approach to interacting with your customers.
Flywheel offers its readers a lot of information in this email. This B2B sample email for marketing demonstrates how to provide the summary of the entire year with a full review at the beginning of the email and finish the template with some vibrant and amusing images of their staff.
10. B2B Email Marketing Campaign with Gated Content
SuperOffice notifies its subscribers through email whenever they publish a new white paper or guide. This is a very effective and quickest method for increasing the number of readers and content downloaders.
They do this because 36% of B2B customers utilize white paper information as a starting point for their product research, according to a study.
The Bottomline
An email has a significant benefit for B2B businesses in generating leads for sales, generating income, and retaining customers, as supported by expert opinion and industry statistics.
Depending on your industry and the goals of your B2B email marketing strategy, there are countless ways to use email marketing to communicate with your audience.
You can use one of these B2B email marketing examples to help you in delivering interesting emails to your audience if your business is among the 59% that don't use email marketing and are seeking ideas.