Email Reputation and Sender Score: What, Why and How to Improve Them?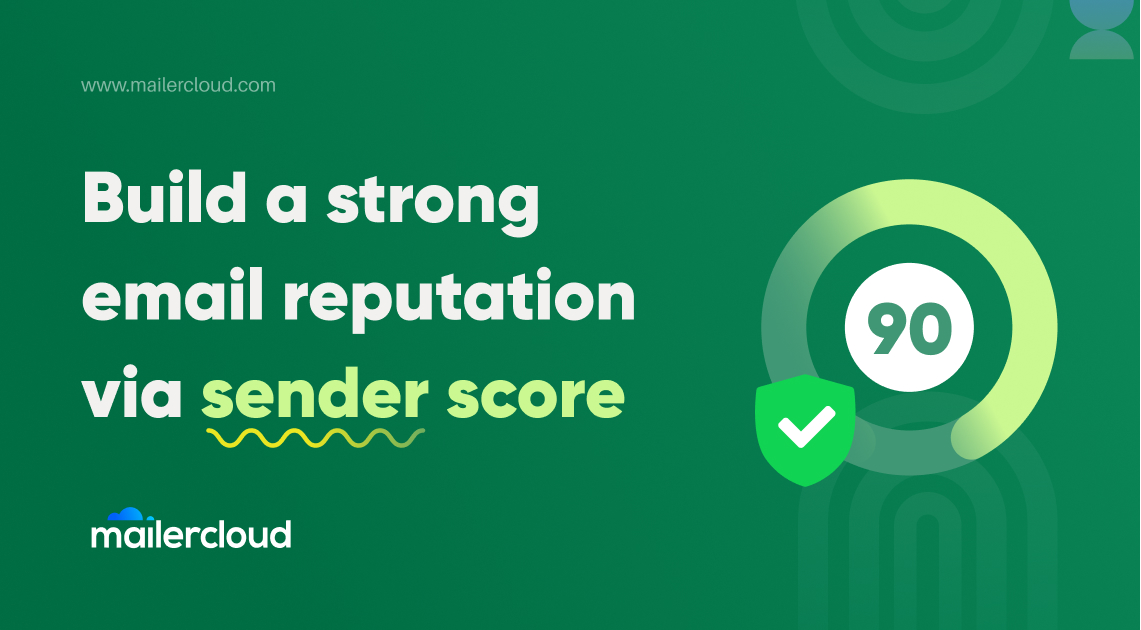 Email marketing as a channel has matured over time, much like the rest of the digital marketing landscape. One of the most common challenges email marketers more than often face is email deliverability: the ability to land their emails into their recipients' inboxes.
With poor email deliverability the emails either reach the recipient's spam box or worse, get rejected by the email server.
Email deliverability is a component of the email campaign process that is highly dependent on the sender's reputation and score.
Email marketers who have done their homework understand it's not just about performing the job right. It's all about doing the job correctly the first time.
You don't want to spend time creating the perfect email campaign, just to have it end up in your subscribers' spam folder. That will not assist you generate revenue and will require you to work twice as hard. If you're having trouble with these concerns, it's likely that you need to work on improving your sender score and email reputation.
What is Email Sending Reputation?
An email sender reputation is a score assigned by an Internet Service Provider (ISP). It's fundamental in deciding the email deliverability. The higher the score, the greater the probability that an ISP will deliver emails to recipients' inboxes. If the score falls under a benchmark level, the ISP may send emails to spam folders or even block them completely.
Email sender reputation is a complicated metric. It is made up of many reputations that define email delivery procedures. The following are the most prominent reputations:
Domain Reputation: The quality of verified and domain authenticated emails is measured by domain reputation. Domain authentication systems do this job of verifying domain reputation.
IP Reputation: IP reputation measures bounces, spam, and unwanted bulk mail to determine and indicate how much the recipients desire to receive email from a specific IP address.
Content Reputation: Content reputation is based on a collection of factors that establish the quality of an email campaign's content sent by the sender.
Note: IP and content reputation work in tandem to build a comprehensive portrait of a sender's email behaviours. IP reputation evaluates the quality of email sending and content reputation evaluates the content of a sender's email and determines whether or not the sender is credible.
Importance of Email Sending Reputation
Email sending reputation is a convoluted value that develops over time as a result of a never-ending game of catch-up between spammers and ISPs who are continually coming up with new techniques to catch hold of them.
Email sender reputation influences email deliverability: Delivering emails to subscribers' inboxes is the responsibility of email service providers (ESP). The major criteria that ESPs analyse are statistics that define the sender reputation, such as email authentication, click – through rate, volume of deleted messages, and false domains or addresses, among others.
Email reputation helps to gauge the success rates: Email reputation helps to gauge the success rates.. A good sender reputation signifies that your subscribers appreciate and connect with your email campaigns.
Email reputation protects recipients from scams and fraud: ESPs detect and suppress cybercriminals based on the sender's reputation.
Factors Shaping Sender Reputation
Email sending frequency and volume: A new IP address will have a low email sender reputation. Sending a huge volume of emails will appear suspect to ISPs in this instance, and they will most likely blacklist your IP address.

The number of SPAM complaints that your subscribers have marked to your emails.

Hard bounces have a strong negative impact on the email sender reputation, as these are a result of permanent glitches like stale, inactive email contacts.

For ESPs, an email list with SPAM traps indicates that the email sender does not have in place an opt-in mechanism. ESPs restrict such lawbreakers' mailing activities and place them on a blacklist.

The way people respond to and interact with your emails reveals how important these emails are to the recipients. This is a significant determinant of email sender reputation.

The rate and number of unsubscription negatively influences the sender reputation because higher unsubscription means that the email campaigns' frequency seems to be irksome to the audience or the emails lack relevancy.
What is Sender Score?
The sender score algorithm, a free service from Return Path, rates the credibility and reputation of every outgoing mail server IP address on a range of 0-100. It essentially represents your IP's reputation, which is a key determinant in evaluating whether or not you're flagged as a spammer.
The sender score will fluctuate over time based on your email sending practises and recipient's responses.
What is a good sender score? 90 or more.
Anything in the range 50 to 80 needs attention and work. Sender score below 50 marks you as a spammer.
Why Sender Score Matters?
Email servers frequently check and assess your sender score prior to actually choosing what to do with your emails.
Various factors might affect your email's deliverability, but according to Return Path, a poor sender reputation is responsible for 83 percent of email delivery failures.
It does not matter if an ISP does not employ your sender score to determine the delivery of your emails. The elements that attribute to your sender score are comparable to those that ISPs and other email networks use to assess your email sender reputation.
Important: A high sender score may signify that the majority of the sender's emails route into the inbox. A very low sender score, alternatively, indicates a strong likelihood of high email bounce rates, high block rates, and poor open rates.
Time to Improve Email Reputation & Sender Score
Email List Verification
Verifying email lists erases all obsolete, invalid email addresses with typo errors along with the spam traps. This ultimately leads to improved email deliverability and sender reputation.
Maintain Email List Hygiene & Adopt Double Opt-in
Keeping your email list updated with frequent cleaning has no obvious drawbacks. It's a good idea to run your contact database through email validation and verification on a routine basis. Simultaneously, check the hard email bounces and eliminate them as soon as possible after sending a marketing campaign.
A clean email list also leads to more accurate and reliable tracking of campaign performance, as it does not contain any email contacts that can hardly generate any response. This stage gives you the ability to optimally improvise future campaigns.
Employing a double opt-in technique makes sure that your email list has only a real and genuinely interested audience. Such an email list reflects high engagement rates and other positive performance outcomes, leading to higher email reputation and sender score.
Keep an Eye on the Negative Performance Cues
Tracking the positive performance indicators is a wise approach. However, monitoring the negative ones – like spam complaints, opting-out rates, non-responders, etc. – is an even better strategy.
Relate the unfavourable metrics to the campaign variables you're analysing.
Is there a link between the type of subject line and the number of spam complaints?
Is there a pattern to which a certain campaign style leads to more opt-out requests?
Look for sequences that you may use to improve future efforts.
Work on Increasing Email Engagement Rather than Just Conversions
It's tempting to focus solely on the end conversion statistic, but increasing engagement rates all across the spectrum have more value. More recipients engaging with your email campaigns will have a long-term beneficial impression on your sender reputation, resulting in higher email deliverability and, eventually, increased conversions.
Mailercloud offers multiple techniques to boost email engagement. Some of the eminent ones are email list segmentation, personalisation and A/B testing. Marketers may use these strategies to develop more targeted, tailored email campaigns that users will be eager to click, open, read and react to.
Impose an IP Warm up Strategy
A fresh and new IP address is referred to as "cold" and has no ESP authority and credibility. Thus, it becomes important to warm up your IP by slowly and steadily increasing the email sending volume while preserving the quality and relevancy of your email marketing campaigns.
The Bottom-line
Sender score and email reputation are useful for assessing emailing practises and identifying pain points that need to be addressed for achieving the desired goals. Enhancing deliverability and providing your subscribers with what they need and want is the secret to reaching their inbox.
Your email campaigns should spotlight sending out dynamic, shipshape emails that add genuine value. The goal should be to identify the needs and problems of your subscribers and provide them solutions for the same. When subscribers are waiting for your emails on the other end, this not only guarantees an outstanding sender reputation, but also increases the conversion rates.