Foolproof Data-Driven Guide to Small Business Email Marketing-Mailercloud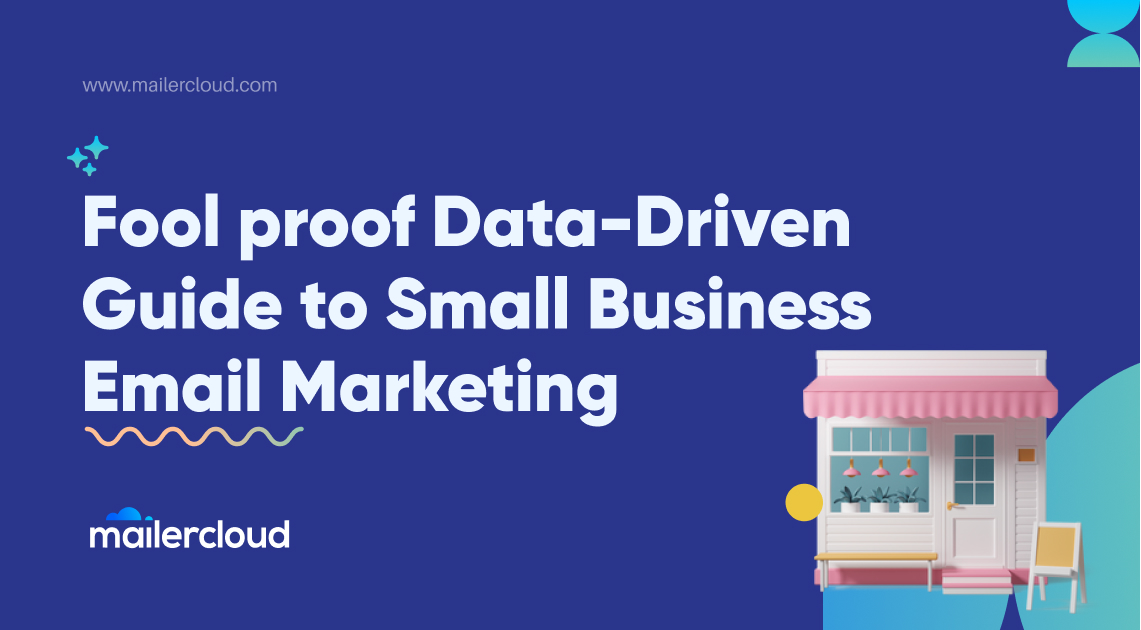 Email marketing has a lot of potential for small businesses. No matter who your prospective clientele are, where they live, and work, or how they communicate professionally or personally, email marketing provides a wide range of avenues to connect with your ideal customers.
There are currently over 4 billion email users, with a projected total of 4.6 billion by 2025. That is, your target audience is more likely to possess an email account where you can easily reach them and have a 1-on-1 communication.
Objectives of Small Businesses for Marketing
Small businesses seek effective marketing solutions to maximize revenue with limited budgets and resources. They may operate at a high level even with limited resources and multi-tasking people if they have the correct strategy and tools in place.
For small businesses, email reigns paramount, and for legitimate reasons: Email marketing platforms provide direct engagement with audiences and helps to build brand credibility. Authenticity-focused email marketing paves the path to creating trust with your audience and boosts the possibility of turning the biggest fans into loyal brand advocates.
Plus, most small businesses already use email, so there are very few obstacles and marketing goals you can't achieve with them.
Impact of Email Marketing vs Other Marketing Platforms for Small Businesses
Of all the marketing channels that small businesses use, email marketing showed maximum return. A small firm can make a lot of money by incorporating a few essential emails into its strategy, especially when automated trigger-based emails are used. Allow email marketing campaigns to operate in the background to reach prospects at the optimal time with the right email.
Being allowed into someone's inbox provides small businesses with a privilege, as it gives you exclusive access to people who have already demonstrated a strong interest in what your small business has to offer.
That is what makes email marketing so successful and impactful. Email marketing offers certain significant advantages that other marketing platforms just cannot match:
Undisturbed environment to personally interact with a user.
No reliance on third parties or shifting algorithms to achieve the desired results through email marketing.
Complete control over email lists and databases.
The capacity of email to build a direct bridge linking to the subscribers aids in customer retention and increases the lifetime worth of your small business. In addition, email marketing puts small business owners in an advantageous position. It gives them the opportunity to swiftly develop credibility with local clients and solidify their profile and authority in the industry.
Small Business Email Marketing – Boost Both Customer Acquisition as well as Retentions Rates and Volumes
The allocation of a marketing budget is critical, irrespective of the size and scale of the business. This is especially applicable for small businesses with finite resources and unique objectives. Every dollar spent on marketing must be justified, and small businesses, in particular, must-see multiple benefits at once.
Email marketing proves to be a powerful digital marketing technique for attracting and converting new customers as well as retaining existing ones. It also serves as a one-stop marketing solution for small businesses.
Even the facts back the power of small business email marketing:
64% of small businesses harness email marketing to target their prospective customer base.

81% of small businesses use emails as their primary channel to acquire customers.

80% of small businesses take the help of email marketing for customer retention.
Easily Resonate with Diverse Segments of your Target Audience
By harnessing data about subscribers, small business email marketing helps to build highly targeted and personalized email marketing campaigns.
Personalized email content creation can be intimidating and overwhelming at first. With an efficient email marketing tool, however, personalized emails, and that too hundreds of millions of emails, is much easier. As per research, personalization can increase email opens by as much as 26%.
Segmenting the email list based on age, location, preferences, gender, and other parameters further proves beneficial in creating focused email campaigns. Hyper-segmentation and hyper-personalisation will give greater results in the future, as the marketing objectives change and the audience base expands.
How can Small Businesses Achieve High Success Rates in Email Marketing?
Constant Tracking of the Email Campaigns
Measuring the effectiveness of email campaigns is critical for long-term success. You won't be able to set reasonable goals for future campaigns if you don't take the time to analyze your metrics. This data will not only show you how you compare to your competition, but will also assist you in identifying areas that require additional attention. Set up a monitoring plan for tracking the success of email campaigns in three steps:
Maintain and Follow a Schedule: Choose a fixed time to evaluate the results of an email campaign. Certainly, follow this schedule without fail to identify any patterns in the performance of the campaigns.
Before setting up the key performance indicators, define a tracking schedule – monthly, weekly, quarterly or campaign by campaign. In any case, you may compare your progress to previous results and benchmarks, making it simple to discover trends of improvement or deterioration. These can then be linked to a certain sort of email marketing, a specific client category, a specific product type, or external factors that may be affecting the campaign's success.
Clearly Define and Outline the Marketing Objectives: The stated goals must be pertinent to performance tracking. It's critical to create unambiguous goals and objectives early on in the small business email marketing strategy development process. When defining these, consider how measurable they are and how they may be measured.
Observe what works (and what doesn't). Analyzing the ins and outs of the emails that have gotten the most hits can help reveal the type of content that is able to grab the maximum attention. You can discover more about your audience by evaluating their behaviour, such as what attracts them and which information isn't effective in driving any response or interaction.
Tracking the Right Metrics is Equally Important
Timely analysis of the email marketing campaign reports is essential. However, what is more, important is – tracking the right metrics. The goal of every email marketing campaign is different. Subsequently, the performance metrics that may righteously portray the campaign's success rates also change.
When you utilize a marketing tool to send emails, it keeps track of how many people open, click, and forward them. This information is compiled into reports that illustrate how your emails have performed over time, in contrast to other emails, and with industry email marketing statistics.
It's critical to understand what each KPI represents and which KPIs are most significant for your business in order to get the most out of your reports and establish a measurement plan.
Open Rates: The open rate is calculated by comparing the number of emails opened by recipients to the total number of emails sent. (Note whether you consider re-openings to be original opens. If that's the case, the genuine open rate is probably lower than the data suggests.)
A/B testing different subject lines might help you figure out what makes your subscribers want to open your emails and what doesn't. Similar information, such as how many times the campaign was forwarded to recipients, when the email was last opened, and which subscribed contacts opened the campaign the most, can help you gauge engagement.
Click Rates: The percentage of total recipients that clicked any embedded link in the email is known as the click rate. When a contact clicks on a link, it signals that they are interested in the content, thus it's a good measure to use for tracking engagement and A/B testing. It's also useful to keep note of which contacts click on a link, the number of clicks per link, the number of clicks for each unique open, the longest time someone clicked a link, and the campaign's most clicked link.
Bounce Rates: When an email is rejected by an email server, it is known as a bounce. This information is useful for organizing your audience and tracking the delivery. A high sender reputation is aided by a low bounce rate. A high bounce rate indicates that material is going unread (and hence damaging your sender's reputation).
A hard bounce and a soft bounce are the two sorts of bounces. A hard bounce indicates that the email could not be delivered for an indefinite cause, such as the email address is invalid. A mild bounce implies a transitory issue, such as an overflowing inbox.
Unsubscribe Rates: Unsubscribes are persons who have unsubscribed from your mailing list. Although some people will always opt to unsubscribe, analyzing data can help you determine whether you're sending valuable material to your audience. People unsubscribe for a variety of reasons. However, high unsubscribe rates may suggest a problem that needs to be addressed. When measuring your deliverability, this is also a critical indicator to track.
Study the Device: Device statistics reveal which devices your recipients use to access your emails, which is really helpful information. Because different devices display email and its content differently, it's critical to optimize the emails. If specific devices can be broadly matched to certain groups, it might have a significant impact on how these segments interact with the email content they receive.
Spam Score: The pace at which contacts designate your emails as spam determines your spam score. A high spam score indicates that your recipients are uninterested in what you send them. This informs internet service providers (ISPs) that your contacts in your email contact lists are no longer interested in communicating with you. This can have an effect on your sender's reputation, which in turn has an effect on deliverability.
Conversion Rates: Establishing a clear conversion rate is a critical indicator for assessing the overall success of your email marketing efforts. It reflects the number of people who have taken the action via the emails that you desired them to take.
Deriving Insightful Data from Email Marketing and Turning them into Actions
Of course, even the most precise metrics are meaningless unless they are deployed to guide progressive change. Drawing insights from the key indicators and implementing them in useful ways in email campaigns is the real expertise in performance evaluation.
A high click rate on mobile devices but not on desktops, for instance, may indicate that emails aren't as effectively optimized for desktop users as they could be. It's simple to fix, but making the initial intuitive move requires some human understanding.
The email marketing software that small businesses use will gather real-time data and reports about the campaigns. But the real task is to give those graphs and data a personal touch. Examine the relevant data, compare it to any relevant context, and figure out what's causing the problem when the engagement metrics display a drop. Then employ innovative strategies to get the campaign back on track. The more you can track your progress, the more effective your campaigns will be in the short and long run.
Concentrate Methodically on the Three Growth Multipliers
Email marketing could be a viable strategy for small businesses to break free from the acquisition trap, as it can influence and provide traction to three major growth multipliers:
Abandoned cart emails can lend a helping hand to nudge users about the items that are sitting in their carts. These emails can boost the overall conversion rates.
Auto-triggered emails make your small business email marketing strategies scalable and increase customer retention rates. It is because these emails can easily target a wider audience – in a personalized manner and at the right time when they have just shown interest in your brand or have made a purchase.
Re-engagement or win-back emails provide ways to bring back inactive subscribers or those who may have forgotten about your business. Indeed, research data also support this: re-engagement emails witness a click rate of 22.65%, the highest amongst others. Additionally, these emails can also be used to provide a means to help users complete their purchase cycle.
Small Business Email Marketing Tips and Advice
Be Fully Aware of your Audience – What are they seeking and what their problems are?
Every business, big or small, recognises the importance of identifying and understanding the target audience.
Whether you're a small business owner looking to expand your operations or your product line, the process of marketing almost always begins with establishing who your target customer is.
However, make sure you know who they are and what drives them to hitch to your business. This way you can curate and tailor the email marketing campaigns as per theme. Subsequently, this increases their overall email experience.
Speaking on a general level, the impact a positive experience that a customer receives can bring to a business is immense:
86% of customers will abandon their association with a business or brand, just as little as after two bad experiences.
74% of consumers are at least moderately motivated to purchase based on their experiences related to business marketing.
Transparency is Key
Oftentimes, an email will receive the attention of the recipient if they know from whom the email is coming from or what the business is all about to whom they are subscribing to. This means that small businesses running email marketing campaigns must make sure to include a real person's name in the sender's field. Furthermore, this shall build a trustworthy image in the recipient's mind.
Also, avoid using any form of deception to build your email list. It is simply not worth it. You run the danger of alienating your audience, tarnishing your brand, and getting flagged as spam.
Here are a couple of examples: Use double-opt-in. Don't check the opt-in box automatically. Allowing your audience to check the box if they want to receive promotional emails may require more effort on their part. However, ask them to confirm in a follow-up email. You can even go a step further and ask them to choose which types of emails they want to receive. Those who truly are interested in getting connected to your small business and want to stay updated through your email newsletters won't mind, and that's the main purpose – cultivating a loyal following.
Adopt User Generated Content
Nothing provides assurance of quality and credibility about a business to a prospective customer than a review or experience shared by a real user. There is no surprise that user-generated content is very beneficial in the decision-making process for 93% of consumers.
One of the primary benefits of incorporating user-generated content into small business email marketing initiatives is that it helps to establish your brand's credibility. Customers are more likely to trust your company and its products if they can see how other customers have connected with your brand. Not only is user-generated content free, but there are several simple ways to incorporate it into your emails.
Gathering quality testimonials and leveraging them in your email marketing outreach can help new and repeat customers fill the gap between browsing and purchasing.
User-generated content in email marketing campaigns provides context to potential customers – User-generated content assists, other members of your brand's community gain, useful information about your business, and its products and services directly from those who use them. Your potential clients will be able to see how your product or service will fit into their lives. The more scenarios your product is shown in, the more context you're giving your audience – which means a bigger percentage of your audience may envision themselves utilizing your product or service.
Emails are a suitable medium for delivering user-generated content and reviews to your audience. They're a low-cost nurture channel that informs subscribers who aren't ready to buy a product they're interested in.
You may get people excited about new products by using user-generated content. Conversely, you can utilize reviews to assist recapture someone's interest in an abandoned browse or abandoned cart process.
Welcome Emails: Get new subscribers enthused about your small business by sharing with them user-generated content in the welcome emails that conveys to them the story behind your vision for your business.
Abandoned Cart Emails: Use product-specific user-generated content to persuade customers that the item in their shopping basket is worth purchasing.
Cross-sell: After a customer makes a purchase, leverage user-generated content to maintain the momentum of their association with your business. You can entice them by cross-selling related products.
Post-purchase Emails: Build up the excitement levels of the customers who have bought a product by sharing with them the experiences of other customers who have used the same product through emails.
Re-marketing: One thing that many marketers agree on is that repeat customers, not new customers, drive the majority of sales.
While appealing landing pages and social media can help keep your consumers engaged, email marketing is the most effective way to maintain a continual conversation. You may understand what your customers are buying, how often they buy it, and even why they buy it using marketing analytics.
With that data in hand, sending them an email at the appropriate time becomes a workflow you can automate to provide user-generated content that highlights products that would be suitable for them right now. Email remarketing can also be used to convert abandoned carts into purchases by sending an email to your consumers the same day they failed to finish their purchase.
It is always a good practice to ask for permission, before sharing the user-generated content on email campaigns.
Artificial Intelligence will Provide the Leap
Businesses are increasingly using AI for tasks such as graphic curation, consumer engagement, and developing personalized email experiences. AI can also assist email marketers by analyzing loads of data to forecast subscriber patterns, trends, and behaviour. In fact, some advanced AI software solutions can even provide suggestions or recommendations on how to optimize client engagement.
Why not employ this technology that exists? – Perhaps this will help you create more advanced and smart email marketing campaigns.
Keep an Eye on the Latest Industry-relevant Email Design Trends
You're not the only one that sends emails to your audience. The competition is cut-throat and your allies may already be sending your target customers attractively designed emails. So, how to craft the email design and content that stands out from the rest? Of course, by embracing current trends – but cautiously and in tune with your brand.
The idea is to immediately capture and hold your prospects' attention long enough for them to convert. The following are some email design trends to watch:
Black backgrounds with neon accents.
Maximalism is characterized by crowded layouts, a combination of solid colours, and bold typography.
Interactive components can be used to make emails more fun.
Ensure that the emails are accessible and readable across all screen sizes and browsers.
As a small business, you need to go above and beyond to impress your prospects.
Segmentation and Personalization
Invest in email marketing solutions that can assist you to segment your audience and then customize your marketing emails to ensure that the right email reaches the right person.
It would be fantastic if your initial step was to research and understand your audience, as well as your competitors' audiences. What motivates them to buy a comparable or same product as yours? What are their objectives? How can you possibly be more useful than a competitor?
Examine how your target audience interacts with your brand and that of your competitors, and use your data to make educated estimates. Consequently, segment your contacts
Make use of an email marketing tool that employs AI and machine learning to detect patterns and analyze hundreds of databases. That way, you can identify and use even the smallest trends to create an email that will increase your email marketing growth while reducing the risk of error.
Personalization appears to be the way to go because customers are more willing to invest in a business that knows them by name, recognises their buying habits, and provides them with the experience they desire. You can generate precise recommendations using data and dynamic content in this scenario.
Adhere to Email Marketing Regulatory Norms
It's critical to follow all applicable anti-spam regulations while sending emails for your small business's marketing campaign.
Several rules and regulations apply to email marketing as well. Indeed, firms and people that send commercial emails to consumers and subscribers must comply with a number of specific standards. Following are some popular ways to comply with these laws:
No erroneous or misleading headers.
There are no deceptive email subject lines.
Inclusion of unsubscribe or opt-out link in the emails.
The sender's valid physical postal address is included.
The message is identified as an advertisement or a solicitation.
Opt-out requests are quickly honoured.
Keep tabs on what others are doing on your behalf.
Failure to follow these rules can result in a hefty fine as well as serious reputational and public relations ramifications.
How do small businesses bring that 'local' touch into the email campaigns?
Email marketing should promote your small business. However, it should also include value-added content that encourages opens, impacts clicks, builds trust, and ultimately leads to sales.
Set a campaign calendar based on upcoming events, holidays, and local activities.
Customers will appreciate your efforts if you keep your focus on the 'local' in the emails.
Emails promoting community holidays. Send bespoke offers in your email campaigns during holiday shopping days like Black Friday, Small Business Saturday, and Giving Tuesday.

Send out amazing deals on annual events such as homecoming dances, community festivals, parades, and historical anniversaries.

Emails with seasonal offers that are relevant to the local audience.

Consider marketing top-selling holiday gifts in your area or the most-wanted Christmas gifts based on local feedback — it's a terrific way to boost your small business's revenue.
Create value-adding newsletters
The finest email newsletters are jam-packed with useful advice your subscribers can use to resolve their issues, accomplish some of their goals, and enhance their lifestyles. Your email newsletter generates authority for your company, fosters audience cohesion, and promotes long-term consumer loyalty. You can use the suggestions below to create email newsletters that no one will want to miss reading.
Locally focused how-to advice.

Local guides.