A Complete Guide To How Email A/B Testing Works?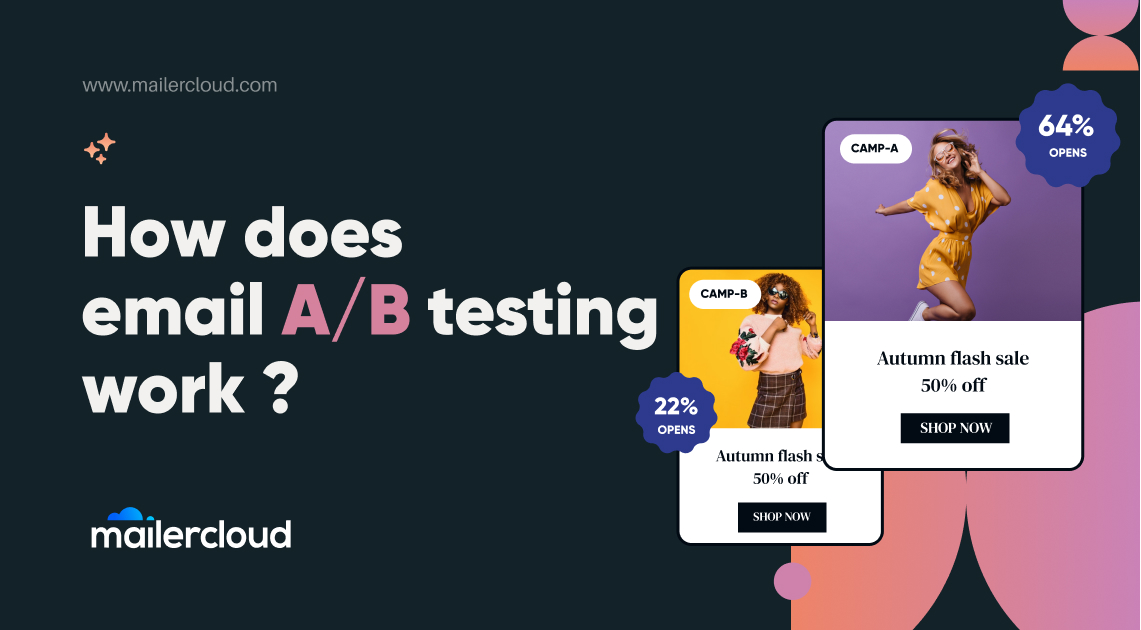 A successful email is not a 10-minute work! It takes hours, days and weeks.
Creating an email is not just about catchy subject lines, satisfactory email content and personalisation.
The most significant part would be to figure out what works for your audience and brand. A/B testing in email marketing is the fastest and the most powerful way to conduct controlled experiments on your campaign.
How does email A/B testing campaign work?
A/B testing in email marketing or split testing, is a way of reaching a conclusion of which of two email campaign variations ensures more opens and clicks. The whole process of A/B email testing involves:

Setting up of two variations of the campaign.

Variations can be done on the email, ranging from subject lines, email preheaders to the design and CTA buttons.
Sending the variations to a segment of your contacts. Half of the test segment receives Version A, other half gets Version B.
The winning version is selected by comparing open and click-through rates. And it is then sent to the remaining subscribers.
Benefits of email A/B testing
If you aren't convinced yet, here are some reasons how Email Split Testing will help your brand indefinitely:
Almost everyone forgets A/B testing
More than 40% of the existing brands forget to conduct an email A/B test. Which implies they are not using the full potential of their campaigns.This clearly shows that you will have a grip over the market while competing with the brands that don't test their emails. When you are A/B testing your email campaigns, you will reap the best out of it.
Small changes do matter!
A/B testing goes on with this motto:
" One small change can make a huge difference!"
A small variation, performed on the subject line, content, font, images or time could be the reason for a rapid business growth.
Save your money, time and energy
A/B testing allows marketers to focus on only a few variables that would drive conversions. It saves a lot of energy and time. It is so much easier than re-building an entire campaign. Therefore, A/B email testing has proven to save time, money, and increase the ROI of the campaign.
Reduction of bounce rate
As your subscribers find your emails more convincing, you will find a decrease in the bounce rate. You will find a great improvement in open rate and click-through rate. Those are the metrics that will help increase ROI and conversion rates.
You will know what works for your audience
Not all industries and audiences are identical. Your customers have their own special needs. After you've conducted a few A/B tests you would realise how to make a tailor-made email for your audience.
What should you experiment on?
The first step towards email A/B test is deciding what you should test? You can run tests on maybe just one or multiple parts of your email. But if you need the accurate results on the impact of the small changes, choosing one at a time is the best.
Subject line

Personalisation

The layout/design (no. of columns and email blocks)

Content of the email

Length

Visuals

Tone

Call to actions
Subject lines
Stealing your audiences' attention from their highly cluttered inbox is the most difficult but also highly effective first move-in email marketing. Make your subject line catchy, humorous, short, simple and beneficial depending on your audience.
Different parameters of the subject line you can A/B Test are:
Word order

Tone of the subject line. (Make it neutral and friendly)

Length of subject line ( Try making it shorter and longer)

Personalization ( Do not forget to call their name!)

A number of characters in the subject line is also extremely important as most of your emails will be opened on a mobile phone.
Figure out what makes your audience curious. And use relevant words that trigger your recipient's attention.
Email content
Once the reader opens your email, look at the very impressive subject line. The email content you present should meet their expectations. You can experiment with a lot of email content types ranging from Welcome emails and announcements linked with your market. Make your content more interesting, more personal, and more targeted.
The types of content you can use depends on the audience, here are a few.
Welcome emails

Promotional emails

Testimonial emails

Review emails

Behavior-based emails

Rewarding emails

Survey emails

Newsletters
Triggered email campaigns and types of trigger emails
Personalization strategies
While you are conducting an email A/B test compare different personalization strategies depending on your audience. You can personalize images, subject lines, and email content. Try different variations by talking about their favorite movie, interests, or favorite activity. This is how you figure out what each of your customers loves.
Subscriber's name is the most reliable word you can add to your subject line for attaining great effects in your email campaigns. Just add personalized tags to automatically insert a subscriber's name in your campaigns. This one step will drive high open rates, click rates, and conversions to your market.
Email personalisation best practises to craft best emails
Experiment with your visuals!
Adding engaging visuals to your emails lets you grab the attention of the readers. The use of visuals depends on your Industry. For example, in the fashion industry, the trend moves towards glamorous and flashy visuals. But it is shifted more towards more formal and plain ones in the financial sector.
Images

are attractive. It's a great way to engage the audience. But when you have to send an important email, images act like a villain. It drives away attention from the content of your email. And it's always better not to go beyond more than two images.

I would say, adding or not adding images depends on your email type and content. It may work for some emails but not others. Explore whether or not they are working by A/B testing emails.

The

font and colour

of your text are another great thing to run an A/B test on. Some fonts have more impact on readers and generate a higher engagement rate. The legibility of the text is affected by its font.
If it is very small and hard to read, it turns the readers away. Even slight changes in the visualization of texts might give you larger variations in conversions.
Are you wondering if you should include visuals(i.e images and colorful designs) in your email campaigns? And what kind of visuals will work best? Answers to these questions will be given by A/B testing in email marketing.
Length of your email
With the approach of smart screen Mobile phones, email design trends are looking at shorter emails. The suitable length of the email will depend on:
The email content

Purpose of the email

The complexity of your product and

The audience.
If you want to send an email that convinces the recipient by a detailed explanation of the benefits and features of your product, then you should go for a detailed longer email format. But no one wants to read long descriptive paragraphs in a Christmas Day email.
Consider email A/B testing to figure out if you should sort to short or long-form emails, the next time you are launching a new product or while making announcements.
The tone of your email
The tone you use plays a significant role in engaging your reader's mind. Keeping your messages simple, and understandable, and using a positive tone in your email, motivates recipients to click through and keep in touch with your market.
Read out your email, and listen to how it sounds. Keep your tone positive, neutral, friendly, and human.
Tone of the email varies across industries and audiences. You can use a sweet and humorous tone in your emails. But not everyone has time for cheesy lines or lures.
Perform an A/B test to find how one tone can outperform another tone. And bring in more conversions and ROI.
Calls to action
Calls to action give a clear picture of what to do next to your audience. CTAs can be hypertext, images or buttons. The design of your CTA button has a major effect on the attractiveness of your email.
Placement

of your CTA button – Figure out where you need to place your CTA button with A/B email testing. At the beginning of the email? To the sides or at the bottom?

While you are doing an email split test, try to compare different

colours and formats

of CTA buttons. You will witness major differences in the outcomes.

CTA content

is also equally important as the design and format. Make it short and understandable.
Send date and time
Does your product sell better in the morning, afternoon, or evening? If you don't know the answer, do not wait! Run a test campaign now. Email campaigns may not get the same response every time you publish them. You must try different times of the day and different days of the week.
How to analyze A/B email testing results?
Advanced email marketing software like Mailercloud, compares both the A and B campaigns automatically based on a multitude of matrices like opens, clicks, unsubscribes, bounces, spam traps, conversion, abuses, and complaints to inform you about the winning campaign.
But if you are comparing the results manually, you don't need to compare all of them. But most importantly set your focus on:
Open rates

: Number of emails that were opened by the recipient.

Click-through rate

: Shows you everyone who opened the email and clicked a link you provided that led them to your page.

Unsubscribes

: This is an important metric to monitor because it shows how many people do not want to get in touch again with you.

Bounce rates

: The percentage of your subscribers that didn't receive your message because their mail servers returned them.
A/B testing mistakes to avoid
The concept of A/B testing is very simple. However, we tend to make mistakes, which would rapidly decline all our conversion rates. And all the hard work behind A/B testing would be futile.
These are the common A/B testing mistakes you should avoid:
Running A/B split test on multiple parameters: Meaningful results can be obtained only when a single parameter is considered at a time.
Measuring results inaccurately: Analysing the report of the A/B testing and getting insights from it is one of the most significant steps. This calls for a reliable email marketing tool, like Mailercloud.
Wrong Timing
Ending the tests too soon
Not segmenting your traffic: I would suggest you identify the segments that will have a huge influence on your results.
Say no to Split tests on holidays or important days: Holidays are the times when your audience is frequently checking through their emails, for any upcoming offers or informative newsletters. This is not the time to experiment. Also, avoid:

Sales day and

Days which are important for your company

Lack of Focus: A/B testing must not be conducted randomly without any goals. Firstly determine what you need to achieve. Narrow your A/B testing to the parameters that would help you to obtain the required goal. For example, if you have to improve your conversion rates, you can test your subject lines and content using different personalization strategies.
Summary
Create a plan, identify which elements to test

Test all the important elements

Go for the right tools like Mailercloud for running A/B tests.
A/B testing, when done consistently, can benefit your brand's foundation. A/B tests help you figure out what works for your brand and audience. Just remember to be consistent and regular. Some changes that are effective now may vary over time.