How to boost sales with email automation on Mailercloud?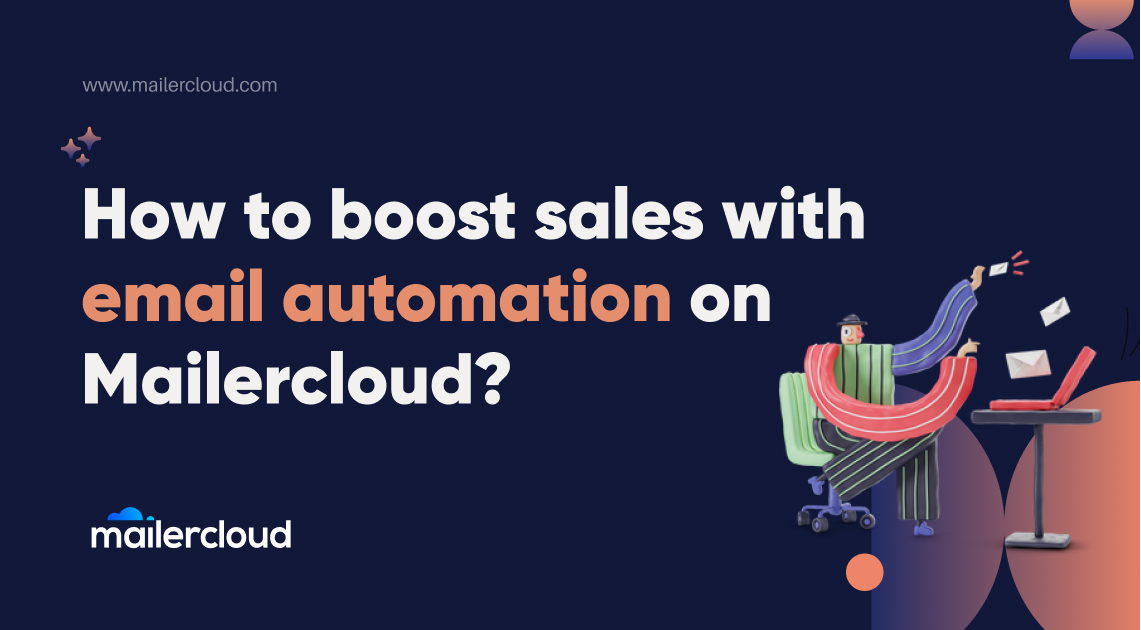 Imagine it's the year 2000 and the air is ripe with news of the dot com bubble burst. People around you are losing money. The future of your new online business looks uncertain as well.
Every day you wish for your life to turn around with some robots and automated mechanisms to magically fix the market and boost your business; quite like the sci-fi movies you grew up watching in the previous decades.
Fast forward to 2021, that magic is here. Well, the automation is probably more advanced than your favourite Star Wars movie, but it does help you boost your business in ways that you could only daydream of a couple of decades back. And one of the most magnificent ones among all new automation mechanisms is email automation. I am not talking about chain mails and mass forwards here; something that was used to brand products in 1999. I am talking about a very strategic way of sending emails to subscribers whom you want to retarget. Let's find out more.
What is Email automation?
Email automation is the use of triggered email messages to re-target customers at predefined conditions. This trigger is specified by actions taken or not taken by customers.
You can also use it to re-engage former customers and potential customers in the future. It is probably the best way to engage in email marketing. It takes care of repetitive tasks and gives you ample time to concentrate on more important aspects of your business.
What are the benefits of Email automation?
Email campaigns that repetitively retarget customers are not easy to make. It takes a lot of time, energy and concentration to build them. Quite naturally, you also do not have the time to build a campaign for each of your customers. Sending a general email blast to your whole database also is not a very good idea- irrelevant emails to your customers is directly proportional to them hitting the unsubscribe button.
This is where automated email marketing comes into the scene. It helps you to keep your brand at the top of your potential customer's consciousness; who are interested in your product or service but are hesitant to buy or make a financial commitment. This is besides the fact that email automation also reaffirms the loyalty of your present customers.
One of the wonderful things that it does is customise your segments based on various social and financial transaction data and demographics. Such customisation gives a clear picture of your customers and their behaviour pattern. This helps in planning your future marketing strategy and easily grows your subscriber list.
As you no longer have to worry about the segmentation of emails into specific subscriber groups and also coordinate their scheduling, you can concentrate on keeping your brand consistent by investing more time in crafting and designing the perfect message for your customers.
What are the different types of automated emails?
Almost all types of businesses have a significant online presence in today's world. Based on the industry, these businesses will naturally customise their email messages accordingly. However, there are some universal automated emails that can be used by businesses irrespective of their industry. I have listed them below-
Welcome emails–  A welcome email is an email sent to someone when they sign up for your emails. It conveys to your new signee that they are on the list and they would be receiving the latest exclusive information from you.
Curation emails– Curation emails help you showcase your best selling items and segment your customers based on their specific needs and interests.
Discount emails– As the name suggests, these are emails advertising discounts on your products or services to those subscribers or customers who are on the edge of bing but are hesitant to make the jump into actually buying. Even though it is a good way to generate more business and new leads, overdoing it might lead to suspicions of fraudulent behaviour. 
Anniversary emails–   These messages are sent, often along with promo codes, on a subscriber's special day. It can be their marriage anniversary, work anniversary or their birthday. It has been seen that birthday emails are the most effective in generating revenues as compared to other promotional emails. 
Order confirmation emails–  On one hand these emails are digital receipts or bills but on the other hand they provide peace of mind and assurance to the customer that the purchase has been acknowledged and that they can track the shipping process from then onwards.
Abandoned cart emails–  Abandoned carts are nightmares for many business owners. Many customers select items and put them in the cart, only to forget about them and leave your website. Either they get distracted by other products or other competitors or they become hesitant to buy. Abandoned cart emails politely remind the customer that they are and will miss out on an amazing product or service. You can also throw in some discounts in this email to make them more comfortable to buy and seal the deal.
Win back emails– Win-back emails help to re-engage those on your list who have been inactive for a long time. These emails provide the latest information and exciting deals you have with which you can hopefully convert some of these subscribers. These deals might include exclusive discounts, offers or even a free ebook. Present a refreshed image of your brand so that it remains on the top of the mind of the subscriber.
Before you start
There are a few questions you must ask yourself before setting out to automate your emails. These questions should define the expectations and goals for your email campaign.
The question you must answer first is who your subscribers are and what you would like your subscribers to do. Then you must keep in mind how you would benefit your subscribers and whether the campaign would at all be effective. If you think it will be effective, you have to figure out a way to measure it. Finally, you must remember that your goals should focus on the customers and you must be specific and aim to increase engagement.
Let us now look into the detailed procedure of how you can automate your emails using Mailercloud.
How to automate your emails with Mailercloud?
1. You have to log in to your Mailercloud account.
2. Hover along the left side of your dashboard and select "Automation."
3. And then click on "Create Automation" from the page that appears.
4. You now have to enter the Automation details, i.e. the name of the automation.
5. Then click on Choose your target. You can select lists or segments of customers you want to target.
6. Now set the Start and End time of your automation series.
7. Click Continue
8. You must then proceed to create an email campaign that is first in the series. It is also known as the Starting Sequence.
9. Click on Add Campaign.
10. And then select Create a Campaign.
11. Create a campaign name.
12. Add the subject line.
13. And then enter the Sender name.
14. Select your valid and verified From ID and reply ID
15. You can add a campaign tag to your email. Campaign tags let you filter/segment your contacts based on their interests.
16. You can add email preheaders and permission reminders according to your preference.
17. Choose a Template from our Template Gallery or create a new one with our Drag and Drop editor.
18. Click Continue.
19. Select the Conditions for managing your automation flow.
You can trigger your emails based on how a customer reacts to the previous emails in the series. You can set the trigger as-
Opened: When a customer opens one of your emails in the series. The trigger for sending the next email can be set as immediately, or you can specify the number of days by selecting wait.
Not opened: When one of your emails remains unnoticed in your customer's inbox. The trigger for next email could be set as wait and can be sent only after 1 day by default or you can specify the number of the days
Clicked: When a customer contributes a click to one of your emails in the series.
Not clicked: When one of your emails is opened but not clicked by the customer.
If you are looking forward to sending emails to everyone, select All.
20. After applying the conditions and adding email content for all the automation series emails, click Continue and then Publish.
To know more about email automation on Mailercloud– how to track your automation report and avail yourself of additional options, click here to read the detailed help document.
Conclusion
When it comes to the kingdom of digital marketing, email is still royalty. Email marketing is continually evolving and marketers have to swim through a flooded customer's inbox to reach its top and gain their attention. Email marketing automation strategies can fasten up this process and make it much easier to schedule campaigns and reach customers. You will almost wish you had this technology years ago.
So to get the maximum results out of your automated email marketing campaigns always remember to be straight to the pint, segment your list and if possible, work with more video content. You should also track your metrics and keep your database clean to create a better customer journey. Besides, you should not make it too difficult to find your unsubscribe button, avoid spam words and word caps and, exclamation points. Finally, you must always remember to send test emails before you publish your campaign. And as long as your templates are responsive and A/B tested, you can be confident of your campaigns achieving a significant success rate.