Importance of personalised emails that gets 3x more opens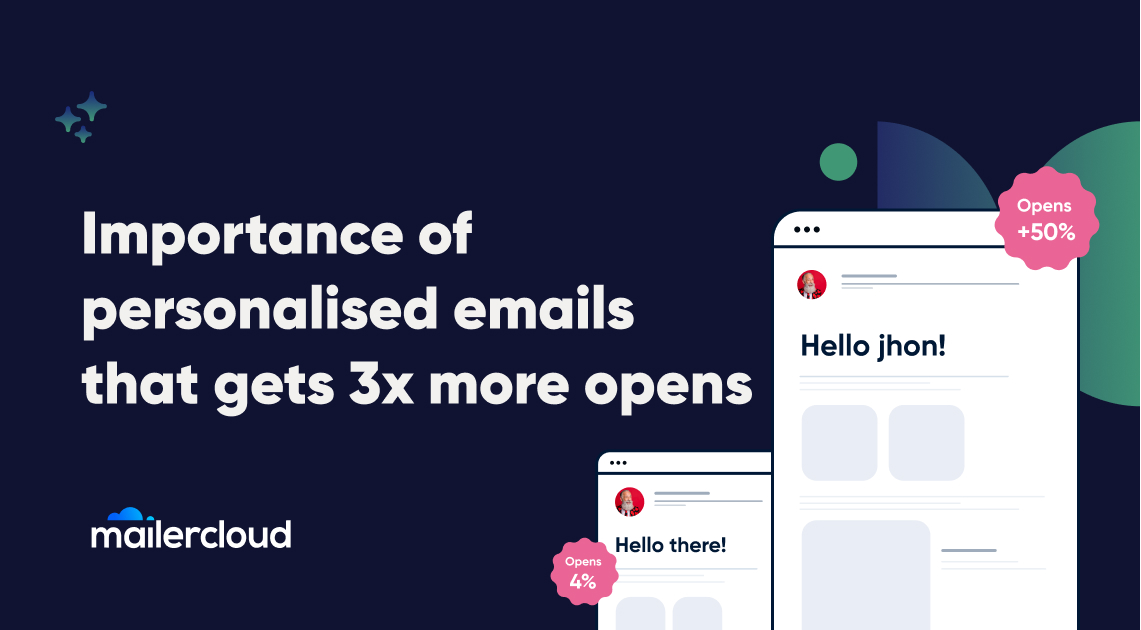 Email personalisation is an effective email marketing strategy that uses personal information of customers to send targeted emails.
The personal information could be the first name , gender , location , designation ,the last product they bought etc. Personalisation is a very broad term and we can do it in a number of ways.
The very basic email personalisation method is to include the name in the subject line. We can make it more advanced by changing the email content based on subscribers location , gender , or the other personal information that you know about them. Doing personalization 'right' is more important than doing it just for the sake of it.
If you still ask me, how does email personalisation benefits your market? Here are two important reasons!
Increases audience engagement making your emails more relevant to customers.
Increases the open and click rates, leading to an increased ROI.
How to get the personal information ?
In order to send personalised emails , first you need to have informations like name , age , gender , location etc stored in your email list. The data about your subscribers , helps you to segment the email list properly. This segmentation helps you to send more targeted emails.
There are different ways to collect information from your subscribers. Some important methods are listed below.
Email subscribe forms
You can collect all the required details by adding some extra fields in your email subscribe forms. The extra fields could be date of birth , place of living , gender , designation etc.
Integrations with other tools
Integrating your email marketing tool with your CRM or e-commerce platforms can be a great method to collect some extra details of your subscribers.
Using third-party apps
With the API, you can develop apps and tools that make your email platform even more powerful. For example, you can create segmentation rules based on customer data that lives outside of your Marketing Platform like purchase history, marketing preferences, or demographic information. Plus, you can personalize emails based on data associated with each recipient's activity stream.
Website customer behavior tracking
You can collect the data about the interests and preferences of your customers, by tracking the browser activity on your website or online store. Based on this data you can send product recommendations, card reminders, discounts, etc.
How to personalize your emails?
Calling them by name
"Remember my name, and you add to my feeling of importance" –Dale Carnegie
A very basic email personalization best practice includes using a subscriber's name in the subject line. Seeing their names in busy inboxes leads to immediate engagement. They'll know that they are dealing with a company that understands them and their needs. Implementing this simple but amazingly effective step in email marketing could boost open rates by 5.2%.
Read : Email marketing strategies for maximum ROI
Do your researches
A fully personalized email goes beyond just a name. More advanced levels of personalization is possible if you have researched and gathered comprehensive data about your subscribers.
 I personally suggest you collect the following data about your prospects:
Name

Location

Birthday

Favorite

things(color

, animal, dress. Etc.)

Interests

Frequent searches

Social profiles
It's always better if you get more data. Now you might ask where to find all this data? A few basic ways could be:
Using sign-up forms

Sending follow-up emails( Autoresponders)

Adding Campaign tags

Surveys

Data scrapping techniques
Segment your customers
After you have collected all the comprehensive data about your customers, it's now time to segment them. Divide your customers into smaller audiences of common interests, location, gender or any such aspects.
Segmenting your customers totally depends on the kind of industry you are in and the goal of the campaign.

It is found that 70% of the audience is irritated seeing an email that doesn't match their interests.
So segmentation is the backbone of all the benefits you get from email personalization.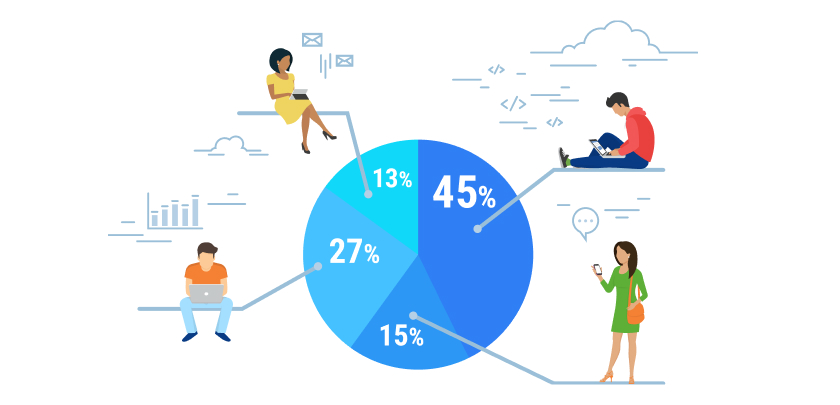 Use Personalised and Dynamic Content
Email content is a very important agreement that you make with your customer. In the end, they decide whether to agree or refuse. So make sure you keep it as engaging as possible. Here are some examples of personalised email content.
Make your email content friendly and personable. Your email should sound human.

Add a touch of humour.

Be short and precise, send them relevant information and don't make them feel awkward seeing too much personalisation.
By creating personalized content you become a friend they can safely turn to when they need a service you offer.
Read :Top 10 subject line types to boost your email open rates
Another easy way to send personalised content is by adding Dynamic content. You can individually target every single member of your email list without much effort. You only need to draft a single email with customized parts and show what is relevant to each user and hide the rest.
Send Personalised Images
The first thing that sticks into your audience's mind is the image they see. Personalised images help them remember your brand better. Be careful to use visually satisfying, high quality and relevant images that match your audience interest. Use images that match their interests, location, age or gender.
For example, you should not send a 60-year-old customer, images concerning the newest lipstick shade you launched.
Send emails as a person
Use a real person's name in the "From" name and a real person's face instead of your brand logo. And make sure your email sounds like it's from a real person. This plays a very important role in making people trust and further engage with your email. This is one of the best email personalisation practise that you should not forget.
Celebrate their special days
Who doesn't like it when they get birthday wishes? Absolutely no one!
Then why not send your customers an email, sending regards and offering a special discount coupon on their birthday or anniversary. Take personalization to another level by making them feel loved and building your bonds stronger.
Give Autoresponders a try
Autoresponder specifically caters follow up emails to all the audience who have triggered the main campaign.
Read : Triggered Email Campaigns And Types of Trigger Emails
For example: Imagine you are sending an email campaign regarding a real estate deal. And you feel like sending some additional emails to only those audiences who are interested in real estate dealings, this is possible using a series of autoresponder emails.
Thus you are delivering your emails based on their specific interests. Autoresponders aids in effective segmentation too.
Segmenting, personalizing, using all the effective strategies discussed above, would help you to increase your open rate. But that doesn't necessarily mean that your rates would boost up to a 100%. After all, we are all dealing with some real people with real needs. Understanding this fact will make your business soar.