Black Friday Email Examples 2023 : Ways To Improve Your Email Marketing Campaigns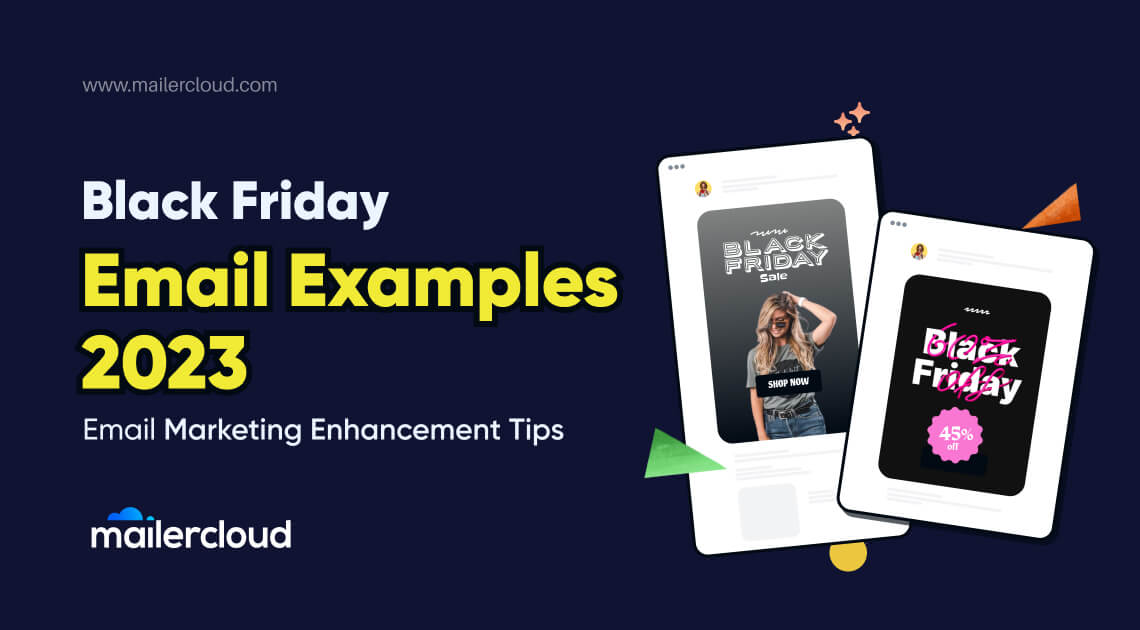 In the world of eCommerce, Black Friday is a golden opportunity to boost sales and attract new customers. This article will explore the best practices in crafting compelling Black Friday email campaigns, drawing inspiration from exceptional examples from previous years. Whether you're a novice or an experienced marketer, this in-depth guide can help you create an effective email marketing strategy for the 2023 Black Friday season.
The Importance Email Marketing On Black Friday
Email marketing is an essential strategy for businesses looking to maximize their sales during the holiday season. It serves as a direct line of communication to your customers, allowing you to promote your Black Friday offers effectively.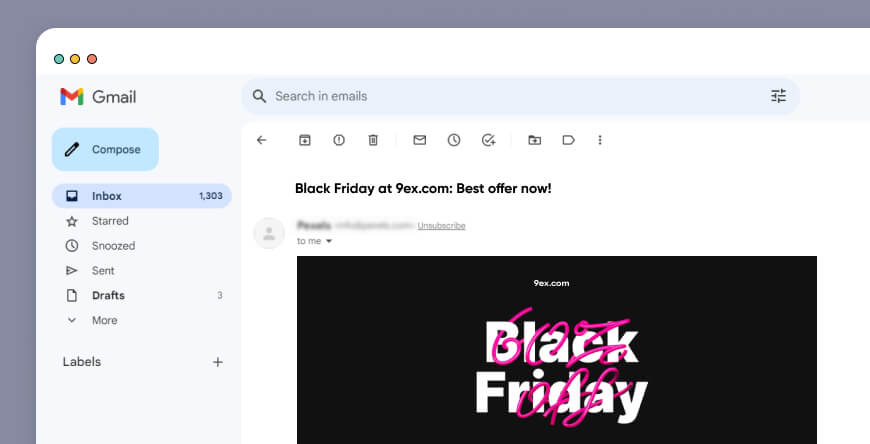 Black Friday and Cyber Monday are significant events in most consumers' shopping calendar, and it presents a golden opportunity for businesses to increase their profits. Email marketing is one of the most effective strategies that companies use to take advantage of this shopping frenzy.
1. High Consumer Anticipation
People eagerly anticipate the Black Friday sales, often planning and saving in advance. They are primed and ready to spend, making them more receptive to marketing emails. Emails can help build excitement and anticipation, making your offers hard to resist.
Generating a feeling of excitement and urgency can result in heightened customer engagement and improved conversion rates. Initiate the teasing of your Black Friday deals ahead of time to generate buzz and anticipation among your customers, ensuring that your brand remains top-of-mind as the big day approaches.
2. Increased Engagement
Black Friday sees a spike in email open rates due to heightened interest. Consumers are actively looking out for deals and promotions, which means they're more likely to open and engage with your emails.
Schedule your Black Friday emails to be sent when your audience is most active. Analyzing past engagement data can help you determine the best time to reach your subscribers. Segment your email list based on criteria such as purchase history, engagement level, or location. Incorporate customer reviews, testimonials, or user-generated content to build trust and encourage engagement.
3. Boosts Sales
Black Friday marketing campaigns can significantly boost your sales. It's an efficient way to inform your customers about your offers and discounts, driving traffic to your website or store, leading to increased purchases.
By sending out Black Friday email campaigns, businesses can reach a wide audience and ensure their promotions are seen by existing and potential customers. Businesses can use email marketing to showcase exclusive Black Friday deals and promotions, encouraging recipients to make purchases during the sales event.
4. Enhances Customer Loyalty
Providing exclusive sneak peeks of upcoming deals to your email subscribers not only rewards their loyalty but also sparks their interest and can lead to word-of-mouth promotion. Offer special deals that are exclusively available to email subscribers, such as early access to sales or additional discounts. This exclusivity can make subscribers feel valued and more likely to take advantage of the offers.
5. Data Collection
Black Friday campaigns can also be a great way to collect customer data. By tracking the response to different offers, businesses can gain invaluable insights into their customers' preferences.
This information can be used to personalize marketing campaigns, improve product offerings, and enhance the overall customer experience. Additionally, email marketing allows retailers to track open rates, click-through rates, and conversion rates, providing data on the effectiveness of their marketing efforts.
Black Friday email marketing is a powerful tool that can help businesses maximize their profits during the holiday shopping season. It's not just about increasing sales; it's also about building relationships and gaining insights into customer behavior.
Black Friday Email Template: Structure and Design
Black Friday weekend is one of the most significant shopping days of the year, and your email marketing can play a pivotal role in its success. Here's a guide to help you decode the Black Friday email template, focusing on structure and email design.
1. Subject Line:
Your subject line is the first thing your email subscriber will see. Make it catchy, short, and relevant to Black Friday.
Here are some catchy and effective Black Friday email subject lines that could lead to higher open rates:
"Early Bird Discounts: Our Black Friday Deals Start Now!"
"50% Off EVERYTHING – Our Biggest Black Friday Sale Ever"
"Exclusive Black Friday Sneak Peek – For Our Subscribers Only!"
"Avoid the Rush: Shop Our Pre-Black Friday Deals"
"Don't Wait for Black Friday – Get 40% Off Today!"
"Last Chance: Black Friday Deals End at Midnight!"
"Black Friday Special: FREE Shipping on All Orders"
2. Preheader Text:
This is a short summary text that follows the subject line when an email is viewed in the inbox. Use this space to provide additional information about your Black Friday offer.
3. Header:
This is typically your logo or business name. Ensure it's clear and recognizable to build trust with your audience.
4. Hero Image:
Use a visually appealing image that correlates with the Black Friday theme. This could be your top products on sale or a creative representation of the sale itself.
5. Sale Information:
This is where you give details about your Black Friday promotion. Make sure it's clear, concise, and compelling. Highlight the key deals and discounts.
6. Call-To-Action (CTA):
Your CTA should stand out and prompt subscribers to act immediately. It could be 'Shop Now', 'Get the Deal', or 'Start Saving'.
7. Footer:
Include essential information like your contact details, social media links, and unsubscribe link in the footer.
8. Mobile Optimization
Ensure your email looks good on all devices. More and more people are reading emails on their phones, so it's essential that your email is mobile-friendly.
9. Social Proof
Include reviews, testimonials, or other forms of social proof to build trust with your subscribers. This can help convince them to make a purchase.
10. Traceable Links
Use traceable links so you can measure the success of your email campaign. This will allow you to see which elements of your email are working and which ones need improvement.
Remember, the goal of your Black Friday email is to drive traffic to your website and increase sales. Keep your design clean, simple, and mobile-friendly as a large number of shoppers will access your email from their mobile devices. It's also important to send a test email copy or a teaser email to ensure everything looks perfect before hitting send.
Best Black Friday Email Examples
This section will discuss some of the best Black Friday email examples, breaking down what made them successful and how you can apply these lessons to your own campaigns.
1. Snoop: "Black Friday Round-Up inc Ninja airfryers, Virgin b'band, Sonicare, Sports Direct 90%, Xboxes & more"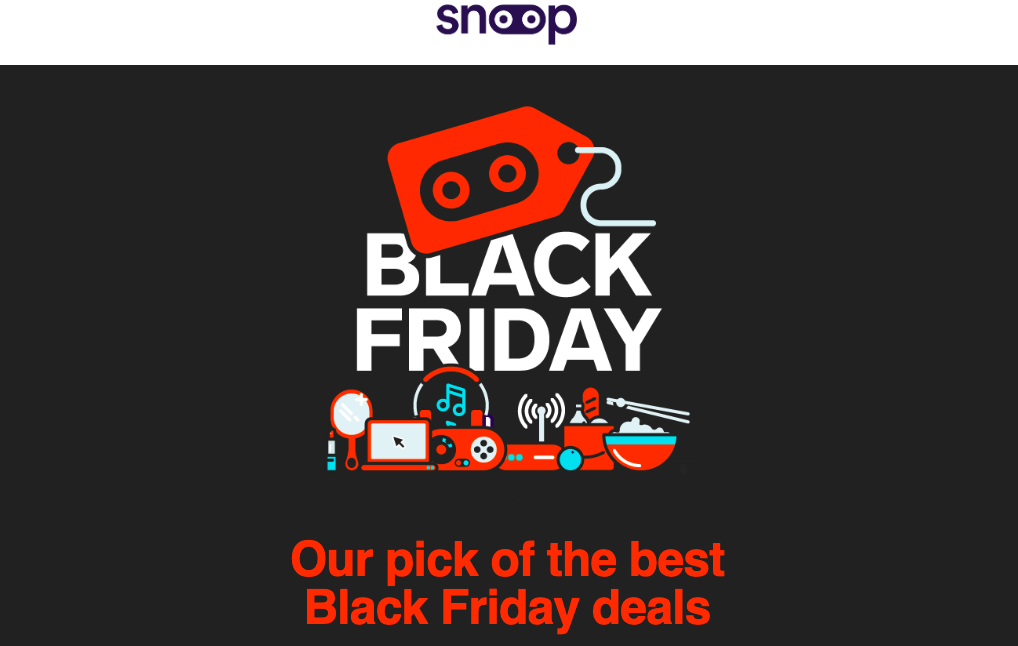 Lesson: Mentioning Popular Brands- Snoop effectively communicates the content of the email within the subject line, generating interest in the Black Friday deals.Including well-known brands like Ninja, Virgin, Sonicare, Sports Direct, and Xbox adds credibility and attracts attention.
2. Just Eat: "25% off for Cyber Monday"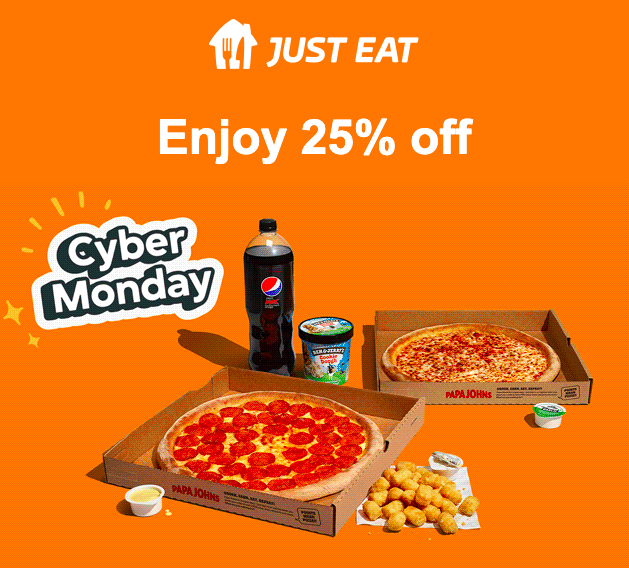 Lesson: Clarity on Discount- Just Eat makes it crystal clear about the discount percentage right in the subject line. It's simple and straightforward, making it easy for customers to decide if they want to engage further.
3. eBay: "The Black Friday deals continue!"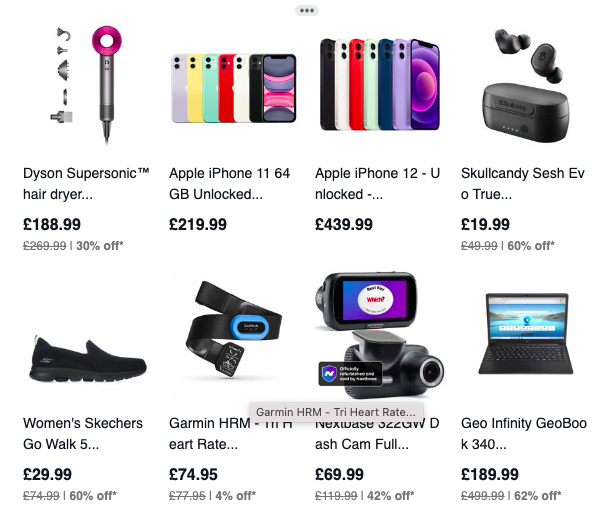 Lesson: Creating Urgency- eBay clearly communicates that the Black Friday deals are still available, creating a sense of urgency for the recipients.The use of exclamation point adds to the urgency and excitement, which can prompt recipients to open the email.
4. Cineworld: " Cyber Monday Deal – 25% OFF an Unlimited membership"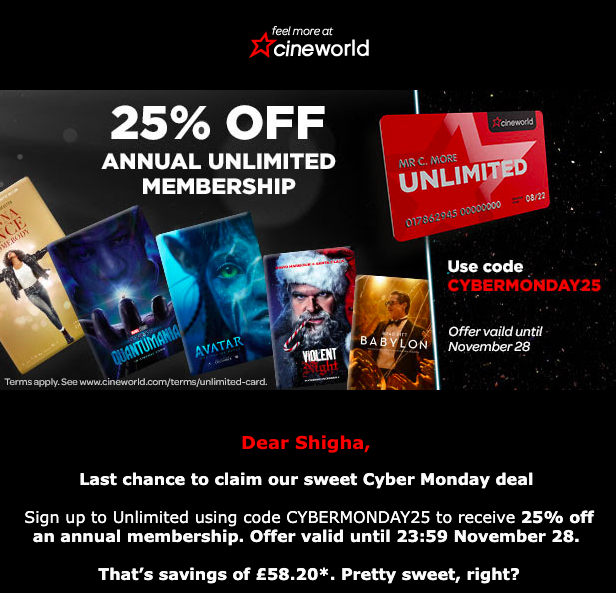 Lesson: Highlighting Specific Deals- Cineworld highlights specific deals in their email, like the 25% off, grasping the attention of the customers. The addition of "unlimited" is another tactic that assures higher engagement rates.
5. Wayfair: "BLACK FRIDAY | Everything must go!"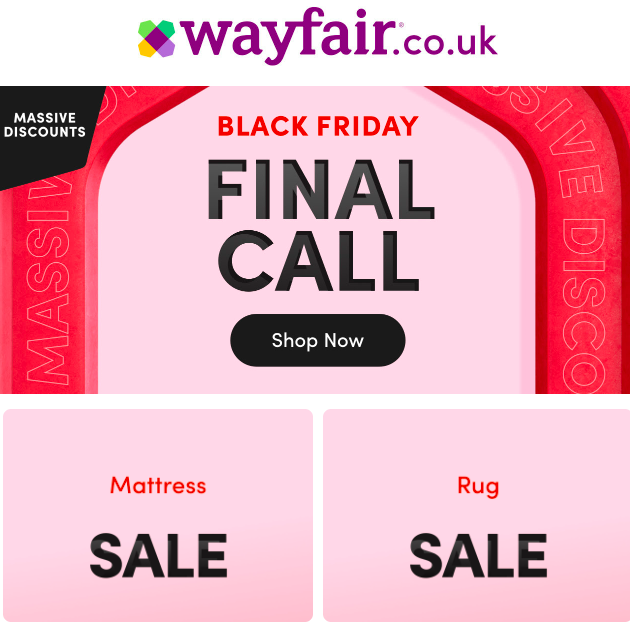 Lesson: Creating Curiosity- The subject line is designed for the Clearance sale at Wayfair. It shows the importance of creating a sense of urgency using compelling language to grab the reader's attention. It also makes the subscriber curious, encouraging them to open the email. It also highlights the effectiveness of emphasizing a special event or promotion to entice recipients to open the email.
Timing Your Black Friday Emails: When is the Best Time to Hit Send?
Timing is a crucial factor in email marketing, especially during high-traffic periods like Black Friday. While there's no "one-size-fits-all" answer as it depends on your audience and their habits, here are some suggestions based on general trends:
1. Early Announcement: Send an initial email a week or two in advance to announce your Black Friday deals. This helps to build anticipation and lets your customers plan their purchases.
2. Reminder Email: Send a reminder email a day or two before Black Friday. This serves to keep your brand and deals at the top of your customers' minds.
3. Day-Of Email: Send an email on the morning of Black Friday to kick off the sale. Make sure to create a sense of urgency in your subject line and content.
4. Last Chance Email: Send a "Last Chance" email in the evening or a few hours before your sale ends to catch any last-minute shoppers.
However, these are just guidelines. It's important to understand your specific audience's behavior through analytics and send emails accordingly.
Crafting Your Black Friday Email Marketing Strategy: Do's and Don'ts
Creating an effective Black Friday email marketing strategy involves careful planning and execution. Here are some key do's and don'ts to consider:
Do's:
Do Plan Ahead: Start crafting your Black Friday email marketing strategy well in advance. This allows you ample time to create compelling email content and design.
Do Segment Your Audience: Different segments of your audience may have different interests and needs. Tailor your emails to these different segments for a more personalized experience.
Do Test Your Emails: Before sending out your Black Friday emails, make sure to test them for any technical issues or errors.
Do Analyze Past Performance: Look at which emails from previous years performed best to inform your current strategy.
Do Create a Sense of Urgency: Make it clear that your Black Friday deals won't last forever. This helps to drive immediate action.
Don'ts:
Don't Neglect Mobile Optimization: A significant number of your customers will likely open your emails on their mobile devices, so ensure your emails are mobile-friendly.
Don't Overwhelm Your Subscribers: While it's important to communicate your Black Friday deals, avoid sending too many emails which might lead to unsubscribes.
Don't Forget About Cyber Monday: Many shoppers also look forward to deals on the Monday following Black Friday, so consider extending your email campaign through Cyber Monday.
Don't Ignore the Subject Line: Your subject line is the first thing your subscribers see, so make sure it's compelling and enticing.
Don't Neglect After-Sale Follow-Up: After Black Friday and Cyber Monday, consider sending follow-up emails thanking customers for their purchases or asking for reviews.
Black Friday 2023: Predictions and Trends for Your Email Campaign
As the world of eCommerce continues to evolve, it's important to stay ahead of the curve. Black Friday 2023 is set to be a significant event for both online and brick-and-mortar retailers. Here are some predictions and trends that you can incorporate into your email campaign:
1. Personalization Will Be Key: As consumers receive an influx of Black Friday emails, personalization will be crucial in standing out. Tailor your emails based on purchasing history, browsing behavior, and preferences.
2. Mobile Shopping Will Continue to Rise: More consumers are turning to their mobile devices for shopping. Ensure your emails are mobile-friendly and that the buying process is seamless on mobile devices.
3. Sustainability and Ethics Matter: Consumers are increasingly conscious about sustainability and ethical business practices. Highlight these aspects in your email campaign where applicable.
4. Extended Sales Period: Instead of limiting sales to Black Friday alone, many retailers extend their deals over a longer period. Consider offering early-bird discounts or stretching your sale until Cyber Monday (or even beyond).
5. Interactive Content: Interactive elements like GIFs, countdown timers, or clickable quizzes can make your emails more engaging and can increase click-through rates.
6. Omnichannel Shopping Experience: Consumers often switch between multiple devices and channels during their shopping journey. Ensure a consistent message and shopping experience across all channels.
Key Takeaways
Creating a great Black Friday email is paramount to an effective holiday marketing strategy. Your Black Friday email design should stand out and inspire your email list to click on your Black Friday promotions. The perfect email can be a result of brilliant use of Black Friday email strategy, which includes choosing the best time to send emails, and creating an appealing subject line for your email newsletter.
The week before Black Friday is an excellent time to send your Black Friday email. This allows potential customers to plan their Black Friday shopping and access the best deals. The bottom of the email can also contain a special Black Friday offer to pique the interest of those who read through your entire copy.
Make sure your Black Friday emails don't just look beautiful but also use email marketing psychology to encourage purchases. Remember, the goal is not just to send Black Friday emails, but to make your Black Friday email campaign successful.
Lastly, schedule your Black Friday email with a reminder for the next email. This helps to keep your brand at the forefront of the customer's mind during the holiday season, and ensures they know that Black Friday isn't the only opportunity for fantastic deals. With these tips in mind, you're ready to create an awesome Black Friday email that gets results!