The Benefits of Email Autoresponders and Why You Should Use Them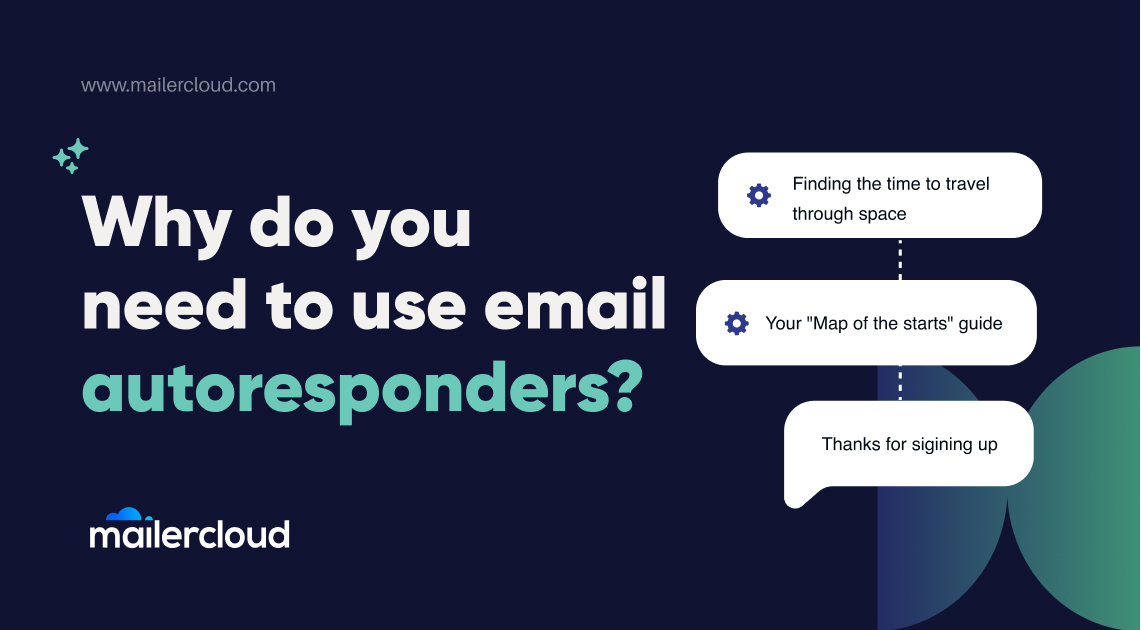 In today's day and age, who does not know the value that email marketing can bring to a business's digital marketing efforts. With the right email marketing tool in hand, access to advanced features and the right strategy, you can nurture an audience slowly and steadily with effective emails.
However, as your target audience grows, maintaining person-to-person communications with every contact on your email list becomes impractical and challenging. You'll need to automate such interactions at some point so you can provide quality content, without fail, on a large scale.
Enter – Autoresponder Emails: Quiet Workhorses.
These strong email automation technologies handle all of the heavy liftings for you. They work in the background, 24/7, requiring minimal or no supervision, once set up, to auto-trigger important emails to the correct subscribers at the right moments, either depending upon their action or their position in the sales funnel.
Next question that comes is – Can email autoresponders really serve the purpose?
Autoresponder emails are extremely tailored to each subscriber's experience because they are sent at predetermined and set times. Consequently, they are immensely relevant. Relevant emails generate 18X more revenue than mainstream emails.
Automated welcome emails are particularly effective. They have a 50% open rate on average, and henceforth, are 86% more effective than other emails.
Provide prospects with a glimpse of what you have to offer without pressuring them to commit via autoresponders. This is ideal for potential clients who aren't ready to make a purchase but need some time to get to know your brand.
These emails are great to keep your brand on top of your leads' or subscribers' minds. Such frequent reminder emails build a strong chance that they'll think of you when they're ready to buy.
They allow you to provide value to your subscribers resorting to hard marketing.
Provide each subscriber with the same high-quality experience. Since the marketing automation software is constantly ready, no one is forgotten or underserved.
Do autoresponder emails really matter?
Email automation, contrary to popular belief, increases engagement rates. Why?
Autoresponders can help you save time and effort while still retaining the high level of personalisation that boosts open and click-through rates.
Also, because autoresponders are triggered by user-initiated prompts, they can assist you in getting the correct emails delivered at the right time. This is essential if you want to increase conversions.
What exactly is an autoresponder and how does it function?
As the name says, email autoresponders send automated responses to the contacts in your email list in response to a trigger event.
In its most basic form, an email autoresponder is marketing automation – There are a lot of variables in a marketing automation workflow. If/then/else conditions govern the result.
The working and setting up of email autoresponders is quite simple and depends on your marketing objective and how many emails you would like to send.
Generally, you create the email content for the autoresponder series.
Set the order and frequency of the emails in case you are running an automated email series for promoting any particular product or service.
Configure the conditions that will trigger these emails.
Then, when the conditions are met, the marketing automation system will deliver the emails.
How to Write Effective Autoresponder Email Copy and What to Include?
Writing autoresponder emails can be as simple or as challenging as you want it to be.
Many marketers overdo their offers, cram their emails with too many calls to action, and aren't sure who they're really writing to.
The finest email marketing strategies, on the other hand, do the exact opposite: they keep things simple.
Here are a few pointers on how to write the perfect email:
The subject line of your email series is the most significant aspect. No one will open your email if the subject line isn't flawless. So, make them crisp and engaging.
Personalising the email content based on the list segment will make them immensely more relevant and valuable. Customise the email's content to resolve the requirements of the recipients.
Maintain a conversational tone in the emails. Rather than simply promoting your own products or services, offer solutions to your audience's pain points.
Turn your entire attention to the reader. Try to build your email around the following subscriber-related questions:
What are my subscribers' biggest problems?
Why should people bother to open this email? What is the major advantage for them?
Why did they sign up for my newsletter in the first place?
In this email, how can I fix their current problem?
What are my subscribers' current interests?
Autoresponder Use Cases
Many businesses send autoresponder emails with the following objectives:
Moving the leads further in the marketing funnel.
Send customised emails to a selected list of contacts.
Boost revenue by increasing engagement and upsells.
Send crucial emails to subscribers in a passive manner.
Autoresponder emails, with time, have evolved in their nature and employability. Now, they have become much more complex and marketers are now using them in a wider range of ways to keep in touch with subscribers. You can, for example, establish autoresponder triggers to:
Wish them on their special days like birthdays or anniversaries.
Cross-sell or upsell products after they make a purchase.
Notify users when their memberships are about to expire or renew.
Send win-back or re-engagement emails to inactive contacts.
Abandoned cart reminder emails.
Remind them to complete their profiles or certain actions like a survey or feedback.
Create automated onboarding email series.
How can your Business Gain Headway from using Email Autoresponders?
There are many advantages of using email autoresponders. Some of them are as under:
A Strong First Impression
A new contact could rapidly turn into a paying customer, but you must first make a good first impression. If you send a welcome email with a special offer or discount to new subscribers, it demonstrates that you're on top of your game and will tempt them to return for more.
Save Time
One of the major benefits of email autoresponders is that they save you time and effort. You can build up your campaigns in advance and schedule them with an automated system. It allows you to spend less time manually sending emails and does it on a regular basis without the need for reminders.
Keep your Audience Hooked to your Business or Brand
Setting up automated emails is a simple and hassle-free approach to connecting with your target audience and providing important information in a timely manner. Keep in mind that your content should not only be educational but also evoke thought, relate to the subscriber and prompt them to take action via the CTA.
You want customers to feel like they're a part of something valuable and worth their time and effort. Adding polls or reminders to "contribute your best story" about a specific topic in an automated email are only good instances. These kinds of emails set the tone for how a potential buyer will perceive your brand's approachability.
Deliver Usefulness and Practicality
People are sometimes hesitant to sign-up for emails because they fear being bombarded with spam or useless junk mail. An autoresponder with legitimate links to additional information or services is a great way to demonstrate to your consumers how important your emails are.
Capitalise on Potential Opportunities
As soon as a new subscriber signs up, it's a signal that they're interested in learning more about your company. They've already expressed an interest; all you have to do now is act decisively and use this opportunity. It can be a great victory to be able to connect with new customers right away, and autoresponders can help with that.
Immediate Follow-up
A marketer can persistently follow up with customers or prospects using email autoresponders, ensuring that none of them is missed.
All in All
Email autoresponders have a lot to offer when it comes to email marketing. They reach the right place at the right time with the right message, all without the need to work on them every single time.
Strategic application of email autoresponders not only reduces the time it takes to sell anything to a prospect but also improves the customer experience. It is precisely this kind of appropriate functionality that enlivens the autoresponder concept.