Automated Welcome Emails: Encash the Initial Success of Customer Onboarding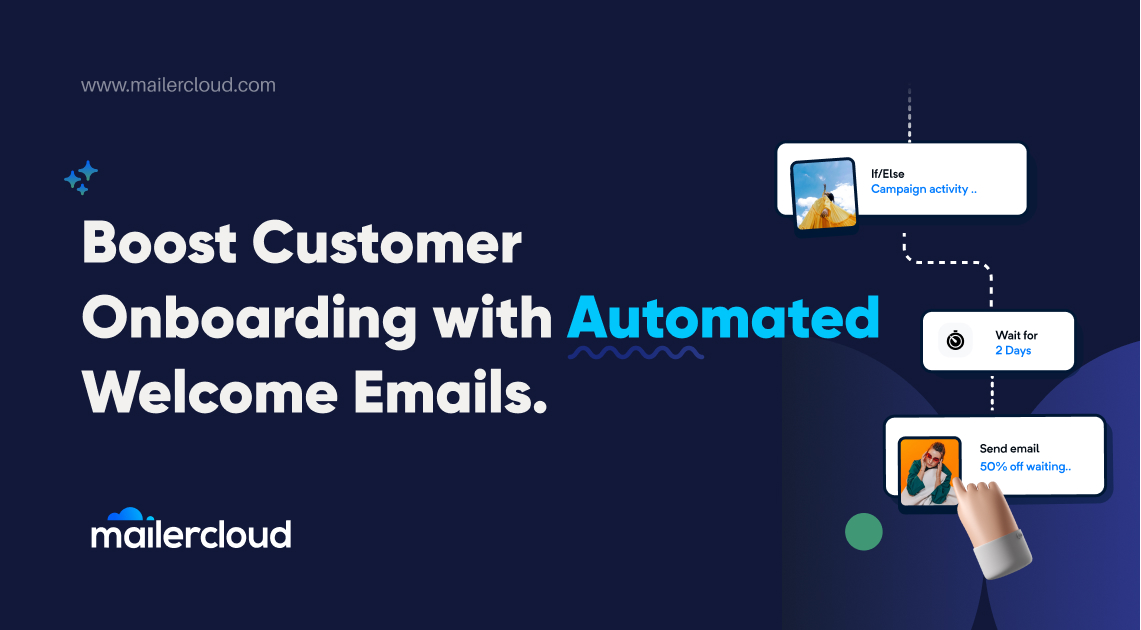 All toil done for attracting a lead turns into success with the lead signing-up, subscribing or making a purchase.
When it comes to engaging with new business prospects or clients, an appropriate welcome email goes a long way. And when these welcome emails are automated, it further adds to the campaign's efficiency.
Email automation series for shooting the welcome emails maintains the pace created by the entry of a new prospect into the marketing funnel. It's how to exploit the "sign-up momentum" of the prospect for maximum advantage. The welcome email marketing automation series organically increases subscriber engagement. These emails set the tone for the type of relationship that exists between the company and the client, since 74% of customers anticipate receiving a welcome email. Even if you don't sell anything right away, the welcome email will have the highest open and click-through rates compared to other email campaigns. Consequently, it will be easiest to make the prospects do exactly what you want them to do or any particular action that you want them to take.
What you will understand in this article:
1. What are automated welcome emails?
2. Why are welcome emails needed?
3. When to send welcome emails?
4. What can you do with a welcome email?
5. Important elements of welcome emails
6. Examples of welcome emails
Automated Welcome Emails 101
What are automated welcome emails?
A welcome email is a company's initial email communication with a new customer, blog or newsletter subscriber. It's the first introductory email sent to new prospects or customers after they sign up or make a transaction. The email serves as a confirmation. They can, in fact, be more than a mere confirmation message when utilised strategically.
Why are welcome emails needed?
A new subscriber is most ecstatic for a brand or business right after they opt-in to get engaged with that business. Hence, a welcome email series is the finest opportunity to:
Introduce a company or business,

Deliver the lead magnets,

Define and set the subscribers' expectations

Reiterate the advantages of subscribing,

Solicit a large number of micro-commitments from subscribers,

Create hype, curiosity, enthusiasm, and desire about a product or service,

Demonstrate how the product or service can help or provide value,

Even close a deal or make a sale.
This is significant because it introduces subscribers to a business's sales model, offering them a compelling reason to read and interact with the email content.
A welcome email is a company's initial email communication with a new customer, blog or newsletter subscriber. It's the first introductory email sent to new prospects or customers after they sign up or make a transaction. The email serves as a confirmation. They can, in fact, be more than a mere confirmation message when utilised strategically.
Key Automated Welcome Email Statistics
Average email open rate is 50%, making it 86% more successful than ordinary email campaigns.

33% more engagement rates.

Generates 320% more revenue per email.

Click rate is 14.4%, contrary to the ordinary email campaigns which have click rates of just 2.7%.
Why to 'automate' welcome emails?
Welcome email automation series is all about the 'timing'. Email marketing automation is so powerful because it allows contacting customers at a time immediately after they connect with a business. A business is at the prospect's top-of-mind right after they hit the subscribe button. Therefore, an automated welcome email triggered by their action of subscription will also build brand credibility and display the promptness of the business towards the customers.
Sending welcome emails manually puts a constraint on the timing – as the email sending time depends upon your convenience, and not on the recipient's.
The purpose of email automation becomes even more beneficial by the fact that it saves a lot of time. It increases the overall efficiency of the campaigns.
When to send the welcome emails?
As soon as a potential customer's contact details get added into the email list.
This timeframe should be within 24 hours. Since people engage in multiple online activities simultaneously, they have a small and limited memory span with respect to digital interactions. Therefore, it's ideal to reach out to them when you're still fresh in their minds.
However, avoid squeezing everything into a single email. Instead, divide it into three or four emails so that the buyer receives small bites of digestible content and your brand stays foremost in the subscriber's mind.
What can you do with welcome emails?
Utilise the welcome emails as an indirect source to better know the target audience. Welcome email automation marketing can also be helpful in creating segments of the customers as per their purchase behaviour, previous purchases, online activities and other parameters.
Welcome emails are also useful to get multiple and varied points of interactions with new subscribers. Another important factor to keep in mind about welcome emails is that they have a better read rate than regular marketing emails. Furthermore, the new subscribers are more receptive, making this an opportune scenario to send the welcome emails.
Crucial Components of Welcome Emails
What characteristics define a perfect welcome email? While there is no one-size-fits-all email structure and elements, there are a few key pieces that can make the welcome email shine, and engage with the target audience.
Attention-grabbing Subject Lines
Make sure the recipients really open and read the welcome emails. Create to-the-point, crisp and concise subject lines. They must be able to clearly convey what the email contains and every other information that matters to the recipient.
Relevant Recommendations
While the primary goal of welcome emails is brand introduction, it's also important to add value by including information on the next actions for interested customers.
Personalised Offers
Personalisation can prove to be effective in bringing that uniqueness to the welcome emails. Use the data derived from customer profile to customise introductory offers on products in the welcome emails to stimulate ongoing interest.
Clear Unsubscribe Mechanisms
It's also crucial to give subscribers a straightforward way out if they aren't keen in the emails. Ensure that all automated welcome emails include "unsubscribe" options, allowing customers to choose how much (and how little) communication they wish to receive. Unceasing emails that are difficult to stop can singlehandedly ruin a promising business connection.
Examples of Automated Welcome Email Campaigns
Welcome Discounts
Welcome discounts in welcome emails not just incentivise new subscriptions, but also provide a persuasive motivation for new subscribers to place their first order. Also, share an anecdote about the brand, its inception story in the emails and ask subscribers to become a part of a successful community.
Get Started Welcome Email
A welcome email is an excellent way to introduce people to the features and peculiarities of a brand that distinguishes it from others. Also, include a brand-centric call-to-action button in the email to help the subscriber in getting started.
Welcome Emails with Videoa
Keep the tonality of the emails one-on-one. Every element of the email from preview text, subject line, and email body should be cordial and uncomplicated. However, keep the spotlight on the introductory video.
Promotional
Promote the limited-edition products, promote the community's back-story, and send out engaging email content. Add a call-to-action button to guide the recipients to take the next step.
Welcome Emails to Drive Registrations
Invite more registrants with welcome emails to bridge the gap between the ecommerce and brick-and-mortar business sides. Also, offer some rewards to drive some traction.
Wrapping it up!
The efficiency of automated email campaigns – in terms of saved time, higher email open rates, click rates and engagement rates – is well worth it. Combining the best email marketing practises with a terrific and feature-rich email marketing automation tool, setting up the first welcome email campaign will be a breeze.
Make sure the email content is informative, relevant, and helpful, that it explains the context, and fulfils the promise made to deliver. And of course, test and iterate every welcome email automation series.