Lead Generation Campaign : How to Expand Outreach with High-quality Leads?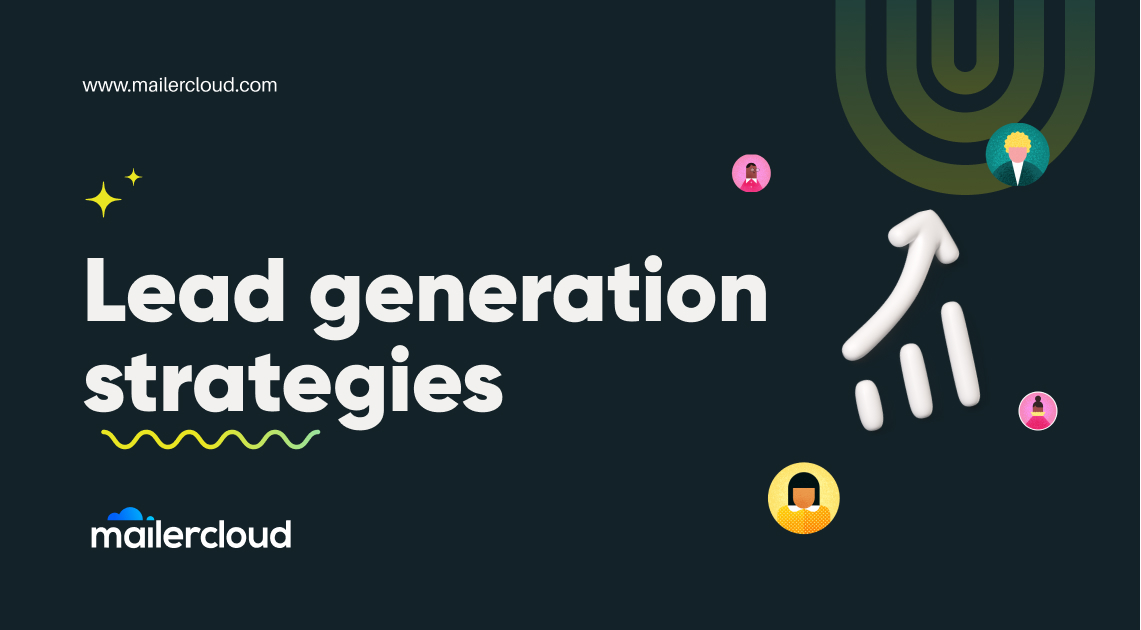 A lead generation campaign is an online marketing strategy that generates potential customer leads. Such campaigns have the purpose of nurturing these potential customers and converting them into paying customers.
A successful lead generation campaign typically involves strategies such as offering a free trial or incentives for users to become customers. Online lead-generation campaigns are particularly effective in driving traffic and making conversions. With careful planning and execution, companies can use this type of campaign to build interest in their product or service, thereby increasing their chances of generating more leads and, ultimately, more sales.
As part of any successful lead generation campaign, it is vital to track the success rate of each step in the process, from attracting prospects to converting them into paying customers.
Lead Generation Trends & Benchmarks
For any marketer, generating leads is a top priority. Many tools and strategies can be used to generate leads, such as content marketing, search engine optimization (SEO), and referrals. Each of these methods should be benchmarked against industry standards to measure success.
Trends in lead generation show that new leads are increasingly difficult to obtain and that marketers must constantly adjust their strategies to stay competitive. Content marketing remains one of the most effective ways to generate leads, while SEO continues to gain traction as an essential tool for reaching new audiences. Referrals can also be a powerful source of further information and should not be overlooked by any marketer looking to increase their lead-generation efforts.
A business can only move ahead in its sales funnel with high-quality leads. The right pool of leads and continuous inflow is essential for a company to survive. Lead generation is a major priority for 50% of marketers in their campaigns.
Still, 61% of marketers claim that lead generation is their biggest challenge.
What makes lead generation so challenging?
The competition is constantly increasing. Also, there is a vast pool of information. Both make it difficult for businesses to track, reach, and interact with chances. As a result, many companies struggle to flourish and survive "in the jungle."
A thorough evaluation of lead generation challenges is vital. This can help businesses in tackling the hurdles of:
Acquiring high-quality leads; and,
Filling the sales funnel.
What is Lead Generation, and how to generate leads?
It is attracting and converting potential customers into someone who has shown an interest in your product. It is a way to generate leads that could become paying customers. Inbound lead generation is a great way to get your message out by creating content that speaks to your target audience, driving them to your website or landing page, and encouraging them to convert.
The sales team aims to qualify these leads by understanding their needs and how they can be met with your product or service. This funnel-like process of collecting hopeful leads from various sources and qualifying them can help you create a steady stream of new customers. It helps businesses grow by developing relationships with people interested in their product or service, so it's essential to have an effective strategy.
A lead is a person who has expressed an interest in your business's service or product.
Lead generation is engaging the leads' interest in your business. Then, it goes on to develop this interest through good lead nurturing. Furthermore, the ultimate goal is to turn a lead into a customer.
As per a study, lead nurturing generates 20% more sales possibilities than non-nurtured leads. Lead nurturing not only leads to more sales but also larger purchases. Nurtured leads tend to make 47% more purchases than non-nurtured leads. Blog articles, coupons, live events, and online material are good strategies to attract leads.
What defines a 'Qualified Lead'?
Acquiring a lead is excellent. But, it needs to be qualified to get the set results. A qualified lead has expressed an interest in becoming a paying customer. A lead is usually qualified by gathering further information about it. Focusing on qualified leads as sales targets will boost conversion rates.
Here's how to qualify your leads:
Estimating the level of interest of the leaders.
Assigning lead scores. It gives numerical numbers to leads based on various parameters. This will categorize them on a scale ranging from "interested" to "ready to buy".
Different Types of Qualified Lead
The classification of qualified leads is based on their level of interest. Also, it may depend upon which stage they are in the customer lifecycle.
Marketing-qualified Lead (MQL)
Any individual or organization that contacts a business's marketing team's outreach initiatives refers to a marketing-qualified lead. However, they may not necessarily be prepared to engage in sales.
MQL leads have expressed an interest in your products and services. But you cannot simply move ahead with them. You need more information about these leads to move them along the marketing funnel.
Service-qualified Lead (SQL)
These leads have reached a business's service or sales team intending to purchase. A service-qualified lead tells your customer service or sales staff they want to buy your product or avail of a service. Say, you are operating a ghost kitchen; this way, you'll gain new leads to order from your service.
The service-qualified lead is the most qualified kind of lead.
Why? – They approach you and offer to buy whatever you sell. A service-qualified lead could also be an existing customer who wants to upgrade to a more advanced version of your product or service, which means that this lead is willing to pay more.
As the name says, a product-qualified lead is a candidate already using your product and service. Further, they have shown interest in becoming a paid customer.
Product-qualified leads are usually accessible to those businesses that offer free trials of their products or services. These leads are precious. The reason is that they have already used your product/service. Also, they are at a ripe stage with high conversion potential.
Sales-qualified Lead (SQL)
A sales-qualified lead is a candidate who has shown an interest in becoming a paid customer. These leads share their information with the sole intention of purchasing a product or availing of a service.
Lead Generation Process
Different techniques of lead generation work in different ways. Most of them may appear uncomplicated and straightforward. Yet, in reality, they are more difficult to strategize and execute.
A typical process begins with creating a website or landing page. The prospect is searching for a particular product or service. Subsequently, they stumble across these informational websites, including yours. They then sign up through an online form.
Once they share their contact information or other details, this data is verified and matched. The lead is then forwarded to the sales team.
Email Marketing Great for Lead Generation
Marketers continue to rely on email to develop and nurture sales leads. Indeed, it is worth noting what stats and data have to say about this:
42% of businesses regard email as one of their most vital methods. No doubt, social media marketing and other platforms are a buzz right now. Still, email remains one of the most successful lead-generating channels.
Email generates higher ROIs than any other lead generation strategy.
Marketing automation creates more leads. 77% of marketers using automation tools convert more leads than those without.
Source
Different Types of Lead Generation
Lead generation is typically divided into two main categories: inbound and outbound lead generation. Inbound lead generation involves creating content that attracts potential customers to your website or marketing channels. Outbound lead generation involves contacting prospects directly through emails, social media posts, or phone calls.
Inbound lead generation
Inbound lead generation refers to any process in which potential leads are invited to learn more about a business's product or service by contacting the company directly.
Examples of inbound lead generation tactics include:
Websites
Blogs
Contact forms
Social media posts
Outbound lead generation
Outbound lead generation occurs when your sales pitch disrupts a potential lead's daily content consumption. A one-way communication approach seeks to produce information by capturing people's attention.
Examples of outbound lead generation tactics include:
Pop-up banners on websites
Telemarketing
Cold emails
Conventional media marketing
Inbound Lead Generation Vs. Outbound Lead Generation
In short, inbound lead generation entails communicating about your business's products or services with potential clients.
Whereas outbound lead generation refers to any one-way communication approach that aims to generate leads by captivating people's attention.
Lead Generation Tactics: Pick the Best One
You can focus your lead-generating efforts on the areas where your prospects frequently seek information.
Could you determine the cost per lead for a specific strategy? This will aid in understanding the cost implications of a lead generation technique. As a result, if one method to generate leads appears less financially profitable, you may use another low-cost or free channel.
Most strategies perform better when employed as part of a multi-channel strategy. Leads will respond better if they hear about you at several touchpoints.
Consistent communication is critical. Your lead-generating techniques should reinforce the same message across channels. This gives prospects a consistent description of your offer and competitive differentiators.
Adopt a 'hub and spoke' strategy for a lead generation campaign. These strategies will draw your prospects back to you.
Categories of lead generation
The following are the main categories of lead generation:
Outbound: This method to generate leads includes prospecting tools like email marketing automation, prospecting databases, and phone calls.
Online: This includes content strategy, creation, and marketing. Other forms include websites, blogs, webinars, social media marketing, email marketing, SEO, pay-per-click marketing, and display advertising.
Branding: Sponsorships, advertising the products and services.
PR: Editorials, news coverage, press releases, conferences.
Referral programs: Word of mouth and referral lead generation strategies are the most effective. Customers, technology partners, service delivery associates, and other professional networks are excellent avenues for lead generation.
People are 90% more likely to rely on and purchase from a brand a friend recommended. Also, word-of-mouth marketing is the most effective marketing and lead-generation method for 48% of businesses. Furthermore, 28% of marketers think that word-of-mouth boosts brand affinity.
Direct Mail: Event invites, promotional offers containing discounts, sale offers, and other dimensional emails also help to generate leads.
Lead Generation Best Practices
Quality lead generation is highly crucial for any business. Please follow these best lead generation practices to ensure your sales team's time and effort are spent chasing the right, high-quality leads that are likely to convert.
Take into account your ultimate goal.
Productive lead generation starts with clearly outlining your end goal. A well-defined plan allows you to target and identify the correct leads. Henceforth, this boosts the possibility of converting these leads into long-lasting, recurring and paying customers.
Clear identification and definition of the target demographic.
When you define your target audience, aligning any B2B lead generation efforts with the relevant channels, campaigns, and audience, personas become easier. This further narrows down your focus, time, and resources on delivering the appropriate solutions and value propositions to specific audience groups based on their needs.
Deliver valuable and engaging content.
Your goal should be to deliver value to your leads in every way possible. Provide them with the exact information, solutions, services, or viewpoints they seek. Transforming a lead into a customer requires raising their awareness and keeping them engaged.
Offer convincing incentives
Incentives can help entice prospects to share their contact information. Thereby transforming them into leads. Incentives like coupons, and offers, can help persuade leads to make purchases.
Clear channels of communication
Ensure your contact information is easily visible and accessible to your leads. Leads may have questions or concerns about your products or services. Also, they may need to contact you to make a purchase. The simpler it is for them to contact you, the more likely they will become leads and, ultimately, paying customers.
Lead Generation Strategies
Lead generation strategies are used to create qualified leads for your business, including inbound marketing efforts such as content marketing, search engine optimization and landing pages. Inbound lead gen focuses on creating content to attract appropriate customers and drive them to your website.
B2B lead generation involves creating content specifically tailored to target the needs or wants of a particular business, thus helping you generate more quality leads. Landing pages are also used to capture user information and create new leads.
Search engine optimization can help you get noticed by potential customers actively looking for businesses like yours. With proper lead capture techniques, you can generate more qualified business leads and increase your chances of converting them into customers.
B2B lead generation requires an understanding of your target audience so that you can craft tailor-made content that appeals directly to their needs and wants. By employing these strategies, you should be able to create new leads for your business and increase revenue opportunities in no time!
Why Choose Mailercloud for lead generation?
Mailercloud is a powerful B2B or B2C marketer lead generation tool. Run and analyse A/B tests to determine which kind of email marketing campaigns will generate the most leads. The advanced features of Mailercloud enable successful lead nurturing, prospecting and conversion.
I'd appreciate it if you could get reports, statistics, and actionable insights to improve your lead-generation strategy. Afterwards, could you split-test or tweak your plans to keep the influx of leads and raise conversions?
Discover how lead generation can help your business
Lead generation is a powerful tool for any business, especially in the digital landscape. It involves the conversion of potential customers into actual customers through various tactics and strategies.
With lead generation, businesses can identify prospects more likely to convert and increase their sales-qualified leads (SQLs) and marketing-qualified leads (MQLs). The marketing team can use these leads to nurture them further down the funnel and close deals.
Social media platforms have become an essential part of lead generation for B2B marketers. Companies can use social media to target potential customers interested in their products or services. This is a great way to expand your reach and find new customers. Lead generation helps businesses identify new opportunities and ultimately improve their bottom line.
Lead scoring and lead generation trends.
Lead scoring and lead generation are two of the most important trends in today's marketing and sales landscape. Lead scoring is a way to measure how interested a prospective customer is in your business, while lead generation is the process of generating leads from marketing channels. That's where lead generation and management come in – B2B companies need to create service-qualified leads that can be successfully converted into customers.
Lead generation can also help improve overall customer service by providing customers with the right content through targeted marketing channels. As more b2b companies continue to understand the importance of successful lead generation, we will continue to see an increased focus on this trend.
What's Next? – Translate Traffic into Leads & Pipelines
Over the years, the buying journey has undergone a drastic transformation. Customers are less inclined to listen to a traditional sales pitch due to the widespread access to information. Businesses must now focus on generating more leads by implementing newer and better techniques.
They must establish a solid online presence with the appropriate lead-generation methods. This way, businesses can get more leads and qualify for any charges.