Let Email Autoresponders Provide the Boost to your Business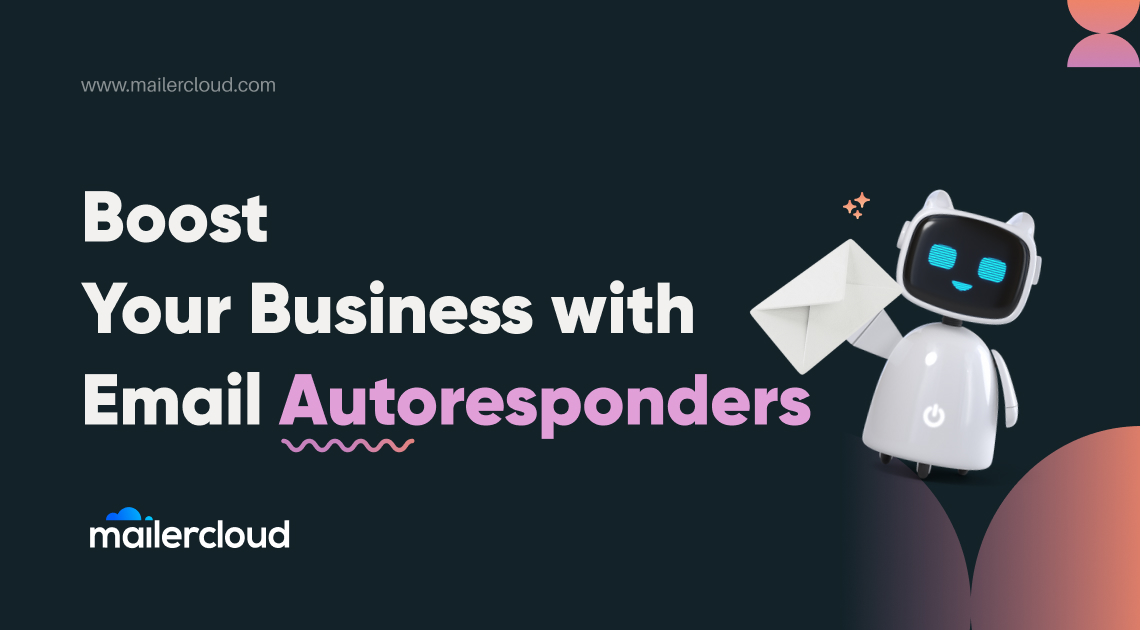 An email autoresponder series is often an underused entity – it can be a winning tactic to generate more revenue and speed up your business growth. The reason behind email autoresponders being immensely capable of drastically improving the email marketing success metrics is that they are contextual in nature.
Also, email autoresponders will surface your messages in your subscribers' or prospects' inboxes on a frequent basis. You'll also be sharing useful information and gradually increasing mindshare. If your email content is well accepted, you'll be training the reader to open your emails whenever they see them in their inbox and, hopefully, do business with you.
What Is The Correct Approach To Using Autoresponders?
When utilising autoresponders for email marketing, keep two things in mind to create fruitful and impactful email marketing strategies:
Maintaining subscribers' interest

Sustaining regular communication
Content Ideation
If you want your email to be opened and read till the end, make it stand out by using a catchy and relevant subject line. Your major goal is to deliver the necessary information to the prospect, which necessitates using a hot topic linked to your business or brand. You can also analyse your audience, their persona, and their needs and then curate the emails according to that.
Concentrate on Providing Subscribers with Valuable Information
Sending email autoresponders does not imply sending a large number of emails and expecting subscribers to read each one. In contrast, if the content you give is of little or no value, some subscribers may choose to unsubscribe.
Give more weightage to quality rather than quantity
: For instance, prefer sending weekly emails that your audience would love to read and interact with. If you consider sending daily emails, it will give a perception of spam emails.
Maintain optimal email length:
It's never about the email's length. A brief, clear, and cohesive email can be quite engaging, invoking and motivating the reader to execute the action outlined in the email. For example, an email autoresponder could include a basic photo with all of the information your subscribers need at that particular time.
The email should not in any form overwhelm both current and new subscribers.
Subscribers will see a compelling reason to stay on your email list as a result of this.
Line Up the Emails Appropriately
Create segments of your contact lists on the basis of different parameters and set up the right kind of email to be sent to them befitting their needs. The right email sequence is essential to smoothly drive the subscribers ahead in the marketing funnel.
Properly Sort the Emails
It's important to be systematic and follow a structure when segmenting emails. Compressing big ideas into short, accessible, and easy-to-read emails is the most efficient strategy. Subscribers will look forward to the next segment of your email series if you do it in this manner.
An email marketing tool comes handy in this situation. Even if you have a very long series of autoresponder emails, you can easily segregate them and automate when they are sent.
What is an email autoresponder?
An auto-response emailing system for all sorts of customer concerns and queries.

A substitute for email automation.

A solution that resolves all of your email content and engagement issues.
Overall, email autoresponders are a series of emails delivered in a predetermined sequence at preset intervals to give the subscribers pertinent information. They enable you to slowly and steadily convert the interests of the subscribers into action by using a call-to-action button.
Best Practices to Follow While Sending Autoresponder Emails
Gauge and Harness User Behaviour
Utilise user-related data from your business or store. Such kind of user tracking can reveal where visitors spend the majority of their time and what they are interested in.
Checking the statistics can also help you tailor content to meet the changing interests of your customers. You might come up with a new topic to discuss via emails that will assist you to engage your less active users.
Generic Autoresponder Emails related to Current Trending Topics
Consider sending emails on popular topics related to your business niche. Although your audience may not be aware of it, who knows if they will generate some sort of interest in what you have to say.
Combining the hottest trends with the data and stats of your business can help you create compelling emails. What is the most striking facet of it? Because you have the statistics to back up your claims, it won't be clickbait.
Work on Converting your Supporters on Other Platforms into Email Subscribers
Most people use emails merely for communications – either professional or personal. Not everyone uses them to gather information about any product or service. But, this perspective or behaviour of people may change, if you provide them with credible and valuable email content.
Social media is a great place to get people to engage with your brand, but exclusive content will help you create a stronger relationship with them. You may need to focus your efforts on growing your email list so that a larger number of individuals can access your subscriber-only content.
Delivering Autoresponder Emails: Quick Tips
Maintain a Schedule
Consider the volume of emails in your autoresponder series as well as the frequency and time of delivery. There is no correct or incorrect method to make these choices.
Make a guess.

You may believe that your viewers can't wait to get their hands on the email content, so you'll distribute it across several days. Alternatively, you may believe that spacing them out by a few days or mailing them weekly is preferable.

You may make a calendar and keep an eye out for unsubscribes. You might also test two different solutions to discover which is more effective.

Study and analyse the email autoresponders that you personally have received. It is a good way to get better and more creative ideas.
Long or Short Email Series
A brief and small series is easy to create and is great for warming up your audience. Plus, it may sound more interesting to them, especially those who are unfamiliar with your brand or services.
Whereas, a long autoresponder email series might dive into a subject in greater depth. This is very useful for lead nurturing as they will get to see your email on a more frequent basis.
Email Length
Don't count characters in the email; instead, make each one count.
The correct course of action is to tweak the email copy until each line has value. This ensures that the email recipients read the entire message, regardless of its length. You might find that your readers prefer long copy emails if you integrate "permission-based marketing" in the autoresponder series.
Not to forget, that some people like to just swiftly scan the emails. It all depends on the subscriber. You might want to include copy length as a variable in your test email and monitor. Go with shorter emails, if you plan to rapid-fire the emails.
The goal should be to make the autoresponder email appear as human as possible, rather than like a machine is sending it. That doesn't mean you should act as if each email is unique, but make the email content more personal.
The crux of an effective autoresponder message is that it makes your customers feel heard and that their issues are important. If your response comes out as excessively mechanical, it may be seen as worse than if you didn't respond at all.
Bottomline
Email autoresponders are great to scale your business and reach a wider and newer market. They can be used in multiple ways like onboarding email series, welcome emails, thankyou emails and also follow-up emails. With the right kind of email marketing tool in your hand, you can ensure that each email is responsive and optimised for mobile devices as well. In the end, it all comes down to maintaining the same level of subscriber interest and communicating with them on a regular basis.