Leverage the Combined Power of Email Automation & Personalisation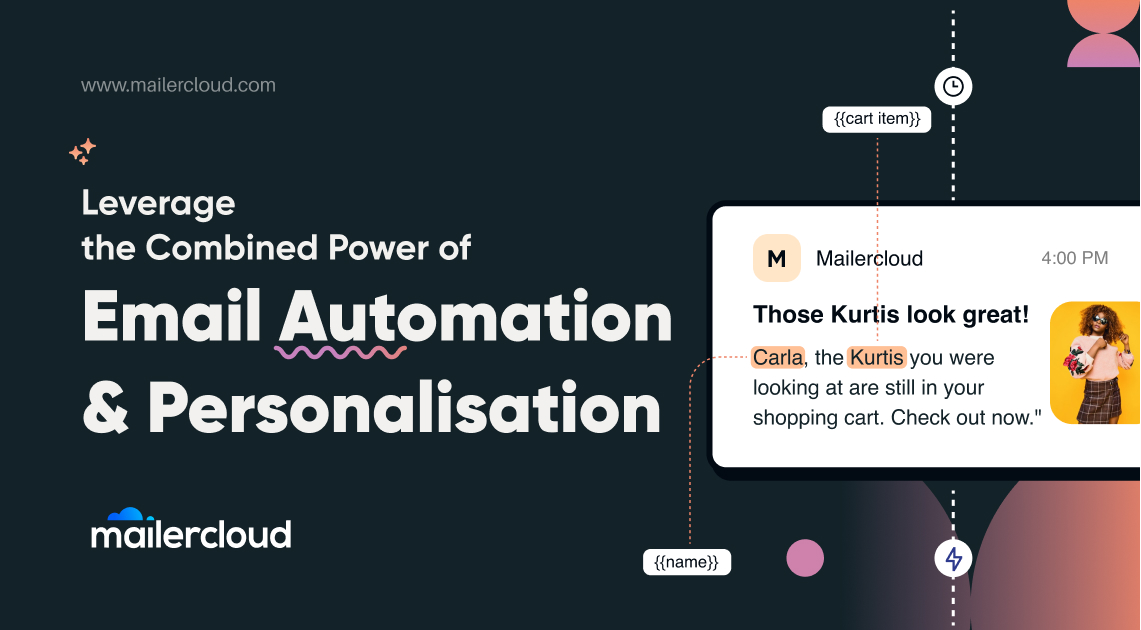 Many marketers believe that implementing automation and personalisation at the same time is impossible, although the two have a lot in common.
It all begins with customer data. Also, email automation allows you to implement personalisation at a large scale.
Email Personalisation: It is a marketing strategy that involves using consumer data to deliver effectively, personalised emails based on information about your subscribers. Personalisation refers to customising the emails to your subscribers' specific characteristics, interests, preferences, behaviour, prior purchases and other aspects that make them unique.
Email Automation: Marketing automation is when email marketing software delivers emails to your client base and potential customers automatically depending on their actions and the rules you set for those actions. Once set up, automated email campaigns send out an email whenever a subscriber fulfils a pre-defined trigger.
Personalisation and automation when combined can boost your email marketing efforts by improving relevancy, interaction, and profitability for your company. Personalised, automated customer experiences help your audience feel like they belong to your list, improving their probability of moving through the marketing funnel. Holidays, birthdays, welcoming new onboards and time-based email campaigns are among the many automated email campaigns that can be personalised.
Personalisation of bulk emails enables you to provide a superior customer experience. The type of personalisation you use must provide a meaningful engagement with the customer and match their needs at each and every touchpoint.
Email personalisation gives your company valuable insights that can help it enhance its operations. It also optimises marketing workflows and customer service, resulting in more conversions across all channels.
Email personalisation allows you to interact with your clients and remain on top of their buying habits, while automation allows you to promote on a larger scale. Personalised email automation campaigns enable your marketing team to deliver the right message to the right customer at the right time through an ideal approach.
Know the Benefits of Personalised Email Marketing Automation
The ability to mass market while still creating the most appropriate email content for your target demographic.
Extensive data capture and analysis for easy insights retrieval.
Boost ROI and brand presence with enhanced and strengthened client relationships and trust.
Profound grasp of your sales leads and a more accurate conversion estimate.
You'll also know whether to deploy top-of-the-funnel marketing approaches or bottom-of-the-funnel deal-closing strategies.
Scale it up as your company expands to boost conversions and to ensure long-term success.
How & Where to Begin?
There are numerous strategies to make email marketing automation and personalisation work together, and the results are quite impressive.
How to automate a component of customer marketing and experience while preserving genuineness and a personal human feel when sending bulk emails? How to effectively combine email automation and personalisation?
Kicking off right at the beginning of your customer's journey is a terrific place to start. And what better than a personalised landing page.
Make your Landing Page a Top Priority
Personalisation on your landing page highlights the most relevant facts and information. It lets you create customised experiences for each segmented group. This allows for even more customisation of the conversion process. Create distinctive landing page content that will appeal to a variety of audience segments.
Contact Segmentation
Email list segmentation has the ability to boost click-through and email open rates. Creating personalised email content becomes much easier while having a segmented audience list in hand. You know better about what kind of content will work for which group of segmented audiences. You can effectively satisfy each customer's expectations. It can help you figure out what they want and how to turn them from a qualified lead to a conversion and a long-term customer.
Choose the Ideal Time
You may easily personalise email marketing campaigns with automation. It enables your marketing team to deliver the right email to the right segment of audience with timely email delivery and through the appropriate channel.
Timing plays an important role in the success of email marketing campaigns. Therefore, study thoroughly your audience data and determine their online behaviour, interest so that you can schedule the email campaign calendar accordingly to ensure that the emails get the highest open rates. Email marketing software helps with the campaign delivery timing for quality lead capturing and maximum lead nurturing.
Personalised workflows that send customised messages on a schedule or in response to a particular activity of the user or any triggering event can significantly increase conversions.
Avoid these Pitfalls while using Automation for Personalisation
To begin, be careful not to overburden your audience's inbox. This definitely reduces the likelihood of your emails being blocked or unsubscribed. That's why, getting the right timing, relevant message, and a little bit of information about your customer persona is critical to crafting a flawless email message without spamming inboxes.
Balancing email content relevancy with opportunity is the secret to hitting the right chord when working together with email personalisation and automation.
Make sure your emails don't come across as annoying or intrusive. While customers are aware that businesses have accessibility to their online activity and location, they may be overwhelmed to learn just how much information you have about them. Assumptions based on race, geography, age, or profession should also be avoided.
Ways to Boost Personalisation with Marketing Automation
Improve Customer Experience
Automation enables you to make effective use of data to optimise and boost customer experiences. Your audience receives relevant and valuable content that is continuous and targeted. Better conversions, committed customers, and a competitive edge result from personalisation. You may be available to your customers across all channels, thanks to automation.
Enhance Contact Segmentation
Automation makes it simple to segment audiences based on criteria other than just their demographics. You obtain information on their surfing history, their preferences, purchasing patterns, social media activity through opt-in email marketing and other sources. This data allows you to tailor your communication for your target audience. Data obtained from the list segmentation enables making pin-point decisions when personalising the automated email campaigns.
Maintain the Relevancy
Marketing automation makes it easier to deliver relevant information to the appropriate prospect. It allows you to send tailored and targeted marketing emails. Don't lose track of why you're personalising your email automation campaigns, or you'll irritate your customers. Instead, make good use of customer data to prevent freaking them out and damaging your brand's image. Work towards providing value to the recipients through the emails.
Better Customer Service
Customers want to feel assisted in their time of need, whether it's to solve a problem or learn more about your products and services. Through actual conversations and a human touch, your team can make the customer feel supported by harmonizing automation and personalisation. You achieve this customisation through the proper auto-attendant services integration and process automation combined.
Give Exactly What the Audience Wants
You suffer lower engagement rates and revenue if you send the wrong email messages at the wrong times to the wrong people. With marketing automation, you may use tried-and-true approaches based on data and customer activities to provide subscribers exactly what they want while increasing your success rates.
Last, But Not the Least
Personalisation is fantastic. Email automation is both wonderful and competent. And when both of them work in tandem, they bring to you a power-packed email marketing approach. More significantly, you have a conversion-oriented marketing approach.
It's not as difficult as you might assume to create personalised and automated email campaigns. One thing to remember is that you'll need the appropriate tool for such an endeavour. Look for email marketing software that is flexible enough in allowing you to segment, personalise, automate, and employ dynamic content. This way, you'll be able to develop campaigns with the ROI you desire.