Power of Email Campaigns: Use the Right One to Grow Business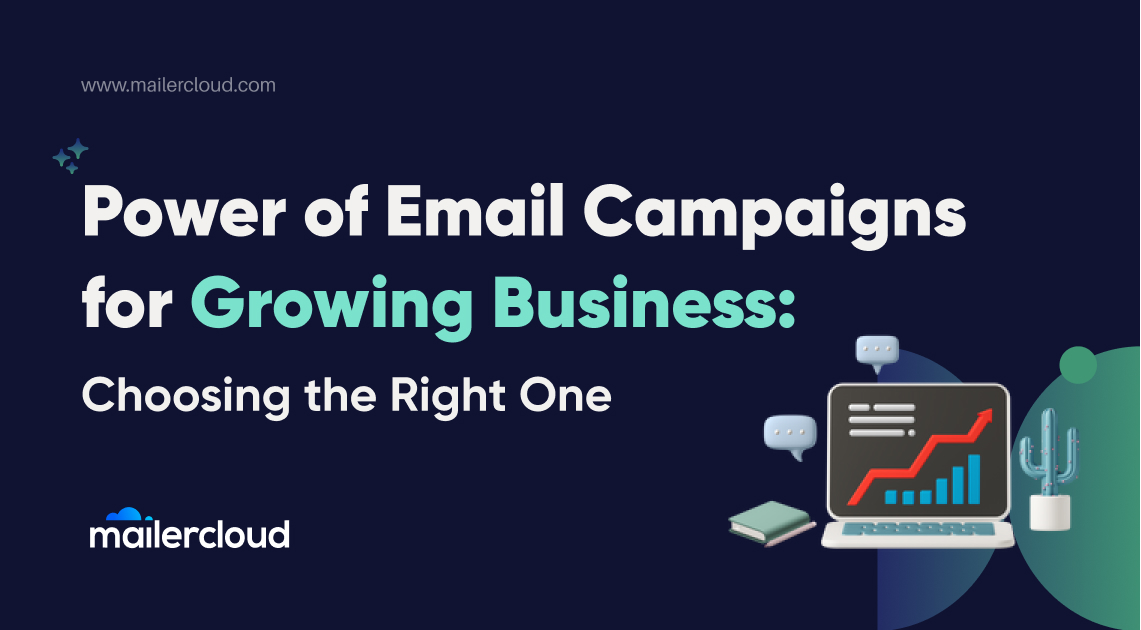 Creating impactful and revenue-generating email campaigns is a tough job. The goal is to build email campaigns that:

Engages readers,

Gets them to click, and

Long retention ability.
From captivating copywriting, eye-catching design to the best delivery time and frequency, well-thought-out email campaigns enable to develop profound and trustworthy relationships with the target audience. A calculated and strategic email campaign keeps the reader hooked with the email till the end.
Traffic Generation: Email campaigns may be a powerful tool for promoting high-value content on a website and attracting more visitors to it.
Lead Nurturing: Utilize conversion-focused email campaigns to "nurture" or prepare highest purchase intent leads towards making a sale. How-to instructions, live demos, webinars, checklists, and tutorials are just a few examples. Such email campaigns have the potential to alleviate any pain points that a user might encounter when communicating with a brand.
Brand Awareness: Not everyone who joins an email list is ready to make a purchase. Use email campaigns to create awareness about your brand and stay on top of their mind with relevant email content.
Generate Revenue: Email campaigns are a great way to promote cross-sell and up-sell opportunities. Email campaigns to acquire sales conversions from leads on the verge of making a purchase are another effective way to drive more revenue.
Email Engagements: It's considerably more difficult to pique a user's interest in a brand these days. Create new email campaigns with better and lucrative deals. Share important information, demonstrate your skills, and promote exclusive offers.
Email Marketing Campaign Types
Welcome Emails
Welcome email campaigns seem to be a common one, but they are the most effective as they set the stage for the customer-brand bond. Welcome emails provide the ideal opportunity to get to know a new subscriber. Use them to educate the subscribers on your brand promise when they're most receptive to hearing from you.
Furthermore, welcome emails can also be used to ask the subscribers to specify the kind of emails they want to receive and set their email frequency preferences.
Promotional Email Campaigns
Promotional emails are like machine gun fire, appearing in inboxes over and over with a rat-a-tat-tat monotony that never varies. Rather, focus on establishing a progressive or cohesive email campaign, where each email builds on the preceding and flows to the next. Here are some ideas for spicing up a standard promotional email campaign:
1. Evoke a particular emotion in the reader's mind.
2. Add a humorous element.
3. Leave them to guess.
4. Offer exclusive access to a product or service.
5. Use catchphrases from popular music.
6. Use attention-grabbing graphics and typography.
Announcement Emails
These are sent out to announce an upcoming holiday, occasion, or the introduction of a new product or feature, among other things. The goal is to pique the attention of subscribers and persuade them to buy or explore.
These email marketing campaigns might include a build-up before the occasion and a follow-up thereafter, giving you multiple chances to send an email. A sense of urgency is an integral part of announcement email campaigns.
Cross-selling Email Campaigns
This form of email campaign advertises products that are similar to those purchased by the customer.
Up-sell Email Campaigns
These campaigns promote more advanced, upgraded, and expensive products than the buyer had previously explored or purchased.
Since you're offering value after they've already made the sale, both of these cross-sell and up-sell email campaigns depict an emotive perspective, which develops trust and delight with customers.
Abandoned Shopping Cart Emails
An abandoned cart email urges users to go back to their shopping carts and finish their purchases. These emails usually include a motivator such as 'Time is ticking' or 'your favourite product may run out of stock.' This form of email series has significantly greater open and conversion rates.
Re-engagement or Win-back Email Campaigns
Emails sent to inactive contacts that have lost interest in the brand they have subscribed for or have forgotten about it. Don't just wave farewell; strive to reactivate and remind them of the brand's value to them, and vice versa.
Newsletters
This is the most popular and widely used email campaign to dispatch valuable and non-promotional information. Newsletters may also enable brands in the development of trustworthy and loyal client connections.
A Peek into 10 Successful Email Marketing Campaigns to Learn How to Reign the Game
Email marketing has pulled through the test of time.
However, many marketers forget to tweak their email marketing strategy and campaigns with time. So, here are some effective email samples to ensure you're creating email campaigns at par with the latest industry trends and are worth the recipients' time and attention (and also money, in case they make a purchase).
1. Special Discount Campaign
Why does this work?
It keeps the call-to-action (CTA) simple, and the newsletters are quick to read. They readily and effortlessly convey all of the necessary information. They use journey maps in some of their tailored emails to deliver a personalized experience.
A good CTA is just as crucial as a good email copy. Focus on offering great content rather than playing with catchy visuals that may divert from the core message.
2. Welcome Email
Why does this work?
It rekindles the interest right away by asking: do you believe in magic? Next it throws an eye-catching CTA at the user, encouraging them to take action. Then, follows ecstatic testimonials from satisfied customers.
Vivid colour scheme matching the brand tone, well-placed CTAs and real-life experiences from the customers makes this email campaign a complete package of success.
3. Promotional Campaign
Why does this work?
The phrase "Join the Revolution" and its placement persuade people to feel that a "revolution" is taking place and that it's their chance to participate.
People are more likely to desire to be a part of something bigger than them when the product is presented in a magnificent style. This email seeks to persuade them to do so by purchasing this smart watch.
4. Product Announcement Emails
Why does this work?
The email is the first in a series of promotional emails for a brand-new product and its planned Kick-starter campaign. It captivates the reader's curiosity, shows the product, explains the concept, and encourages them to back the product on Kick-starter.
The email leverages the contact list as a private club with early access to coffee news.
5. Engagement Emails
Why does this work?
This email alerts the subscribers about the promotions and deals. Also, this is followed by a more detailed (but basic) description for people who like to know more in detail. Such on-brand emails maintain consistency and are able to gain brand loyalty.
6. Feature Promotion
Why does this work?
The emphasis was on delivering value to the user by demonstrating the advantages of a new feature rather than simply promoting it. The campaign never mentioned the features; instead, it focused on how customers would profit from adopting the new service.
7. Abandoned Shopping Cart Emails
Why does this work?
This email campaign informed consumers of price changes for items on their wishlist or in their shopping carts. The brand's cart abandonment rate was lowered as a result of this campaign.
8. Customer Feedback Email
Why does this work?
The brand reached out to their customers and included a link to a survey in the email. The email began with a thank you and then a clear CTA for the survey.
Such campaigns provide insightful data that helps to improve the business service in future as well as builds a connection with the audience.
9. Re-engagement
Why does this work?
The brand made its "come back to us!" email funny. It simply wants to remind the recipient of the existence of the brand and why it may be valuable. The email portrays the product as a solution.
10. Newsletter
Why does this work?
The email newsletter contains a good mix of content, with a wonderful balance of graphics and text, making it very easy to read and mobile-friendly. The clever CTA copy is truly the hero.
All Set to Launch a New Email Campaign?
Email campaigns may completely revolutionize a marketing plan, so it's no wonder that they can help grow a business to new heights.
There are many great email campaign samples out there – some have excellent copy, some have eye-popping design and some have really provoking emotions that drive actions.
To put it another way, there is no one-size-fits-all approach to creating an optimal email marketing campaign.
Following best email marketing practices is beneficial, but a successful campaign strategy would not take shape without recognizing the audience's needs and reviewing metrics.
Professional email marketing tools are essential for constructing successful email campaigns that foster long-term relationships with recipients and increase business. Feature-rich email marketing tools make it easy to design email campaigns without any technical knowledge, boost email deliverability, and automate mundane activities pertaining to campaign creation.