The Top 10 Really Good Newsletter Best Practises For emails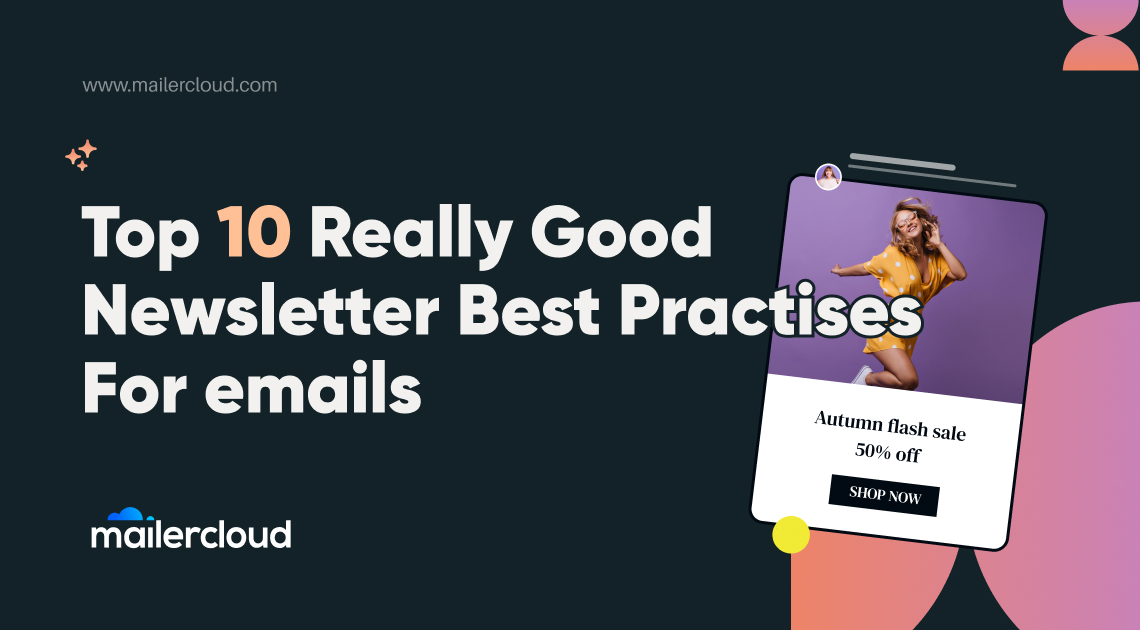 Email newsletters are used to inform subscribers about recent news, announcements, giving customers a sneak peek at new products and updates in a very cost-effective way. They just focus on building customer engagement.
What is the purpose of an Email Newsletter?
An email newsletter helps in achieving the following:
Brand recognition
Credibility
Audience Engagement
Increased sales
Promotion
How to Design a Perfect Email newsletter?
1. Search for the right tool
Before you get started you'll need a perfect tool to design and send your newsletters easily. The tool should provide a clear template preview, as well as check if your newsletter has any blacklisted domains or broken links. There are a vast amount of email marketing tools out there for doing this. Mailercloud's newsletter design platform offers a simple way for you to get started with email newsletter design. This is one of the most important email newsletter practices.
2. Who are your audience?
Knowing your audience is always the first step. It doesn't matter if you have a great tool, what matters is how much you know your audience. Unless you know how each of your subscribers responds to your email newsletter, you can't make a perfect design. Know your audience first, segment them and send personalised and really good email newsletters.
3. Research
Keeping an eye on other newsletters is a good way to decide what's right for your brand and your audience. This way you can perform better than others.
4. Your email tells about your brand
Your email newsletter reflects your personality and the worth of your brand. This exactly is the main purpose of an email newsletter. Your newsletter must keep up the standard of your company. It is, therefore, necessary that you focus on what your readers want, and stop sending spams and irrelevant content. Protect your reputation.
5. Focus on your headings
Make clever and catchy headlines. If your heading isn't interesting enough, your content won't be read. Content and headings are equally important for crafting some really good emails!
6. Get the header and footer right.
The header will appear on every newsletter you send out, so you need to spend time on getting this right. The most important thing is that it features your brand name or logo, so the reader knows instantly who the email is from.
The footer of your newsletter is equally important, it gives the design a sense of completeness.
Things to include in the footer:
A way to contact you.

A way for your subscribers to share the newsletter with friends.

A link allowing them to unsubscribe.
7. Make your newsletters colourful
Plain emails which are just a group of alphabets hanging here and there is not at all interesting to read. No one loves to read an essay. Add colour fonts and beautiful photographs in your email newsletter. Choose photographs that reflect you and your company. Edit your pictures and make it eye-catching!
8. Narrate a tale
Tell them who you are and what is the story of your brand, it makes them want to be a part of your story as well. You should be creative in this, because everyone wants to visualise your story in front of their eyes.
9. Don't forget your Statistics
Statistics give you a clear picture about what might work and whatnot. Be aware of where your customer clicks on your newsletter, this way you will understand what they like and what they don't. Improve your newsletter every time.
10. Ask for feedback
There is not a judge better than one from your audience. Be ready to lend your ears to all appreciations and downfalls. Increase your customer engagement. This is one of the most useful email newsletter practices. Be a superhero in Email marketing!
The whole point of email newsletters is to keep subscribers connected and engaged with you and your brand. Use these effective strategies to boost your subscriber growth. Spend your time in designing gorgeous newsletters, after all your brand's reputation is worth it. Start designing your good looking email newsletters with Mailercloud's Template Gallery, drag and drop editor and HTML editor.