8 Tips for Creating an Email Newsletter People Will Love to Read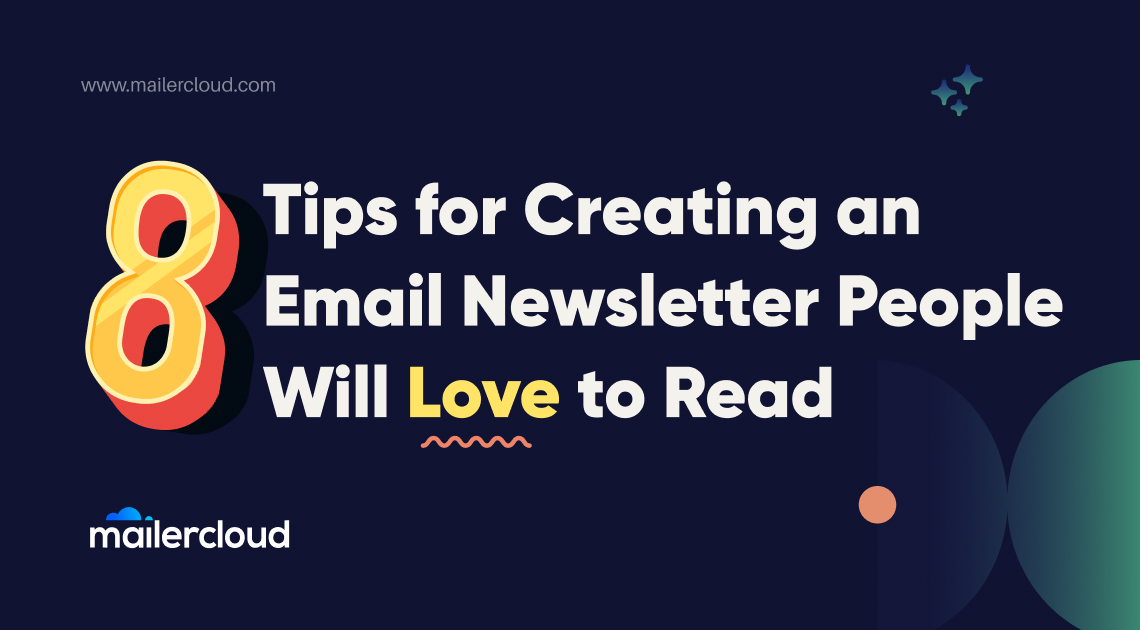 Every marketer knows the importance of email. It is a fantastic channel that gets incredible ROI, and you should not miss out on it under any circumstances.
That said, it won't be enough to send out any old piece of content every once in a while, and hope it sticks. To harness the true power of email marketing, you need to understand what makes an email newsletter stand out.
It's time to start treating your newsletter as the valuable marketing resource that it is. To help you do that, we've collected tips from the top email marketing agencies out there and put them in this guide. Keep reading to learn how to improve your email newsletter game!
8 Tips for Writing a Killer Newsletter
To create a successful email newsletter, you'll need to know a few tricks of the trade. Here are the steps you need to take to ensure your email newsletter engages your audience.
Give People a Reason to Subscribe
Let's take a step back for a moment. If you're hoping to get any conversions, you'll need to have a list of active subscribers. The problem is that people will not choose to sign up for your newsletter just because you asked them to. You'll need to give them a reason to opt-in.
Many reliable email marketing agencies will advise you that the best (and pretty much only) way to do this is to offer value. Give your audience an incentive to subscribe, such as 25% off or free shipping on their first order. Also, make it clear that newsletter subscribers will get access to exclusive offers in the future as well. This stops people from unsubscribing after that first purchase.
Find a Goal and Stick to It
What are you looking to accomplish through your newsletter?
You should ask yourself this question before you start writing. How can you expect to guide your subscribers to the desired outcome if you don't even know what that outcome is? Here are a few common email newsletter goals to help you get started:
Promoting a new product or service
Driving traffic to a landing page
Promoting an ebook
Improving social media presence
Driving sales
The trick is to choose one goal and run with it. Trying to jam multiple ideas into one message will only confuse your readers.
Choose the right Subject Line.
If nobody is opening your newsletters, you can kiss those conversions goodbye. Therefore, your subject line is a crucial step in the process. So how can you get more people to open your newsletter?
First of all, try to make your subject lines exciting. Something like "[Month] Newsletter" will probably be overlooked by all but the most die-hard fans of your brand.
Instead, try to use the subject line to draw people in by promising valuable information to the reader. You can do this by using powerful words like:
Amazing
Jaw-dropping
Mind-blowing
Important
Breaking
Urgent
Repurposing your best-performing blog post titles as email subject lines is another great way to save your time and effort while keeping effectiveness high.
Write a Great Opening Line
Getting your readers to open your email is just the first step. Now, you need to draw them in with a killer opening line. Subscribers may not even click on your email if your opening line is uninteresting, seeing as most browsers now display at least a small part of the message in the preview.
So, what's a good opening line?
You probably want to address each reader by their first name. This makes the email more authentic and personal, both critical aspects of getting them to keep reading. Also, try to get to the point of your email fast. Lots of preliminary chatting will turn off most readers.
Use the Body to Connect
We've finally reached the part of your email that takes up the most real estate — the body. This is the time to show your subscribers how your service/product can improve their lives and provide real value.
We suggest keeping things straightforward and not overwhelming your reader with too much information. Remember, the key is to grab and hold their attention, which will help you eventually get them to advance through the sales funnel.
The way to do this is to break up the text into digestible, short paragraphs and speak to the user directly, asking some questions as if you were talking face-to-face. 
Be Consistent, Not Annoying
People who have subscribed to your weekly newsletter expect to hear from you once a week — no more, no less. Slacking off and being inconsistent will damage your brand's reputation while badgering people with more emails than they had signed up for will quickly get them to unsubscribe.
Keep the Content Relevant
It is crucial to stay on topic and on brand at all times. Let's say that you have a professional web design company or a company that makes games. It's not a great idea to discuss recent sporting events, politics, or local weather in your emails. These things are irrelevant to your brand and probably not what your subscribers want to read about.
A great way to make sure you deliver the most relevant content is by letting your readers choose what they want to read in your newsletter. They can also decide how often they want to get your emails. Let your audience customize these options when they're initially signing up.
Analyze the Results
The only way to know if your newsletter is converting is to take the time and look at the analytics. Look at things like:
Unsubscribes
Bounce rates
Forwards
Click-through rates
Open rates
Identify the types of newsletters with the highest conversions and stick to these strategies. Conversely, try to understand what went wrong with the emails that had terrible conversion rates.
Wrap-Up
If there's one thing you take away from this guide, it should be that email newsletters are still relevant and worth the extra effort. It's easy to get distracted by all the flashy social media strategies, but email can be just as effective if it is given the proper care.
To get good results, you'll need to understand the mindset of your audience and stick to the right formula. If you follow the tips outlined in this guide, you'll see a noticeable improvement in your newsletter conversion rates. Good luck!