8+ Trending Newsletter Designs For Marketers In 2023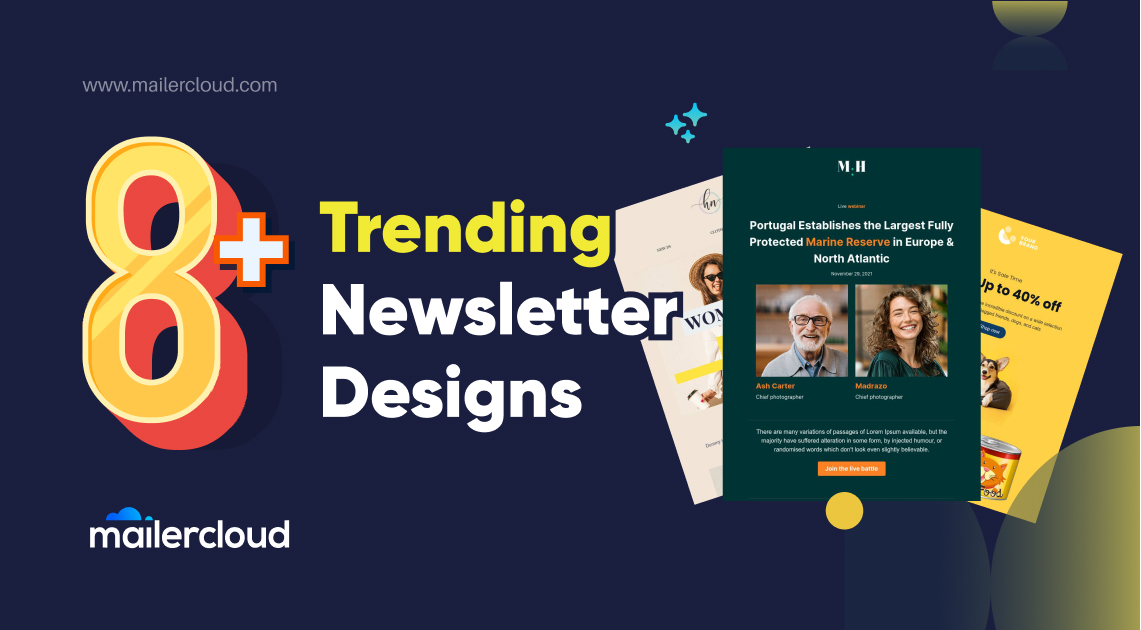 Newsletter designs are quick to change every year. A reason for this could be that recipients of your newsletter don't want to see the same designs in their emails. Not being up to date with trending newsletter designs can negatively impact your email statistics.
So to make your search easier, we have listed the top 8+ trending newsletter designs that you can incorporate into your marketing materials. This might need a series of trial and error on your end, but once you find what's best for your market, you'll see an improved success rate for your newsletter campaign.
Get your notepads ready, and let's get right to the article!
Interactivity
We've all received an interactive email at some point and there's no denying that it's unique, fun, and somewhat out of the ordinary. Most newsletters are static. They are just plainly written words trying to entice you. This can come out as boring to some – others might even think that this style is outdated already.
To shake things up, try incorporating interactivity in your newsletter. Add a GIF or a very short video clip to grab your recipients' attention. Make some elements in your newsletter moveable to really hook your audience.
A great tip to be added here would be leveraging that interactivity feature of your products or service. A good example of that is displayed by Toms. Just look at their newsletter below:
Uplers mentioned interactive content leads to higher email lead generation and can help with an increased number of clicks, conversions, and word-of-mouth marketing. This shows how powerful interactivity is to your marketing content.
If you can implement such an initiative in your marketing materials and leverage it in a way that can highlight your product or service, the figures behind your newsletters will most definitely improve.
Simple Yet Stunning
Gone are the days of overly designed newsletters. This type of trend saw an increase in popularity years ago, but now people want a more simplistic look that can still capture their attention.
There are a lot of companies whose newsletter design falls under this category. Their design is not "noisy," but it's very appealing to the eyes of a recipient. You can think of it as a minimalistic approach to designing newsletters.
These types of newsletters don't use many colours, graphics, and videos. It is very straightforward and highlights what the business wants to convey to its audience. The design isn't forced as well – it looks natural and fits the newsletter. Here's an excellent example from Five CBD:
It looks quite neat, right? This is what it means for a minimalistic approach yet the design isn't downright boring. It's still unique, highlights the product, and every element present there looks natural.
Using Typography
One of the best ways to make your newsletter design stand out and be unique among the rest would be by playing with typography. It's an old strategy used in many marketing initiatives. It is used in posters, ads, and billboards.
It has also been part of the newsletter design trend because it is simply very efficient in capturing the attention of the audience. It's a good design compared to a wall of text promoting your product.
This is the design where you can highlight your creativity. It's an excellent way to convey your message to your audience in a way that's witty and artistic. This is an alternative to just typing out your main point or the message of your newsletter. Remember that main points should be highlighted and taken home by your recipient even after closing your content.
Just look at how 3Wishes uses typography to promote their Halloween, Valentine's Day lingerie line, and costume promotions.
Here are other typography designs:
Using typography in newsletter design is one of the most creative things to do. It can definitely hook any reader and capture the attention of any recipient.
Utilizing Lines
A great but rarely used newsletter design is using lines. Utilizing lines in your design will draw your recipients' attention in a more orderly fashion. They won't have to look at the newsletter and the design as a whole. Their attention will have to focus per segment that was created by the line.
To give you an idea, check out this design from The Hustle. You can first read the title, then the date and the issue number, the product, and lastly, the supporting details of their highlighted product.
Here's another newsletter that mixes a minimalistic approach and a lined design:
According to Fleek Marketing, lines are used to add style, enhance the design, and divide space by acting as borders around other design elements. That is 100% accurate as you can see in the examples above.
So make sure to utilize lines well and use them to your advantage if you have several products or services in your newsletter.
Leverage Personalization Strategies
If your current newsletter design doesn't leverage your business' personalization strategies, then you're only scratching the surface of what you can achieve. Personalization has greatly disrupted the marketing industry. It has made millions of conversions and sales for different businesses.
Accenture reported that 91% of consumers are more inclined to buy products from businesses that provide offers and recommendations that are relevant to them. Additionally, Epsilon stated that 80% of consumers purchase from a company if it provides a personalized experience.
There's no denying that many consumers seek out personalization. It's only right that you start incorporating this into your newsletter design. So how do you implement this? Your newsletter design should highlight the products that your audience would want to see.
One way to achieve this would be through segmentation. There are different types of customers in your business. Segment them into other groups and make sure the emails in one group have the same interest in your business.
Doing this will allow you to create more tailored marketing material that your audience will love. Once they see that you highlighted a product that they like or have an interest in, your newsletter engagement will go up.
Infographics
Infographics are a great example of your business having an easy way to present the information needed. If you haven't used an infographic in your newsletter design, it's high time you do so. There's a reason why infographics have increased in popularity throughout the years. Not only are they cool to look at but they improve brand visibility through excellent designs.
Infographics are great since they can act as condensed marketing material so that your audience can easily sift through what you have to say to them. For example, if you want to show that your products are all-natural, you can be creative with the process by explaining it through an infographic.
Besides being an easy way to convey information, marketers use infographics because they can explain complex topics more engagingly. By using only short sentences and pictures, topics could be learned easier.
It's also a great way to imprint your message on your audience's mind. An infographic isn't an image that they see every day. So when your business uses it, your marketing message might stick longer than usual than just plain old email texts.
Playing With Colors
When colours are used correctly, the newsletter is more lively and attention-grabbing. However, contrasting colours might be deemed as noisy or distracting for some. Make sure this doesn't happen; make your colour schemes on point. Pick colours that complement each other.
Once you've created a newsletter design that has a great colour combination, you can simply add various designs to it and attach multiple elements. Just make sure that everything looks natural – it will help the newsletter look more aesthetically pleasing.
Take a look at this example below:
You can see multiple design trends in the newsletter above. It uses typography, lines, and color schemes. Make sure to try this type of design out and check how your audience responds to it.
Use Clear CTA's
Some newsletters have too much going on, making it confusing for the recipients on what the business wants them to do. Stuffing every call to action in a single newsletter will not improve your engagements. It will cause more harm than good.
Knowing how effective CTA is in email marketing, it's always a great idea to have one clear call to action. Too much of this might lead to confusion and can leave a bad reputation for your recipients. This may lead to unsubscription and lost conversions.
Another tip to include for this design would be to make the CTA as visible as possible. You might be wondering why you're not converting, and it can be because your recipients don't see a CTA in the first place.
So remember, make use of a single CTA and make it as visible as possible.
Break Up Your Texts
When creating newsletters, it's easy to get caught up in writing a wall of texts since there's a lot you want to convey to your market. If this is the route you want to take, just make sure to break up your texts.
Remember that too much text can create clutter and can overwhelm readers. No amount of good design and can cover up for long paragraphs. Even if you have an excellent design and yet your texts are too long, it can hinder your people from reading your message.
Breaking up paragraphs into smaller chunks will help your overall newsletter design appear aesthetically pleasing. It will also help encourage your recipients to read what you have to say. Sometimes, when people see long texts and paragraphs, they tend to neglect the content.
Understand that not everybody has the time to read up on your newsletter. So it's important to organize your texts, make paragraphs smaller, and highlight important messages.
Bonus Tips For Growing Newsletters Subscribers
Make it mobile-friendly
Statista reported that in 2021, 4.32 billion people are using mobile to surf the internet. eMarketer mentioned that 69% of people use mobile to do product research. CampaignMonitor said that more than 70% of people read their emails via the mobile app.
This shows how important it is to make your website and different business aspects mobile-friendly, which is why most businesses hire app developers to cater to this need.
Your newsletters should also be mobile-friendly. If you don't optimize it, then the outcome of your emails would look different on mobile. It will look scattered, big, and unprofessional. So make sure to make your newsletter design mobile-friendly as well.
Organize your content
You can have the best design in the world, but if your overall content isn't organized, your newsletter will look messy. It won't be appealing and might be considered a nuisance by your recipients.
Spend extra time to keep your content organized and look aesthetically good. You can have the most simplistic design with organized content, and you will still manage to convert recipients with it. But with an excellent design with bad content organization, you run the risk of unsubscription.
Make it about your recipients
When creating newsletters, angle your content to highlight how your recipients can benefit. Make them your focus, capture their attention and make it engaging so they finish your whole content. Remember that customers want to know what your products and services can do for them. They are more interested in how your business can help with their needs.
Be creative
Be creative in inviting new people to your newsletter. Write down what's in it for them, how they can benefit from the newsletter, and what they can expect. DressForms has a great way to invite people to give them their email.
Their pop-up isn't like any other. It's interactive and gives out a feeling of excitement through its spin the wheel pop up.
Why Are Newsletters Important?
Incorporating the things above may sound like a daunting task. It might even turn you off and you'll just stick to what you've been producing for some time already. Remember, it's always a good idea to improve aspects of your business to grow and scale.
Newsletters are no exception. You can always use an email campaign management or automation tool to make this process a lot easier. To really push you to aim for change and improvement, there are different important points as to why a business should have an excellent newsletter.
Advertising and marketing
Newsletters are excellent marketing materials that can get your brand out there. This is an avenue that marketers leverage to spread the word on sales, promos, new products, and many more. Many marketers use their best lead generation strategies to grow their newsletter subscriptions.
It's an excellent medium because it goes directly to your client's inbox. It's very different from social media posts since you don't know if it's reaching your market or have even read it. With newsletters, you get to see your open rate, bounce rates, and how many followed your call to action.
Showing expertise
If you've been using newsletters as promotional mediums only, you have not used its max potential. Newsletters are perfect materials for you to show your expertise in your industry as well.
It's an opportunity for you to show how knowledgeable you are regarding products and services.
It doesn't matter whether you're in the voice-over industry, warehousing space, art, and culture; there's always a way for you to inform and educate your customers.
It's only natural for customers to want to buy from a business that knows its stuff. Consumers gravitate towards companies that are smart and excellent with their products. So if you can display such knowledge to your customers, your newsletter will see better engagement and conversions.
Build rapport with customers
One way to show your customers that you know what they want would be through newsletters. And when you keep producing content that your customers like, you can be sure that your customers will slowly create an affinity for your brand.
That's why it's important to incorporate personalization into your newsletter design. These small tweaks that you can do can have a big impact on your relationship with your customers.
Conclusion
Trends in newsletter design might come and go, but the ones shared above have stood the test of time. Those are designs that will remain in the trend for a long time.
However, not every design will work for your recipients. You need to try and see which one they respond well to. But knowing the designs above gives you more options to choose from. You can switch things up to not be stagnant and predictable.