Effective ways to improve the opens and clicks of your marketing emails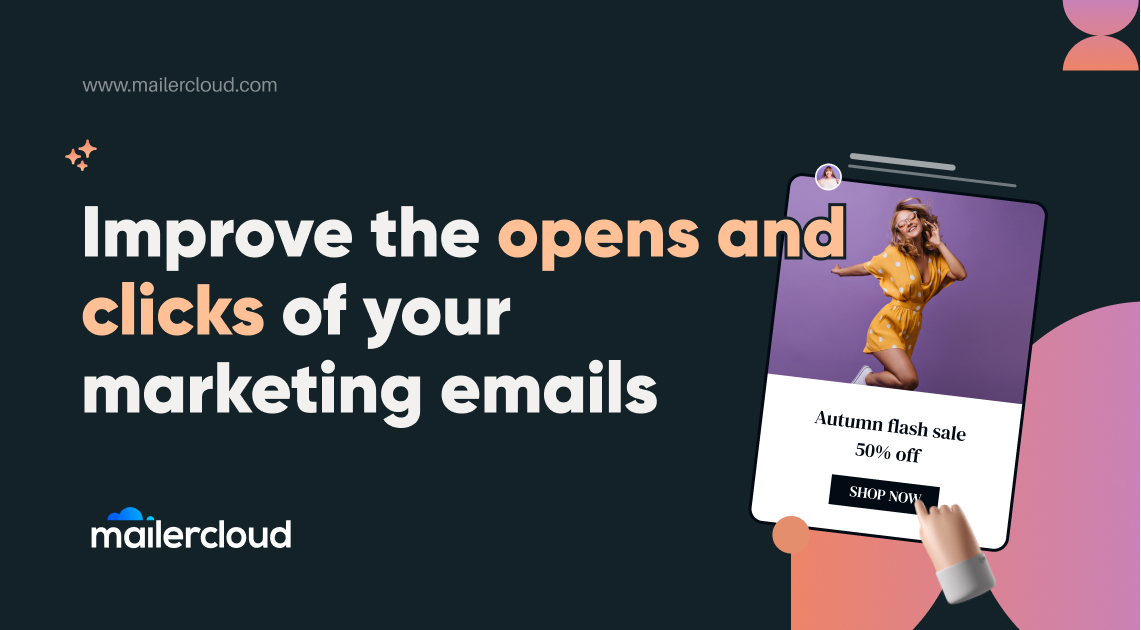 Few people own website of their own. But if you want it to be successful, you need to have a certain bond with the "guests" of your website.
For this, you need to consider investing in email marketing. At some point in our life, we all require inspiration to do our jobs better. It encourages us to get through creative ruts, make the case to our manager for experimentation, and develop our own marketing.
Inspiration is very easy to find nowadays because most of the marketing contents are publicly accessible. You can explore the internet or go on your favourite social network to see what your contacts are talking about. However, the only one marketing channel which is really hard to find good examples is the email. There is nothing informal about it. You generally need to be subscribed to an email list to get great examples of emails. Furthermore, even if you are subscribed to good emails, they are often besieging you day after day, so it is hard to discern the gems.

Email marketing is all about transferring commercial email messages to a group of people who have granted their permission to accept those emails. Email marketing can help direct a visitor to your site into a potential client. If a person visits your site, then it must be to find a solution to his/her problems, and he/she may read articles related to it. If your website sells a product or provides a service that helps to relieve the problem, then the visitor may purchase the product you are presenting to help them overcome their difficulty. Email Marketing is intended to let potential customers know that your website is contributing information that discusses their need or problem.
ost of the potential clients look for answers that are free rather than paid product or services. However, if you want to sell your products or services to your customers, you need to build a bond with the customers and make them understand about the products you are selling. The best way to develop a relationship with your customer is to get their email address. If that is done, then you can easily contact them whenever you want and let them know more about your products.

In the beginning, when you have little customers, you might find it easy to send personalised emails. However, when that list grows, it will become more difficult. Even from the client's point of view, when they tend to get a lot of such emails (especially when it is a competitive field), they tend to mark it as spam. So you need to make sure that your email stands apart from the other emails and also you have to provide informative "free" content to your readers.
Informative FREE content in your marketing emails will have bits and pieces of data for getting rid of the problem the customer is handling. You can add solutions that give temporary satisfaction to the customer. Once the client finds that the information in your emails works, he/she will start to think of buying your products or services. Make sure that the first 2 to 3 emails focusses only on the solution for the problem and discursively suggesting to your customer about your products. You just have to check the response rate and the statistics of the emails you send if you want to learn about your customer. You can split your email subscribers into groups and then send a separate set of email to each group. Even a small change in the subject lines can improve the open rate of your emails to around 70%.
If you apply social media advertising and Search Engine Optimization (SEO), you can only bring a potential customer to your site. However, that doesn't make them your "customer". You need to have a relationship with the visitor so as to make him/her your customer. Furthermore, if you are efficiently using the technology which is accessible today within email marketing, then the customer can be changed to a repetitive buyer of your products or services.
The one thing that you have to make sure is that you should add email addresses to your list only with their consent. The simplest and safest way to make sure you are getting the client's permission to send them future emails is by using a "double opt-in". However, you cannot expect every person on your list to buy your products or services. But if you consistently offer quality information to your list, then the majority of your clients will buy your products or services at some point in time. Just make sure that your emails are crisp so that they don't mark it as spam.
If you are not planning with email marketing, then you are going to have a tough time with the internet marketing. Interact consistently with your clients and you will obtain reward accordingly.