Email content best practices to earn conversions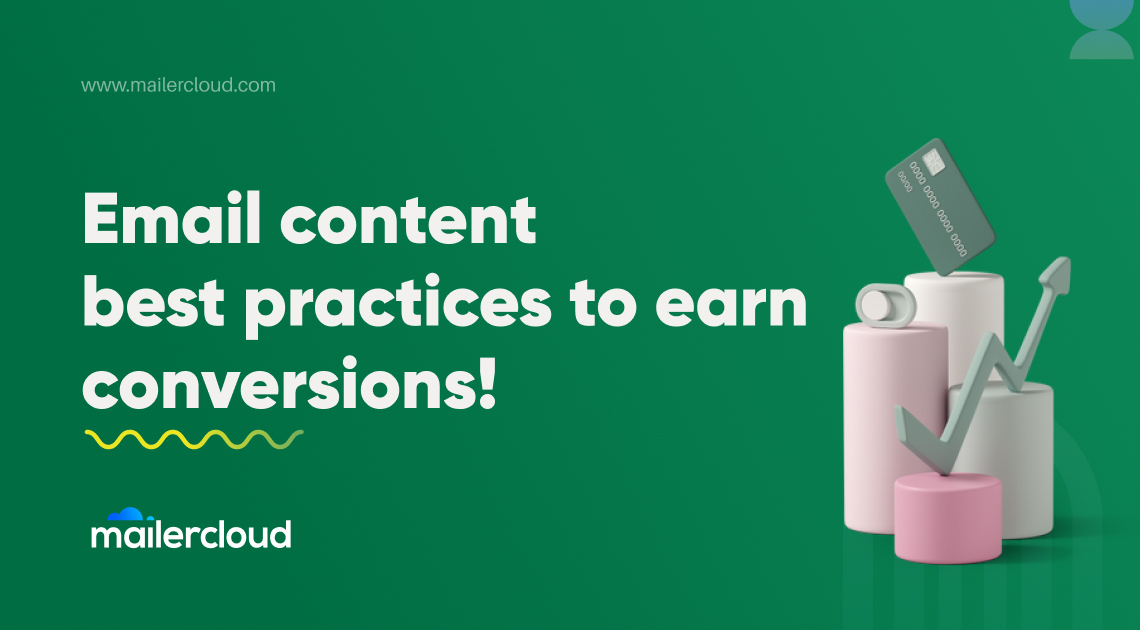 If you are in search of a way to connect with your audience on a very powerful level, your email content holds the highest potential to hold your back! Make your contents more interesting, more
personal and more targeted.
Are you tired of sending just surfing through the internet for email marketing tips and email content best practices?
Consider these email content strategies, to excite your customers with every single email.
A friendly welcome email
Who would ignore a friendly "Hello"? The welcome email is the very first impression your organisation makes. This makes them interact with your market as well as driving in high open rates and engagement rates. This is one of the best email marketing tips to follow.
Your welcome emails should be informative and accurate. So go on, exceed their expectations by sending that a token of warm welcome, after their first purchase or subscription. Your welcome email is like a "understand you well" period.
It should thank your new subscriber for signing up.

Tell them about you and your market.

Make clear how you will benefit them.

You can also add a short walkthrough guide to your website. So that your customer knows 'What to do next?'.

And begin to build a strong relationship with them.
Tutorials and tips emails
Everyone loves to learn and explore something new. Send educational and informative emails that help your subscribers with their daily life. This can be easily done with the 'how-to' or guide contents added on your email. It doesn't always need to be elaborative or in detail. You can make it short and funny. But what matters is, "Is the content relevant to them?"
Familiarising your products to your customers can be easily done by making instructional emails. Moreover, teaching a new idea or fact gives a positive change in their life. And they are not going to forget you. They will look forward to all your upcoming emails. Hence, this email content practise shall never be ignored.
Promotional emails
Promotional emails are the simplest and the most powerful way to widen your horizons. The main focus of promotional emails is to increase awareness, achieve revenue or to improve customer loyalty. It is not advisable to give frequent promotional emails but rather deliver a good mix of engaging emails (guides, how-to contents, self-help and informational content) and also promotions.
It's said that 49% of customers love receiving promotional emails from their favourite retails brands. Adding a good number of calls to action in the content of your email is another way to improve your open and click rates.
Give your customers some special offers. Also remember, when you send a special offer, you should segment your audience and use personalization. And make sure you have ensured the offer is relevant.
Showing off your blog posts and contents
Searching for the best way to get your contents laid before a lot of eyes? There is nothing more powerful than an email. Highlight all your awesome contents in an email. Send emails that give a short and simple overview of the blog post. And make them read the rest by adding a bold Call to Action. This would call upon for some really wonderful email newsletter practices.
If you're just going to send your email subscribers the same content as in your other social media or blogs, it won't draw any new subscribers. It is also wonderful if you start using exclusive contents for your subscribers. One way to do this is to create engaging podcasts that cover topics your audience is interested in
Rewarding loyalty
Another email marketing best practice is to reward loyalty. Your email subscribers are always supporting you, giving you conversions, increasing your ROI, providing great market research data..etc. They deserve to be awarded for their loyalty every once in a while.
The best way to impress them is to surprise them. Email your customers with a congratulatory message as well as a reward (special offers, discount coupons..etc.)
The survey email
What does your customer think about you? Your customers' answers might be very critical. But when it comes to email marketing, there is no other judge better than your subscribers. Make a well-informed survey. Email surveys are most cost-effective to conduct your surveys. The survey should not be very long. Nobody is going to spend more than 5-10 minutes on a survey. Only gather essential data through your surveys. Shape your business with your customer's responses.
How does a survey benefit your market?
Giving insights into your performance.

The rapport you create with your customers.

Suggestions for a better environment.

Discover which products your customers love.

Gathering feedback on a sale or offers.

Understanding how to improve your sales.

About the contents of your websites, if something is misleading or causes the customer to stumble not knowing where to go.
Giving testimonials and reviews
Social proof and powerful testimonies are the best ways to gain attention and trust. Rather than writing contents that widely explain about your products and benefits, create them into an actual customer story. This way you can engage existing customers as well as convert a lead into a customer. And we know, people including me and you, rely solely on reviews and testimonials to trust a product, service, and even a seller.
Behavioral-based emails
Finding out what resonates with your customer's behavior is irreplaceable. Send targeted emails, triggered emails, and behavioral emails based on how your contacts interact with your website and social media.
What are the behavioral actions for which you need to send emails? It is impressive to note that you can send an email on almost any action, but make sure it doesn't offend them.
A very good example of behavioral email is 'Unattended Shopping Cart' emails.
You should also consider the email behavior of your customers, not just their actions on your site. Improve your email contents and make them attractive by optimizing your email engagement statistics. This way you can re-engage your customers as well as keep in constant touch with your most loyal customers. This is one of the best email content practices.
Sending out newsletters
A newsletter is a life force that thrives your market. It remains as a constant touchpoint by updating your customers with an interesting newsletter. An email newsletter should feel like it is a valuable piece of information from a very helpful friend, rather than a forceful salesperson. Personalised newsletters always gather attention quick. Go in search of the best email newsletter practices to make your newsletters better every day.
Keeping your company on top of your audience's mind is what a newsletter exactly does. Send compelling email newsletters often, so that they are reminded of you. But make sure, you are not disturbing them by frequently sending some random uninteresting newsletters.
Summarising
Make you email contents catchy and compelling! Try out all these important email contents, starting from a pleasant welcome email to all those important announcements and newsletters. Understand what your audience expects from you! Make effective use of feedback surveys, shape your business and increase your conversions.