How to make qualified leads with content that converts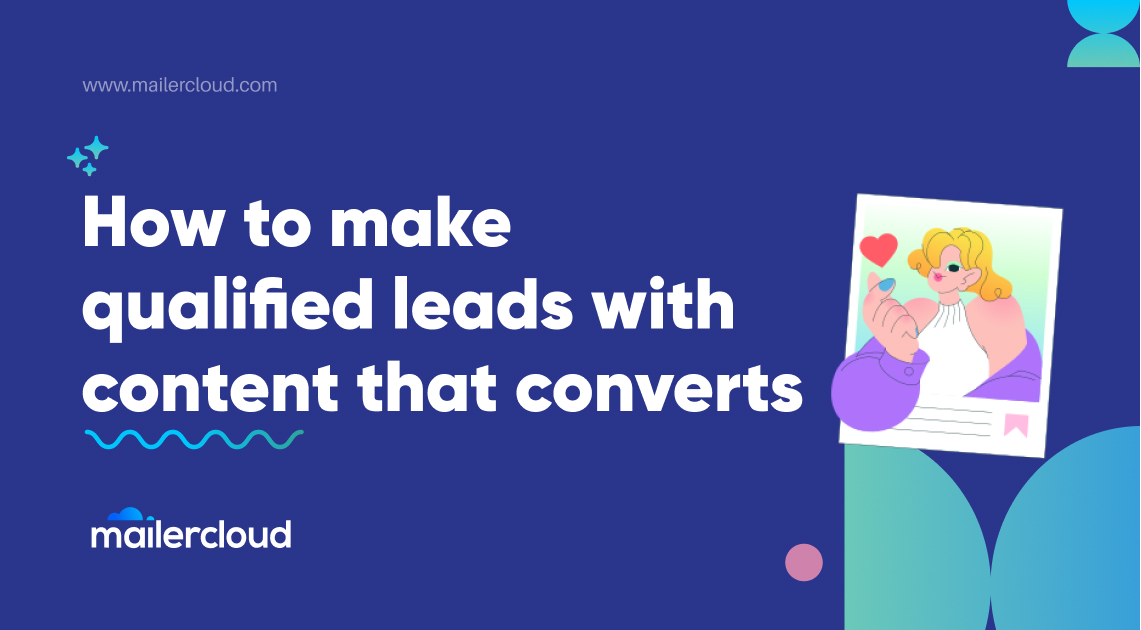 One of the most effective ways to promote on the internet is through content. It eventually leads to generating money.
People love being entertained and learning new things, and that they are willing to become a part of your story if your content is compelling enough.
Nevertheless, marketers have now come up with various other techniques on how to use the content to convert leads gradually. They came up with several new methods that are used to generate qualified leads.
Create a free e-Book
People seek to learn something new every day through e-Books. Hence, if you successfully provide them with a piece of your knowledge for free, they will be excited to take part in your marketing campaign and ultimately become leads.
Other than that, you can also educate people and inform them more about your product. You can teach them anything from your product genre. You can also boost sales if the e-Book is high in quality and can communicate with the target audience.
Design content that your target audience can quickly share
You should conceptualise your web content in such a way that it makes people share on social media. First and foremost, you should always have shortcut buttons that will help in sharing it to Twitter, Facebook, etc., automatically.
Furthermore, the content of your article should be sufficient to make the reader believe that the article is worth sharing.
Sharing is the only way to build leads in a very short period of time since it's direct, and people are more likely to address the shared content. In some cases, sharing activities can lead a subscriber or even an audience directly to purchasing the product and converting into a customer.
Promote your content
If you create content and don't do anything further about it, it will not result in any leads. You should create content and then concentrate on promoting it from your website and also make sure that it reaches out to the potential target audience. There are numerous ways in which you can do that.
Paid ads on social media are the most common way. At times, it's beneficial to pay and promote a single article than paying writers to pen ten articles which won't help.
In other words, once you have the idea of how big your budget is, you should propose a certain amount for promotion and realise that to generate leads through content, you must first promote that content.
Develop engaging content to keep readers interested
You're not likely to have visitors stay and ultimately become leads if your entire website pours its aim into a single article. If you don't want that to happen, you should organise your content in such a way that it will casually make the visitor click on more links that will finally guide them to your ultimate destination – generating a qualified lead or customer conversion.
It takes an excellent writer to make excellent content which will have such a psychological impact on the visitor. Nevertheless, linking, and organising the entire website should be done in a way that it makes the visit pleasant, informative and entertaining.
Be active on social media
Creating content also involves activity on social media. It includes actual activities like sharing, communicating, posting and liking. You are most likely to generate leads if you're creative enough to come up with entertaining tweets and post them through the official Twitter handle of your business. You should include it as a significant and essential step that all committed companies should have to generate more leads.
Another essential feature of social media is direct communication with possible leads. People will keep asking you something through social media, and you'll be able to instantly and possibly privately, answer their inquiries. To manage social media interactions even more effectively and keep your followers highly engaged, make sure to use social media management tools.
Guest blogging
If you create high-quality content that will generate leads and publish the content on your blog that no-one reads, will not make sense. Guest blogging can save the day in such situations. You should find an extremely reputable website that is linked to your business that allows guest blogging.
By doing so, it will help you to reach out to the people who respect that site and trusts its articles and, ultimately, you'll turn them into leads. Guest blogging is a sensitive job and expects you to appreciate all the rules that the host website has.
Experiment with other forms of content
Creating a quiz is yet another way that can entertain people, just like the e-Book as mentioned above. People, in general, love doing quizzes and hence if you find someone who can manage to make a quiz that will both notify about your business and possibly result in leads, you're on the right track.
Another unique form that can be used is video. You can create an entertaining and informative video that will help in capturing the attention of the clients and generate leads finally. Nevertheless, creating a high-quality video can sometimes cost a lot. So, if at all you don't have the budget to make it, you should not try it by yourself.
Conclusion
The ideas listed above may help you in generating leads through content marketing. Not all of them need to assist you in your business. But, at least some of them will be just right for you. As long as you value the basic rules of content marketing and create content that is both entertaining and informative, you will be on the right track.