How can businesses utilize email marketing to nurture their leads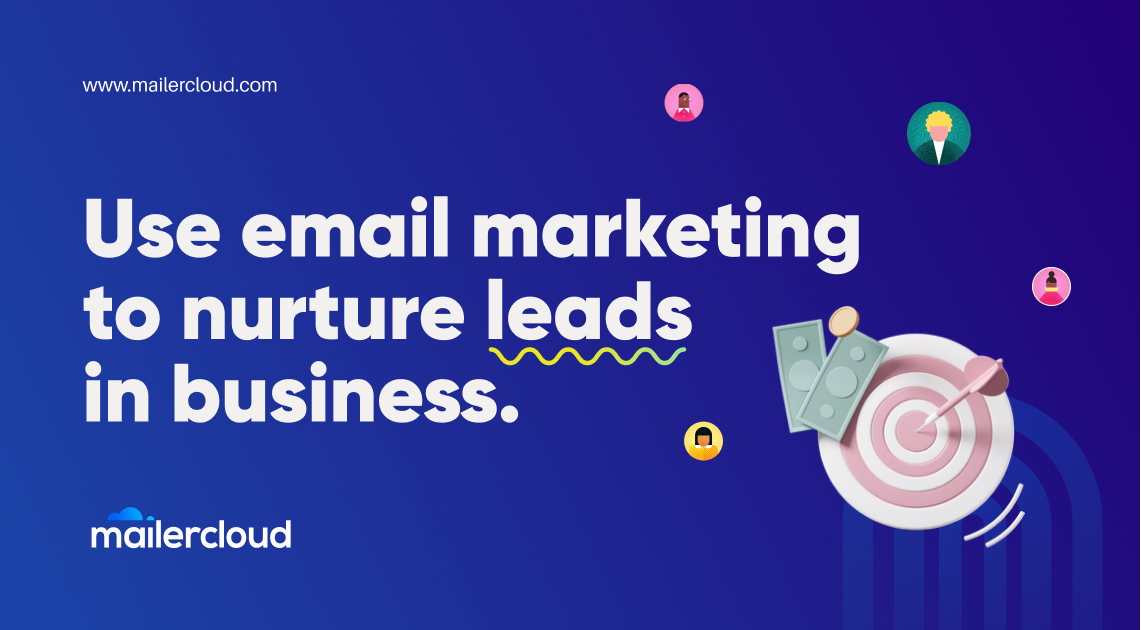 Email marketing is one of the most effective channels for businesses to nurture their leads. They can use email marketing to keep in touch with potential customers.
This article explains what lead nurturing is, how it helps businesses, and the different ways businesses can use email marketing for lead nurturing.
With over 3.7 billion email users worldwide and the highest ROI of any marketing channel, email marketing has become an invaluable business tool.
Engaging with your customers through email marketing can help you to reach your target audience with relevant and timely information.
Email marketing can be an effective strategy for businesses to attract and retain customers. According to the data, 81% of SMBs still rely on email as their primary customer acquisition channel, and 80% for retention (Emarsys, 2018).
By keeping your audience in mind, you can create effective email marketing campaigns that will reap the benefits of increased sales and customer loyalty.
So, before learning how businesses can utilize email marketing, let's take a look at what lead nurturing is and how email marketing is beneficial to the lead nurturing process as well as the ways in which businesses can utilize email marketing.
What is lead nurturing?
Lead nurturing is the process of building a relationship with a potential customer by providing them with information, education, and engagement over time.
It is a proactive process that aims to engage prospects and customers at different points in their decision-making journey as you usher them from the top of your sales funnel to the lower part of it.
Through lead nurturing, marketers can identify new prospects and grow their database with qualified leads. There are many ways to go about lead nurturing such as email marketing, outbound phone calls, social media posts, webinars and events. However, email marketing remains the most effective tactic for lead nurturing.
So, what is a lead nurturing email campaign? A lead nurturing email campaign is an automated, personalized, email campaign that marketers use to take users on a journey that may impact their buying behaviour.
Next, we will look at the benefits of email marketing when it comes to nurturing leads.
Why use email marketing for nurturing leads?
With more than 3 billion emails sent every day, email marketing is an invaluable tool for businesses.
The best way to nurture your leads is to use email marketing. According to Oracle, about 4 out of 5 (78%) businesses reported email marketing was their most effective online channel for lead nurturing.
Email marketing allows you to stay in touch with your leads and develop a relationship with them. You can then use this relationship to convert your leads into customers. Here are a few of the many benefits to using lead nurturing email campaigns :
Establishes credibility
When someone visits your website for the first time, they do not know your business or trust you. The chances of the prospect converting into customer are low. About 96% of visitors to your website aren't ready to buy yet.
Customers do business with companies they know and trust, so it is important to build trust before selling your products or services. Consistent email campaigns create an opportunity to establish expertise in your field and help to build brand awareness over time.
Builds relationships
Email marketing also increases the number of touchpoints with your prospects. It helps to not only maintain a relationship with your business but also fosters the relationship over time.
By establishing a relationship with your clients, you can increase your chances of turning a prospect into a paying customer.
Provides cross-sell and up-sell opportunities
Through lead nurturing campaigns, you can suggest other products that your business offers.
This can further increase revenues by providing you with opportunities to cross-sell and up-sell your products.
It can broaden their knowledge of your services that they didn't know about or were interested in the first time they visited your company. For example, if a person has bought shoes from you, you can cross-sell socks, shoe polish and other related items.
Creates referrals
As you share informative and valuable content on your email marketing campaigns, existing prospects are more likely to share your content with their friends and family coworkers if it is found to be informative.
Therefore, you can attract more leads through referrals and word of mouth. This referral expands your reach and can attract new leads to your business. Plus, people are also likely to trust a brand if a friend or family member recommends it.
Five ways businesses can utilize email marketing to nurture their leads
Define your leads and segment them
Before starting on email marketing, you should first define your leads and identify qualified leads. Work together with your sales and marketing teams to identify what a strong sales lead looks like for your business.
A qualified lead is a prospect that is starting to exhibit buying behaviour and has shown intent to buy.
Once this is done, sort your leads based on their demographics, behaviour, and interests, in order to profile and segment them. Using lead segmentation, we aim to identify leads that exhibit similar characteristics, needs, interests, and behaviour in order to target them more effectively.
Send Personalized Emails
Email marketing provides opportunities for personalization that other channels do not offer. For example, with email, you can send an email to a user with their first name in the subject line.
But nowadays, hyper-personalization goes one step further and utilizes behavioural data to create highly contextual data that is relevant to the user. For example, you can tailor your offers according to a customer's purchase history or behaviour on your website.
Furthermore, personalized emails generate up to 6 times more revenue than non-personalized emails.
Apart from that, you can also send triggered emails when someone visits a certain part of your website, demonstrate a high level of engagement, or when they click on links in your emails.
Automate your campaigns
To make lead nurturing email campaigns more effective, automation is crucial. When you have lots of leads, it doesn't make sense to send out messages manually, this is where automation comes into play.
With email marketing automation, you can reach many people at once and scale your lead nurturing process
An example of automation is when you sign up for a product and then receive an automated welcome drip email.
It mostly contains your first name, a brief welcome message, an introduction to the kind of experience you can expect with the brand, and a small milestone.
Moreover, in the next couple of weeks, you will receive additional emails of product tutorials, best practices and product tips. This helps in building a personal bond with the business.
Customize nurture journeys
Customer journeys offer a great way to build brand loyalty. Setting it up will allow you to make the most of email marketing.
To do this, you will define triggers that, when performed by your prospects, will automatically send an email or a series of emails based on a prospect's actions or behaviours.
For your automated journeys, you need to define triggers that will get activated based on the prospect's behaviour or actions. For instance, if your customers have earned a certain amount on your platform, you can offer them a special course.
As a result, you can design an email campaign once and, with appropriate triggers, your prospects will get personalized emails, based on where they are in the sales journey.
With automated nurture journeys, you can create a consistent narrative across your email campaigns, building brand recognition and loyalty.
Conclusion
Taking each lead through the steps of the sales cycle carefully, answering their questions, providing relevant content, and making the right offers at the right time can help businesses improve the conversion rates.
Email marketing is highly useful for lead nurturing since it offers a direct communication line to the potential customer. Moreover, B2B decision-makers tend to trust email more than they do other channels like social media.
If you manage to make a strong lead nurturing system a part of your B2B email marketing campaign, you can develop a close relationship with each potential client.  In the future, this relationship can transform into much-needed brand loyalty.
Furthermore, lead nurturing campaigns should serve to educate rather than to sell. It's because people signed up to learn something, not to receive a sales pitch. Therefore, use email as a channel for sharing valuable and informative content in a concise, interesting way.