Make Email Creation and Design a Breeze with Drag and Drop Email Builder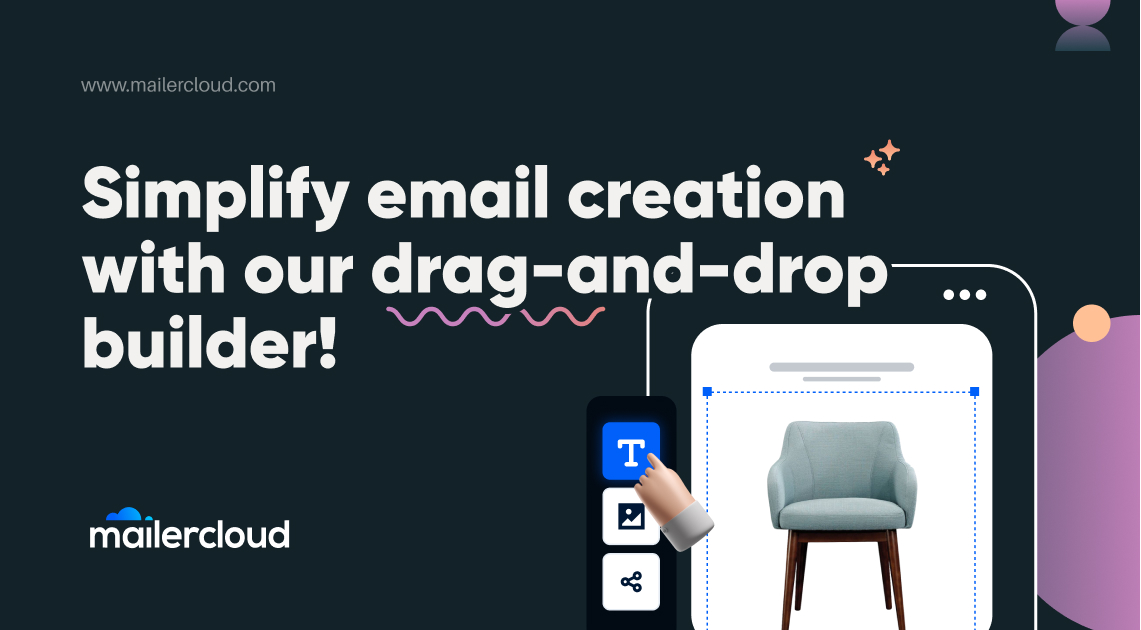 Drag and drop email builder is a great tool to create professional email marketing campaigns with zero HTML coding. Discover how to use them to your advantage.
Gone are the days of going back-and-forth with a developer or coder to come up with the perfect email template or design that will only require to be tweaked over and again costing businesses a lot of time and money.
Today, as email marketing grows and advances, its technology integrations and features are also evolving. Machine learning, Artificial Intelligence have made their ways into email marketing softwares as well. And email design and template are no different.
Any email marketer, at any time, can now create a ready-to-send optimised, responsive and completely customisable email on their own. And that is possible because of drag and drop email builders.
Once you've created your first one, the time it takes will decrease as you become more familiar with the drag and drop email builder tool and may use previous templates, after tweaking them as needed. This saved time is a significant benefit that can help you create and send emails to a wider audience at a faster pace.
Different Ways to Create Email templates
If you wish to handle everything on your own, you generally have two alternatives for creating email templates:
A brand-new email-specific markup language like MJML or HTML can be used to create email templates from zero.
A drag-and-drop email builder tool is available as either an integral feature of an email service provider or a standalone software.
What is a Drag and Drop Email Builder?
A drag and drop email builder is a useful tool for quickly creating emails by dragging and dropping specific blocks into a template. The end result is HTML email designs, without having to write a single HTML code.
You can adjust the colour, style, size, and position of all the elements in the email template as per your need and marketing objective. Working with the drag-and-drop editor does not necessitate any specialist technical or design skills.
The use of drag and drop email builders has grown exponentially in the last few years. They are now being used by marketers and businesses to create personalised emails. The benefits of this kind of email builder are that they make it easy to create emails, they allow for customization, and they have a visual editor.
You can start with a blank canvas or import an existing template from the library to get started. You can customise your email by adding images, videos, links, textboxes and more. You can also use the visual editor to create your own design from scratch.
The Need of Drag and Drop Email Builder
Many campaigns can succeed or fail by how well an email template is built.
Customers today are accustomed to receiving emails that are flawless.
The average email open or engagement rates can suffer by even the smallest error or uneven placement of content or images in the emails.
But not everyone has the skills, expertise, or understanding necessary to design email templates from scratch. Nowadays, a lot of businesses use email marketing services that provide access to drag-and-drop email editors. No matter what their level of technological proficiency is, everyone may create beautiful emails with the help of these editors.
A drag and drop email builder is basically a free email template builder tool.
The straightforward drag-and-drop email template builders will be more than adequate for the majority of businesses running or planning to run email marketing campaigns. Because they pretty precisely imitate how the email would appear in a customer's inbox, these are sometimes still referred to as WYSIWYG (What You See is What You Get) builders.
These email template builders offer a lot of advantages. But their responsiveness has always been the main one. It's typically a very intuitive piece of software that runs quite smoothly. As a result, using these tools to create the email ideal template is simple.
How is Drag and Drop Email Builder Different from HTML Email Coding?
Most of the email marketers are often confused whether which way of creating emails is better – HTML email coding or drag and drop email builder.
Drag and drop email editors
It takes extensive knowledge of HTML, CSS, and email rendering techniques to create a responsive email, which is a fairly complex process. Even without any prior coding experience, creating a desired email template using a drag and drop editor is quite hassle-free. Without thinking about what's happening behind the scenes, you can easily add your content by dragging it into a blank template.
This may be the best option if you have a tight budget or are a new business and need to swiftly deliver your marketing campaigns. Since many drag and drop editors are free to use when you initially sign up, you may test out a number of them to see which one suits your needs and resonates with your target audience the best.
HTML email coding
You'd be better off having your emails produced and developed from scratch if you're highly fussy about your branding and have a specific goal for your email marketing. This allows you to precisely plan out how you want your email to look, use all the brand-specific colours and fonts (where supported), and position everything where you want it. The hand-coded method has the key benefit over a drag and drop editor since you can completely control how your email looks and feels from every angle.
Obviously, taking this path entails some investment in terms of time, effort and money, but if quality over quantity is what you're after, you'll get your money's worth. Your email will have a distinctive, one-of-a-kind design thanks to the bespoke build, making it stand out from the competition and appear much more professional.
Because of the quantity of testing required owing to the complexity of your design, email production may take longer. Additionally, because they must go past a number of filters in order to reach an inbox rather than the SPAM folder, HTML emails are typically thought to be relatively difficult to code. If they fall short of a set of requirements, they can seem differently – or worse – when viewed through various email service providers.
Your trust and reputation can be destroyed with just the statement "This email is not displaying properly." You won't have to worry about this if you use a reliable drag-and-drop email generation tool, such as the one in Mailercloud. It gives you responsive email designs that work flawlessly in all popular email clients. You may be confident that the email you created will appear professionally and exactly as it does in the preview in any mailbox.
How the Drag and Drop Email Builder Tool Helps?
More than often, many email marketers have a lot on their plate. Therefore, they need a fast, quick and conversational sort of email builder that can do the job as well as save their time.
Scale Email Production
Many email marketing platforms that provide access to drag and drop email builders also have a library of ready made email templates. Picking one and editing them substantially increases the rate of email production.
It is really simple to create emails for a variety of email marketing campaigns – promotional emails with offers, newsletters, transactional emails and many more – by using customised templates and employing design systems using modules or blocks, frequently referred to as snippets or partials.
Maintain Uniformity
You can be sure that everything is in sync when you use a single, centralised platform like a drag and drop email builder interface to design, edit, and preview the emails. Because of this, you are also aware which email corresponds to which marketing campaign. Certainly, all the emails have a uniform style and feel.
Speedy Response Rates
In today's world, quick communication is essential. A user, whether existing or prospective, expects a prompt response from you whether they respond to a particular email campaign or take a specific action. Therefore, if you keep your clients or prospects waiting for a long period, they may decide to move ahead and look for other options. Fortunately, using a drag and drop email builder can reduce the amount of time it takes to respond with the help of emails.
Without these handy email builders, it takes a lot longer to write tailored emails in response to your audience's activities or queries. You may easily construct unique emails and make a tailored response with a drag-and-drop email builder.
Drag and drop email builders are a boon if you wish to reply to your audience within the minimum possible time. This cut shorts the time taken to respond to specific communications of the customers as you can easily create emails without any limitation.
Streamlines Email Template Management
Using the drag and drop builder to create email templates also makes document management simpler and more effective. Businesses frequently save a variety of other documents and files that email marketers may need to access.
All of the email designs and outlines may be kept in one place when you use a drag and drop email builder. Then, you can choose the suitable one, greatly speeding up the process. For instance, if the sales team wants to run a specific email campaign to nurture a lead, they can visit the drag and drop builder interface, explore the pre-designed email templates, or construct a brand-new one in accordance with the type of campaign end goal.
Minimises Stress
There is a lot of communication taking place via emails, as evidenced by all of the above-mentioned data and many more. Which does, in fact, affirm the pressure that businesses, and particularly email marketers, face when handling the hundreds, often millions, of emails and other communications that come from their customers and clients.
Drag and drop email builders prove to be a saviour in this situation. Furthermore, it streamlines email management. Marketers may send out more emails without stressing themselves a lot by using a drag and drop email builder instead of spending as much time laboriously crafting personalised email replies. Since customers receive prompt email responses, this not only enhances the customer experience but also boosts marketers' productivity.
Always Create On-brand Emails
You cannot expect to retain brand consistency if email marketers are required to create every email for each new campaign from ground zero. Sometimes, they could fail to include a logo or the proper colour scheme in the emails. Additionally, when communicating by email, they could neglect to employ the appropriate tone in the email design and structure. Your brand will appear inconsistent and unprofessional as a result of these errors.
Your business can miss out on potential customers if you don't keep your brand consistent throughout the marketing emails. Maintaining brand consistency across all emails can increase the email engagements and conversion rates over time.
Drag and drop email builder makes it extremely easy to backtrack the previous email design and templates. Additionally, you can easily carry over similar features from the previous email design into the new one to keep the emails' designs consistent.
Minimises Errors
When running email marketing campaigns and managing millions of emails, human error is a constant worry for businesses. Grammatical or spelling errors in emails sent by email marketers reflect poorly on the business as a whole. The business can come across as less trustworthy and legitimate to the email recipients. Also, the email recipients will assume your firm doesn't pay heed to detail, and the readers might even misinterpret or misunderstand the email content. This can have a negative impact on the email engagement and conversion rates.
These types of human error are less likely to occur using email drag and drop builders and templates since you can preview the emails as you create and edit them. This is essential if you wish to send every email in every campaign with confidence.
Responsive Emails
Today's drag and drop email builders produce responsive emails and templates. Additionally, these are created using HTML code that allows for style adjustment, allowing you to craft and send stunning emails to the email list within no time. Without disrupting your workflow, you may quickly adjust and update the email templates as necessary.
Simplifies the Process of Personalization
The role that personalisation plays in the success of email marketing campaigns is very crucial.
With the help of a convenient drag and drop email builder, email marketers can easily generate email templates for various segments of their email list and incorporate personalisation elements.
Additionally, these email templates are saved and can be used later, with minor adjustments made here and there, to produce customised emails for a certain email segment. Crafting and sending personalised emails one at a time would take much longer than doing this, which yields significantly better results than sending generic emails.
Reasons for Using Drag and Drop Email Builder
Since you have a selection of hand-crafted modules at your disposal and an easy platform to let your ideas flow, you do not require design or coding expertise for using a drag and drop builder.
By selecting the required element from the collection and organising it however you see fit, you may build any conversion-centric email design. All elements, including colour, background, text, and photos, social media buttons, videos, graphics, are editable. It is convenient, time-efficient and cost-effective.
ESPs contain drag-and-drop builders. Almost every well-known provider gives users a playground where they can drag and drop elements to create an email template as per their choice.
Superior Design Elements
You might find it difficult to include videos to your email or arrange your information in the way you want without a drag and drop email template builder.
Savings in the Initial Stages
The drag and drop email builder saves email marketers a lot of time during the starting phases of their email marketing journey.
Savings in the Long Run
As and when you create an email using the drag and drop email builder, you build a whole pool of email templates. Long-term, building a library of email templates can save you a tonne of time by enabling you to easily select and barely modify older templates for new email campaigns.
Insights and Statistics
The majority of drag and drop email builders also include built-in analytics, which you can use to review your prior email marketing campaigns, performance of the current campaigns, and alter your future strategy.
Ease-of-use
You don't need any coding knowledge to use these drag-and-drop editors. Although some builders are simpler to use than others, they all provide you the tools you need to make something stunning even if you have never built anything before.
Saved conveniently in the cloud
You don't need to install any software applications because these tools are online. Given that most solutions support multiple user accounts, this is also a benefit for larger teams looking to cooperate on any given email marketing campaign. Additionally, it makes it incredibly simple to modify and reuse a template.
Replicability
Did your most recent email marketing campaign yield spectacular results? You may easily repeat it in the future with a few small adjustments by using that particular email template and editing it on the drag and drop builder.
Essential Features of a Drag and Drop Email Builder Tool
Handy and Foolproof
Any email builder you are contemplating should be simple to use and not require complicated setup or specialist technical or coding skills. In this scenario, a drag and drop email builder easily wins because it only involves dragging and dropping the components into a template to construct an email.
This comprehensible and sort of live interface can prove to be beneficial in many ways. Select a user interface that is easy to use, offers wizard pop-ups, and is quick to put an email together.
Rich Library of Email Templates
Although you can make a template afresh, email templates are frequently sufficient. It's simpler to test which template works the best when there are several options.
You can acquire some inspiration or a point of reference for the emails according to your marketing aim by using pre-made email templates in a drag and drop email builder. Take a readymade design and add your own flair to it.
Allows HTML Editing
A drag and drop email builder should provide the option to import, preview, as well as utilise the HTML code components while creating the emails.
Compatible with Multiple Tools
Integration with other sales and marketing tools and technologies is a must for a drag and drop email builder. It becomes extremely difficult if the email builder tool does work in conjunction with other tools. For a smooth workflow, ensure that the drag and drop email builder connects to your CRM and regularly used applications.
Email Preview
Before pressing the send button, preview the email template. The drag and drop email builder's preview tool is really helpful because it provides a sneak peek at how the emails will appear to your audience. Any drag-and-drop email builder needs to at the very least include desktop and mobile previews. It saves you time by testing and double-checking the emails' readability across various browsers and screen sizes.
Allow for Team Collaborations
Bring your team members together to create email templates. A single, centralised platform ensures that everything that must be in the emails is in them, when used in a workflow or even when numerous persons are editing emails in real-time. A drag and drop email builder with multi-user features enhances team collaboration. Thus, it improves the overall team performance.
Built-in Image Editor
A drag and drop email builder would benefit from including an image editor. You'll be able to create, edit the email templates more quickly the more features and tools you have at your disposal.
Capability to Work with Different Email Clients
You should send emails using your company's custom domain rather than using simply Gmail or Outlook in the address because this can cause them to be flagged as spam. As a result, any email client must be functional with the drag and drop email builder.
Additionally, the emails contained in your email campaigns must be properly displayed for them to be effective and successful. An email builder that generates templates compatible with as many email clients as possible is what you desire.
Benefits of Using Drag and Drop Email Builder Tool
We are living in a world where we have to do more with less. That's why drag and drop email builders are becoming more and more popular. They make it easier for email marketers to create click-worthy email templates, without the need of hiring a developer.
It is a user-friendly way of creating email templates that helps to save time and effort by providing access to ready-made templates for any email marketing objective. It does not require you to be an expert in HTML, CSS or JavaScript – just drag and drop the elements where you want them on the template, insert the right text in the email as per your need, save it, preview it and send it once finalised.
One of the biggest benefits of using drag and drop email builders is how they help you stay organised by allowing you to save your work in progress so that you don't lose any information or have to start over again if something goes wrong in your design or coding process.
Take Charge by Internalising the Email Design Element.
The software used by the majority of email builders enables drag-and-drop email design features. This implies that you don't require any prior HTML or design skills.
Email builders are made to make it simple for marketers to organise, style, and fill up their emails with content, images or any other kind of graphics. Furthermore, there are plenty of content editing and typography options available. You may import content tidbits, personalization fields, and even dynamic content with the more sophisticated email builders.
All-in-all, you gain the power to unleash your creativity in emails to the fullest extent, with no restrictions.
Process Simplification
There may be numerous evolving needs that can arise at any time with the email design process, just as with any other marketing venture. Going back and forth with an external agency to which you have delegated email design work thus becomes quite challenging and tedious. If they don't fully understand your requirements, this may also cause unwarranted frustration.
Sometimes it takes days to receive revised versions. As a result, the process of creating emails takes longer, which increases tension as the deadline draws closer.
All of these known and unknown problems associated with email template designing are addressed by the drag and drop email builder. Plus, it gives you the independence of steering the email design in any direction at any time.
Utilising an email builder, create emails internally, make any necessary modifications, and cut down on the time and manpower required for the process.
You can create campaigns that adhere to your stringent brand requirements and provide consistency throughout your email marketing channels by taking control of the content as well.
Mobile Optimised
The more sophisticated email builder tools automatically optimise your emails for mobile phones. This is very necessary in today's time when more than 50% of the emails are read on mobile phones. If the emails are not mobile-friendly, 42.3% of the receivers discard them right away. 32.2% of the email recipients read the email later on their desktops. Many email marketing software systems provide you the option to modify the emails as per the mobile version – add or delete certain columns, images, text, buttons, only for the mobile screens.
Accurate Campaign Monitoring and Gaining Better Insights
Some of the email builder tools automatically apply tracking to the sent emails. This, indeed, provides you holistics reports and statistics on the email performance within the platform itself. If you often add tracking pixels to each link manually, this will save you a tonne of effort and save you from missing anything.
Save on Some Expenditure
Some marketers do find that outsourcing the development and design of their email marketing campaigns saves them time, particularly if they have a lot of tasks on their hands. However, if you can manage your time more efficiently, you may be able to spend less on outside resources and more money elsewhere. Moreover, you can save money over the long term when you employ a drag and drop email builder.
Maintain your Timeliness and Brand Coherence
You can simplify the process of regularly delivering emails to your target audience by using an email template builder like Mailercloud. Customers will recognise your mobile responsive emails if you use a consistent template design, which will increase email engagement and open rates.
It can take time and result in minor errors, such as differences in text size or colour scheme, to have an email designer create code for each new email campaign. Whereas, with a drag and drop builder, you can modify the copy and images as necessary using an intuitive interface without bothering with the CSS or disrupting the HTML.
Personalization and Batch Sending
Thousands of people may get bulk email campaigns or automated transactional emails from you at once. Email, however, is a private medium. Your clients anticipate that since you are invading their personal zone (the inbox), you will have something to say to them directly.
Fancy HTML coding is not necessary for personalization. For parameters like the initial name, special offers, and other typical fields, many drag and drop email builders include personalisation choices so you can simply design distinctive emails that will connect with each user individually at scale.
How to Choose the Best Email Builder?
All drag and drop email builders appear to be extremely similar at first glance. However, unique attributes and features might have a significant impact, so you need to know what to look for.
Check again if the email service provider of your choice offers you:
Effective and easy onboarding: You can design your email marketing more quickly the more intuitive it is, especially if you need it done at the last moment.
A large selection of templates. The variety of compilations of email templates for any marketing campaign is much more crucial than the quantity.
You might need to import your own HTML components at some point or be able to create email templates from a fresh point.
Supports various file formats. Engaging content like GIFs and videos have a larger probability of grabbing recipients' attention than text and photographs do.
Additional library of content and media. You may create templates even more quickly if the email template builder of your choice gives you access to a stock library of other relevant features.
Exports that are seamless and compatible. A great email template builder
The various email editors include a plethora of sophisticated features that some users will need while others would never use. Advanced ESPs and marketing automation technologies typically offer personalization, automation, and dynamic content features.
A button that allows you to modify your email's content in accordance with the recipient's device is a more sophisticated feature you can seek for in an email editor. Basically, this functionality lets you pick which content blocks to display or conceal on desktop or mobile. You can then adjust how your email appears on mobile devices.
Tips to Create Engaging Emails with Drag and Drop Builder
Make sure the typeface is readable and large enough for the various content blocks in the email. Select a line spacing of 1.5 and a font size of 12 to 14 pixels.
Choose a background colour that will stand out against the type of your text. Remember that persons with impaired vision might be able to read your email, therefore you should choose a suitable backdrop colour.
Make the email content easier to skim by using large headlines and suitable styles.
Images will be added to the drag and drop editor at 100% of their original size. Don't forget to reduce it if necessary. The format can be changed from 100 %to 10%.
You must add an unsubscribe footer at the bottom of each email template. This is required in order to comply with anti-spam regulations and to boost the reputation of your email domain.
Key Takeaways:
Email is undoubtedly regarded as one of the most important marketing platforms generating the highest ROI despite all the developments in different marketing channels.
The design, accessibility, readability, and design of an email campaign all affect how well it performs. Indeed, the email template and its design significantly influences the key metrics like click rate, open rates, conversion rates, and sometimes, even the spam complaint rates.
Drag and drop email builders let you customise emails, store them in the cloud, choose from a range of templates, save effort and time and expedite the whole process of email marketing.
Rich email template libraries, simple onboarding, compatibility, and simple connectors are some criterions to look for in an email template builder.
Everyone in this technology-infused world knows how important emails are. Indeed, they have become an integral part of both individuals as well as businesses. Individuals use them to stay in touch with their favourite brands. Whereas, businesses use email marketing campaigns to reach their target audience.
Certainly, the significance of email marketing cannot be understated as it acts as a communication bridge between the customers and the businesses. Moreover, it appears to take a lot of effort to develop a good email marketing strategy.
When you're strapped for time and money, learning and executing list segmentation, triggers, automation, and personalisation might be intimidating. For businesses looking to connect with their target audience, drag and drop email builders and the email templates are nothing less than a lifesaver.
When it comes to email creation, the drag and drop email builder provides you the right balance – it enables you to create professional, customised emails as per your choice and also, saves you time.
Drag and drop email builders help in making this communication even more enjoyable for the customers, whereas it makes the campaigns successful for the businesses.
Drag and drop email builder tools not just come handy, but they are also very robust in terms of flexibility. They help you to always remain on track as everything you do can be viewed dynamically. Choose a template, personalise it with your company's branding, and add relevant content. Test the emails and examine them on multiple devices to review the layout before hitting the send button. That's it!