Maximise Conversions with Free Autoresponders: Step-by-step Guide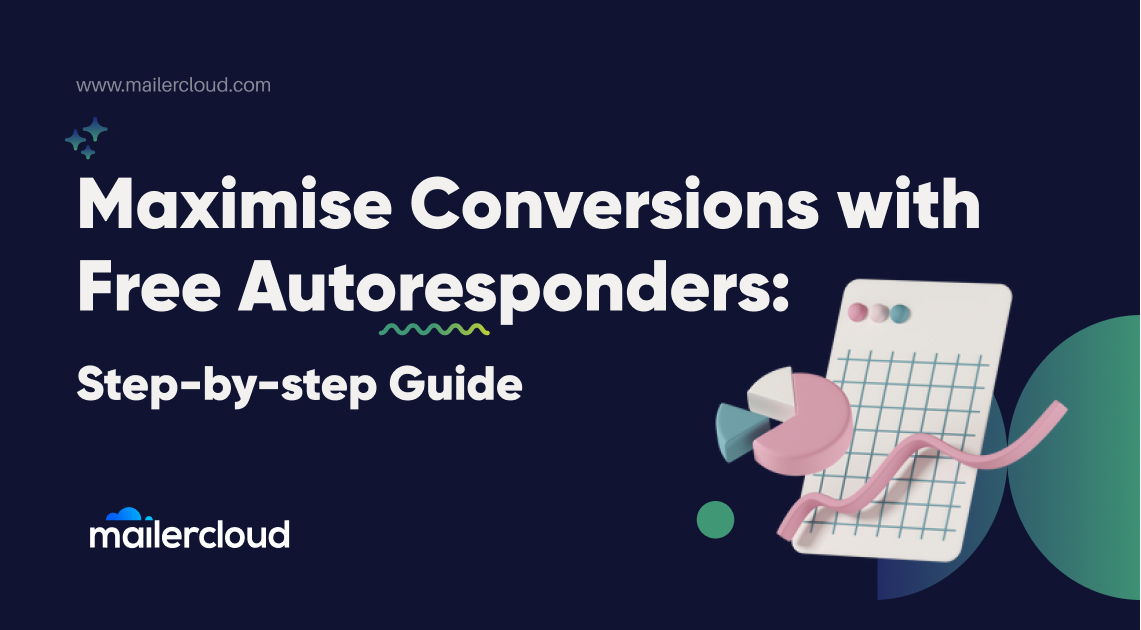 Autoresponders are all about catching people's attention at the opportune time when they are in the most active mode and are ready to act – And, yes, the paid or free email autoresponder definitely works wonders in this case!
Autoresponders might be one of a business's most important revenue generators. It is cost-effective, dependable, and runs on autopilot mode to nurture new leads and move them through the sales funnel.
The email automation series also saves time because they only need to be set up once, allowing you to stay in touch with your audience at all times.
Is the hoopla surrounding these free autoresponder emails justified? – Yes, because automated emails have a click-through rate of 152% higher than other marketing emails.
The tricky part?
Using automated emails to keep your audience engaged seems to be a simple task, yet it can be complex. Most of these email series can easily turn out to be unproductive if they are irrelevant, excessively salesy, appear to be robotic, or overly automated.
Here's a step-by-step breakdown of how to make an autoresponder series have a human touch and the potential of captivating your audience and expanding your brand reach.
Quick Guide to Setting Up Email Autoresponder Campaigns
Don't let any of your email contacts go without a response via the right email automation strategies and plan of action.
The exact steps to follow while creating an email autoresponder series depend upon your marketing purpose and the type of email. You can set the emails to trigger immediately after the subscriber takes any action or after a certain timeframe. Autoresponder campaigns are excellent for welcome email series, feedback request emails, payment/purchase confirmation, drip campaigns, reminder emails, and sales pitches.
Identify and Set Goals
Every new email marketing campaign workflow you develop should have a specific purpose.
Your autoresponder email campaign approach should be carefully planned in alignment with your end objective in mind. Consider how many emails you'd like to send to users and what information you'd like to include in them. Make sure that your flow of emails gets together so that they don't appear irrelevant or disjointed. Each email should be a great complement to the one succeeding it as well as the one preceding it.
Incoherent email series can easily put off the contacts, even those who would have started to connect with your brand.
Provide value to the recipients – either in the form of products, services or valuable information that could resolve their needs or pain points.
Pre-plan what performance metrics you want to track and measure in order to gauge the success of the autoresponder campaigns and work accordingly.
Target the Right Audience
Autoresponder emails help to reach the right people with the right emails without overwhelming them.
Select the demographic you wish to reach.
Follow user behaviour and how they interact with your content to make sure you're giving them exactly what they want.
Create emails that are relevant to your audience's persona.
Set the appropriate email to trigger a specific action.
Map the Email Sequence
It's up to you to choose how many emails to include in a series and their sequence of delivery. Timing is also crucial. For instance, a single welcome message or a three-part onboarding series are both viable options.
The emails should reach the recipient at their point of need.
Experiment with various email sequences until you discover the middle ground and go with it.
Create engaging, valuable and actionable emails.
Maintain a legit frequency of emails.
Activate the Campaign
Once you have created the emails, decided their sequence of flow, select the contact list – now is the time to hit the send button.
Track, Tweak and Improve
Keep an eye on the performance metrics of the email autoresponder campaigns once they're up and running. Studying user interaction with the emails is the cornerstone of any successful autoresponder email marketing campaign. This way, you get the chance to trace the pitfalls and can continually refine the email campaign as needed and appropriate for the target audience.
Take Inspiration from these 5 Full-fledged and Spiffy Autoresponder Email Examples
Welcome Emails
Automated welcome emails witness approximately 50% higher open rates. Indeed, everyone anticipates receiving a welcome email as soon as they sign-up or subscribe to a new business or brand. These statistics make welcome email autoresponder a cakewalk.
You can use these welcome email series to include a basic thank you, provide a sneak peek into your business, offer a way to the new subscribers to manage subscription choices or brief synopsis of the kind of content you'll be sending.
The email above serves the purpose to greet the new subscribers as well as informing them about the community vision of the brand. It also provides a way through the CTA to explore what the brand has to offer.
Customer Gratitude Email
Consumer appreciation emails sent via autoresponder series not only aid in lead nurturing but also open the way for an exclusive discount code and offers to be sent as a 'Thank You' to the customer, hence increasing conversion rates. You can also harness these emails to create a sense of urgency, which might work as a gentle nudge.
Anniversary or Birthday Emails
This type of email usually necessitates access to subscriber data and information. Personalization can be a simple process if you have information about the subscriber. An email autoresponder that goes for the personalised touch, however, weaves in more subtle features to be truly effective. Identify customer behaviour or preferences and provide a suitable discount based on their purchasing habits.
The Runtastic email above, for example, takes advantage of the fact that the email recipient has no premium account. The email's actual trigger isn't an action – it's an event, and that event is the recipient's birthday.
Win-back Autoresponder Emails
They serve as a reminder to the customer that the brand they subscribed for still exists and that you can service them properly. The email is a charming reminder to the consumer that they haven't visited your business in quite some time.
Sales Pitch
Purchase confirmation is a common email marketing automation employed by brands. The trigger almost guarantees that the receiver is receptive to a sales pitch. Email autoresponder sequences like this frequently include cross-sells and upsells in addition to double-checking payment method details and sending an invoice copy. These strategies can encourage shoppers to add more items to their shopping carts, increasing brand profitability.
The email above aims to cross-sell products by reminding the recipient of a future subscription box delivery.
All Set to Send Autoresponder Emails!
Originally, autoresponders were created to make communication more efficient. They've evolved into a powerful and effective tool for email campaigns. You can build compelling and action-driving email autoresponders with little effort if you use them correctly.
No paid or free email autoresponder campaign will ever be flawless. However, the right tools will enable you to continuously develop your strategy to reach your clients exactly where they are and with the information they require.
Now you have the understanding of how to set up an autoresponder email campaign and create and shoot it right away.
Examine your client journey and mark all of the places when auto-response emails can help and add value.
This is an opportunity for you to improve consumer interaction, increase brand awareness, engagement and upsell.