What Is Email Autoresponder: Purpose, Advantages and How To Use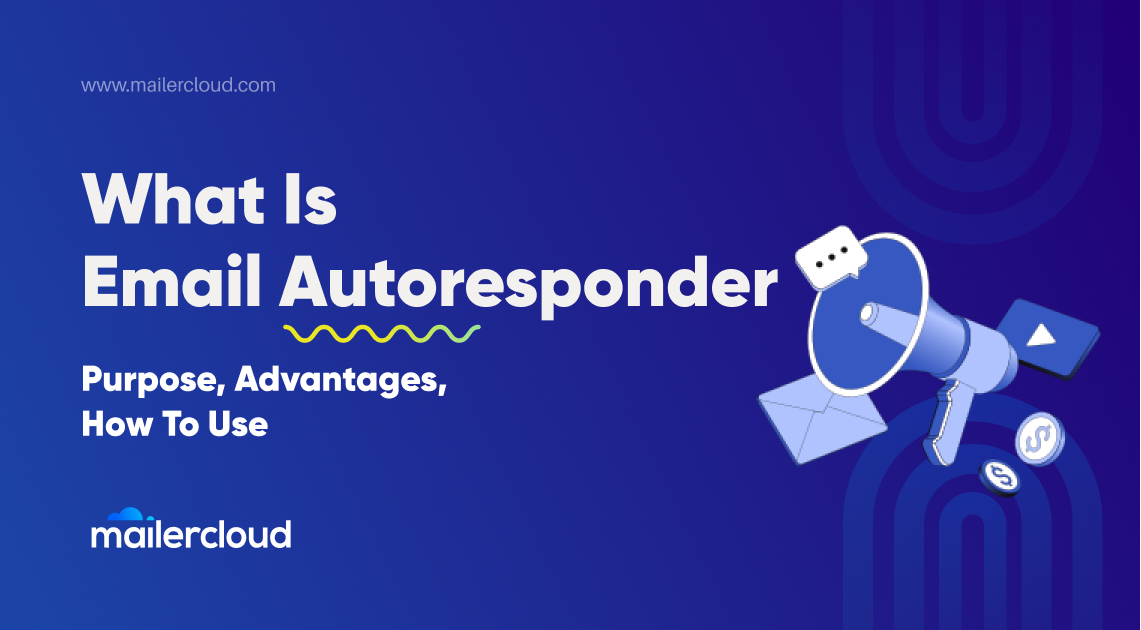 For many email marketers, the conversion of a lead stops at the point when it subscribes or opt-ins to your emails. However, this does not necessarily mean that the customer intends on a long-term relationship with your product or service.
Automated emails like a thank you or welcome note might not be enough to retain the customer. It would be a very short-sighted marketing strategy. Autoresponder emails, on the other hand, are boosters of maintaining and keeping your customer interested in you and also growing your business quickly.
What is an email autoresponder?
Autoresponders are newsletters that are sent automatically to your mailing list. These autoresponder emails are 'triggered' based on certain rules and time intervals that you define.
For example:
Sometimes you receive a birthday wish along with a discount coupon. This is because when you go to a shop sometimes while paying the bill, they ask for your personal details like anniversary or birthday. This has triggered an autoresponder to send you an email.

Welcome emails, confirmation emails, password reset emails, abandoned cart emails, verification codes, reminder emails etc are sent automatically by using an autoresponder tool.
What is the purpose of an email autoresponder?
Once you have scheduled your sequence of autoresponder emails and everything is in perfect order, you will gradually observe that the line of automated emails will nurture trust with your prospective customers.
The regular presence in the inbox through guide lessons and information on your industry or various features of your product will slowly interest the customer who will gradually start reading your emails in their entirety, visit your website and soon start doing business with you.
Once a customer has brought your product, you can use an autoresponder to sell similar or complementary products. It is useful to retain your customer. An email autoresponder is a perfect way to take your customer experience to the next level.
A few statistics about customer experience are listed below :
If a brand doesn't meet customer's expectations, 76% of consumers are ready to go elsewhere (Salesforce)
75% of consumers are more likely to purchase from a company or brand that makes them personalized offers.(Forbes)
Emails are crucial touch points in the customer experience journey because 80% of Americans check their personal email at least once per day.
How to use email autoresponders to grow your business?
Nurturing trust and warming up leads
The most popular and straightforward method to start building a relationship with a potential customer is to immediately( or with a short gap) start sending them personalised emails based on their preferences. These autoresponders ensure that everybody on the list gets the best content and has a personalised experience.
Converting leads into customers
You need to convert your email subscribers into customers who pay. Autoresponders are the most effective way of doing so. It makes the potential customer like you and knows you before they buy from you. You can sell a product without being forcible. Also, you can build curiosity and anticipation before launching a product, announcing a new offer or presenting new features and designs on your website. In this way, you can get many subscribers to buy from you.
Promoting cross-sells and customer retention.
After a customer has purchased a product that you are selling, you can send a free email autoresponder showcasing or promoting other similar or complementary products in which the customer might be interested. The customer will not only get a quick idea of all the products you are selling but would also find it easier to plan his next purchases with you.
For instance, if someone buys a mobile phone set, you can offer a mobile phone cover, selfie stick, and battery charger bank as a cross-sell in your autoresponder sequence. You can either send it immediately or after waiting a few hours. In some cases, you can also send autoresponder offers on products just before the due order date to frequent buyers of products of regular use.
Top advantages of autoresponders in email marketing
Including autoresponder emails in your email marketing strategy is a great way to build a long-term relationship with your customers with little effort and cost-effectively.
Turn website visitors into subscribers

Immediate follow-up without missing any customers

Enable continuous marketing without hiring new people

Better email deliverability

Long-term relationship with customers

Track the performance and results
How to choose an email autoresponder tool?
If you are looking for the best autoresponder tool to start your email marketing journey, make sure that the selected tool has all the top features to fulfil your marketing needs.
Important features to check when choosing an email autoresponder software
To send an autoresponder, you need the best autoresponder tool. There are so many tools available in the market. Here we are going to discuss Mailercloud.
Mailercloud lets you send up to 12000 emails per month on the free plan. So just try Mailercloud for a test drive. No credit card is required!
Features of Mailercloud autoresponder tool:
Easy drag and drop editor

Customisable template gallery

Contact API

Advanced contact segmentation

Easy to track opens, clicks, bounces etc using advanced reports

More options to personalise the emails

Advanced automation workflows

Different types of web forms to collect the leads
Key Statistics
| | |
| --- | --- |
| Available autoresponders | You can create and send complex marketing automation with personalized content. |
| Best for | SME, Publishers, Agencies |
| Customer support | 24/7 Email & Chat Support |
| Free plan | Yes |
| Starting price | Starting price is $10 |
How to set up an email autoresponder?
Identify the purpose of your autoresponder series
Before starting your autoresponder series, you must identify your end goal . After identifying your end goal, you need to set a marketing strategy. You will be taking different approaches for each strategy. If you don't have an end goal, then it is impossible to identify which strategy will work best for you
Identifying your goal is simple
Do you want to sell a product or service?

Do you want to establish a relationship with your customers?

Do you want to launch a new product or feature?

Do you want to become a top industry leader?
Segment your contact list.
Segmentation is the process of dividing your contact list into smaller groups based on certain conditions or interests. Segmenting your contact list will ensure that you are targeting the right people. Contact list segmentation is an effective marketing strategy that can improve the open rate, lower the unsubscribe count and as well as a better overall ROI on your email marketing campaigns.
Map your Autoresponder sequence
The next step is to set up the sequence of your email autoresponders based on your goals and marketing strategies. Before starting the autoresponder series or promotions, we need to decide how many emails are going to send.
An autoresponder series typically look like this :
Create an effective autoresponder
If you want to send effective autoresponder series to your customers, then always make sure that the below-listed points are proper in your campaign
Personalise the header and subject line

Proper sender id

Simple and catchy newsletters

Highlight the values

Proofread the content

Add CTA button

A/B test the subject line
Track and optimize the results
Real-time reporting tools or analytics can be used to explore how well your subscribers respond to your autoresponder series. Open Rate, unsubscribe count and click-through rates are the most common metrics to measure the results.
If your average open rate is below 10%, then try another subject line.
If the CTR is lower than average, then come up with some new ways to improve the CTR like, improve the content quality, making the CTA's more noticeable, and run A/B tests etc.
If you get lots of unsubscribes, revise your copy, segment your contact list based on interest, and combine single and double options, etc.