Top 9 Email Marketing Trends That May Reign The Year 2022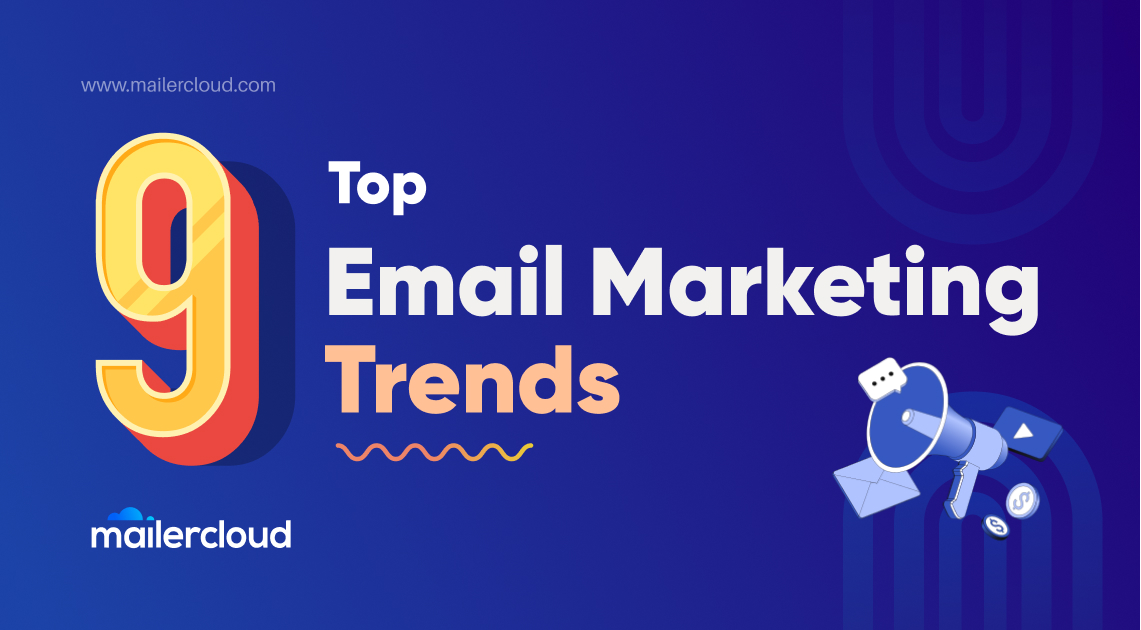 As the year 2021 comes to an end and businesses look forward to 2022 with new hopes, many of them would wonder whether the old-age email marketing channel is still hot or not.
The answer to this is – YES, email marketing is definitely still hot!
Email has remained one of the most powerful marketing mediums for marketers and businesses, despite the fact that the digital marketing landscape evolves substantially every year and new tools and channels come into the picture.
Knowing the top email marketing trends that may reign the year 2022 will help businesses plan and strategize their email marketing approach in a better way. Email automation, personalization and segmentation will lead at the forefront with businesses investing minimum time while still keeping their audiences engaged in their marketing funnel.
Following are some of the email marketing trends that will help you up your email marketing game in 2023.
Data Security and Privacy
Today's netizens are cautious about their privacy and data security. Many will be hesitant to disclose and give their personal information and other confidential data. In such cases, having clear dialogue with your subscribers by sending an email clarifying that their information is secure and that all of your operations adhere to the relevant rules and regulations is the greatest way to gain and boost their confidence.
Keep your subscribers up to date on any impending changes to data privacy laws. Allow them to opt-in or opt-out of receiving your emails in the future at any time through an unsubscribe link. If a subscriber wishes to unsubscribe from your email list, they should be able to discover and click a link to do so. Of course, if you send great emails, your readers won't need to click on this legally needed link.
Artificial Intelligence
Artificial Intelligence (AI) continues to gain traction in email marketing, assisting digital marketers in making smarter decisions. When it comes to the future of email marketing, AI is a crucial component and at any cost should not be overlooked. Leverage AI to create and deliver better and personalized experiences to your subscribers.
AI helps in analyzing millions of data sets and extracting actionable and tangible insights with ease. Use this information to inspect client habits, interests and online behaviour to better understand how they perceive your emails, interact with them, and what their expectations from your emails are. Integrate these insights into your email marketing campaigns.
AI is a terrific tool for identifying trends and changes in your target audience behaviour as well as recognises their emerging needs that can help in making more informed marketing decisions. This technology will be important in assisting you in developing more targeted and customized email campaigns. Moreover, it's a great tool to maximize efficiency of the overall team.
Email Interactivity
Encouragement for interaction is one of the key goals of any email marketing campaign. You may drive a customer or a lead through your sales funnel to the phase where they are ready to convert by taking them on a planned journey. With the right kind of email marketing tool, say for instance Mailercloud, incorporating interactive features in the emails like polls, surveys, and user-controlled product carousels can help you reach this goal. This will also set your email apart from the other emails in the user's inbox. Furthermore, this opens up a number of possible scenarios for interactive content that can captivate your users in a number of different ways.
Interactive content, on the other hand, allows users to interact in the reverse direction and let you understand what they're thinking. You'll be able to obtain vital brand information while also demonstrating to your audience that you have concerns about their experience.
User-Generated Content
Customer reviews and images of clients utilizing your products or services are examples of user-generated content. In digital marketing, the notion of social proof is pivotal. Demonstrating that other firms or consumers are happy with your services can persuade someone else to buy.
You may also invite customers to submit reviews on social media, which is a reasonably simple way to collect user-generated content. Since this sort of content comes at zero cost, using it in your email copy will improve your conversion rate and, as a result, your return on investment.
The content should be at the centre stage of the emails, however, explore incorporating more user-generated content in the emails for a myriad of reasons. Displaying the points of view of different customers can create a positive brand image.
Enhanced Accessibility of Emails
Focus on improving the overall convenience of accessing and reading your emails. Making emails reachable and accessible to a wider audience is one of the most critical marketing tactics that many businesses often ignore.
Improving the accessibility of emails is a simpler task. It can involve things like utilizing large fonts in the emails, integrating quality graphics, making the emails mobile-responsive, and optimizing each and every element of the emails for different screen sizes. Many customers also appreciate the option of reading emails in dark mode.
Communication via Multiple Channels
Omni channel communication widens the boundaries of communication and interaction. Email remains among the most significant digital marketing mediums. However, when used in conjunction with other channels such as social media and web push alerts, it adds to its effectiveness. If you confine your online footprint to one or two channels, you'll miss out on possibilities to communicate with leads in a variety of ways.
Unlike traditional multichannel marketing efforts, omni channel marketing campaigns update and modify the content across all platforms in accordance to each user's action. They'll be greeted with personalized content that makes sense in coherence with their particular customer lifecycle, regardless of the medium they select to connect and communicate. Cross-channel marketing is frequently more suited to real-world consumer experiences.
Augmented Reality (AR) and Virtual Reality (VR)
In 2022, augmented and virtual reality will be two of the most fascinating developing technologies, with a wide range of uses in email marketing context. Yet there are still some obstacles that make it tough for email marketers to use this technology in emails; this is improving as AR and VR become more widely available on multiple platforms, devices, and operating systems.
Apple, for instance, has included AR capability into both iPhones and iPads, allowing users to view AR content in the emails right from their Mail app.
Advanced Email Personalization & Microsegmentation
Personalization is a star when it comes to email marketing, and this trend shall continue in 2022 as well. Personalizing email marketing campaigns will increase their efficacy by a huge margin. However, when it comes to email marketing personalization, simply putting the clients' first and last names will not suffice; there is much more to consider. The use of AI to create personalized and bespoke marketing emails is an increasingly popular trend. When clients receive such communications and newsletters, they will feel cared for and appreciated.
Use Mailercloud's advanced personalization and email list segmentation features to build a better, stronger and fruitful bond with your audience. It's no longer enough to send the same kind of email or content to everyone using the same template. Your customers want to know that you actually know about their needs and problems.
Segregate your audience on the basis of their demographics, persona and other criteria. Analyze information about your users' search history, online activity, and purchasing habits and then curate emails according to a particular audience segment.
Email Open Rates will not be that Reliable
Apple' new Mail Privacy Protection Policy created a stir in the entire email marketing landscape as it puts a restriction on the tracking capabilities pertaining to the email open rates.
Many individuals may have assumed that the open rate would always be a reliable tool to see if users engage and interact with emails, when planning for future email marketing campaigns. However, after the launch of Apple's new Mail Privacy Protection Policy, email open rates have become less dependable. This is because the emails appear to be "opened" even if the user does not actually open them.
Await a transition in the metrics used by businesses to measure email marketing success. Although you may still track and monitor email open rates for Android and PC users, you may need to change your priority to other native statistics like conversion rate and click-through rates for Apple Mail users.
Go With the Trend to Maintain Email Relevancy
Keeping the emails crisp, to the point and testing the emails is yet another trend that shall be active in the coming years. The fate of email marketing is ever-changing, as are the interests and preferences of the target audiences. It's vital to keep abreast of email marketing trends for 2023 if you want to keep your email marketing strategy fresh and profitable. Mailercloud continuously tweaks its email marketing software's features and functionalities in tandem with the latest trends.