Email Marketing Tips & Best Practices for Successful Results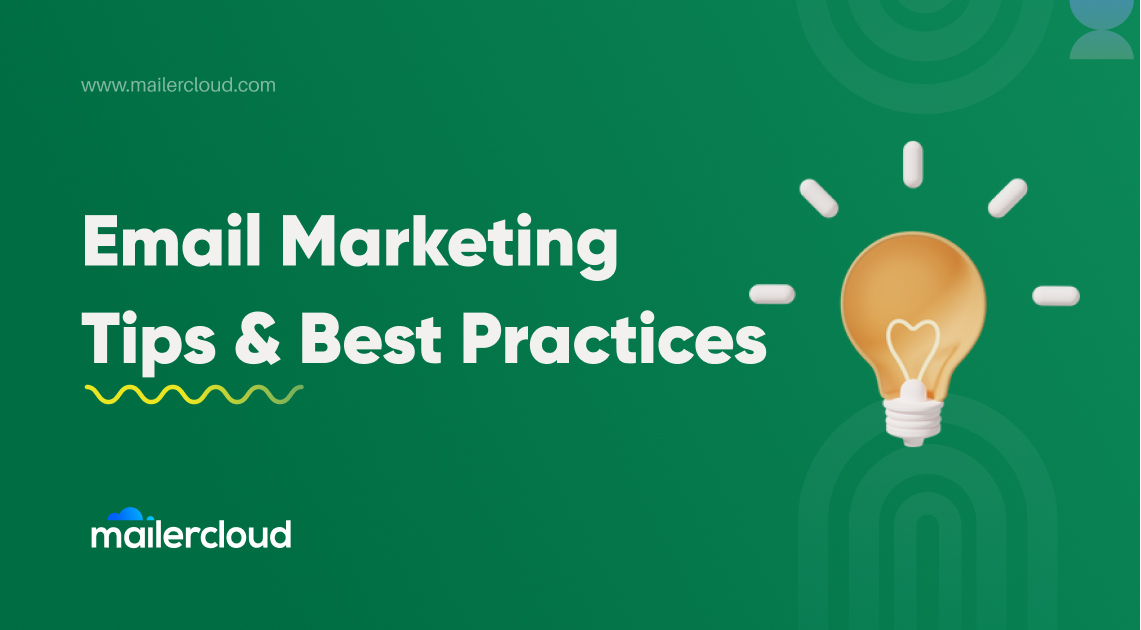 A comprehensive email marketing tool provides a great helping hand in creating result-driven email marketing campaigns for any kind of business.
Moreover, following email marketing best practices and tactics while using an email marketing tool will further support the email campaigns in creating success. Sticking to the proven email marketing strategies help you to stay relevant, focused, and create brand value amongst your audience.
Here is a list of email marketing tips, tricks, and best practices that businesses can implement in their email marketing endeavours to fuel their success.
Proven Effective Email Marketing Tips
Email to All New Subscribers Right Away
The first few moments of a new subscriber's engagement with your platform are the most critical as they are excited to see what you have to offer. It gives you room to maneuver and instantly fulfill the promise you made to them about your services or products.
An email you send to the subscribers immediately after they sign up starts to set expectations as well as hold their attention. Consequently, this builds the foundation of trust, service swiftness, and brand loyalty.
Make Use of Email Automation
Email automation nurtures the subscribers to become more receptive. Automated emails can be:
Payment, abandoned cart reminders
Deadline alert emails
Onboarding emails
Discounts & incentives
Repeat purchase automated emails.
Figure out what form of email automation – drip, auto-triggered – fits your marketing motive to respond accordingly. You'll have better interactions with your audience and enhance click-through traffic and sales rates.
Consider Using Text Emails
Text-based emails look more personal and give the receiver the same feel. Additionally, these emails when compared to those incorporating media elements like videos and images have higher direct reply rates. Textual and informative emails provide clear information without any unnecessary fluff.
Alter Generic CTA Text with Your Own
Old-school CTA buttons in your emails no longer serve the purpose of enticing your subscribers to take some action. Make a call to action copy that informs and motivates the subscriber to act. The CTA text should:
Be specific to lessen the reader's apprehension about clicking it, which will result in more conversions.
Reiterate the benefits the email recipient will get from clicking.
Avoid friction words like download, buy now, submit. These words suggest that the reader must do something they don't want to do.
Use first-person personal determiners like "my" in the CTA copy to give subscribers a sense of ownership over your offering.
Re-connect or Disconnect
Win-back campaigns or re-engagement emails are a great way to reconnect with your old but interested subscribers. These campaigns also allow you to spot and erase your inactive subscribers.
Create a win-back campaign following email campaign best practices to poke inactive subscribers to open your emails. Remove those subscribers having zero response to your win-back campaign.
Best Practices for Result-oriented Email Marketing
Never buy email contact lists
Purchasing contact lists will not provide you with qualified and exclusive leads. It also creates a bad influence on your business's brand value and lowers the engagement.
Building a valuable email list from the bottom up is a better technique. Make the most of your current traffic to expand your email list by using an appropriate email marketing tool.
Strict no-no to a no-reply sender email address
A no-reply email address reduces deliverability and has the highest possibility of landing in the spam folder.
A no-reply address might detract from your contact's experience because they may have something to say or respond to in your emails, such as a support issue, a remark about your product or service, or just some constructive feedback that can aid your brand's marketing initiatives.
Limit yourself to no more than three typefaces in the email
Sometimes, less is more. Stick to this rule while creating emails in order to make them less cluttered. Writing marketing emails with only two or three fonts or typefaces witnesses a boost in the conversion rates.
Customize the email's preview text
The email preview text gives the recipient more insight into what's inside the email. Keep the preview text copy crisp and short. Include the important points and buzzwords at the front.
You can make use of email service providers and email marketing tools that provide an option in their product to customize and optimize email preview text.
Insert an email signature
Bespoke email signatures can be a powerful marketing tactic. The subscribers are more likely to read emails if they know they are coming from a real person, rather than from a mechanized software. You may upgrade your signature details to complement current marketing campaigns.
Maintain email list hygiene
Cleaning your email list on a regular basis will help in identifying and warming up the dead email contacts. Proactive email list cleaning reduces spam complaints, bounce rates, and increases email deliverability. Furthermore, a clean email list allows you to focus on contacts who are genuinely interested in your services.
Use the CTA and key message above the fold section
Most recipients will pass over your main CTA if it is below the fold. Repeat the CTA at least three times in different places and forms throughout the email.
Tweak the email greetings to personalize them
Using your contacts' first names in the greeting of your emails immediately draws the reader's eye and creates a personal connection. Many email marketing tools have configurations for email personalization so that it sends email greetings with the names of the people on your contact list automatically.
Maintain your email's width between 500-650 pixels
The email pixel width can make or break the situation for your email campaign. More so, it is an important factor in its capacity to capture leads.
Try to use an email template having a width in the range of 500- 650 pixels. These kinds of emails provide a better user experience as they do not require the recipient to scroll the screen horizontally.
A/B testing
A/B testing of the copy of various email elements like subject lines and CTAs reveals which type of language resonates better with your target audience. A/B testing is a split testing method for analyzing and comparing two types of email sent to two different groups of subscribers.
Set your logo in the email's upper left corner
The business logo and its placement in the email body are critical in establishing your brand's image and credibility. Remember to place the logo in the left-hand upper corner of the email body, or occasionally in the centre, where it will get the most attention.
Boost email open rates by using offers
The inclusion of incentives in the email subject line, such as offers or discounts, will almost certainly increase email open rates. However, do not bombard your subscribers with such communications to avoid overloading.
Let email recipients sign up for your newsletter
Include a short CTA in your email that allows recipients to subscribe to your newsletter if they received it from someone who is already your subscriber and forwarded it to them. Make sure that the subscription CTA should not deviate the focus from the campaign goal currently active.
Create subject lines that are both intriguing and precise
Email subject lines communicate the promise of value to your subscribers. Keep it brief but do not forget to write something that piques the interest of the receiver. Offer value to compel the receiver to open the email.
Apply auto-responders for opt-in options
Auto-responder or automated email can be a hack to get out of such a situation where email subscribers aren't willing to offer you their time or have forgotten that they have subscribed to you. These emails can serve as a reminder, as well as provide additional information to thank readers for signing up for the newsletter.
Strategically complement emails with landing pages
Sync the look and feel of your landing page with the email. This instills trust in the mind of the subscriber. Analytic tools can help you figure out which emails and landing pages are the most effective, so you can replicate them in future emails.
Run a five-second test
One of the quickest and most successful ways to collect feedback on your emails and enhance conversions is to conduct a five-second test. It helps in determining whether your email is effectively presenting the key message or whether the CTA is identifiable and actionable.
Bottom-line
Email marketing doesn't have to be a headache. Pick up the right email marketing tool; follow the best practices outlined above and make email marketing a breeze.