Revamp your Business with Low Investment using the Right Email Marketing Tools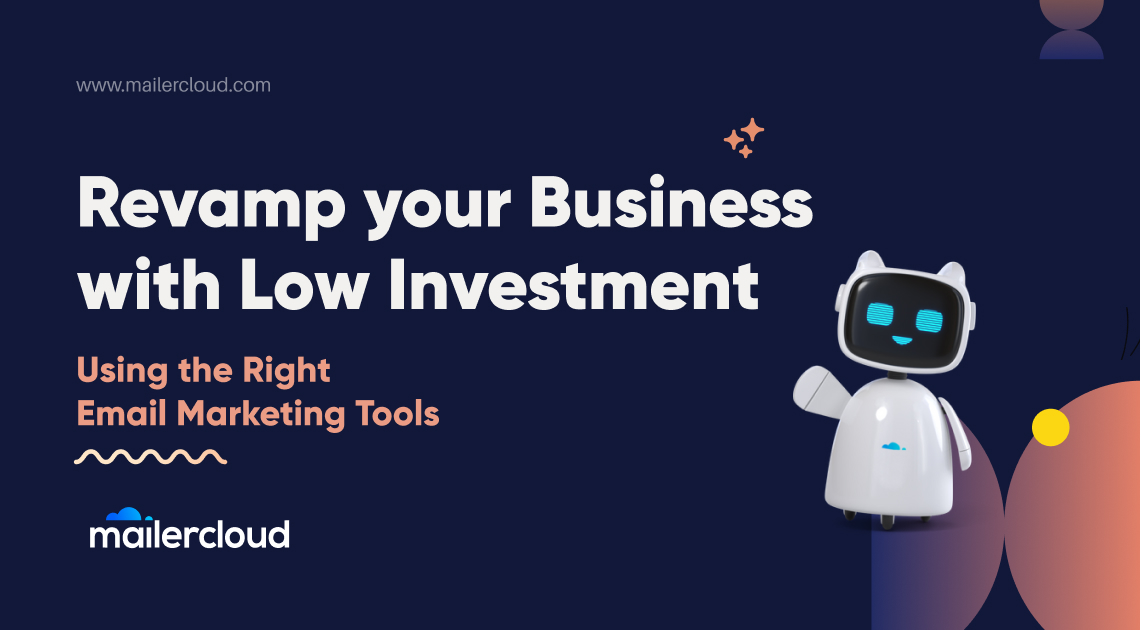 Everybody in the digital marketing domain – whether new or experienced – knows the immense potential and return on investment that email marketing brings to the table.
Any small business which is seeking to restart or rebuild their venture but limit themselves because of low investments have to put in a lot of effort to reach out to their target market via different channels. Email marketing can save the day here – it is affordable, cost-effective and most importantly, does not require any technical know-how.
However, email marketing for small businesses differs significantly from that for big businesses and enterprises. That isn't to say that one is superior to the other; it simply implies that their strategies and scale differ.
Take your Small Business to New Heights with Email Marketing Tools
Small businesses have more image flexibility. Indeed, they are in a unique position to benefit from email marketing because of this very reason. For example, they can quickly establish trust with local demographics which can be a challenging task for bigger businesses.
One of the most crucial aspects of email marketing nowadays is to be as clear, honest, and upfront with the customers as possible.
Generic emails are losing favour with today's consumers, who prefer more organic communications.
Furthermore, they are technologically aware and seek emails that are personalised and relevant.
Small businesses with local clout can utilise their regional expertise to promote their brand as an expert in the area. This can be accomplished through the smart use of email marketing. Using email content to establish a reputation as a local expert helps small businesses build stronger customer relationships.
What Makes Email Marketing so Profitable for Small Business?
At the end of the day, every marketing initiative is all about cultivating customer-brand bond. Certainly, there's a goal – the customer wants something from the brand, and the brand wants something from the customer. Hence, the most effective forms of marketing are those that assist in the formation and development of long-term customer-brand bonds. And it is here that email excels the most.
The finest email marketing tactics take use of the fact that email is, by its very nature, a platform for one-on-one connection.
Big Returns with a Minimal Investment, Both in Terms of Money & Time
Emails typically provide a high return on investment for a small expenditure. For a small business, it is a very cost-effective marketing medium for engaging with potential leads. Small firms typically have limited capital and marketing resources. They want to reach the people with the least expenditure possible. In such conditions, email marketing proves to be a boon and a very popular avenue for reaching the masses and maintaining an online presence.
Know Your Prospects
To build your business, you must first understand your clients, their interests, needs, and pain points. Email marketing allows you to communicate directly with your current and potential customers. The brand transmits its message, and the customer responds appropriately, as email communication is a two-way process.
There are numerous email marketing tools available that allow you to track, evaluate, and analyse the responses in order to better understand your customers. Email marketing services provide insights on the email open, click, bounce, and engagement rates. These will aid in the refinement of the campaigns.
Email marketing is the best tool when it comes to attracting new customers. It's also the most effective way to retain customer loyalty. Send them personalised content, offers, and updates according to their position in the marketing funnel.
Scalability and Versatility
Email marketing is very adaptable. A well-crafted email campaign enables you to do and say a lot. There's no limit to the type of content you may give your subscribers as long as you can get into their inboxes and keep them intrigued. This provides a plethora of marketing, relationship-building, and general customer base expansion possibilities.
Additionally, the scalable nature of email marketing makes it even more beneficial. Strategic email list segmentation enables to send targeted emails to a large number of contacts sharing the same character.
Are you a small business looking to reinstate your business?
Learn the benefits of email marketing with regards to restarting a business to use it for your best.
Huge return on investment: approximately 4,200%.
Boost the customer retention rates through consistent engagement.
Utilise thought leadership to build a brand.
Employ customer loyalty programs in the email campaigns to drive more sales.
Expand to new customer bases through focused content.
Create buzz about your expertise on any local or regional product, service.
Always stay on top of your customers' minds by adopting an appropriate emailing frequency and timing.
Measure the impact of the email campaigns and gain actionable insights.
Establish and maintain an authoritative position in your niche.
Generate and nurture leads to move them ahead in the sales funnel.
Design and send different email types as per the email marketing campaign objective.
Email Marketing for Small Businesses: Words of Advice
Create responsive and mobile-optimised emails
Most of the emails today are first read on a mobile device. Therefore, use email templates and drag-and-drop builders that create responsive emails which render equally effectively on every screen size. This will also improve the readability and user experience.
Email list hygiene
Your email list is your most precious asset if you're a recently started small business or one that plans to restart. It should be free of any improper email contacts. Remove all erroneous, obsolete, inactive contacts and also those who haven't opted-in, on a regular basis.
Humanise and personalise the email campaigns
Have a real person's name in the sender's address.
Use the email marketing tools to personalise the subject line and other highlighting parts of the elements according to the recipient.
Smart offers
When subscribers sign-up, offer them incentives. Discounts, sale offers, exclusive access, and other similar deals could come under this. Subscriber incentives generate more leads and assist small businesses in expanding their reach.
Test everything
Testing your email campaigns is critical because typos and display errors may easily make their way into your emails. Even better, analyse what works best by A/B testing the subject line, email copy, and CTA buttons.
What role does email marketing play in the growth of a new business?
Email marketing is a workhorse in the marketing industry.
It not only helps you to stay in touch with individuals who want to hear from you, but it also allows you to educate them, generate traffic, conduct surveys, give updates, make announcements, and persuade them to take a certain action, among other things.
Creates Brand Awareness: By remaining in continual contact with customers and keeping them up-to-date on your business, email marketing help to create credibility. The more they hear and learn about your company, the more likely they are to trust it.
Immediate Communication: Email marketing services' automation features allows to automatically sending auto-triggered emails and auto-responders as soon as the user takes a certain action.
Email marketing campaigns are also your ideal resource for keeping your business in tune and on trend.
Small businesses can accomplish a lot of different things with email marketing, all within a single channel.
Let's Start Emailing!
Put the best email marketing tools and winning practices into action now that you are aware about the value of email marketing for small businesses and how it can help you re-launch a business with low investment.
While deciding between various email marketing providers, keep in mind your business and marketing objectives.
Create email design, content that resonates with the target audience.
Always tailor the email marketing campaigns as per your brand.
Look for new ways to engage clients with a variety of topics. The key, though, is to discover a natural method to connect your brand to the topic.
For your own benefit, keep an eye out for competitors.
Concentrate on your deliverables, email content quality, and ensure your emails are valuable to your target audience. Keep testing and tweaking the email marketing campaigns according to the evolving customer and business needs.