Leverage Bulk Email Marketing to Create Result-driving Email Blasts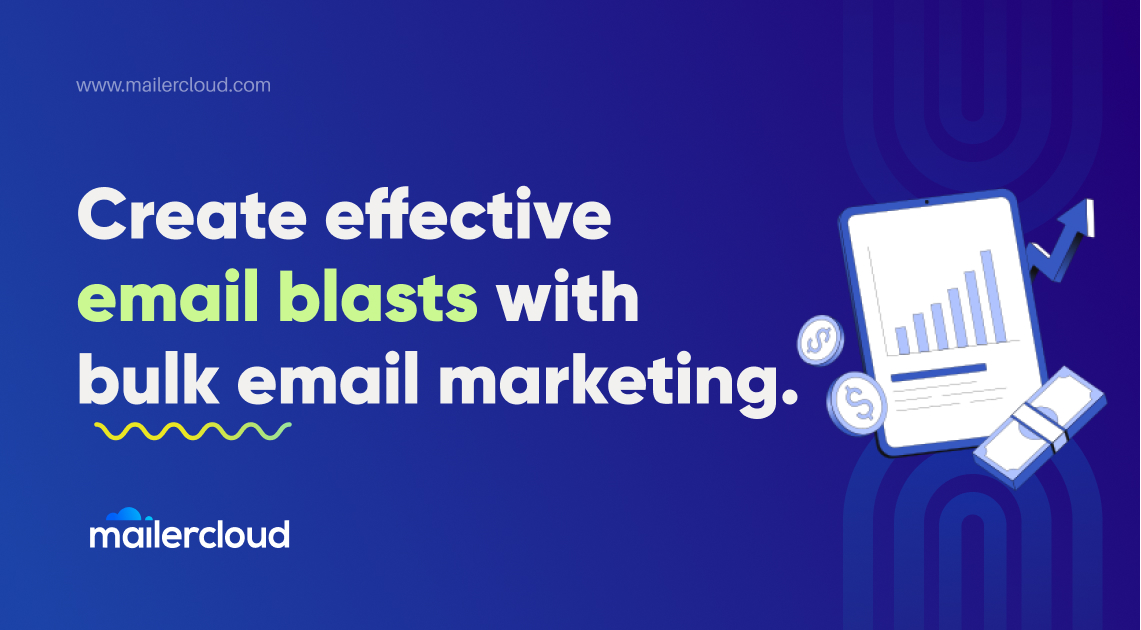 Whether you like it or not, email blasts are still a thing. Their power to reach a wider target audience is immense and that too with minimal effort and supervision.
Their success relies upon the selection of the right email marketing tool to send the email blasts and compliance with data protection norms and regulations. Understanding the ins and outs of bulk email marketing, as well as certain best practices, can help you optimize your returns while avoiding the risk of being marked as spam by the recipient.
What is Email Blast?
An email blast is an email campaign delivered to a large group of contacts or all of the contacts in the email list. There is no need for the threshold number of contacts on the list to qualify for an email blast. Consumer action does not initiate or trigger email blasts.
Benefits of Sending Email Blasts
Bulk email marketing campaigns have a universal appeal – as they are designed to cater to a large number of contacts.
Time-saving and cost-effective, since any simple email marketing service provider can perform the task.
Due to their specificity, email blasts send targeted emails that greatly increase sales conversions.
Bulk email marketing helps you expand your reach by making it simple to contact a limitless number of potential leads.
Easily measure the impact of your email blast on a big number of people to get better insights.
Email blasts provide scalability and flexibility.
Steps to Create Winning Email Blasts
Pick a relevant email list segment
The email blasts will have the maximum impact and output only if it reaches the right people. Therefore, it is crucial to select a relevant email list as per the objective of the bulk email marketing campaign and design the email accordingly.
Choose a list of contacts who have opted-in. This will reduce spam complaints and the chances of getting blocked by the internet service provider.
Email design
Design the emails as per the best industry standards and practices to adhere to the anti-spam laws. This will also ensure proper user experience and readability of the emails across different screen sizes.
Personalise
Including the recipient's name in the subject line or email header can go a long way toward encouraging them to open bulk email marketing campaign emails. These may also boost click-through rates. Automation can help here by allowing you to customise each email without having to spend hours doing it manually.
Have a conversational dialogue
Sending bulk emails does not mean that you cannot humanise the email. Try to have a conversational tone in the emails to foster better communication.
Plan follow-ups
It's time to send a follow-up email once you've contacted the recipient via bulk email marketing. Include a message that reminds the recipients about the last email, in case they have missed it. Determine and define the purpose of the follow-up email. In this manner, you may include a powerful call-to-action (CTA) that encourages your recipient to take the desired action.
A real email sender address or name
People are more inclined to open an email when they see a real person's name in the sender's address. That's why use a sender name and email address that gives the recipient credibility and explicitly states the business's name.
A/B testing
Use A/B tests to find the optimal email layouts. You can modify which parts of the email you want to change and the benchmarks that determine what constitutes engaging email blasts.
Result-driving Bulk Email Marketing Campaign: The Constituents
The formula for a genuinely effective bulk email marketing campaign is a greater standard than bypassing spam filters. Instead, the email blasts should have elements that make the emails something the recipients cannot resist opening.
Serves a certain purpose
Every single email blast must be sent with a specific goal in mind.
What are you attempting to accomplish with the bulk email marketing campaign?
Want to engage with your list by giving them something useful in the hopes of getting a response.
Communicate important information to your customers, such as a new product update or alert.
Promote upcoming product launches in order to increase sales.
Whatever your goal is, it should be intimately related to the interests and needs of your recipient. This way your email blasting efforts will resonate with more of your audience. Also, they'll feel like you're speaking directly to them if you acknowledge their specific pain issues and/or desires.
Fine-tuned with your long-term email marketing plan
Email blast campaigns should be an integrated part of a well-thought-out future strategy that works in tandem with the rest of your marketing initiatives.
Consider how a subscriber-wide email blast would appear to clients who are currently in the middle of a personalised drip campaign. Would this massive blast make sense in light of the other messages they've received, or would it throw them off? Are your CTAs in sync, or is your message being diluted?
Coherent and consistent
Both with regards to time and tonality, bulk email marketing strategies should be consistent. Above all, they should be coherent with the preceding and succeeding email blasts. Random emails with no central goal will just sabotage your efforts.
If you decide to send a weekly email, for instance, it should be sent at the same time every week. Adhering to a schedule increases email content receptivity, engagement, and loyalty by creating enthusiasm for the next email.
Evaluate the Performance of Email Blasts to Optimise Them
Open Rate
This shows how many emails have been opened, so you can see if your contacts are actually opening and reading the emails. This metric is determined mainly by the subject line and sender name.
Click-Through Rate
This metric displays how many contacts clicked on the email links and which are the most popular and traffic-generating. Focus on refining the email content, the value offered, and the CTAs to improve this metric.
Unsubscribe Rate
This metric depicts the number of contacts unsubscribed from receiving your emails. Having the right frequency of email delivery and sending to the right connections are ways to reduce unsubscribe rates.
Complaint Rate
This will tell you whether your emails have been designated as spam.
Conversion Rate
This metric depicts the number of contacts who have taken the intended action mentioned in the email blasts. A/B testing is a clever method of increasing conversion rates.
Bounce Rate
The bounce rate is the percentage of emails that are returned as undeliverable. Implement a double opt-in mechanism and clean the email list on a regular basis to reduce email bounce rates.
Forward/Share Rate
This metric shows how many people liked the email and forwarded or shared it in their circle. The forward rate depicts how engaging and value-adding the email blasts are from the recipient's perspective.
Campaign ROI
This shows the overall return on the investments of bulk email marketing campaigns.
With these metrics data, you can gain insight into the brains of your subscribers. Examine the content that causes them to click. Decide on an optimal email schedule. Simultaneously, you can spot potential issues that render your efforts ineffective by examining negative metrics such as bounces and complaints.
Last, but not Least!
A bright bulk email marketing plan is continually tweaked based on prior campaign outcomes and your audience's and company's changing interests. This is the most effective strategy to establish long-term trust with your audience.
Ensure that the campaigns are mobile-friendly and responsive.
The emails must provide value to the reader.
Email blast campaigns are sometimes mistaken for spam by many people. Your email blasts, however, don't have to be spammy. They may be incredibly relevant and effective when used in conjunction with personalisation and segmentation.
You may send a high-quality email by following best practices, connecting the emails with your goal, and keeping your readers' needs and pain points in mind. Instead of using email blasts for all seasons and throughout the year, concentrate on using them for specific events, basically during the high traffic and engagement seasons.